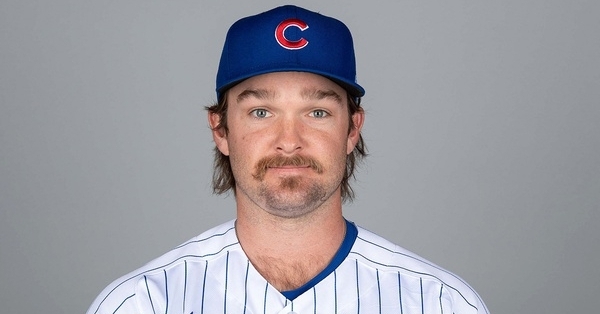 | | |
| --- | --- |
| Cubs Minor League News: Kohl Stewart injured, Nick Martini impressive, more | |
---
| | | |
| --- | --- | --- |
| Sunday, June 20, 2021, 1:00 PM | | |
Wins were hard to come by Saturday, and things didn't go well across the board. After the Cubs lost 11-1 to Miami earlier in the day, it set the done for the night ahead down on the farm. Across all four levels, the Cubs went 0-4 on the night as offense was not easy to come by.
This week has proven to be a struggle for most of the teams down on the farm, and ironically, it imitates the struggles the Major league team has had. Hopefully, the system can end this week of competition with some positive vibes because they desperately need it.
SAINT PAUL SAINTS 8 – IOWA CUBS 1
Coming off a come from behind win, the Cubs were hoping to make it two straight and to clinch the series against the Saints. Making his first start since returning to AAA was Kohl Stewart, and now there are some concerns. Stewart allowed just one run in his outing but failed to record an out. Another injury would be a serious blow, and that appears to be the case here.
He yielded to Scott Effross and Michael Rucker as the two of them were tagged with seven earned runs in six innings of relief before Adam Morgan, and Ben Leeper struck out five over the final two innings. Stewart's earned run followed a walk with Brent Rooker ripping an RBI double. Damek Tomscha followed that up with an RBI single putting the Saints up 2-0 in the first.
Now up 3-0 after the Drew Maggi homer in the second, Saint Paul got things rolling in the fourth, putting a hurt on both Effross and Rucker. In total, the Saints pushed across five runs in the fourth to take an 8-0 lead with Sherman Johnson and Tomas Telis picking up RBI singles. Rooker delivered the big blow as he connected on a three-run shot for his 10th homer of the season as the Saints were in the driver's seat.
Looking to put an end to the shutout, the suddenly hot Nick Martini came through in the sixth, picking up an RBI single to make things 8-1.
Nick Martini is your ?@EMCInsurance? Player of the Game tonight. pic.twitter.com/9pGsjgHuuY

— Iowa Cubs (@IowaCubs) June 20, 2021
Low and behold, that would be Iowa's only run in the contest as their offense was held to just five hits in the loss. Along with his RBI, Martini led the way with two hits as he continues to play well. Trent Giambrone, Tony Wolters, and Erick Castillo picked up hits, with Abiatal Avelino taking three walks.
Couldn't get it done tonight. We'll see you tomorrow for the series finale! pic.twitter.com/CR6WReEpVp

— Iowa Cubs (@IowaCubs) June 20, 2021
CHATTANOOGA LOOKOUTS 8 – TENNESSEE SMOKIES 4
While four runs doesn't seem like a ton, the Smokies were the one team that seemed to get something going on offense. Unfortunately for them, pitching let them down, particularly the bullpen that allowed seven runs across three innings, wasting a great start from Javier Assad.
In what has been a rough year for Assad, he was brilliant on the mound, tossing six strong innings and allowing just one run on seven hits. This was by far his best start of the season and something he will hopefully be looking to build off. The only run he allowed was on a second-inning TJ Hopkins double, but the Smokies offense wouldn't wait around much longer to back him with support.
One inning later, Tennessee got on the board, benefitting from a Chattanooga error to tie things up. A Darius Hill single later in that inning gave the Smokies the lead 2-1 as they continued to hold on for quite a while. With three more innings going by and that same 2-1 score holding, Brennen Davis pushed home another run with an RBI single as his bat is finally looking like the 2019 version of himself.
Looking to hold onto the lead for Assad, Garrett Kelly entered in the seventh inning, and life was not pleasant for him. Not only was he saddled with the loss after blowing the lead, but he was charged with five earned runs in one of his worst outings of the year. After watching Robbie Tenerowicz pick up a sacrifice fly and Jose Barrero tie the game with a single, Yoel Yanqui delivered the big blow as his Grand Slam gave the Lookouts the lead for good 7-3. Chattanooga would add another run an inning later as they now led 8-3.
Down by five and with three outs to work with, the Smokies had a tall task in front of them. A one-out Nelson Maldonado double followed a leadoff single by Davis, and just like that, the Smokies were in business where one swing can make things interesting. Unfortunately, all Tennessee would get out of that was a D.J. Artis sacrifice fly as they fall 8-4.
Davis, along with Artis and Carlos Sepulveda, paced the offense collecting two hits each. Hill, Maldonado, and Tyler Payne recorded the remaining three hits. Christopher Morel and Chase Strumpf combined to go 0-7 with two punchouts in the loss.
We might have lost, but we looked good doing it! #SmokiesBaseball #GoSmokies pic.twitter.com/K5BlDPudR9

— Tennessee Smokies (@smokiesbaseball) June 20, 2021
CEDAR RAPIDS KERNELS 10 – SOUTH BEND CUBS 2
Much like the Tennessee game, the bullpen did the Cubs no favors taking what was a great game and turning it into a laugher. Ryan Jensen got the start and turned out five strong innings in which he allowed just one earned run. South Bend elected to bring him back out for the sixth, and things went South as he was eventually charged with six earned runs destroying his great outing.
Although the final line wasn't the greatest, this was a nice bounce-back start for Jensen early on as a second inning Jair Camargo homer was the lone blemish for quite some time. His pitching gave South Bend a chance offensively, and they would capitalize across the next two innings. A Tyler Durna double tied things up 1-1 in the third before South Bend took the lead 2-1 on a Delvin Zinn fourth-inning sacrifice fly.
Usually, two runs wouldn't be enough, but given how Jensen looked through five innings, South Bend felt confident. That was until the sixth when things began to unravel, and the Cubs were searching for answers. Not only did singles by Seth Gray and Wander Javier give the Kernels the lead, but Camargo capped off a five-run inning with a two-run shot putting Cedar Rapids in front 6-2. All those runs were charged to Jensen as he imploded in the sixth.
Spencer Steer brought home another run in the seventh off his 10th homer of the season before the Kernels add three more off Burl Carraway in the eighth. Two of those runs came off the Gabriel Maciel single before a force out brought home the game's 10th run in the Cubs 10-2 loss. Eduarniel Nunez may have given up a run-in relief, but he did strike out four hitters and looked strong.
On the other hand, Carraway was charged with three runs in 1/3 of an inning and two earned on just one hit. His command was an issue once again, walking four compared to one strikeout. South Bend was held to just six hits in the game, with Jake Slaughter responsible for three of those hits. Durna, Jake Washer, and Edmond Americaan tallied the rest of the hits, while Nelson Velazquez went hitless, dropping his average to .284.
Cubs lose fourth straight Saturday night to Cedar Rapids, look to rebound tomorrow. afternoon with Bradford Deppermann on the mound. pic.twitter.com/LaLJJKMWyp

— South Bend Cubs (@SBCubs) June 20, 2021
CHARLESTON RIVERDOGS 7 – MYRTLE BEACH PELICANS 3
The common theme for the night was a close game early turned into laugher late. Myrtle Beach followed that trend as they were within 4-1 through five innings before a three-run sixth put the game out of reach. Richard Gallardo continues to go through the growing pains of a young starter, going four innings and allowing four runs, although three were earned. He has a 5.04 ERA for the season, but that has been inflated after his last few outings.
Down 1-0 in the second after a first-inning homer by Diego Infante, Jacob Wetzel got the Pelicans on the board, going deep for the second time this season to make things 1-1. From that point on, it was all Charleston as they went on a run of six unanswered runs, including three over the next two innings.
Brett Wisley took Gallardo deep for his fourth homer of the season before Curtis Mead brought home a pair in the fourth with an RBI single to make things 4-1. With Bailey Reid on in relief in the seventh, the Riverdogs got back on the offensive attack using an Abiezel Ramirez homer to bust the game open 7-1. Down to their last at-bats and down six, the Pelicans were not going to go away quietly.
After a wild pitch brought home the second Myrtle Beach run, Ethan Hearn made it a 7-3 game with his RBI single. That would be as close as things would get as the Pelicans continue to endure a rough series. Along with his homer, Wetzel picked up another hit as he led the way with two. Ezequiel Pagan, Flemin Bautista, and Hearn picked up the remaining hits, while Yohendrick Pinango and Jordan Nwogu went hitless. Danis Correa and Carlos Ocampo were strong in relief, giving the Pelicans 3 1/3 scoreless innings to go with one hit and four strikeouts.
Game six tomorrow. #MBPelicans pic.twitter.com/g7oE0hQHAn

— Myrtle Beach Pelicans (@Pelicanbaseball) June 20, 2021

Tags: Cubs Baseball
,
Kohl Stewart
,
Scott Effross
,
Michael Rucker
,
Trent Giambrone
,
Erick Castillo
,
Abiatal Avelino
,
Javier Assad
,
Darius Hill
,
Brennen Davis
,
Garrett Kelly
,
Nelson Maldonado
,
Carlos Sepulveda
,
Christopher Morel
,
Chase Strumpf
,
Ryan Jensen
,
Tyler Durna
,
Delvin Zinn
,
Eduarniel Nunez
,
Edmond Americaan
,
Nelson Velazquez
,
Richard Gallardo