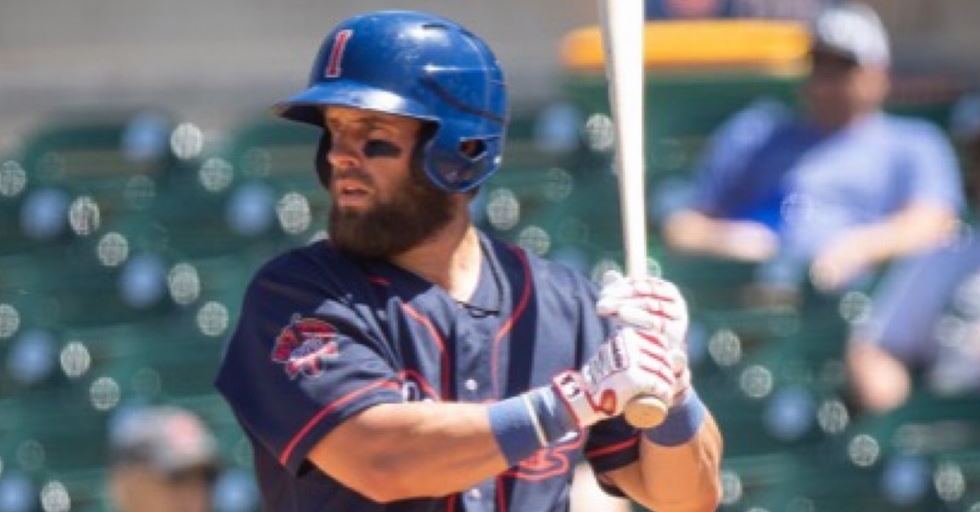 | | |
| --- | --- |
| Cubs Minor League News: Martini homers in I-Cubs win, Canario sizzling with another homer, | |
---
I have watched my fair share of Cubs baseball, but I must admit it is becoming hard to watch right now. At least we have the minor leagues where even the casual fan may notice what is happening in the Cubs system. Just three weeks ago, the Cubs system was ranked 21st in the game with a handful of prospects worth following.
Now, after the trade deadline, this system has soared back into the top 10 in overall farm systems as a plethora of prospects are making their presence felt. That has resulted in more wins than earlier in the season, with the winning ways on display again. The Cubs posted a 3-1 record on Wednesday night, and most of the teams have gotten off to a great start this week.
IOWA CUBS 12 – OMAHA STORM CHASERS 7
On the strength of two big innings, the Cubs were able to score 10 of their 12 runs and held off the Storm Chasers 12 -7. With Jake Arrieta struggling in the majors, there are many talks about who the Cubs may call up to replace him in the rotation. Cory Abbott is one of the names mentioned, but even he is having a rough go of things.
Abbott lasted just 4 1/3 innings on Wednesday, allowing four runs on five hits to go with five walks. His ERA is 7.34 for the season, as his first AAA season has been a nightmare. Even with another less than stellar outing, the Cubs offense gave him plenty of support in the early going. Erick Castillo picked up an RBI fielders' choice in the second to provide the Cubs with a 1-0 lead before Nick Martini added to that lead with a solo shot in the third.
Look familiar? Nick Martini goes deep AGAIN for his second home run in as many games to give us a 2-0 lead. pic.twitter.com/8b4coXVCoI

— Iowa Cubs (@IowaCubs) August 12, 2021
The fourth inning is when the Cubs busted things wide open, pushing across six runs to take an 8-0 lead. The first of those runs came on a Zach Davis single ahead of a bases-loaded walk to Abiatal Avelino. Add in a two-run single by Alfonso Rivas and a two-run Martini double, and the Cubs were off and running early.
Omaha was able to get some of those runs back in the bottom of the fourth using a Ryan McBroom double and an MJ Melendrez two-run shot to pull within 8-3. Mcbroom added an RBI single in the fifth to pull within 8-4, but Omaha made things interesting in the eighth. With one swing of the bat, the Storm Chasers were within 8-7 as Rudy Martin went deep for his third homer of the season.
Fortunately, that was all the closer they would get as Iowa picked up four big insurance runs in the ninth off singles by Avelino and Rivas while Martini picked up an RBI groundout to seal the 12-7 win. Rivas is finally resembling the top 30 prospect he once was, collecting three hits to go with three RBIs. For whatever reason, Martini is coming into his own, picking up two more hits to go with his team-high four RBIs.
Zach Davis and Avelino also collected two-hit nights in the win. The Cubs also saw Dillon Maples return to the mound as he began his rehab stint in AAA. Maples did allow two hits, but struck out one and was able to pitch a scoreless inning, while Tony Cingrani has yet to allow a run striking out the side in the ninth.
The good guys won the marathon! pic.twitter.com/SIw2cIFoAD

— Iowa Cubs (@IowaCubs) August 12, 2021
TENNESSEE SMOKIES 10 – ROCKET CITY TRASH PANDAS 5
Much like the Brewers, the Smokies needed just one inning to put the game away, scoring all 10 of their runs in the second. That was more than enough support for Luis Lugo, who gave up two runs in five innings of work while striking out eight. It was his fifth win of the season as he lowered his ERA to 3.90.
Ironically, when you look at that second inning by Tennessee, only three of those 10 runs came via the home run as Cam Balego went deep for his first homer of the season, a three-run shot. The Smokies picked up RBI doubles from Christopher Morel and Tyler Payne, while Nelson Velazquez stayed hot with an RBI single. Add in a Delvin Zinn sacrifice fly and a wild pitch, and you had the Smokies grabbing a 10-0 lead after two.
Despite not scoring another run the rest of the way, that 10-run advantage was more than enough, with Brendon Davis putting Rocket City on the board with a fourth-inning homer ahead of Torii Hunter's fifth-inning sacrifice fly to pull within 10-2. That score held until the eighth when the Trash Pandas did their best to get back into the game.
In that inning, Izzy Wilson got things started with a sharp RBI single to right before the Mitch Nay fielder's choice had things 10-4. Ray-Patrick Didder added a sacrifice fly to pull within 10-5, but that would be as close as they would get. The middle of the order did the most damage as Chase Strumpf, and Balego led the way with two hits. Balego picked up three RBIs while Velazquez and Morel added two. Brennen Davis stayed hot, adding another hit to go with a walk.
SOUTH BEND CUBS 5 -FORT WAYNE TIN CAPS 1
Led by strong pitching and late-game offense, the Cubs delivered a complete performance on Wednesday, topping Fort Wayne 5-1. Max Bain started and delivered his second straight quality start as he earned his third win of the season. Bain was impressive, going six shutout innings and allowing just three hits.
Offensively, it wasn't until the fifth inning when the Cubs scored as Liam Spence picked up the RBI single to put the Cubs in front 1-0. This year's fifth-round pick, Spence, wasn't done having a great game as he provided the game-winning RBI in the seventh with his second RBI hit of the day. Not willing to go down without a fight, the Tin Caps cut the deficit in half, with Luis Almanzar grabbing an RBI single of his own.
That set the stage for the hottest hitter on the planet in Alexander Canario as he came to bat in the ninth. Already with a homer in three straight games, Canario upped the ante by going deep in a fourth consecutive game, pounding out a three-run shot to cap off a 5-1 win.
If you would like to see another Alexander Canario home run, please raise your hand. ??????????
For those keeping track, Canario has hit a home run in each of the last four games. #CubTogether | #Cubs
Credit: @TinCaps pic.twitter.com/26qF6pegOU

— South Bend Cubs (@SBCubs) August 12, 2021
Spence collected a pair of hits to go with two RBIs as he is hitting .500 with South Bend. Edmond Americaan, Canario, Tyler Durna, and Yonathan Perlaza added the remaining hits.
CHARLESTON RIVERDOGS 7 – MYRTLE BEACH PELICANS 2
The lone team to suffer a loss was the hottest team in the system as the Pelicans saw their seven-game winning streak come to an end. Richard Gallardo was on the short end of a losing start as he surrendered four runs in 4 1/3, falling to 2-7 on the season.
Surprisingly, Gallardo got off to a strong start in this one allowing just a fourth-inning homer to Beau Brundage as his lone blemish early. Add that to a pair of Riverdogs errors, and the Cubs held a 2-1 lead heading into the fifth inning. That is when the wheels began to fall off for Gallardo, and the Pelicans as the Riverdogs pushed across four runs the next two innings to take a 5-2 lead.
Three of those runs came in the fifth when Alika Williams and Tanner Murray collected RBI singles while Diego Infante added a sacrifice fly. One inning later saw Alexander Ovalles reach on an error as the Pelicans returned the favor from earlier in the game. With Gabriel Jaramillo now on the mound, the Riverdogs stretched their lead to 7-2 as Michael Berglund cashed in an eighth-inning RBI double before Brundage added a triple in the ninth. The Pelicans went down quietly and fell by that 7-2 score.
Kevin Made and Matt Warkentin provided half of the team's hits, as the duo combined for four hits in the loss. Ezequiel Pagan, Jordan Nwogu, Jacob Wetzel, and Yohendrick Pinango tallied the rest of the hits. Despite allowing two runs in two innings, Jaramillo is still having a great season with an ERA sitting at 1.71.

Tags: Cubs Baseball
,
Jake Arrieta
,
Cory Abbott
,
Erick Castillo
,
Zach Davis
,
Abiatal Avelino
,
Alfonso Rivas
,
Dillon Maples
,
Luis Lugo
,
Cam Balego
,
Christopher Morel
,
Nelson Velazquez
,
Delvin Zinn
,
Chase Strumpf
,
Brennen Davis
,
Edmond Americaan
,
Tyler Durna
,
Yonathan Perlaza
,
Richard Gallardo