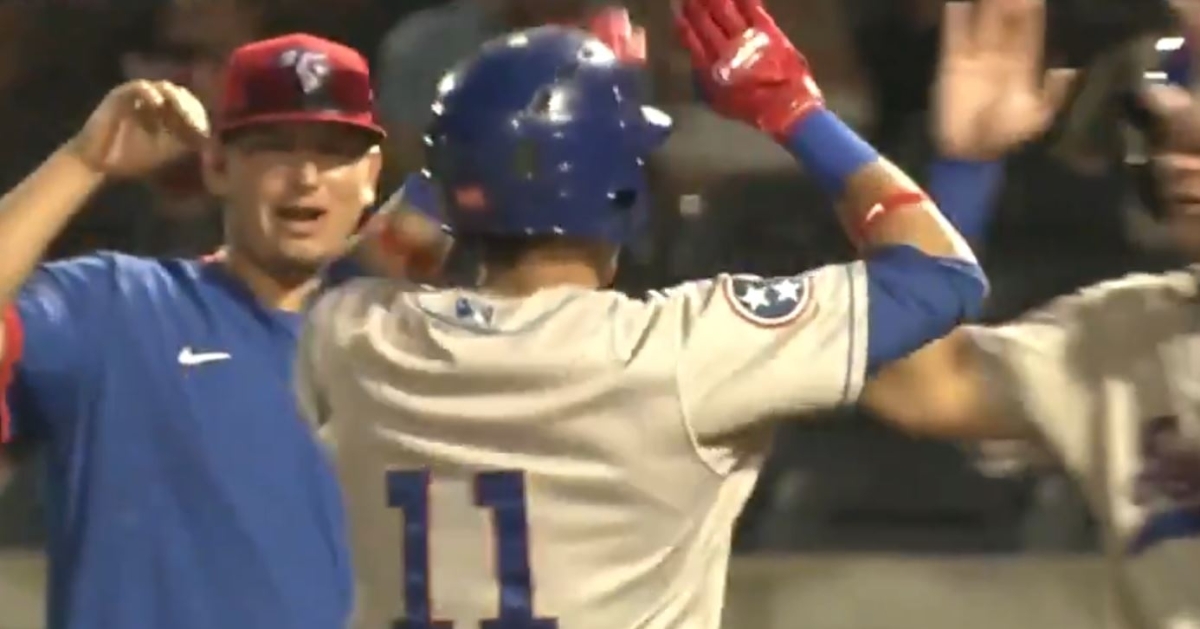 | | |
| --- | --- |
| Cubs Minor League News: Morel and Davis crush two bombs each, Thompson impressive, more | |
---
| | | |
| --- | --- | --- |
| Thursday, July 22, 2021, 2:50 PM | | |
After a strong showing across the farm on Tuesday, Wednesday was a much different story as wins were hard to come by. Not only did the organization finish the day 1-3 with Tennessee the lone team to win, but it was the way the system lost that stood out.
Only one of those three losses was decided by fewer than four runs, with the Cubs having a -19-run differential in those games. An 11-0 defeat will undoubtedly aid in that statistic, but things didn't go as planned for the Cubs on Wednesday as they hope to rebound for Thursday.
COLUMBUS CLIPPERS 7 – IOWA CUBS 4
In what was a bit of a slugfest on Tuesday, both the Cubs and Columbus had a bit more difficulty scoring runs even though the Clippers did a better job. Seeing Corey Abbott struggle as much as he has this season has to be concerning, especially when he is a top 15 prospect. Abbott not only gave up six runs, but did so in just four innings as he continues to put up less than appealing starts.
The worst part about his start was that Iowa gifted him with plenty of early support as all four of their runs came in the second inning. Tyler
Ladendorf continued his hot stretch of hitting by ripping an RBI double to make things 1-0. Erick Castillo would later bring him home on an RBI single to push the lead up to 2-0. Looking for a bit more offense, Trayce Thompson capped off that huge inning with his team-leading ninth homer as the Cubs were in front 4-0.
In total, the Clippers ended the game with seven unanswered runs and took the lead in the fifth after pushing across three runs in that inning. Not only did the Clippers get a pair of those runs back in the third off an Alex Call homer, but they pulled within 4-3 in the fourth after Nolan Jones picked up an RBI groundout. Columbus capped off the scoring with a Jones homer in the seventh off Kyle Ryan as Iowa falls 7-4.
Thompson has been scuffling a lot and was moved back to the leadoff spot picking up a pair of hits to go with his two RBIs. He was the only player with multiple hits as eight other Cubs had hits in the game, with Nick Martini and Frank Schwindel as the only players without one.
Columbus evened the series tonight. 11:05 am CT first pitch for game three tomorrow! pic.twitter.com/vTAEE3xH6o

— Iowa Cubs (@IowaCubs) July 22, 2021
TENNESSEE SMOKIES 12 – ROCKET CITY TRASH PANDAS 8
Ironically, the only team that won on Wednesday was the Smokies, who used a rare offensive explosion to get that done. Peyton Remy was certainly not at his best, allowing five runs in just five innings of work, but he did enough to earn the win as the offense gave him plenty of support.
Remy did himself zero favors in the first, serving up a David MacKinnon homer to put Tennessee in an early 3-0 hole. Wasting no time, not only did the Smokies climb back into the game in the second, but pushed 10 runs across the next three frames, which all started with the Cam Balego double to make things 3-2. Balego then came around to score on the Edwin Figuera single, and just like that, Tennessee tied things up 3-3 in the second.
One inning later saw the Smokies continue their red-hot start with Brennen Davis going deep for his seventh bomb of the season, putting the Smokies in front for good 5-3. That homer was answered by Christopher Morel as his team-high 11th homer had Tennessee rolling 7-3. Not to be discouraged, the Trash Pandas continued to battle Remy using an Orlando Martinez double and Dalton Pompey single to pull within 7-5 after four.
That 7-5 lead grew to 10-5 in the fifth, with Davis going deep for the second time in as many at-bats. Homers by Brandon Davis and Torii Hunter did make things interesting pulling Rocket City within 10-8, but Morel delivered the knockout blow as his second homer of the game in the ninth gave the Smokies a 12-8 win.
Davis and Morel were the spark plugs on offense as both delivered a pair of homers to go with nine combined RBIs.
Cubs prospects, Brennen Davis and Christopher Morel both hit two dingers in last night's win. Davis went 2 for 5 and Morel went 2 for 4 with two, two-run home runs, scored three runs, and forced a walk. #SmokiesBaseball #GoSmokies #CubTogether pic.twitter.com/YAxhAY6hmC

— Tennessee Smokies (@smokiesbaseball) July 22, 2021
Balego added two hits and two RBIs from the ninth spot, with Tennessee collecting 10 hits in the win. Chase Strumpf was not one of those players to record a hit, although he did take three walks in the win.
WISCONSIN TIMBER RATTLERS 7 – SOUTH BEND 2
This was one of the better games of the day and was much closer than the score indicated as the Rattlers picked up four runs in the seventh inning to pull away. I had the privilege of watching this game from the press box, and there was a lot to like despite the loss.
For starters, 2019 first-round pick Ryan Jensen was on the mound, but suffered an abbreviated outing in which he allowed three runs in just an 1 1/3. He gave way to Bryan King the next three-plus innings, but it was 2020 second-round pick Burl Carraway that stood out. Not only did he deliver two shutout innings, but he threw the best outing of his career as he recorded five punchouts. His fastball was in the 94-97 range, while his curve had Wisconsin guessing.
Offensively, South Bend was a bit challenged, but give Carlos Luna a ton of credit as he improved to 3-1 with a 1.79 ERA this season. With Luna dominating the Cubs early, seeing Je'Von Ward and Joe Gray JR pick up RBI singles in the first was not great as South Bend trailed 2-0. That lead grew to 3-0 in the second as Kekai Rios went deep for the second time this season.
It took four innings of South Bend to solve Luna, but it was D.J. Artis who did pick up the Cubs first hit by driving one out over the batter's eye in center field to make things 3-1. That was the Cubs lone hit for most of the game as Luna held the Cubs in check. Moving to the seventh with the game still 3-1, Bryce Ball led things off with a walk giving South Bend a much-needed baserunner.
A few batters later, it was time for Yonathan Perlaza to come through as he crushed one off the wall in right-center for a double pulling the Cubs within 3-2. Unfortunately for South Bend, that would be as close as they get as Eduarniel Nunez struggled in his relief outing, eventually serving up a grand slam to Thomas Dillard to cap off the Cubs 7-2 loss.
Outside the Perlaza and Artis hit, Edmond Americaan was the only other player to collect a hit in a quiet day at the plate. Although hitless again, Ball continues to show a great eye at the plate picking up two more walks while Nelson Velazquez struck out twice during his hitless day.
CHARLESTON RIVERDOGS 11 – MYRTLE BEACH PELICANS 0
Myrtle Beach found out firsthand how good Charleston can be Wednesday, as they suffered an 11-0 loss. Both starter Jose Miguel Gonzalez and Adam Heidenfelder struggled as they allowed 10 of the 11 runs. Gonzalez allowed five in his four-inning start, while Heidenfelder made his season debut, surrendering five runs in less than an inning.
Surprisingly, things were not that bad early as the Riverdogs picked up an Alexander Ovalles single in the second, followed by the Logan Driscoll homer in the fourth to lead 2-0. The fifth inning is when Gonzalez started to come unraveled as he was charged with three earned runs without recording an out. Diego Infante was credited for a pair of those runs with an RBI double, while Driscoll added a sacrifice fly later.
Facing a 6-0 deficit in the eighth after a solo homer from Brett Wisley in the seventh, the Riverdogs began to tee off on Heidenfelder as his debut didn't go as planned. Not only did Alika Williams and Wisley pick up RBI singles, but Heidenfelder loaded the bases and was charged with five earned runs in just 2/3 an inning. Infante picked up a sacrifice fly later in the eight before Garrett Hiott capped off the scoring with a bases-loaded walk.
Not only were the Pelicans shut out, but they managed just four hits, with Yohendrick Pinango, Ezequiel Pagan, Ethan Hearn, and Luis Verdugo provided the hits. Kevin Made, Ed Howard, and Pablo Aliendo all suffered hitless days, but Aliendo took a pair of walks in the loss.

Tags: Cubs Baseball
,
Erick Castillo
,
Kyle Ryan
,
Peyton Remy
,
Cam Balego
,
Brennen Davis
,
Christopher Morel
,
Chase Strumpf
,
Ryan Jensen
,
Bryan King
,
Yonathan Perlaza
,
Eduarniel Nunez
,
Edmond Americaan
,
Nelson Velazquez