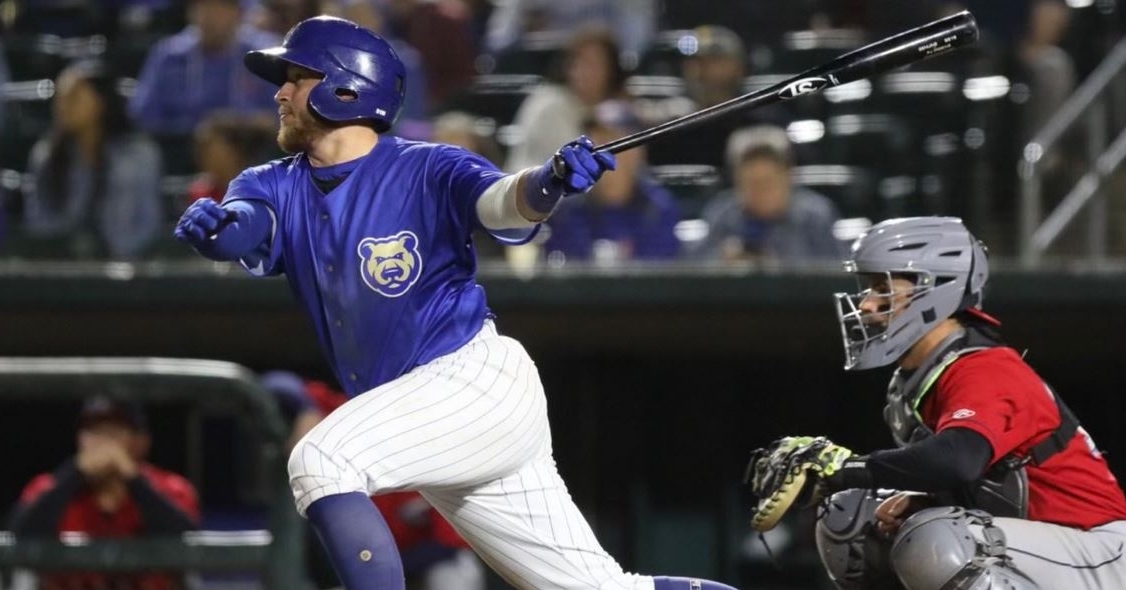 | | |
| --- | --- |
| Cubs Minor League News: PJ Higgins raking, Caissie with two homers, PCA homers, more | |
---
| | | |
| --- | --- | --- |
| Saturday, May 21, 2022, 12:00 PM | | |
All I do is win, win, win, no matter what. That is precisely what the Cubs minor league system is doing right now: they are making a mockery out of the league. Over the past two weeks, wins have started to pile up, but pile up to the point where if they don't go 3-1, it is considered a disappointment.
Last night's effort makes it three days in a row, posting at least a 3-1 mark. With the MLB team struggling to win games consistently, the minor leagues have been a nice break this season and have been refreshing to watch.
IOWA CUBS 7 - COLUMBUS CLIPPERS 3
When this week began, and you looked at this series, a six-game split would be considered a win. Here we are four games in, and the Cubs have won three straight and are on the verge of taking this series.
Behind Cam Sanders and his four solid innings, the Iowa offense came to life late, using a three-run seventh to put things away for good. This was Sanders second AAA start as the right-hander allowed two runs in four innings with four strikeouts. Leading 1-0 after a second-inning Jared Young RBI single, Columbus pushed across both runs off Sanders in the third, using a Mitchell Tolman homer to get on the board and then an Alex Call single to take the lead. Tolman added an RBI single in the fourth, helping Columbus grab a 3-1 lead.
Although down by two at that point, the Cubs did a great job keeping Columbus quiet the rest of the way and finished the game with six unanswered runs. Nelson Velazquez started that comeback with an RBI groundout before a fifth-inning error brought things back to even 3-3.
Miscues continued to be the theme for Columbus as another costly miscue in the sixth put Iowa on top for good 4-3 before the Cubs began to pour it on in the seventh. In that seventh inning, P.J. Higgins picked up a two-run single before Robel Garcia capped off the scoring in the 7-3 win. Higgins has been one of Iowa's hottest hitters of late, grabbing three hits to raise his average to .417. Clint Frazier grabbed two hits while David Bote went hitless as they work their way back to the bigs.
Another one for the good guys. pic.twitter.com/a1to2jq1Jo

— Iowa Cubs (@IowaCubs) May 21, 2022
CHATTANOOGA LOOKOUTS 4 - TENNESSEE SMOKIES 2
All it took was one inning, but in that inning, the Lookouts pushed across four runs and doubled up the Smokies for the win.
Manuel Espinoza was saddled with the loss in this one, allowing all four runs and striking out eight in five innings of work.
Anderson Espinoza has some nasty junk. 2 Ks in the first. pic.twitter.com/ypyMuJYBGr

— Todd ?????? (@CubsCentral08) May 20, 2022
Brandon Leibrandt finished the final four innings allowing one hit and adding five strikeouts.
While Espinoza had one bad inning, the same can't be said about Eduardo Salazar, who was very impressive in six innings. Backed by the Quin Cotton RBI double and the James Free two-run shot, Salazar had a 4-0 lead in his back pocket two innings, and the Lookouts made that hold up.
Tennessee did their best to come back with Luis Vazquez picking up a fourth-inning sacrifice fly before Matt Mervis went deep for the first time in the seventh. Even with that, the Smokies offense was very quiet, and the result was another loss to the Lookouts. Alexander Canario led the way offensively as he picked up two of the team's four hits.
This is a huge moment. 2021 Alexander Canario would've tried to pull the ball and struck out. 2022 Canario takes a two strike pitch and sends it the other way for a double pic.twitter.com/1rkbHTkTYr

— Todd ?????? (@CubsCentral08) May 20, 2022
Chase Strumpf, Mervis, Christian Donahue, and Bryce Windham added the rest.
We will come back like a boomerang tomorrow. pic.twitter.com/1PDtJ4zbOw

— Tennessee Smokies (@smokiesbaseball) May 21, 2022
SOUTH BEND CUBS 6 - WISCONSIN TIMBER RATTLERS 2
In a series that was supposed to be a measuring stick for South Bend, it has been the Cubs putting the league on notice and beating Wisconsin for the third straight time. DJ Herz continues to do his thing, working four innings of one-run ball to lower his ERA to 1.98.
DJ Herz shows Joe Gray, jr his CH. pic.twitter.com/d4LN5xbXGP

— Itsacon (@thats_so_cub) May 21, 2022
However, Walker Powell earned the win after going five innings out of the pen with four strikeouts.
Now that he has finally homered, things seem to be falling into place for Owen Caissie as he opened the scoring with a second-inning solo shot. Wes Clarke answered that with a solo shot in the bottom of the second, but Caissie had the last laugh, adding a second homer in the fourth to put the Cubs in front 4-1. That proved to be the game-winning hit.
Cubs No. 8 prospect finished with TWO homers tonight!

pic.twitter.com/WHBI9yuiBn

— CHGO Cubs (@CHGO_Cubs) May 21, 2022
Homers continued to be the trend for South Bend all night, with Scott McKeon getting in on the fun in the seventh to extend the lead to 6-1. Carlos Rodriguez capped off the scoring with a single in the sixth, but it was all South Bend again, 6-2. Caissie paced the offense with two hits and four RBIs, with Jake Slaughter joining with another multi-hit effort.
Last 16 games...
WWWWWWWWLWWWLWWW pic.twitter.com/EDzM9z8eUV

— South Bend Cubs (@SBCubs) May 21, 2022
MYRTLE BEACH PELICANS 5 - COLUMBIA FIREFLIES 4
Another series is underway, and another series is won as the Pelicans have won all four against Columbia. Things were not easy, and it took a ninth-inning run to get the win, but a win is a win.
Despite some command issues, Tyler Schlaffer battled through three-plus innings of the three-run ball as only one run was earned. He gave way to Jose Gonzalez and company as they kept the Fireflies quiet the rest of the way. Looking to back their starter with early support, James Triantos got the Pelicans on the board as his first-inning RBI single made things 1-0. Myrtle Beach would tack on another run off a wild pitch before the Malcolm Quintero third-inning double made things 3-0.
Columbia started to gain momentum at that point, with Guillermo Quintana picking up a sacrifice fly to get on the board. A costly error by Myrtle Beach in the fourth allowed a run to score and extended the inning for River Town to single home another run and tied things up 3-3.
Hoping to snap out of his recent funk, Pete Crow-Armstrong homered in the top half of the seventh to give the Pelicans the lead right back, only to have Columbia answer with a Gary Camarillo homer tying things up 4-4.
#5 for PCA pic.twitter.com/Q4AY9nt54G

— Todd ?????? (@CubsCentral08) May 21, 2022
Fortunately for the Pelicans, their luck still hasn't run out as a ninth-inning error proved to be the difference as the Pelicans won 5-4 and improved to an organization best 26-11. Crow-Armstrong collected three hits to lead the offense, with Triantos adding two.

Tags: Cubs Baseball
,
Cam Sanders
,
Jared Young
,
Nelson Velazquez
,
Robel Garcia
,
Clint Frazier
,
David Bote
,
Luis Vazquez
,
Alexander Canario
,
Chase Strumpf
,
Christian Donahue