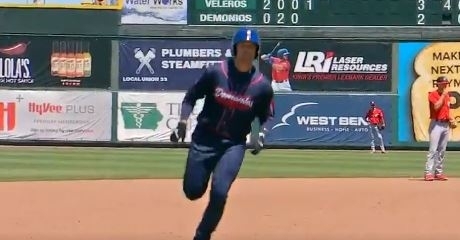 | | |
| --- | --- |
| Cubs Minor League News: Thompson blasts two homers in loss, Smokies shut out Trash Pandas, | |
---
| | | |
| --- | --- | --- |
| Monday, June 14, 2021, 12:30 PM | | |
The weekend didn't end how the Cubs system was hoping it would as they limped to a 1-3 finish on the farm Sunday. That win came from Tennessee as they not only ended a 10-game losing streak, but found a way to beat Rocket City in the process.
Two of the three losses saw the Cubs system hold the lead until late in the game only to have the bullpen let it slip away. That has been an issue in the system this season. Fortunately, it hasn't carried over to the majors, where the Cubs continue to have one of the best bullpens in all of baseball.
COLUMBUS CLIPPERS 6 – IOWA CUBS 3
Despite what the scoreline says, this was a very good game that saw Columbus push across three ninth-inning runs off Brad Wieck in what was otherwise a great game. Cory Abbott returned to Iowa after his brief MLB stay and delivered six strong innings of three-run ball to go with eight strikeouts.
Ben Leeper, Kyle Ryan, and Adam Morgan continued to pitch well in relief as they kept the game close before Wieck let it get away. Things didn't start well for Abbott as he not only allowed an Andres Gimenez homer but also a Trenton Brooks RBI force out in the first inning to give the Clippers a 2-0 lead early. After that, Abbott settled in nicely while Trayce Thompson led the Iowa offense at the plate.
Thompson tied things up in the second inning with his fifth homer of the season before going deep for a second time in the game-tying things up once again following the Nolan Jones homer earlier in the fourth. That 3-3 score would remain that way until the ninth as both sides had their chances but couldn't get anything done.
In the ninth, Columbus seemed to find their stride once again as Wieck couldn't get the job done. With the bases loaded, Angel Lopez ripped a double, allowing two runs to score. An error by Vance Vizcaino on the same play pushed across the third run as the Clippers took a 6-3 lead. Hoping to make some noise of their own, Nick Martini reached base on a single before a Tony Wolters walk, and Ian Miller single loaded the bases with two outs. That was as close as the Cubs would get with Dee Strange-Gordon striking out to end the game.
Thompson provided all the offense for Iowa, collecting two homers to go with his three RBIs joining Martini and Tyler Ladendorf with two-hit games.
Trayce Thompson ties it with his second homer of the day! pic.twitter.com/qyIFTNw5La

— Iowa Cubs (@IowaCubs) June 13, 2021
Miller, Michael Hermosillo, and Abiatal Avelino picked up the remaining three hits for Iowa, with Gordon and Wolters going hitless.
Columbus took the series finale today. pic.twitter.com/M7B7IVkxxQ

— Iowa Cubs (@IowaCubs) June 13, 2021
TENNESSEE SMOKIES 6 – ROCKET CITY TRASH PANDAS 0
It took nearly two series, but the Smokies were finally able to top the Trash Pandas 6-0. The win was the second win of the season against Rocket City but also ended a 10-game skid. Javier Assad got the start, and although he earned a no-decision delivered his best showing of the season. Assad lasted six innings, allowing no runs on four hits to go with four strikeouts.
Kyle Tyler was equally as good, as he too tossed six scoreless frames to go with seven strikeouts as things remained 0-0 with three innings to go. In what was now a battle of the bullpens, the Smokies finally scratched across the games first run using an Erick Castillo sacrifice fly to get that done. While that proved to be the winning run, a Reivaj Garcia double and Darius Hill single gave Tennessee some much-needed insurance as they increased their lead to 4-0.
The Smokies continued their late-game offensive surge in the eighth inning, with D.J. Artis picking up an RBI groundout ahead of a Castillo single, extending the lead to 6-0. After Ryan Lawlor tossed a pair of scoreless innings with three strikeouts, Juan Gamez entered in the ninth to secure the much-needed win.
The bottom of the order did the most damage, with Castillo and Garcia collecting two hits each while driving in four runs. Hill, Carlos Sepulveda, Nelson Maldonado, and Grayson Byrd all added hits in the win, with Hill and Artis grabbing one-RBI. Chase Strumpf and Brennan Davis combined to go 0-8 with one walk and seven strikeouts.
Smokies win 6-0 to close out the series with Rocket City. Join us back inside Smokies Stadium Tuesday as the Chattanooga Lookouts come to town! #SmokiesBaseball #GoSmokies pic.twitter.com/UVFciIDblT

— Tennessee Smokies (@smokiesbaseball) June 13, 2021
WISCONSIN TIMBER RATTLERS 7 – SOUTH BEND CUBS 4
If the Cubs could eliminate big innings, they would be a much better team, but giving up five runs in the first doesn't help. That not only puts you in a massive hole, but it allowed the Timber Rattlers to settle in and cruise to a 7-4 win. For the second time in his last four starts, Ryan Jensen failed to make it out of the first inning, allowing five runs on three hits in 2/3 of an inning. Jensen also surrendered three walks as his ERA rose to 6.04 on the season.
All the runs Jensen surrendered resulted from his command issues as the Timber Rattlers had plenty of traffic on the bases. Thomas Dillard gave Wisconsin the lead for good with a sacrifice fly before a je'Von Ward double, and Gabriel Garcia sacrifice fly extended the lead to 3-0. Wisconsin continued to roll with Carlos Rodriguez picking up an RBI double before coming around to score on the Kekai Rios single. That single proved to be the game-winner as South Bend was in catchup mode.
Solo shots by Josue Huma and Yonathan Perlaza in the second and fourth innings brought South Bend within 6-2 before seeing Garcia extend that lead to 7-2 with a seventh-inning double. South Bend continued their comeback effort in the bottom of the seventh when Matt Burch connected for his first homer of the season to make things 7-4. South Bend would waste a Delvin Zinn triple followed by a pair of ninth inning walks as they fell to Wisconsin 7-4.
South Bend collected 10 hits in the win, with Huma, Burch, and Zinn each with two. Perlaza, Nelson Velazquez, Bradlee Beesley, and Raymond Pena collected the remaining four hits. Edmond Americaan was held hitless again as his average falls to .192. Scott Kobos and Burl Carraway were strong in relief, combining for 3 2/3 scoreless innings with two walks and six strikeouts.
The debut of Los Cabritos Maldichos ends a little cursed. A third consecutive series split before South Bend travels to Cedar Rapids. pic.twitter.com/sm4Bkc8tTh

— South Bend Cubs (@SBCubs) June 13, 2021
AUGUSTA GREEN JACKETS 4 – MYRTLE BEACH PELICANS 2
What started off as a great game ended in disappointment as the Pelicans pen allowed three runs over the final two innings to seal the fate of their 4-2 loss. While Jose Miguel Gonzalez got the start allowing one run in two innings, it was Joe Nahas who earned recognition out of the pen.
Not only did he give Myrtle Beach four innings of relief, but he did so by not allowing a single run on just two hits. Nahas also walked a hitter but struck out nine men in his four innings. Down 1-0 in the second after Willie Carter's first-inning single, Myrtle Beach tied things up 1-1 using a Ryan Reynolds triple to make that happen.
With the score still knotted 1-1 in the seventh, Pablo Aliendo went deep for the first time in 2021 as the Pelicans now lead 2-1. That lead was short-lived when Landon Stephens tripled home the tying run in the bottom of the seventh before Augusta took the lead 4-2 on a Cade Bunnell single in the eighth. Hoping for some late-game magic of their own, Matt Mervis led off the ninth with a double only to see the next three hitters sent down in order.
Outside those RBI hits by Reynolds and Aliendo, the Pelicans picked up just two other hits, with Ezequiel Pagan and Mervis picking up the remaining hits. Not only did Yohendrick Pinango record a rare hitless outing, but he struck out three times, but he is still posting a solid 276 average for the year.
Final from Augusta. GreenJackets take the series four games to two.

We'll be back on the Grand Strand on Tuesday night against Charleston. #MBPelicans pic.twitter.com/7me3e1vIXV

— Myrtle Beach Pelicans (@Pelicanbaseball) June 13, 2021
BONUS CBB NOTRE DAME 9 – MISSISSIPPI ST. 1
Facing a win-or-go-home situation in the Starkville Super Regional, the Irish turned to Aiden Tyrell on the mound, who dominated the Bulldogs. In his 7 1/3 innings of work, Tyrell allowed just one run on five hits while walking three and striking out six. He turned things over to Alex Rao, who closed out the game from there.
The lone run Tyrell allowed was in the first inning when Tanner Allen stayed red-hot using a sacrifice fly to give the Bulldogs an early 1-0 lead. That lead didn't last long, with Zack Prajzner putting the Irish on top for good 2-1 using an infield single and an error to make that happen. That 2-1 lead grew to 6-1 in the fifth as the Irish offense erupted for four runs.
Brooks Coetzee picked up the first RBI with a perfectly executed safety squeeze, ahead of the David LaManna three-run shot gave the Irish a convincing 6-1 lead. Hoping not to let another four-run lead getaway, Jack Brannigan extended the Irish lead to 8-1 in the sixth as the Irish continued to play long ball with a two-run shot. Carter Putz capped off the scoring with an RBI fielder's choice in the seventh as the Irish force a decisive game 3 with a 9-1 win.

Tags: Cubs Baseball
,
Brad Wieck
,
Cory Abbott
,
Kyle Ryan
,
Vance Vizcaino
,
Ian Miller
,
Michael Hermosillo
,
Abiatal Avelino
,
Javier Assad
,
Erick Castillo
,
Darius Hill
,
Ryan Lawlor
,
Juan Gamez
,
Carlos Sepulveda
,
Nelson Maldonado
,
Grayson Byrd
,
Chase Strumpf
,
Ryan Jensen
,
Josue Huma
,
Yonathan Perlaza
,
Delvin Zinn
,
Nelson Velazquez
,
Edmond Americaan
,
Ryan Reynolds