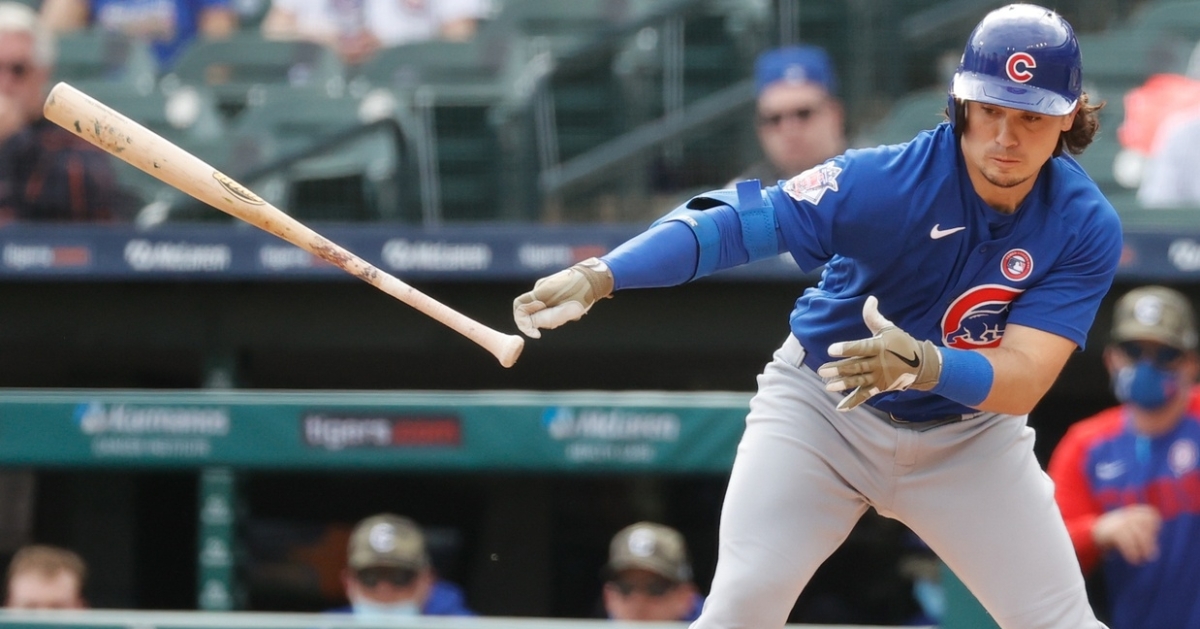 | | |
| --- | --- |
| Cubs Minor League News: Tony Wolters with four RBIs in win, Smokies get the victory, more | |
---
| | | |
| --- | --- | --- |
| Saturday, June 19, 2021, 12:00 PM | | |
At this point, the Cubs would kill to have a winning record on the farm, even if for just a day. Friday was another one of those nights as the Cubs went 2-2 again, with both Iowa and Tennessee securing wins.
As much as fans like to see wins, the system's health is far more critical as the Cubs system has been hit hard with injuries, much like the major league roster. That has forced several players to change levels even if not ready, and it has affected the play so far this season.
IOWA CUBS 6 – SAINT PAUL SAINTS 5 (10 innings)
One of the more exciting games in the Cubs system was in AAA, where Iowa rallied from a late deficit to pick up an extra-inning win. In what was a bullpen game for Iowa pitchers, the Cubs sent six different pitchers to the mound, all with some struggles. However, while Kyle Ryan struggled to get through the ninth, he managed to pick up the win as Trevor Megill notched the save in his return.
Down 1-0 in the second after another Tomas Telis homer, Trayce Thompson answered with his team-leading seventh bomb in the second tying things up 1-1. Given the struggles of both Ian Happ and Jason Heyward this season, you have to wonder if Thompson may be getting the call in place of Rafael Ortega soon.
The next several innings belonged to the Saints as they pushed across four unanswered runs to take a 5-1 lead. The first of those runs came off a David Banuelos double before a wild pitch made things 3-1 Saints. One inning later saw the Saints play long ball with JT Riddle and Damek Tomscha picking up solo shots to push the Saints lead to 5-1.
Down but not out, it was the Tony Wolters show later in the game as he put Iowa on his back in hopes of bringing them back. With one swing in the seventh, the Cubs were within a run as Wolters connected for his first homer of the season to make things 5-4.
Right back in it! Tony Wolters CRUSHES this three-run shot to put us down one in the seventh. pic.twitter.com/ilFKtEMiYX

— Iowa Cubs (@IowaCubs) June 19, 2021
Down to their last at-bat with runners on the corners, Wolters came through yet again as his single not only tied it but sent the game to extra innings 5-5.
In the 10th, it was the Cubs cashing in on the new extra-inning rule without having to get a hit. With Ian Miller standing on second, speed kills as he moved to third on the Dee Strange-Gordon bunt. Miller would hustle home on the wild pitch with two outs, giving the Cubs a 6-5 lead. Megill entered the game in the bottom of the 10th and pitched out of a bases-loaded no-out situation to secure the win.
Both Wolters and Gordon paced the offense with two hits, but it was Wolters who earns the player of the game with his season-high four RBIs. Nick Martini kept his strong series going adding another two hits with Thompson and Abiatal Avelino grabbing one hit in the win. Michael Hermosillo didn't collect a hit but is still hitting 356 to open the season.
What a comeback!! We climbed all the way back from down 5-1 to win it in extras. pic.twitter.com/gWG0NB9wtM

— Iowa Cubs (@IowaCubs) June 19, 2021
TENNESSEE SMOKIES 6 – CHATTANOOGA LOOKOUTS 3
It has been a while since we could say the Smokies won consecutive games, but that is the case following their win Friday. It took over a month, but Erich Uelmen was able to notch his first victory of the season, giving the Smokies six strong innings of two-run ball. The trio of Juan Gamez, Wyatt Short, and Manuel Rodriguez took over from there and allowed just one run in four innings.
Tennessee has struggled to get early leads this season, but they did just that and more on Friday. Following a scoreless first two innings, Carlos Sepulveda gave the Smokies the lead with an RBI single, and they never looked back. The Smokies were able to extend their lead to three in the fourth as Brennen Davis, and Nelson Maldonado picked up RBI singles.
After shutting out the Lookout bats through four innings, Uelmen was finally touched up in the fifth, allowing a Lorenzo Cedrola single to help Chattanooga get within 3-2. Hoping to keep their lead intact, the Smokies opened a big fifth inning that Tyler Payne and his RBI double started. Chase Strumpf would later come to the plate, launching his second homer of the season to the Smokies in front 6-2.
That would be more than enough offense for them on this night as the Lookouts only picked up a Jay Schuyler RBI the rest of the way, falling 6-3. Not only did Sepulveda collect a pair of hits, but so did Grayson Byrd and Maldonado, as they were responsible for six of the team's 10 hits. Payne, Davis, Darius Hill, and Strumpf added the other four in the win.
Smokies win!! Join us inside Smokies Stadium tomorrow night for the fan-favorite Margaritaville Night! Gates open at 5:30pm and first pitch is 7:00pm. #SmokiesBaseball #GoSmokies pic.twitter.com/XTNhUKGVEN

— Tennessee Smokies (@smokiesbaseball) June 19, 2021
CEDAR RAPIDS KERNELS 6 – SOUTH BEND CUBS 2
For the first time in the series, the Cubs played catchup early and were unable to come back. Cam Sanders got the start, and although he allowed three runs in 4 2/3, none of them were earned. Sanders also allowed five hits and struck out seven as he continues to pitch well.
Unfortunately for him, the three unearned runs off him were all the Kernels needed as the Cubs offense struggling. Those runs came in the third as a series of errors set Cedar Rapids up. Seth Gray opened the scoring with a single before a Wander Javier groundout made things 2-0. Trey Cabbage later added an RBI double, giving the Kernels a comfortable 3-0 lead.
South Bend has played behind a lot this season, and things haven't always gone well. However, the Cubs appeared ready for the challenge on this night as they climbed within 3-1 following a Caleb Knight double. Tyler Durna closed the gap slightly further as his fifth-inning sacrifice fly had things within 3-2. Unfortunately for South Bend, that was all the offense they mustered, with Cedar Rapids grabbing three insurance runs from Gray and Javier later in the game to win 6-2.
Of the Cubs six hits, Bradlee Beesley and Josue Huma had the hot hand, collecting four of those six hits. Knight and Yonathan Perlaza added the remaining two as the Cubs offense was mainly quiet on this night. Jake Slaughter, Delvin Zinn, and Edmond Americaan all went hitless.
Not our night tonight, but we get to come right back and do it again tomorrow. pic.twitter.com/X8wt1Y717O

— South Bend Cubs (@SBCubs) June 19, 2021
CHARLESTON RIVERDOGS 4 – MYRTLE BEACH PELICANS 0
Speaking of a team offensively challenged, the Pelicans were shut out for a second straight night, wasting another good pitching performance. While starter Didier Vargas was roughed up in his 3 2/3 innings allowing all four runs, Jose Gonzalez was not as he twirled 4 1/3 shutout innings of relief, allowing just one hit and punching out five.
All the damage done off Vargas came in the third and fourth innings, with Curtis Mead putting the Riverdogs on top for good 2-0 with an RBI double in the third. Mead is having a great series against the Pelicans and continues to set the tone for the offense. One inning later, Johan Lopez ground into an RBI forceout before Jonathan Embry added an RBI single to push the lead to 4-0.
The rest of the game was dominated by pitching, but unfortunately for the Pelicans, they could not get anything going offensively, falling 4-0. Outside Jacob Wetzel and his two hits, the Pelicans had four other players with one including Jonathan Sierra and Flemin Bautista. Ed Howard returned for a second game back from an injury and went hitless again with two strikeouts.
On to tomorrow. #MBPelicans pic.twitter.com/au8E0KWnML

— Myrtle Beach Pelicans (@Pelicanbaseball) June 19, 2021

Tags: Cubs Baseball
,
Kyle Ryan
,
Trevor Megill
,
Ian Happ
,
Jason Heyward
,
Rafael Ortega
,
Ian Miller
,
Abiatal Avelino
,
Michael Hermosillo
,
Erich Uelmen
,
Juan Gamez
,
Wyatt Short
,
Manuel Rodriguez
,
Carlos Sepulveda
,
Brennen Davis
,
Nelson Maldonado
,
Chase Strumpf
,
Grayson Byrd
,
Darius Hill
,
Cam Sanders
,
Caleb Knight
,
Tyler Durna
,
Josue Huma
,
Yonathan Perlaza
,
Delvin Zinn
,
Edmond Americaan
,
Didier Vargas
,
Jonathan Sierra