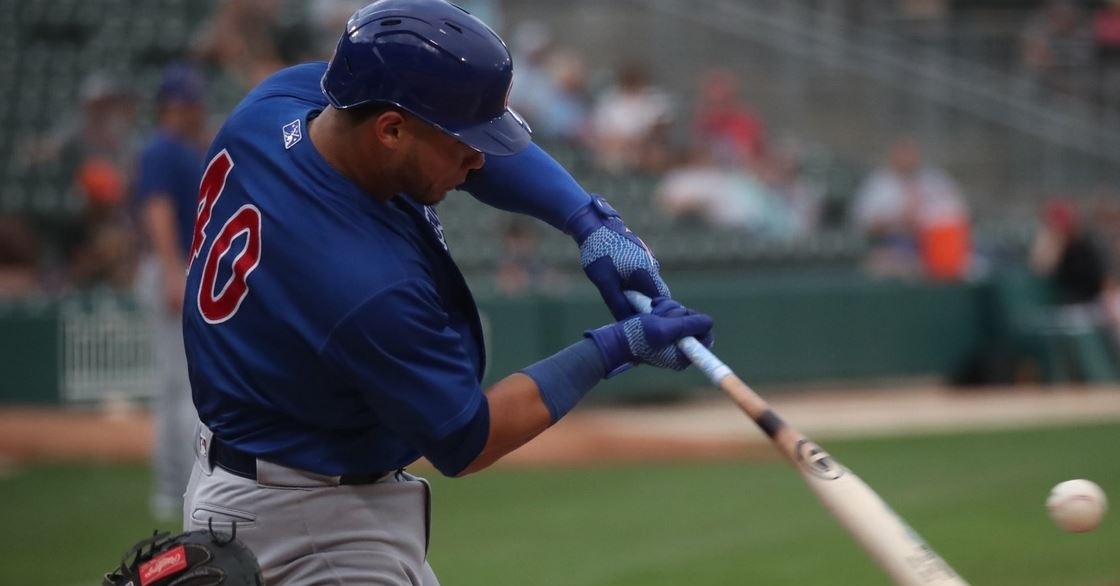 | | |
| --- | --- |
| Cubs Minor League News: Willson Contreras homers again, Abbott impressive, Ball homers, mo | |
---
| | | |
| --- | --- | --- |
| Saturday, September 4, 2021, 11:31 AM | | |
With so much action going around the Minor League diamond, where do we begin? Well, we can start by talking about the success the Cubs had last night as they posted a 5-4 record across the nine games played. Two of those wins came off suspended completed contests, meaning they went 3-4 in their regularly scheduled games.
Is that great? No, but considering the record they put up the other day, this is a vast improvement in just 24 hours. Most of Cubs nations continue to monitor AAA, where Willson Contreras remains playing rehab games. At some point, you would think he would get called up, and that should be soon.
IOWA CUBS 9 – INDIANAPOLIS INDIANS 7
The Cubs had the bats working late in the game, as they came from behind to earn their second win of the series. Cory Abbott continues to take his bumps as a starter, but is at least giving the Cubs some length on the mound. In six innings, Abbott surrendered five walks to go with nine strikeouts, but he managed to limit the damage allowing just two runs on five hits.
The first of the runs he allowed came in the bottom of the first when Ka'ai Tom singled home the game's first run for the quick 1-0 Indians lead. The Cubs answered in the third off a Trayce Thompson RBI groundout, only to see Bligh Madris connect for an RBI double to put Indianapolis back on top 2-1. That was the final run allow by Abbott as the offense started to back him up.
Moving to the fourth, and you had Abbott helping his cause connecting for a two-run single that gave the Cubs the lead for good 3-2. Add in a Contreras homer in the fifth, and Iowa was up 4-2 as he hit his second homer in four games with Iowa.
Willson Contreras played the entire game tonight for the @IowaCubs.

He went 1-for-5 with a homer.

During his MLB rehab w/Iowa, he has two homers that have been hit a combined 830 feet.

For those wondering, he looks just fine.

— Alex Cohen (@voiceofcohen) September 4, 2021
The seventh inning is when Iowa took control of the game, or at least they thought they did, pushing across five runs to take a 9-2 lead.
Much like the Cubs, the Indians used a massive seventh inning as they were not going to go down quietly.
Thompson was in the middle of it once again with an RBI single before doubles by Tyler Ladendorf, and Levi Jordan had Iowa in front 8-2. Jordan was credited with the game-winning hit as Iowa pushed across another run on a wild pitch to take a 9-2 lead.
Madris connected for his second RBI single of the evening, but it was the Hunter Owen three-run homer as the big blow, capping off a four-run frame to pull within 9-6. Diego Castillo added a solo shot in the ninth inning to pull within 9-7, but that was as close as it got.
Nearly everyone in the lineup recorded a hit with Abiatal Avelino, the lone starter without one. Johneshwy Fargas and Zach Davis had multi-hit games, with Davis leading the way with three.
Nine runs got it done as we evened the series at two games apiece! pic.twitter.com/eAs59rLdoN

— Iowa Cubs (@IowaCubs) September 4, 2021
ROCKET CITY TRASH PANDAS 4 – TENNESSEE SMOKIES 2
Even though it was another loss, Tennessee put forth a much better showing on Friday, falling 4-2 at Rocket City. Ryan Jensen was on the mound for the Smokies and looked good in his four-inning start. The right-hander allowed just one run on two hits while striking out five, but was hampered by four walks.
It didn't seem to matter early on, as the Smokies grabbed an early 2-0 lead in the second, with Harrison Wenson making his AA debut in style connecting for a two-run shot. That would be all the offense for them in the game as the pitching needed to show up. The lone run allowed by Jensen came in the bottom of the second when Rocket City used an RBI groundout to get on the board.
Three innings later saw David MacKinnon connect for a sacrifice fly, and just like that, things were tied 2-2. Not only did Wenson make his AA debut, but so did Joe Nahas, who took the ball in the seventh inning. Nahas was saddled with the loss in his debut as he allowed the game-winning two-run homer to Orlando Martinez in a 4-2 defeat.
Wenson had a great debut, leading the Smokies with two hits to go with both RBIs. Carlos Sepulveda, Nelson Velazquez, Matt Burch, and Reivaj Garcia all had hits in the loss as Tennessee is starting to look more like South Bend.
SOUTH BEND CUBS 5 – LAKE COUNTY CAPTAINS 4
Speaking of South Bend, the Cubs were finally able to solve the Captains this week as they were able to hold off a late-game rally to win 5-4. The Cubs couldn't have asked for a better start from Max Bain, who was brilliant through six innings. Not only did he allow just one run on three hits, but he struck out eight batters to go with no walks.
?High-A South Bend?
RHP Max Bain
6 IP, 3 H, 1 ER , 8 K's. ??????@mbain_38pic.twitter.com/xZHiuUNVy0

— Cubs Prospects MiLB (@MilbCubs) September 4, 2021
Matteo Bocchi delivered two strong innings of relief before Eduarniel Nunez pitched the ninth.
Bain had to pitch around some first-inning trouble that resulted in a Micah Pries RBI double, putting the Captains on top 1-0. Not only was that their lone lead, but it was the only run Bain gave up as he was impressive all game long. Once the game reached the fourth inning, the Cubs finally started to play like the team they wanted to, with Bryce Ball putting them on the board with an RBI single to tie things up 1-1.
One inning later, it was time for Yohendrick Pinango to cash in again as he keeps on hitting with another RBI single as the Cubs took the lead for good 3-1 at that point. As if the RBI single wasn't enough, Ball went deep in the sixth for his sixth homer of the season, extending the Cubs lead to 4-1.
?High-A South Bend?
1B Bryce Ball homers (6) on a fly ball to right center field ??@bryceball_05
pic.twitter.com/kxlqaNfRKE

— Cubs Prospects MiLB (@MilbCubs) September 4, 2021
After scoring to open the game in the first, it took seven more innings for the Captains to grab another run, with Christian Cairo going deep to make things 4-2.
The Cubs offense stayed hot in the bottom of the eighth, with Yonathan Perlaza bringing home another run with an RBI single to push the lead to 5-2. Little did the team know, that single would prove to be the game-winner as Lake County had something up their sleeve in the ninth. Not only did Joe Naranjo connect for an RBI single to pull within 5-3, but a costly South Bend error led to another run with the Cubs leading 5-4. Nunez was able to recover to record the final and preserve the win and save.
Ball had a perfect day at the plate, going 3-3 with a walk to go with two RBIs. Nearly everyone else in the lineup recorded a hit, with Luis Vazquez as the only player who didn't.
And with tonight's win & amazing firework show courtesy of @1stSourceBank , we bid you Goodnight South Bend?????? pic.twitter.com/QMVRjI7Xw4

— South Bend Cubs (@SBCubs) September 4, 2021
LYNCHBURG HILLCATS 4 – MYRTLE BEACH PELICANS 1
All it took was one bad inning for the Pelicans to drop their second straight game falling to Lynchburg 4-1. Jose Miguel Gonzalez got the start, and although he wasn't at his best, he still pitched well enough to win. Gonzalez got through five innings,
allowing three runs on five hits, although only two runs were earned.
Gonzalez appeared to have the winning formula working early on as he kept Lynchburg off the scoreboard through three innings. That, coupled with the Jacob Wetzel RBI fielder's choice, had the Pelicans in front 1-0, but that would be it for the offense. In the fourth, Lynchburg got to Gonzalez pushing across three runs to take the lead and win.
All those runs came home on the Andres Melendrez homer as the Hillcats now had the lead and searched for more. They did get more, but not until the seventh inning when Angel Martinez connected for an RBI single to cap off the scoring in a 4-1 win.
Final on Friday night. #MBPelicans pic.twitter.com/eu1Xl39aK7

— Myrtle Beach Pelicans (@Pelicanbaseball) September 4, 2021
With just three hits, runs are never easy to come by, as Ed Howard, Kevin Made, and Wetzel had hits in the loss.
ACL CUBS 7 – ACL GIANTS 2
What started as a low-scoring pitcher's duel turned into a one-sided Cubs win as they pulled away 7-2. Luis Devers continues to be the most consistent pitcher for ACL as he earned his first win as a starter. Not only did he go six innings, allowing just one run on three hits, but he struck out nine without walking a batter and now has a 3.69 ERA. Chase Watkins followed him up as the ninth-round pick made his second professional appearance striking out four of the five batters he faced.
Home runs were the theme of this game, especially early on when Kevin Alcantara went deep for his fourth homer in the third to give the Cubs a 1-0 lead.
Midnight highlights with #Cubs Kevin Alcantara and a home run vs. SFG. pic.twitter.com/YJ7fjSlljI

— John Antonoff (@baseballinfocus) September 4, 2021
The bottom half of that inning saw Devers give up his lone run as Irvin Burr added a homer of his own to tie things up 1-1. From that moment on, it was all Cubs as they scored six combined runs in the fifth and sixth inning to pull away.
Four of those runs came in the fifth when Ezequiel Pagan homered to start the inning, giving the Cubs the lead for good 2-1. RBI singles by Miguel Fabrizio and Felix Stevens added to the lead before the Rafael Morel RBI groundout had the Cubs up 5-1. One inning later saw Fabrizio come through once again with an RBI hit as his single gave the Cubs a commanding 7-2 lead. The Giants scored the game's final run on a ninth-inning Dilan Rosario single, but that was it in what was a 7-2 Cubs win.
James Triantos and Alcantara couldn't have asked for better games at the plate, as they combined to go 6-8. Fabrizio added a pair of hits with a team-high three RBIs, while Yeison Santana added a hit from the bottom of the lineup.
DSL CUBS BLUE 7 – DSL RAYS 1 (completed game from a month ago, stats based on start of game)
DSL CUBS RED 5 – DSL PHILLIES 4 (11 innings, another completed game stats reflect August 10)
DSL RAYS 5 – DSL CUBS BLUE 2
After finishing off their suspended contest in winning fashion, the Cubs couldn't complete the Friday sweep falling 5-2 to the Rays. Things didn't start well for this team, with Nathaniel Rodriguez putting the Rays up for good 1-0 in the first off, an RBI groundout. One inning later saw that lead grow to 3-0 as a Joe Perez RBI double brought home one run before coming home on another Rodriguez RBI.
The Rays continued to keep the pressure on during the fourth inning as a wild pitch led to the game's fourth run, with Rodriguez adding yet another RBI to push the lead to 5-0. Wild pitches in both the fifth and sixth innings allowed for both Cubs runs to score, but that was it in what was a quiet offensive day for them.
The Cubs collected four hits in the loss, with all four coming from the middle of the lineup. Leonel Espinoza, Jerry Torres, Joanfran Rojas, and Daniel Ferreira had the hits in the loss. Jose Romero pitched 2 2/3 scoreless innings of relief to bring his ERA down to 2.61 for the season.
DSL PHILLIES 13 – DSL CUBS RED 5
Just like DSL Blue, DSL Red won the completion of an August 10th game against the Phillies, but couldn't make it two for two. That was primarily due to a 10-run third inning that put the game away almost as quickly as it started.
Down 1-0 entering the third after a balk led to the game's first run in the second, the Cubs found themselves gasping for air as the Phillies brought home 11 runs to build an 11-0 lead. What was most impressive by this inning was that all 10 runs came without a homer as seven hits led to nine of the runs and a Ricardo Rosario sacrifice fly for the other. The Cubs answered in the bottom of the third with a Cristian More RBI double, but being down 11-1 didn't help.
Two innings later, the Cubs continued to battle back with Brayan Altuve connecting for an RBI double ahead of the Anderson Suriel triple to pull the Cubs within 11-4. That would be as close as things would get as Deivi Cabrera belted a two-run homer in the top of the seventh to extend the lead to 13-4. Andrews Cruz picked up an RBI groundout to close out the game.

Tags: Cubs Baseball
,
Willson Contreras
,
Cory Abbott
,
Levi Jordan
,
Abiatal Avelino
,
Zach Davis
,
Ryan Jensen
,
Carlos Sepulveda
,
Nelson Velazquez
,
Matteo Bocchi
,
Eduarniel Nunez
,
Yonathan Perlaza
,
Luis Vazquez