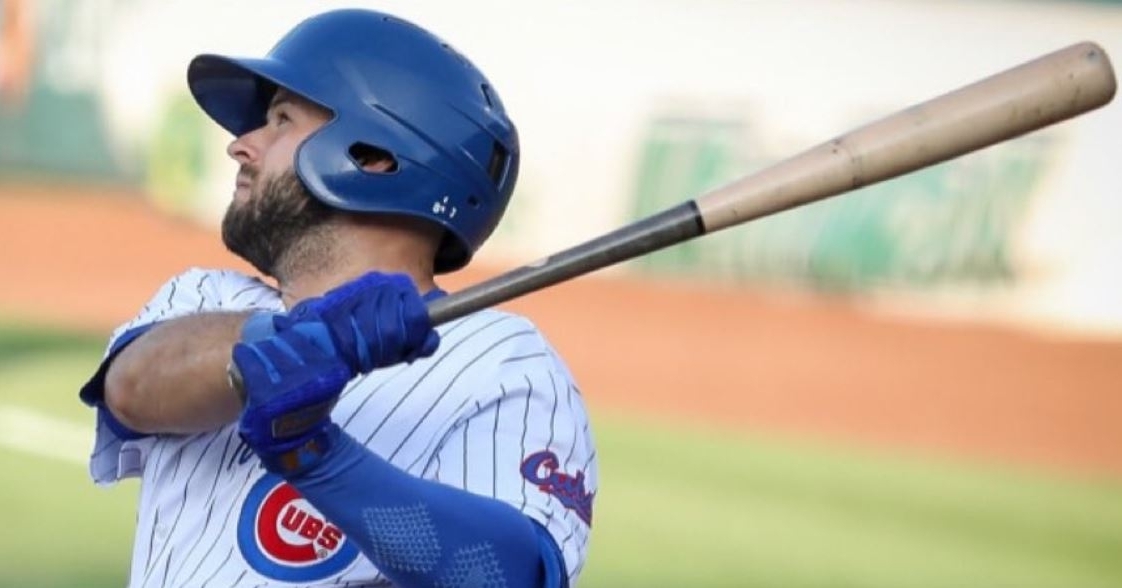 | | |
| --- | --- |
| Cubs Minor League News: Bote and Mervis smack back-to-back homers, Caissie raking, more | |
---
When we sit back and look back at the 2023 Minor League season, this may go down as one of the better overall weeks for the Cubs system. That is, of course, if you are a full-season squad, as they continued to dominate on the diamond and do plenty of damage across the board.
While they may have gone a perfect 3-0 with one game being suspended, the Rookie League Squads have had a rough time lately as they went 0-3. That gave the Cubs a 3-3 record for the day as the system continues to match the MLB squad in strong play on the diamond.
IOWA CUBS 9 - OMAHA STORM CHASERS 4
Unlike most of their games this week, where Iowa got the offense going early, it took them a while to settle in as Jonathan Bowlan was lights out through 5 2/3. Bowlan allowed one run on three hits while striking out eight. That was until the sixth when the Cubs offense went wild as they scored eight times in the next two innings to pull away 9-4 for another win.
At this point in the season, the Iowa staff looks very different as injuries and several promotions have thinned their rotation. That is why Michael Rucker continues to start their bullpen days as he gave Iowa three solid innings of run-five strikeout baseball, with Anthony Kay tossing a pair of scoreless frames. Behind them, you had Justin Roberson, Bailey Horn, and Cam Sanders pitch well, but they all allowed runs, with Horn striking out four in 1 1/3.
With the game tied 0-0 in the third, Devin Mann came through with an RBI single as Omaha took a rare 1-0 lead in this series. That was the score heading into the sixth when the Cubs offense started to show signs of life. That all started with an RBI single from Edwin Rios to tie things up as he looks more comfortable at the plate. Later in the inning, Darius Hill and Luis Vazquez also picked up RBI singles as the Cubs opened up a 3-1 lead.
Now with the lead, it was time for the Iowa offense to step on the throat of the Omaha pitching staff as Matt (Mash) Mervis continues to destroy baseballs in Omaha with another two-run shot as the Cubs built a 5-1 cushion.
Mash Mervis provides some insurance with this two-run shot! pic.twitter.com/vkoPGplEeO

— Iowa Cubs (@IowaCubs) August 12, 2023
A solo blast from David Bote followed his homer, and just like that, it was 6-1.
Bote Blast! David Bote goes back-to-back with Mervis to grow our lead to 6-1. pic.twitter.com/Qy2yXJ2ElC

— Iowa Cubs (@IowaCubs) August 12, 2023
The Cubs closed out what would be a five-run inning with Vazquez and Bryce Windham adding RBI singles as the Cubs were busting the game wide open 8-1.
Credit the Omaha offense for doing their best to battle back as they received an RBI single from John Rave in the seventh and a homer from Nate Eaton in the eighth to pull within 8-3. Both teams would then score runs on RBI singles in the ninth as Hill picked up another single for the Cubs and Tyler Gentry for the Storm Chasers in the 9-4 Iowa win.
Bote led the offense with three hits to raise his average to .280. Hill, Vazquez, and Pete Crow-Armstrong added two hits, with Hill and Vazquez driving in four combined runs.
Pete Crow-Armstrong's 7-game hitting streak at Triple-A:
9-for-29, 2 HR, 4 RBI, 9 R, 7 BB, 2 2B, 2 SB
.310/.444/.586
pic.twitter.com/Rst9YI9oUr

— Aldo Soto (@AldoSoto21) August 12, 2023
Make it four straight! pic.twitter.com/euzuH9Btml

— Iowa Cubs (@IowaCubs) August 12, 2023
TENNESSEE SMOKIES 5 - BILOXI SHUCKERS 2
There may be five weeks left in the regular season, but with an eight-game lead in their division, the Smokies can nearly taste the postseason. They continued their strong performances this week with another complete win taking down the Shuckers 5-2.
Brandon Birdsell made his AA debut, and the right-hander couldn't have asked for a much better start. Birdsell only went five innings, but he did good things as he allowed two runs on seven hits to set the tone while striking out three. The combination of Zac Leigh, Hunter Bigge, and Blake Whitney took over from there and tossed four shutout innings to grab the win.
Facing off with Tobias Myers, the Smokies needed just two innings to put the game away, as all five of their runs came in a two-inning span. Three of those came in the second as Cole Roederer opened the scoring with a solo shot for his 11th of the season.
Cole Roederer with his 11th HR of the year. pic.twitter.com/4smbTZCorJ

— Brad (@ballskwok) August 11, 2023
Jefferson Rojas goes the other way for an RBI single. 2-2 so far today. pic.twitter.com/UT1vSG799D

— Brad (@ballskwok) August 11, 2023
Shortly after, it was time for Tennessee to play long ball again, with Casey Opitz going deep for the second time in as many nights to make things 3-0. His homer was the game-winner, but the Smokies would not stop there.
The long ball continued to play a massive role for the Smokies in the third, with Pablo Aliendo unloading for the Smokies third homer of the day to extend the lead to 5-0. That would be all the offense for them the rest of the way, but it was all they would need. It took five innings for Biloxi to break through as Lamar Sparks roped an RBI triple to make things 5-1. They added a run with an RBI groundout in the sixth as the Smokies took care of business 5-2.
Owen Caissie is well on his way to earning Minor League Player of the Year in the Cubs system this season and picked up three more hits to raise his average to .292.
Owen Caissie doubles off the wall for his third hit of the night. pic.twitter.com/MrHvrN4zQG

— Brad (@ballskwok) August 12, 2023
Aliendo added two hits as the Smokies finished the day with seven hits.
The Smokies have a +63 Run Differential in the second half of the season. The Smokies are vibin'. | @zips3mincarwash #BestYearEver #SmokiesBaseball pic.twitter.com/7YlLSBa40W

— Tennessee Smokies (@smokiesbaseball) August 12, 2023
SOUTH BEND CUBS vs. LAKE COUNTY CAPTAINS (Suspended. Makeup 08/12)
The only full-season game that didn't go final was in High -A, where the Cubs saw their game suspended in the second.
Matt Shaw with another hit to RF. pic.twitter.com/uyodvTHSBQ

— Brad (@ballskwok) August 11, 2023
Connor Noland was on the mound for the Cubs and threw 1 1/3 inning before the game was called. Noland would allow an RBI double to Cooper Ingle in the second inning for the lone run up to this point. This game will be completed on Saturday since this is the last time these teams play each other this season.
UPDATE: game suspended. We will pick things up in the bottom of the 2nd at 4 pm tomorrow.

SB 0, LC 1.

We'll play the full 9 innings and then a 7-inning game will follow. pic.twitter.com/Fi3E47HXsA

— South Bend Cubs (@SBCubs) August 12, 2023
While we wait out the rain delay… here's Grant Kipp talking about his incredible #SBCubs debut last night. #NextStartsHere pic.twitter.com/LO9WHihQFB

— South Bend Cubs (@SBCubs) August 12, 2023
MYRTLE BEACH PELICANS 7 - FAYETTEVILLE WOODPECKERS 4
Sparked by an early five-run inning, the Pelicans overcame the Woodpeckers and continue to play well this week. All of the Fayetteville runs came in one inning, as the pitching was strong the rest of the way.
Kenyi Valdez made a rare start, but it was successful as he tossed four scoreless frames with two strikeouts. Yovanny Cabrerra also had a great showing as he struck out seven in four scoreless frames to lower his ERA under 3.00. Most of the damage for the Pelicans came off of starter Jose Nodal, and it came in the third inning.
The Pelicans would score five times in that third inning which was all they would need as Jefferson Rojas opened things up with an RBI single. That set the tone for the game's big hit as Andy Garriola continued his recent hot stretch by belting a Grand Slam to extend the Bird's lead to 5-0.
Two innings after the Pelicans broke out offensively, it was time for Fayetteville to do the same as they started to make a game out of things. Sandro Gaston put the Woodpeckers on the board with a two-run single to make things 5-2, with a Brice Matthews double closing the gap to 5-3. Ryan Johnson would close the inning with an RBI groundout to make things 5-4.
Those would be the game's only runs for the Woodpeckers as Cabrerra came in to silence them out of the pen. Also, Rafael Morel gave the Pelicans some insurance runs in the eighth as his RBI single made things 7-4, which was the final score. Morel and Rojas had a great night at the plate, picking up three hits and driving in three. Garriola added two hits to go with his four RBIs.
We kept it going.#MBPelicans | #NextStartsHere pic.twitter.com/DaA7ryeY5c

— Myrtle Beach Pelicans (@Pelicanbaseball) August 12, 2023
ACL GIANTS 10 - ACL CUBS 8:
DSL RED SOX 3 - DSL CUBS BLUE 0
DSL TIGERS 4 - DSL CUBS RED 1

Tags: Cubs Baseball
,
Michael Rucker
,
Bailey Horn
,
Cam Sanders
,
Edwin Rios
,
Darius Hill
,
Luis Vazquez
,
David Bote
,
Bryce Windham
,
Hunter Bigge
,
Cole Roederer
,
Casey Opitz
,
Pablo Aliendo
,
Owen Caissie