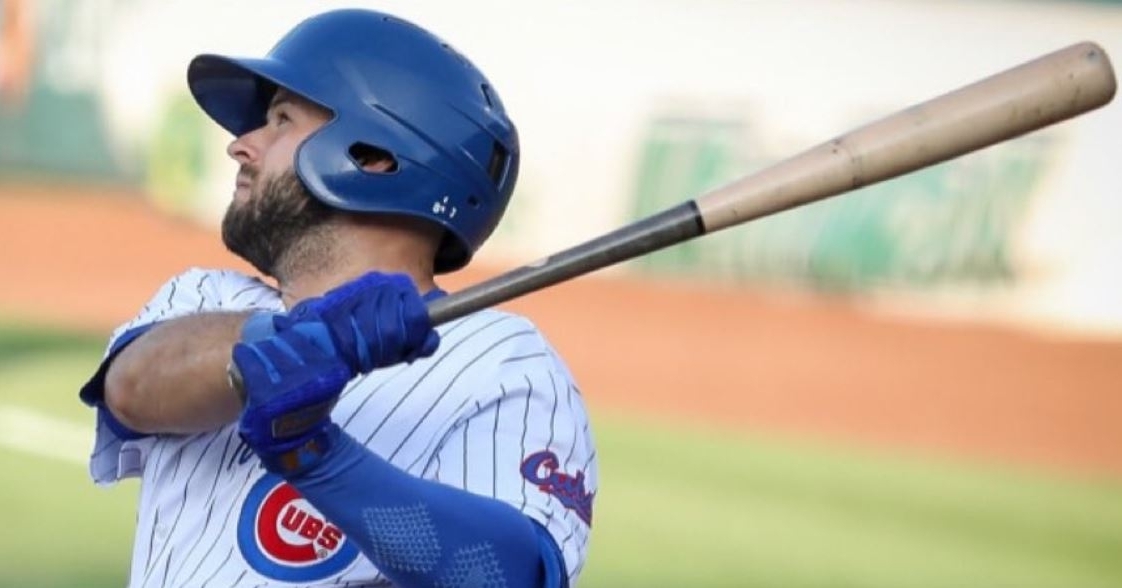 | | |
| --- | --- |
| Cubs Minor League News: Bote raking, PCA homers, Franklin impressive, more | |
---
Playing .500 baseball is never an ideal scenario, but when you have four minor league games every day, sometimes that is about as good as you can do. For the Cubs, they went on to post another 2-2 night on the diamond, but all is not lost when it comes to that record.
Not only are all four teams in playoff contention as they sit at least in second place in their division, but three of the teams are currently sitting in first place as the first half of the minor league season is coming to a close faster than some think.
Should these teams remain in first place throughout the rest of the first half, it would guarantee there will be playoff baseball in the Cubs system again, which is all you can ask for.
COLUMBUS CLIPPERS 10 - IOWA CUBS 7
The main purpose of AAA baseball is to get your players ready for the majors, and you have seen that this season with Iowa. The problem is that Iowa is starting to struggle a little because of it, as their lead in their division is shrinking. Once again, the pitching of Iowa did them in despite Riley Thompson trying to hold up his end on the mound.
Making another start with guys like Javier Assad and Hayden Wesneski in the majors, Thompson ground it out through 3 1/3 as he allowed two runs on five hits. He walked two and struck out two as the Cubs needed to figure out what to do with him the rest of the way. From there, it was about a struggling pen as Brendon Little, Keegan Thompson, Bailey Horn, and Manny Rodriguez gave up runs in their outings which proved too much.
Trailing 1-0 after a Chris Roller sacrifice fly in the second, Iowa evened things up in the bottom half of the inning with Brennen Davis picking up an RBI single against former Chicago Cub Daniel Norris.
Your @GreatClips Clip of the Game is this RBI double from Brennen Davis! pic.twitter.com/x7XYDQzru3

— Iowa Cubs (@IowaCubs) June 4, 2023
That same duo was at it again in the fourth, with Roller adding an RBI groundout in the top half of the fourth with Davis tying things back up 2-2 with a double in the bottom half.
Once the fifth inning rolled around, the Columbus offense started to take off as Oscar Gonzalez gave them the lead for good with an RBI double, while the Zack Collins two-run shot made things 5-2. Yonathan Perlaza kept the Cubs within striking distance with his solo shot in the bottom of the fifth, but with the Cubs pen struggling, a comeback effort was not going to be easy.
Holding a 6-3 lead in the seventh, Roller continued to add to his outstanding game with another RBI, while Bo Naylor went deep in the eighth to stretch the lead to 9-3. Iowa continued to show the fight they have shown all season in the later innings, with Perlaza picking up another RBI hit in the eighth to make things 9-5, with David Bote going deep in the ninth to pull Iowa back within 10-7. Unfortunately, that was as close as they would get as the Clippers took the series finale in Des Moines.
Bote led the way with three hits and two RBIs, while Davis and Perlaza also added two hits with two RBIs.
Have a day, David Bote! pic.twitter.com/jSepeZUI7e

— Iowa Cubs (@IowaCubs) June 4, 2023
For Davis, this was the type of game he needed as he has been stuck in a slump since coming to AAA.
Off day tomorrow. pic.twitter.com/q5S9AkLMlw

— Iowa Cubs (@IowaCubs) June 4, 2023
TENNESSEE SMOKIES 5 - CHATTANOOGA LOOKOUTS 4
Any time you have two teams battling for first place, you can expect a great series, and this week was exactly that. Led by their four-run seventh inning, the Smokies responded from an early deficit to move back into first place with a 5-4 win.
Kohl Franklin has been impressive since getting the promotion to AA, and he continued to do his thing with another strong start. Take the 4.01 ERA out of the equation for a minute, which is inflated due to one rough start, and Franklin gave the Smokies five innings of a three-hit ball. He was charged with two earned runs but struck out three. After him, it was a quarter of relievers keeping the lookouts offense in check, including Riley Martin, who struck out the side in the ninth to earn the save.
Facing off against a struggling Christian Roa, you had to like the Smokie's chances, but he was not struggling for most of the game. Sure, Roa allowed a lead-off homer to Pete Crow-Armstrong in the bottom of the first, but that was the last of the runs he would allow until the seventh.
Pete Crow-Armstrong with a leadoff homerun to put the Smokies on the board early! #BestYearEver #NextStartsHere #Cubs pic.twitter.com/6Rk991LqXO

— Tennessee Smokies (@smokiesbaseball) June 4, 2023
His performance gave the Lookouts a chance to extend their lead in the division as Quincey McAfee tied things up with a sacrifice fly in the second.
Two innings later, Jose Torres put the Lookouts in front with a solo blast, with Alex McGarry extending their lead to 3-1 in the seventh with a solo shot of his own. Once the bottom of the seventh rolled around, Roa started to run out of gas, and the Smokies offense made him pay. Caleb Knight started that inning with an RBI single, with PCA tying things up with a single of his own.
PETE CROW-ARMSTRONG WITH AN RBI SINGLE TO TIE THE GAME!! #BestYearEver #NextStartsHere pic.twitter.com/EKDulEcK5j

— Tennessee Smokies (@smokiesbaseball) June 4, 2023
Later in the inning, it was time for Luis Vazquez to come through as his two-run single not only put the Smokies in front 5-3 but gave them the lead for good.
THE SMOKIES TAKE THE LEAD!! Luis Vazquez with an RBI single to score Caleb Knight and Pete Crow-Armstrong!! #BestYearEver #NextStartsHere @luisito_vaz @CalebKnight13 pic.twitter.com/B7xJeUkUZ4

— Tennessee Smokies (@smokiesbaseball) June 4, 2023
Chattanooga did manage to scratch across another run in the eighth, but they didn't get any closer as the Smokies held them off to jump back into first place.
Riley Martin closes out the game by striking out the side! @Riley_Martin16 #BestYearEver #NextStartsHere pic.twitter.com/6yXPABNMF1

— Tennessee Smokies (@smokiesbaseball) June 4, 2023
With three hits, Vazquez led the way offensively while adding two RBIs. He was joined by PCA, his two hits, and two RBIs as he has homered in three straight games.
The Smokies complete the comeback and take back their spot at the top of the Southern League North! #BestYearEver #SmokiesBaseball pic.twitter.com/0DsU6nVzX6

— Tennessee Smokies (@smokiesbaseball) June 4, 2023
FORT WAYNE TIN CAPS 8 - SOUTH BEND CUBS 2
It is hard to believe that South Bend had the best record in the Midwest league three weeks ago. Since then, things have been a struggle, and that continued with another series loss as Fort Wayne used a six-run inning to break a tie and cruised to another win.
Manuel Espinoza was the tough-luck loser in this one, as he allowed two runs in four innings with four strikeouts. His ERA is 1.80 for the season, as the struggles of Tyler Santana and a lack of an offense prevented him from getting the win. Credit Victor Lizzaraga for that, as he carved up the Cub's offense through five innings before handing things off to the pen to finish the job.
Espinoza was superb throughout his entire start, with both runs allowed coming in the second inning. First, the Colton Bender double put them in front for good, 1-0, with an RBI groundout making things 2-0. It took South Bend five innings to crack the scoreboard, with Fabian Pertuz going deep to make things 2-1. Not only was that their only run until late in the game, but it was as close as they would get as Fort Wayne exploded in the seventh to put the game away.
Juan Zabala started that massive seventh with a two-run double as the Tin Caps opened up a 4-1 lead. Add in a pair of RBI singles from Jakob Marsee and Nathan Martorella and an RBI ground out, and just like that, the Cubs were trailing 8-1 with little time to work with. South Bend did manage to scratch across a run in the ninth off the Yohendrick Pinango single, but that was it in what was another trying week for this team.
South Bend had eight hits, with a trio of players picking up multi-hit efforts. Christian Franklin, Ethan Hearn, and Pertuz had those multi-hit games, as the Cubs could soon use a shot in the arm.
We split the series.

Enjoy the rest of your Sunday, we'll see you in South Bend Tuesday night. pic.twitter.com/ofPDJAPSTb

— South Bend Cubs (@SBCubs) June 4, 2023
MYRTLE BEACH PELICANS 6 - SALEM RED SOX 3
All it took for the Pelicans to get back on track was one perfect week of competition and another strong showing against Salem this week. After accomplishing that feat, Myrtle Beach is now tied for first in their division as their season has turned around.
Led by another great start from Brody McCullough and some early offense, the Pelicans were able to build a massive lead and ride that to a victory. McCullough was as close to perfect as you can get, as he allowed just one hit in five scoreless frames. He walked two and struck out nine to lower his ERA to 2.06.
Offensively, the Pelicans jumped all over Jedixson Paez, who was charged with three earned runs in five innings. However, all three runs came in the second inning as the Pelicans jumped on him quickly. Reivaj Garcia had a great series and kept it moving with an RBI single to put the Pelicans in front for good. Parker Chavers and Moises Ballesteros followed that with RBI singles as the Pelicans built a 3-0 lead early.
Ironically, that was all the offense until the seventh inning when the top of the Birds lineup was at it again. First, it was Garcia using a sacrifice fly to make things 4-0, with Chavers adding another RBI single to push the lead to 5-0. Those runs were crucial as Salem had enough fight in them to make things interesting late.
Rafael Morel showing off his vertical! pic.twitter.com/C6FScpJ9TW

— Myrtle Beach Pelicans (@Pelicanbaseball) June 5, 2023
It took them eight innings, but after the RBI triple from Cutter Coffey made things 5-2, the Red Sox were in a position for more. Coffey came home on an error to pull the Red Sox within two as the tension started to mount for the Birds. Fortunately, no more damage came from that inning or the rest of the way as Felix Stevens capped off the scoring with an RBI in the eighth to lead the Pelicans to the series win 6-3.
SERIES DUB.

Birds win four straight to take the series over Salem.

Big week coming up in Augusta.#MBPelicans | #NextStartsHere pic.twitter.com/4yYy9sJJe9

— Myrtle Beach Pelicans (@Pelicanbaseball) June 5, 2023

Tags: Cubs Baseball
,
Javier Assad
,
Hayden Wesneski
,
Brendon Little
,
Keegan Thompson
,
Bailey Horn
,
Brennen Davis
,
Daniel Norris
,
Yonathan Perlaza
,
David Bote
,
Kohl Franklin
,
Riley Martin
,
Caleb Knight
,
Luis Vazquez
,
Manuel Espinoza
,
Tyler Santana
,
Fabian Pertuz
,
Yohendrick Pinango
,
Christian Franklin
,
Ethan Hearn
,
Parker Chavers
,
Felix Stevens