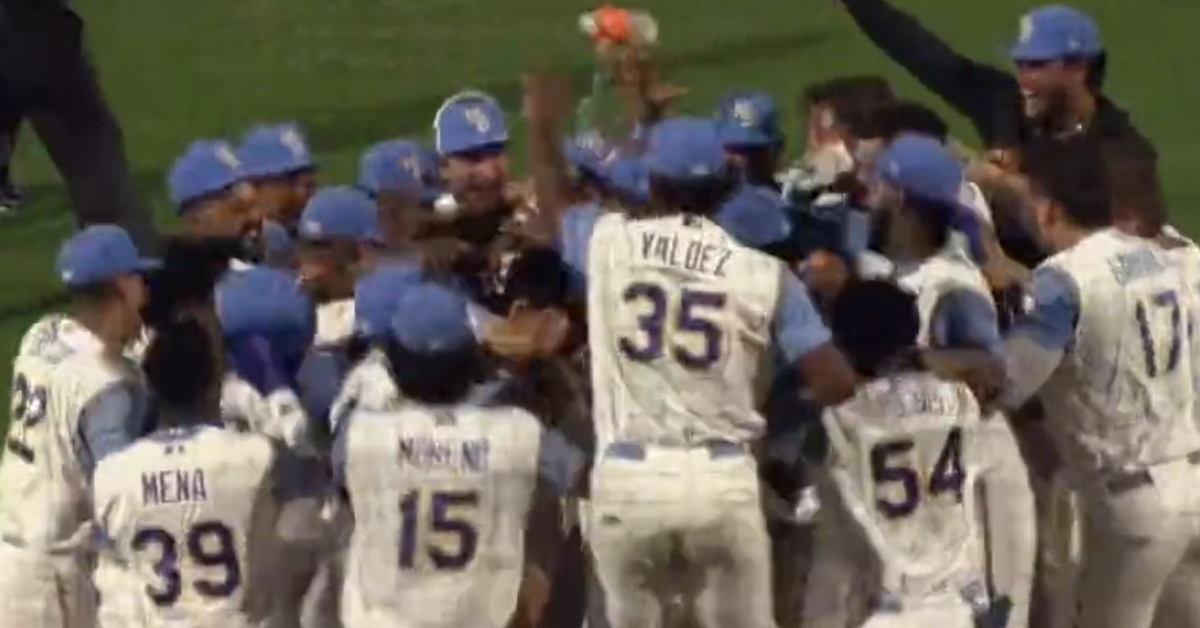 | | |
| --- | --- |
| Cubs Minor League News: Canario and Slaughter homer, Triantos raking, Pels hit walk-off | |
---
Playing .500 baseball isn't going to get you much, but when it comes to the Cubs minor league system, that is what you had on Wednesday. This year, you have the haves in Myrtle Beach, Tennessee, and potentially Iowa, all pushing for the playoffs, with the have-nots in South Bend about to miss the postseason after winning it all last year.
With A-Ball down to their final three weeks, with AA and AAA to follow shortly after, things are winding down in what has been a successful season so far for the Cubs minor league system. Hopefully, the final three weeks will give fans even more to cheer about.
INDIANAPOLIS INDIANS 9 - IOWA CUBS 4
This was a painful game for Iowa and a loss they will be kicking themselves over for a while. After holding a 4-3 lead entering the eighth, the Cubs bullpen picked a lousy time to implode as they allowed six runs in the eighth, which was the difference in the game.
The Cubs continue to go with bullpen games as Samuel Reyes started things off with three scoreless frames as he has yet to allow an earned run in AAA. He was followed by Chris Clarke, Brendon Little, and Tyler Duffey, as those four allowed just one run in seven innings.
Iowa backed the pitching with instant offense as Alexander Canario left the building in the first for a two-run shot and gave Iowa a 2-0 lead.
Alexander Canario is EN FUEGO 🔥🔥

He puts us up early with this two-run blast! pic.twitter.com/uQl8OQ96kR

— Iowa Cubs (@IowaCubs) August 23, 2023
They held that lead until the fourth when Ryan Vilade singled off Clarke for the only run most of the day and made things 2-1. The Cubs continued to rely on the long ball, and with Jake Slaughter going deep in the sixth to push the lead to 4-1, you had to like the Cubs chances.
Jake Slaughter...AGAIN‼️

His third home run in as many games adds to our lead! pic.twitter.com/N1S5zSd0Vw

— Iowa Cubs (@IowaCubs) August 23, 2023
That is when the comeback trail began for Indianapolis as Vilade picked up another RBI single in the sixth mixed with a sacrifice fly, and just like that, you had a 4-3 game. It was in the eighth when things completely went haywire for the Cubs as Anthony Kay had an outing to forget. Not only did the Domingo Leyba double tie things up, but Grant Koch and Canaan Smith-Njigba singles had the Indians in front 6-4.
Throw in a costly error later in the inning to open the floodgates, and three more runs scored as part of their six-run eighth as that was the difference in the Cubs loss. Canario led the way with three hits as he is rounding back into 100% form.
On to tomorrow. pic.twitter.com/ZJQGLRMDyz

— Iowa Cubs (@IowaCubs) August 23, 2023
TENNESSEE SMOKIES 8 - CHATTANOOGA LOOKOUTS 4
The Smokies are in a great position to make the playoffs as they have a comfortable lead. Even after allowing four runs in the seventh, the early offense backed them with an eight-run lead, and they used that to their advantage to double up the Lookouts.
Cade Horton has been lights out since his promotion to AA and, for whatever reason, was still searching for his first win. That all changed on Wednesday as Horton got his first win and tossed five shutout innings to lower his ERA to 1.00. He walked three and struck out six as the offense gave him plenty of support.
Horton was backed by a relentless offense that started with a Cole Roederer single in the second and a double steal that saw the Smokies grab a 2-0 lead. BJ Murray Jr. would add an RBI single in the third to push the lead to 3-0, with Haydn McGeary making things 4-0 with his sacrifice fly.
However, in the fourth, Tennessee put the clamps on, as their offense was off and rolling in a big way. Levi Jordan started a four-run inning with a two-RBI single before the McGeary double closed out the scoring for Tennessee 8-0. They managed to hold that lead until the seventh when all the Lookouts runs came in that inning.
Unfortunately, Brailyn Marquez was the victim of that massive inning as his rough season continues in AA. A pair of bases-loaded walks didn't help his cause as that led to two runs, but you also had an error mixed in with a sacrifice fly, and just like that, it was an 8-4 game. That would be the final score as the Smokies continue to control their division in the second half.
Nice job by Porter Hodge to strike out the side in order to end the Smokies game. That's his 4th straight scoreless appearance. 5 IP, 2 hits, 2 BBs, 9 Ks (50% K%) in that stretch. pic.twitter.com/3AvVlyhkSX

— Brad (@ballskwok) August 24, 2023
The top of the Smokies order did the most damage, with Andy Weber, Jordan, and Murray Jr. pacing the offense with two hits while McGeary led the way with three RBIs.
"Winning is like a good hair day, it just makes everything better." | @zips3mincarwash pic.twitter.com/EPBwLPHrqk

— Tennessee Smokies (@smokiesbaseball) August 24, 2023
CEDAR RAPIDS KERNELS 8 - SOUTH BEND CUBS 4
If there were one team that can't wait for the offseason to begin, it would be the South Bend Cubs. What looked to be a promising season when they were in first place late in the first half has quickly turned into a nightmare as their second-half struggles have mounted.
That continued on Wednesday with another lopsided loss as terrible pitching and a struggling offense proved too much against a good Kernels club. Connor Noland deserved better fate in his start last night, as his final line looks great. Sure, he allowed four runs in 4 1/3, but only two were earned. What stands out are the eight strikeouts to one walk as he carved up Cedar Rapids hitters.
With Andrew Morris doing his thing and allowing just three runs in five innings, that was enough as the Cubs bullpen couldn't keep things close. Surprisingly, it was the Cubs offense that got rolling early as James Triantos not only had an RBI single in the first but one in the second. You also had an Ethan Hearn sacrifice fly in the second as the Cubs opened up an early 3-0 lead.
From there, it was all Cedar Rapids as Emmanuel Rodriguez made things 3-2 with a double in the third, while Jose Salas and Kyler Fedko picked up RBI singles in the fifth to push the Kernels in front 4-3. They continued to build on their lead off the Cubs pen in the sixth, with Salas using an RBI double to make things 5-3.
Once the eighth inning rolled around, it was all Kernels as they plated three additional runs to bust the game open. Fedko started things off with an RBI double, while the Noah Miller double brought home two more runs to make things 8-3. Felix Stevens capped off the scoring for the Cubs as his solo shot made things 8-4.
Tonight Felix Stevens blasted his 24th @hoosierlottery home run of the season! pic.twitter.com/awJPsa166A

— South Bend Cubs (@SBCubs) August 24, 2023
Home Run Hype for Felix Stevens 💣 pic.twitter.com/vyt1InoSKa

— South Bend Cubs (@SBCubs) August 24, 2023
Triantos and Yohendrick Pinango delivered two-hit days, with Triantos coming away with two RBIs.
Tough one tonight, back at it tomorrow.#NextStartsHere pic.twitter.com/0LOS8nmSPP

— South Bend Cubs (@SBCubs) August 24, 2023
Guess who's back, back again. Brennen's back, tell a friend! 👀

The @Cubs today assigned OF @BrennenDavis_ to the #SBCubs on a rehab assignment.

Davis, the 2019 Midwest League Champion, has arrived to @FourWindsField for this week's series against Cedar Rapids. 💪 pic.twitter.com/zyqH6j96VH

— South Bend Cubs (@SBCubs) August 23, 2023
MYRTLE BEACH PELICANS 3 - KANNAPOLIS CANNONBALLERS 2
Things may not always come easy for this Pelicans team, but they are the only team in the Cubs system to officially be in the postseason. Trailing by a run in the ninth, the Pelicans picked the perfect time to come through as they scored two runs to walk off Kannapolis.
Jackson Ferris got the start, and if he continues to pitch the way he has, he may earn a late-season promotion. Ferris only went four innings, but they were four dominant innings as he walked two, struck out five, and allowed just one run. He was followed by Scarlyn Lebron, who tossed four innings of one-run ball in relief, while rookie Sam Armstrong picked up his first Low-A win with a pair of strikeouts in one inning.
Opposing Ferris was Aldrin Batista, who was equally as good. Across five innings, Batista allowed just one run despite pitching to more contact than Ferris. After Chris Lanzill gave Kannapolis the lead with a first-inning RBI single, the Pelicans responded in the second when the recently promoted Leonel Espinoza cashed in with an RBI single to make things 1-1.
Little did the Pelicans know that would be their lone run the rest of the way, as it would come down to their pitching. For the most part, the pitching held up as they allowed just one Jordan Sprinkle homer in the sixth, but it was costly as it put the Pelicans behind 2-1. That remained the score until the ninth, when the Birds were down to their final three outs and needed a run to stay alive.
Not only did they get that run, but they got two runs as the rookie Jonathan Long belted his third homer of the season to walk off the Cannonballers 3-2.
Everybody Loves The Long Ball 💣#MBPelicans | #NextStartsHere pic.twitter.com/TXpxY9uPty

— Myrtle Beach Pelicans (@Pelicanbaseball) August 24, 2023
Long paced the offense with two of the team's five hits, with Espinoza, Brian Kalmer, and Jefferson Rojas grabbing the rest.
Birds win! Birds win! @JLong15BB hits a walk-off two-run homer to give the Pelicans back-to-back walk-off wins!#MBPelicans | #NextStartsHere pic.twitter.com/u5LagBc3Et

— Myrtle Beach Pelicans (@Pelicanbaseball) August 24, 2023

Tags: Cubs Baseball
,
Samuel Reyes
,
Brendon Little
,
Alexander Canario
,
Cole Roederer
,
Levi Jordan
,
Brailyn Marquez
,
Andy Weber
,
James Triantos
,
Ethan Hearn
,
Felix Stevens
,
Yohendrick Pinango