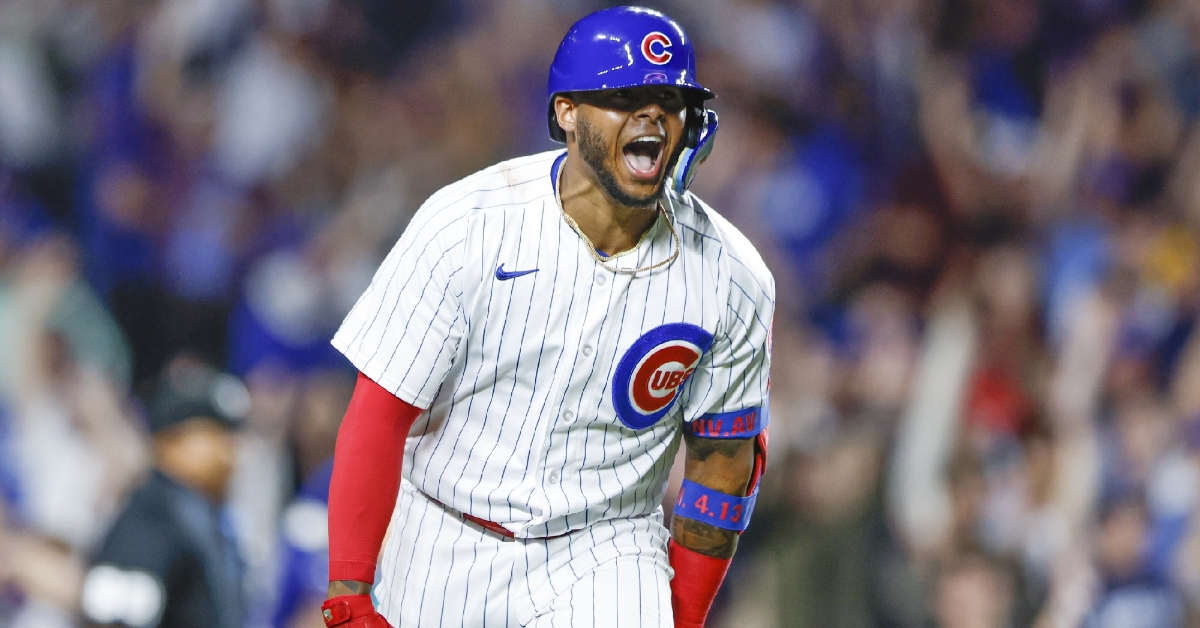 | | |
| --- | --- |
| Cubs Minor League News: Velazquez blasts two homers, PCA homers, Nwogu hits grand slam | |
---
For the first time this week, a full slate of games didn't result in a losing record as the Cubs came to play on Friday. Despite two of the better teams coming away with a loss, the Cubs still managed to post a 4-3 record on the diamond, which is all you can ask for on a nightly basis.
INDIANAPOLIS INDIANS 9 - IOWA CUBS 6
Coming off one of his better starts in a long time, Riley Thompson was back on the hill as he looked to give the Cubs another win. Even with Iowa giving him plenty of early support, Thompson only went two innings before a bevy of bullpen arms took over.
Bailey Horn and Adrian Sampson were two of those guys, as they combined for five innings on the mound. Sampson is the one worth of note, as he took the loss after giving up five runs in 3 1/3. The positive, only two of those runs were earned, as he didn't pitch that poorly.
Iowa wasted no time getting on the scoreboard first as Jake Slaughter ripped an RBI double in the first to give the Cubs an early 2-0 lead. After Vinny Capra singled home a run to pull within 2-1 in the second, it was the Cubs offense going back to work in the third, with David Bote picking up an RBI double to extend his on-base streak to 23 games while Alexander Canario added an RBI groundout to make things 4-1.
David Bote blisters this one off the wall to grow our lead! pic.twitter.com/U9N51fowBm

— Iowa Cubs (@IowaCubs) July 22, 2023
Once the fourth inning rolled around, you could see the Indians start to put things together offensively as they broke through with three runs to tie things up. A bases-loaded walk aided the first run, with Radolfo Castro lacing an RBI double to make things 4-4. Nelson Velazquez took it up himself to give the Cubs the 5-4 lead with his fifth-inning homer, only to have Chris Owings tie things up with his homer in the sixth.
Okay, Nelson 👀 Velázquez gives us the lead with this solo shot! pic.twitter.com/NeWpoSIYID

— Iowa Cubs (@IowaCubs) July 22, 2023
The Indians continued to play long ball in the eighth as Anika Williams left the yard to give the Indians their first lead of the game before they added three more off of Sampson in the ninth to take the 9-5 lead. The Cubs did manage to pick up another run in the ninth off of Velazquez's second homer, but that was it as they fell to the Indians 9-6. Slaughter led the way with three hits and two RBIs, while Velazquez added two hits and two RBIs. Bote and PJ Higgins also had multi-hit games, with Nick Madrigal going hitless in his rehab start.
Not our night pic.twitter.com/53GFcLw1AK

— Iowa Cubs (@IowaCubs) July 22, 2023
TENNESSEE SMOKIES 10 - MISSISSIPPI BRAVES 1
Considering how the first half ended for the Smokies, no one was happier to see the second half begin than them. Since then, they have gotten off to a great start and currently sit in first place as they continue to handle their business. Walker Powell got the start, and despite striking out two in five innings, he allowed one run as a five-run inning gave him the support he needed.
In case you missed it, Jordan Nwogu had an AMAZING catch to start the game! @jgnwogu42 #NextStartsHere #BestYearEver #SCTop10 pic.twitter.com/QAun8zQjGc

— Tennessee Smokies (@smokiesbaseball) July 22, 2023
Ironically, the only run he allowed, which was also the only run the Braves had, came in the first inning when Luke Waddell left the building for an early advantage. After that, hits were tough to come by for Mississippi as they maintained that lead until the third. That was when the Tennessee offense came to life as they scored 10 unanswered runs in the next five innings, with five coming in that third inning.
Cole Roederer opened the scoring with a game-tying RBI single, but the Jordan Nwogu grand slam busted the game open and put the Smokies in front 5-1. The Smokies continued to play long ball in the fourth, with Pete Crow-Armstrong adding a solo shot in that inning before adding a two-run single in the fifth to stretch the lead to 8-1.
PCA liftoff. pic.twitter.com/nlufQ2IY5J

— Brad (@ballskwok) July 22, 2023
Fellow outfield prospect Owen Caissie got in on the fun with a solo blast in the sixth to make things 9-1, while a bases-loaded walk from Roederer put an end to the scoring in the seventh as the Smokies handled the Braves 10-1.
Owen Caissie hurt this baseball for his 16th HR. He was 2-3 with 2 BBs tonight. An .891 OPS in his age 20 season in AA. Also a special bat. pic.twitter.com/qf4E5y4Lrx

— Brad (@ballskwok) July 22, 2023
Five Smokies had two hits with PCA, Levi Jordan, Caissie, Roederer, and Casey Opitz, earning those honors. PCA also drove in three, with Nwogu leading the way with four.
Select Difficulty: Easy
Jordan Nwogu hits a grand salami, while Pete Crow-Armstrong and Owen Caissie add sonic booms of their own! | @zips3mincarwash pic.twitter.com/My0oDtBAfD

— Tennessee Smokies (@smokiesbaseball) July 22, 2023
SOUTH BEND CUBS 7 - WEST MICHIGAN WHITECAPS 1
This has certainly been a back-and-forth series as the Cubs took it to the Whitecaps in game four to even things up. Any time you hold a team to one run on four hits, you're doing something right, as Brandon Birdsell was locked in on the mound. The hard-throwing right-hander dominated through six innings, allowing just one unearned run while striking out five as his ERA fell to 2.55.
To his credit, Troy Melton was equally as good as he allowed just three runs (2ER) in 4 2/3 innings as he did his best to keep things close. His problem was a struggling bullpen and an offense that couldn't get anything going. Like in the Tennessee game, the Cubs used the long ball to get things going as Moises Ballesteros left the yard in the second to give the Cubs a 1-0 lead.
Moises Ballesteros with 💣 to put the #SBCubs ahead in the bottom of the 2nd.
His first @hoosierlottery home run with the South Bend Cubs.
109 mph off the bat 🔥 pic.twitter.com/2i3hBAzhe7

— South Bend Cubs (@SBCubs) July 21, 2023
They would never look back as a pair of RBI singles from James Triantos, and Ballesteros opened up a 3-0 lead in the third with the Cubs rolling.
Ballesteros is 🔥🔥🔥
2 for 2, HR 2 RBI (with a little help from a @JamesTriantos stolen base)#SBCubs lead West Michigan 3-0 after 4 innings. pic.twitter.com/nPj3vpl9KF

— South Bend Cubs (@SBCubs) July 22, 2023
South Bend held that 3-0 lead until the sixth inning when West Michigan finally got on the board with the Eliezer Alfonzo single to pull within 3-1. Yohendrick Pinango answered that with one of his own in the seventh to extend the lead to 4-1 with three additional runs crossing home in the eighth.
The first of those runs came on a wild pitch, with Liam Spence driving in the final two with an RBI single as the Cubs made quick work of West Michigan 7-1. Ballesteros paced the offense with three hits and two RBIs, with several others having a good day. Triantos, Pinango and Felix Stevens, added multi-hit games in the win, while Kevin Alcantara was given the rare day off.
CUBS WIN!!
Now that was a dominant effort!#NextStartsHere pic.twitter.com/FQxxzjPEI4

— South Bend Cubs (@SBCubs) July 22, 2023
COLUMBIA FIREFLIES 4 - MYRTLE BEACH PELICANS 0
Last season, the Pelicans had a historical first half of the season before struggling in the second half. This season looks to be more of the same as the Pelicans won the first-half division title but have had trouble getting going consistently in the second half.
Friday was another case of inconsistencies as they dropped their third straight game to the Fireflies 4-0. Most of the damage came in the first two innings, as Grant Kipp wasn't at his best. Across four innings, Kipp allowed three runs on four hits as his ERA sits at 3.19. He walked three and struck out five.
Granted, that is a good start, but it will take a lot of work to win when five pitchers combine to allow just five hits in a winning effort. The Fireflies needed just one run of support and got what they needed in the first as Brett Squires took Kipp deep in the first for the early 2-0 lead. That was all they would need, but Columbia wouldn't stop there as a bases-loaded walk extended the lead to 3-0 in the second.
Columbia capped off the scoring with a wild pitch in the sixth as they took care of the Birds 4-0. Reivaj Garcia had the hot hand on offense as he picked up three of the team's five hits.
The 'Flies are getting coal in their stocking.#MBPelicans | #NextStartsHere pic.twitter.com/ZckjORO7ny

— Myrtle Beach Pelicans (@Pelicanbaseball) July 22, 2023
ACL CUBS 8 - ACL REDS 4
Alexis Hernandez with a three-run homer, with the red-hot Jefferson Encarnacion adding two hits and two RBIs.
DSL TIGERS 9 - DSL CUBS BLUE 5
DSL CUBS RED 3 - DSL TIGERS 2

Tags: Cubs Baseball
,
Bailey Horn
,
Adrian Sampson
,
David Bote
,
Alexander Canario
,
Nelson Velazquez
,
Nick Madrigal
,
Walker Powell
,
Cole Roederer
,
Jordan Nwogu
,
Owen Caissie
,
Levi Jordan
,
Casey Opitz
,
James Triantos
,
Yohendrick Pinango
,
Felix Stevens
,
Kevin Alcantara