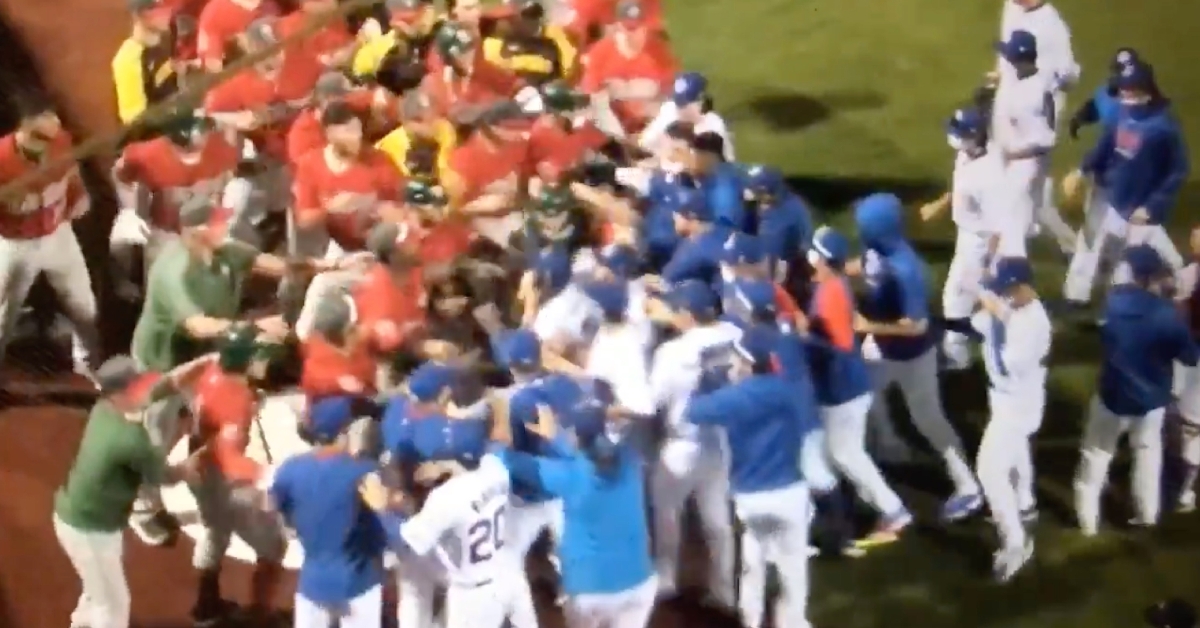 | | |
| --- | --- |
| Cubs Minor League News: Insane brawl with South Bend, Matt Mervis with homer, I-Cubs lose, | |
---
| | | |
| --- | --- | --- |
| Wednesday, May 26, 2021, 4:00 PM | | |
There continues to be a lot of fantastic play across the Cubs system once again, as the organization posted a 2-2 record on the diamond. However, it wasn't the play that stole the show last night but instead a bench-clearing brawl between Fort Wayne and South Bend. While only three players were ejected from that game, there will be some suspensions sure to follow as South Bend could look much different in the coming days.
SAINT PAUL SAINTS 17 – IOWA CUBS 6
The Cubs had a rough go of things Tuesday night, more specifically Cory Abbott, who continues to struggle on the mound. The 2019 Organizational pitcher of the year has been off this season as his ERA now sits at 6.52 following five earned runs yesterday. Abbott was charged for 10 runs, but some errors only tacked five onto his line.
That alone was enough to put the Cubs well behind as they scored five of their six runs in the final inning. Before Iowa knew what hit them, they were in a 6-0 hole after two innings, with Tomas Telis capping off a five-run second with a three-run shot. Two innings later saw Saint Paul push four more runs across, with Ben Rortvedt connecting for an RBI double followed up by JT Riddle and his three-run shot.
Down 10-0, Jose Lobaton singled up the middle to get the Cubs on the board, but there was more work to be done. Across the sixth and seventh inning, Saint Paul was able to push seven more runs across, and the Cubs trailed 17-1 heading into the ninth. That is when their bats suddenly came to life, pushing across five runs in that half of an inning.
It all started with a Matt Burch RBI fielders' choice before Ian Miller doubled to make it 17-3. Josue Huma added an RBI single before Rafael Ortega, and Vance Vizcaino added bases-loaded walks to pull within 17-6 before losing by that score.
Along with a rough day from Abbott, Dakota Mekkes returned to AAA and got rocked in his return. Tyson Miller and Adam Morgan also had rough outings in relief, with Morgan conceding his first two runs of the season.
Of the Cubs nine hits, both Miller and Lobaton were responsible for two, each picking up an RBI. Trayce Thompson and Ortega added hits for the Cubs.
Tomorrow is a new day. See you at 12:08. pic.twitter.com/I9ccYylglc

— Iowa Cubs (@IowaCubs) May 26, 2021
CHATTANOOGA LOOKOUTS 4 – TENNESSEE SMOKIES 0
It was a quiet night for the Smokies as they were held to just six hits in a 4-0 loss. Erich Uelmen got the start and lasted five innings while being charged with all four runs. He allowed a season-high seven hits, and his command wasn't as crisp as it has been most of the season.
Things were close early, with Yoel Yanqui picking up an RBI groundout in the third inning for the only offense early. That all changed in the fifth when the Lookouts started to tee off on Uelmen. With a pair of runners on base, Wilson Garcia ripped an RBI single to make things 2-0 before a Brian Rey sacrifice fly extended the lead to 3-0. Leonardo Rivas would add an RBI triple later that inning to chase Uelmen and put the Smokies in a 4-0 hole.
The rest of the game was all about pitching as the Smokies bullpen came in and kept the Lookouts from building on their lead. Tennessee had a pair of excellent chances in the sixth and eighth innings to push a run home but could not cash in, falling to 7-11 on the season with a 4-0 loss.
The Smokies had six hits on the season coming from six different players, including Grayson Byrd, Miguel Amaya, Christopher Morel, and Connor Myers. Amaya also added a walk in the contest as his average may be under .250, but he is still reaching base.
Matt Swarmer had a fantastic outing, but ultimately the Smokies fall 7-3 to the Shuckers. #SmokiesBaseball https://t.co/sYp12NWcQO

— Tennessee Smokies (@smokiesbaseball) May 23, 2021
SOUTH BEND CUBS 12 – FORT WAYNE TIN CAPS 10
The Cubs have climbed back to .500 on the season as the offense showed up in a big way Tuesday. However, offensive fireworks aside, the real fireworks from this game came in the form of an ugly bench-clearing brawl as the repercussions of that are going to be felt long term.
Max Bain may have gotten the start, but he didn't last long-serving up five earned runs in less than an inning of work. All those runs came on a pair of homers, with Agustin Ruiz belting a two-run shot and Justin Lopez adding a three-run shot. Ethan Skender picked up an RBI double later in the inning as Fort Wayne raced out to a 6-0 lead after one.
Now down 7-0 in the sixth, it was time for the Cubs offense to put up a big inning as they raced right back in the game. Starting with a Cole Roederer two-run double, the Cubs bats pushed across six runs in the sixth to make things a 7-6 game. Brennan Davis would add his second homer in as many games before Nelson Velazquez followed that up with a two-run shot of his own.
Sensing momentum shifting, Grant Little came up with a clutch single in the seventh to help extend the Tin Caps lead to 9-6. Still sitting 9-6 and heading to the bottom of the eighth, South Bend ripped off another six-run inning for the second time in three innings. Once again, Velazquez found himself in the middle of it, working a bases-loaded walk to get things started. Jake Slaughter kept the line moving with a walk of his own before Bryce Windham put the Cubs on top with a single up the middle.
Still, with runners on base, Delvin Zinn came through with an RBI double to bring home two more as the Cubs now led 12-9. That double proved to be critical as it not only gave the Cubs two huge insurance runs but proved to be the game-winner. The Tin Caps continued to battle in the ninth, with Dwanya Williams-Sutton picking up an RBI single to make things 12-10. Samuel Reyes didn't let that bother him as he recovered to retire the next hitter and cap off the comeback win.
Speaking of Reyes, he was one of two relievers who pitched extremely well, striking out three in 1 2/3 innings of work while being charged with one run. Graham Lawson lasted the longest of anyone in the game, tossing 2 2/3 innings of one-hit ball. Zinn (3), Davis (2), and Slaughter (2) all had multi-hit games as they provided seven of the teams 11 hits. South Bend also saw Davis, Zinn, Roederer, and Windham each tally a pair of RBIs, with Velazquez leading the way with three.
CUBS WIN! Four in a row at Four Winds Field! #SBCubs #CubTogether pic.twitter.com/USlPmXn6k1

— South Bend Cubs (@SBCubs) May 26, 2021
MYRTLE BEACH PELICANS 5 – SALEM RED SOX 3
All it took was one crooked number inning to give the Pelicans the advantage they needed as they picked up a 5-3 win. A big reason for that was the performance of both Richard Gallardo and Jose Albertos on the mound, as they made things tough on the hitters. Gallardo got the start lasting 4 2/3 innings while being charged with all three runs. Albertos not only threw 2 1/3 shutout innings, but he didn't allow a hit to go with his three strikeouts.
After Myrtle Beach struck first off, an error, Salem answered in the bottom of the first as the Stephen Scott singled tied things up 1-1. With the bases loaded and two outs in the fourth, Wil Dalton was able to get to Gallardo as his single not only chased him out of the game but provided the Red Sox with a 3-1 lead.
It was in the fifth when the Pelicans offense not only came to life but took the lead and never looked back. Jacob Wetzel was the man at the plate when the first run of the game came home to score, and he brought home the second run with an RBI single. That set the stage for Pablo Aliendo later in the inning as his RBI double gave the Pelicans the lead for good 4-3.
With his first RBIs of the season, Pablo Aliendo is your Waccamaw Dermatology player of the game!#MBPelicans pic.twitter.com/Zvlv8D9ryc

— Myrtle Beach Pelicans (@Pelicanbaseball) May 26, 2021
Matt Mervis would add a ninth-inning homer to make things 5-3 as that was his second homer of the season. Bailey Reid finished things off from there to pick up his third save of the season and secured the win.
The Pelicans pounded 13 hits, with Aliendo, Wetzel, Edmond Americaan, Yohendrick Pinango, Mervis each having two-hit games. Ethan Hearn, Reivaj Garcia, and Fabian Pertuz picked up one hit each as everyone in the lineup had at least one hit in the game. Alien, Mervis, and Wetzel picked up the RBIs.
Game one win: CHECK.

Birds take the opening game of the series! We'll be back at it again tomorrow. #MBPelicans pic.twitter.com/8rlQJEX19O

— Myrtle Beach Pelicans (@Pelicanbaseball) May 26, 2021

Tags: Cubs Baseball
,
Cory Abbott
,
Ian Miller
,
Josue Huma
,
Rafael Ortega
,
Vance Vizcaino
,
Dakota Mekkes
,
Tyson Miller
,
,
Erich Uelmen
,
Grayson Byrd
,
Miguel Amaya
,
Christopher Morel
,
Connor Myers
,
Cole Roederer
,
Nelson Velazquez
,
Delvin Zinn
,
Samuel Reyes
,
Richard Gallardo
,
Jose Albertos
,
Edmond Americaan