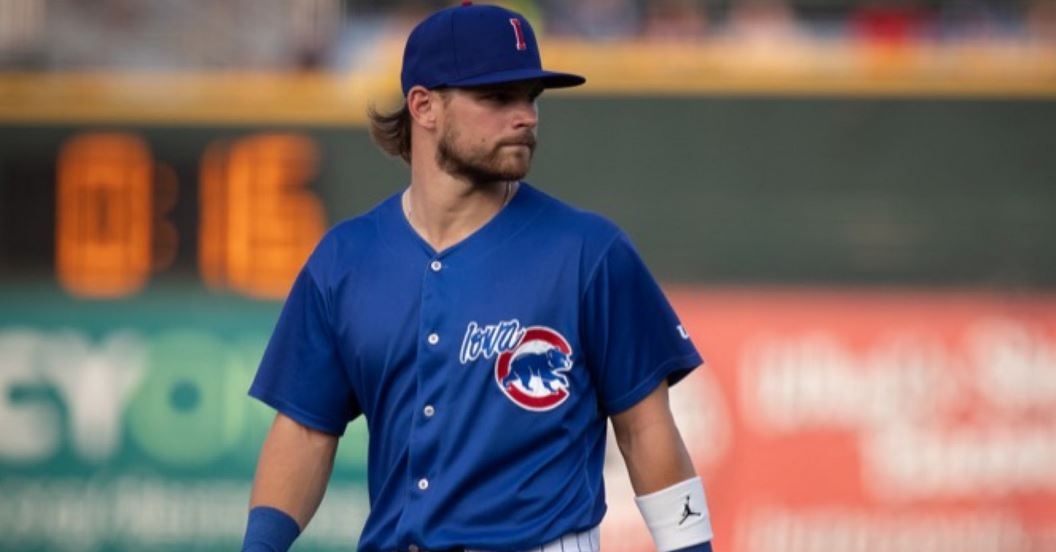 | | |
| --- | --- |
| Cubs Minor League News: Levi Jordan impressive in I-Cubs loss, Soto with go-ahead homer, m | |
---
| | | |
| --- | --- | --- |
| Sunday, October 3, 2021, 1:00 PM | | |
Then there were two, as in two minor league games as things are getting down to the end in the minor leagues. Through all the struggles, stress, and not knowing if a season was going to be completed or not, Major League baseball did it. They figured out how to get through a minor league season as things continued to wind down on Saturday.
Although Iowa has one more day remaining on their 2021 season schedule, the DSL League ended with Red and Blue finishing up their season against each other. Although the Cubs didn't win a minor league game on Saturday, there was plenty to like and lots to look forward to in 2022 and beyond.
OMAHA STORM CHASERS 10 – IOWA CUBS 6
Facing the Omaha Storm Chasers is hard enough, but when you have a roster continuing to go through changes, it makes it that much more challenging. Despite the Cubs offense coming to life for six runs on Saturday, it was the pitching that did them in as Omaha scored double-digit runs for the second time in as many days.
Luis Lugo was on the mound for Iowa as the left-hander made his final appearance of the season.
Not only has he struggled since coming to Iowa, posting a 1-6 record with a 6.75 ERA, but his final outing went about as you would expect, allowing seven runs in five innings of work. The first of those runs came in the first inning off a Bobby Witt RBI single, but that was it for the time being.
Matt Mervis tied things up with a single of his own in the bottom of the first before the Cubs offense started to take off in the second. After putting together a massive night on Friday, Andrew Romine gave the Cubs a 3-1 lead reaching on an RBI fielder's choice before a throwing error allowed for a second run to score. Another Brennen Davis RBI groundout followed that up as the Cubs took a 4-1 lead into the third.
From that point on, it was all Omaha as the Nick Pratto homer in the third tied things up 4-4. That was just the beginning for their offense, as they went on to score eight runs across the next few frames. After making his AAA debut on Friday night, Liam Spence collected his first RBI in the bottom of the third as his single had the Cubs in front 5-4.
That lead didn't last long as Emmanuel Rivera connected for his 19th homer in the fifth inning, putting the Storm Chasers in front for good 7-5. Omaha extended that lead to 9-5 with a pair of RBIs in the sixth before Erick Mejia added an RBI double in the eighth to put the Storm Chasers in front 10-5. Romine continued his outstanding series with an RBI single in the eighth, but it wasn't nearly enough as the Cubs fell to Omaha 10-6 for their seventh straight loss.
Levi Jordan and Spence led the Cubs offense with two hits as they finally started to show signs of life. Romine, Ian Miller, Mervis, and Casey Opitz all had hits in the game.
Don't miss out on the season finale tomorrow at Principal Park! pic.twitter.com/9KIkp7TYc2

— Iowa Cubs (@IowaCubs) October 3, 2021
DSL CUBS BLUE 4 – DSL CUBS RED 1
With a chance to finish their season .500, DSL Red picked a bad time to let off the gas as DSL Blue finally got to them 4-1. It wasn't easy as Emmanuel De La Cruz and Starlyn Picardo held DSL Blue to one run through five innings until a three-run sixth did DSL Red in. With De La Cruz and Picardo dominating for Red, Marino Santy matched them pitch for pitch through four innings, allowing one run and striking out seven in his final start.
That run came in the first inning, which also happened to be the only run of the game for DSL Red as Anderson Suriel reached on an error to put DSL Red in front 1-0. That score held until the fifth, when Lizardo Ruiz was able to tie things up 1-1 with an RBI single.
Moving to the sixth and it was Wally Soto coming through with a massive hit as his two-run homer proved to be the winning hit, with DSL Blue taking a 3-1 lead. Carlos Ramos added an RBI single later in the inning as DSL Blue ended a long losing streak against DSL Red 4-1.
The offense was hard to come by for Red, as they managed just two hits, with Suriel and Fredy Montenegro responsible for those. For Blue, they were fortunate to come away with six hits from six different players Daniel Ferreira, Jerry Torres, and Dilan Granadillo, joining the names listed above.