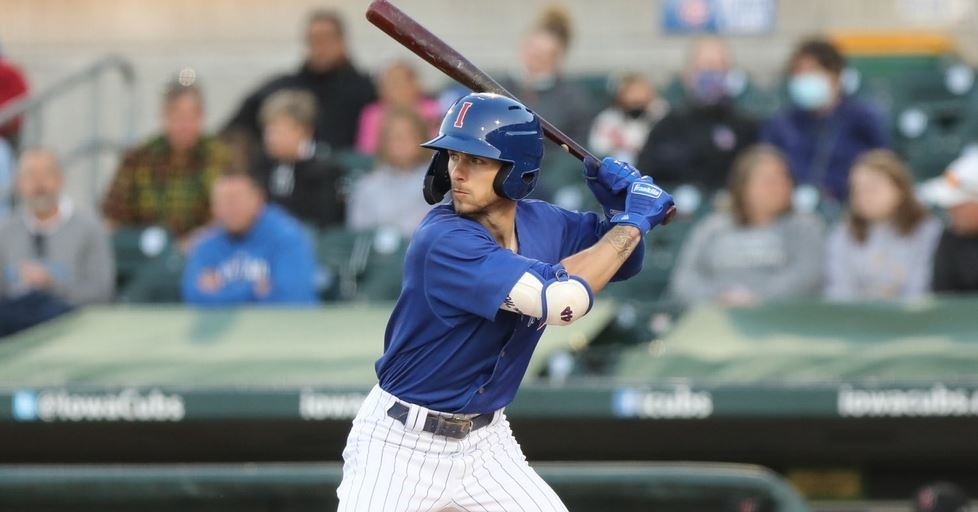 | | |
| --- | --- |
| Cubs Minor League News: Miller with two hits, SB wins, Pelicans with 15 runs in win, more | |
---
| | | |
| --- | --- | --- |
| Friday, July 23, 2021, 4:00 PM | | |
Oh, the joys of playing inconsistent ball. Sometimes you win a lot of games, and sometimes you lose a lot. That later part of that is what happened to the Cubs last night as the system posted a 2-5 record, but it was the non-rookie league teams going 2-2 as opposed to 0-3 in Rookie League play.
As tough as it is to follow seven games a day, eight if you count the Cubs major league team, that amount of games brings you tons of action. It gives fans a chance to watch different leagues with different players and prospects as they can easily see who stands out more than the others.
COLUMBUS CLIPPERS 4 – IOWA CUBS 3
The Cubs wasted a golden opportunity to pick up another win, letting a late-game lead get away before falling on a walk-off hit. Joe Biagini was back on the mound starting and gave the Cubs a tremendous five-inning outing that saw him allow just two runs on three hits. He gave way to Matt Swarmer, who tossed three solid innings of relief before Ben Leeper came on in the ninth.
Once again, the Cubs played from behind early as Oscar Gonzalez gave Columbus a 1-0 lead in the second off an RBI double before doubling their lead in the third off the Nolan Jones homer. Still down by a pair in the fifth, the Cubs offense finally showed signs of life as Iowa used RBI singles from Ian Miller and Abiatal Avelino to draw even 2-2.
That score would hold up until the bottom of the eighth when Owen Miller took Swarmer deep for the solo shot giving Columbus a 3-2 lead. With a chance to take the lead in the ninth, Caleb Knight picked up an RBI force out to tie things up, but the Cubs could not do anything else. That set the stage for the Clippers in the bottom of the ninth as Trenton Brooks took Leeper deep to lead off the bottom of the ninth and sent Columbus into a frenzy.
Miller, Avelino, and Trent Giambrone had the hot hand at the plate as the trio connected for two hits each. Alfonso Rivas and Knight rounded the hits for Iowa while David Bote continues to struggle, going hitless again. Michael Hermosillo was out of the lineup as he left Wednesday's game with an injury.
ROCKET CITY TRASH PANDAS 6 – TENNESSEE SMOKIES 3
Although Rocket City scored in just two innings, both of those innings were three-run frames which was enough to knock off Tennessee 6-3. Cam Sanders gave the Cubs five solid innings, and although he took the loss surrendering three runs, he struck out 10 hitters. Jonathan Diaz was a bit better, allowing just two runs in five innings while striking out 11 of his own to earn the win.
Sanders couldn't even get through the first before Rocket City made him pay as all three runs, he surrendered came in that frame. It started with a Mitch Nay single that brought home a pair before a pickoff play later in the inning resulted in another run to give Rocket City a 3-0 lead. That was all Sanders allowed as he was dominant across his final four innings.
Hoping to make things easier on him, Nelson Maldonado pulled the Cubs within 3-2 in the third, lashing a two-run double to make that happen. Unfortunately for Tennessee, that double would be the only offense they would have until late as Diaz and the pitching staff were impressive.
Still holding a 3-2 lead, the Trash Pandas took it to Ryan Kellogg in the seventh as they built a four-run lead. A Michael Cruz single made things 4-2, but the Ray-Patrick Didder homer was the final straw as Rocket City held a 6-2 lead. The Smokies did push across a run in the eighth off the Levi Jordan grounder, but it wasn't enough as they fell 6-3.
Tennessee picked up nine hits in the loss, with Darius Hill, Christopher Morel, and Edwin Figuera responsible for two each. Jordan, Maldonado, and Zach Davis picked up the final three hits, with Brennen Davis suffering an 0-4, four-strikeout night.
Coming soon... #SmokiesBaseball #GoSmokies pic.twitter.com/qq7nZDZU8F

— Tennessee Smokies (@smokiesbaseball) July 22, 2021
SOUTH BEND CUBS 6 – WISCONSIN TIMBER RATTLERS 4
The Cubs erased a tough day on Wednesday by responding with a 6-4 win on Thursday. Matteo Bocchi may not have qualified for the win, but he continues to pitch well, allowing just two hits in four shutout innings of work. That no decision was a tough pill to swallow as he left the game leading 3-0.
Jake Slaughter put the Cubs in front in the first, picking up a two-run knock. It was then time for newly acquired Dean Nevarez to make his presence felt as the catcher went deep in the second to extend the lead to 3-0. With Hunter Bigge on the mound in the fifth, Wisconsin began to rally as a Carlos Rodriguez walk made things 3-1 before the LG Castillo groundout pulled Wisconsin to 3-2.
Sensing it would take more than three runs to win this game, South Bend picked up a pair of insurance runs in the sixth, with Tyler Durna delivering a single ahead of the Nelson Velazquez groundout. That groundout by Velazquez proved to be the winning run as South Bend couldn't shake Wisconsin. Whenever South Bend scored, the Rattlers appeared to have an answer as the David Hamilton double made things 5-3 in the sixth before a wild pitch pulled Wisconsin to 5-4 in the eighth.
Nevarez added an RBI double in the ninth, which proved to be enough as Eury Ramos slammed the door for his sixth save in the 6-4 win.
While Durna and Slaughter led the team with three hits, Nevarez made his presence felt in his debut, picking up two hits to go with two huge RBIs. The Cubs also received hits from Velazquez, Bryce ball, and D.J. Artis in the win as he also walked twice.
South Bend led the whole way and took back the series lead with a 6-4 win over Wisconsin Thursday night. #SBCubs #CubTogether pic.twitter.com/WYcoW4NUIg

— South Bend Cubs (@SBCubs) July 23, 2021
MYRTLE BEACH PELICANS 15 – CHARLESTON RIVERDOGS 1
There wasn't much that went wrong for Myrtle Beach on Thursday as they pounded Charleston 15-1. Didier Vargas didn't need to have his best stuff, but went out and gave Myrtle Beach six innings as he picked up his fourth win of the year. He was backed by an offense that scored 15 runs, including 12 over a three-inning stretch.
Five of those runs came in the second inning as the Cubs looked to respond after a Brett Wisley homer in the first. Respond they did, as Jordan Nwogu and Ethan Hearn homered to give the Cubs the lead for good before a wild pitch made things 3-1. Ed Howard put an end to that inning with a two-run single, helping the Pelicans take a 5-1 lead.
Myrtle Beach continued to pour it on in the third, with Hearn going deep for the second time in as many at-bats coupled with an error and the Howard double to make things 8-1. One inning later, the same story as the Cubs used a Nwogu triple, Fabian Pertuz single, and Matt Warkentin homer to push across four runs and lead 12-1 after just four innings of play.
That offense cooled off as the rest of the game rolled on, but the Pelicans picked up three runs late, with Pertuz, Warkentin, and Nwogu all adding to already big games in a 15-1 win.
Birds dig the long ball.#MBPelicans | #CubTogether pic.twitter.com/CXdgvaRMJ6

— Myrtle Beach Pelicans (@Pelicanbaseball) July 23, 2021
Nwogu had his best game as a pro, picking up three hits to go with three RBIs. He was one of four players with three hits as Pertuz, Howard, and Warkentin also accomplished that feat while all four of them brought home at least two runs. Yohendrick Pinango picked up two hits as everyone in the starting lineup had at least one hit in the dominating win.
ACL ROCKIES 18 – ACL CUBS 2
While not much went wrong for the Pelicans, it was the exact opposite for ACL as they fell to the Rockies 18-2. That all started with the Rockies pushing across four runs in the first before building a 7-0 lead in the fourth. With just two runs, the offense was limited, but both of those runs came in the fourth when Owen Caissie picked up an RBI single before a double-play ball brought home the other.
The rest of the game saw the Rockies score 11 runs over their final three innings, including a six-run fifth to put things away. Yeison Santana led the team with two hits, while Caissie was responsible for the lone RBI. Arizona also received a hit from Reggie Preciado while Ismael Mena went hitless.
DSL BREWERS 5 – DSL CUBS RED 4
The DSL Cubs Red team fell back to .500 as they dropped a tight 5-4 contest to the Brewers. The Cubs struck first in the third, using the Anderson Suriel double to take a 2-0 lead.
That lead didn't last long, as the Brewers matched that double with a double of their own from Hendry Mendez to pull even 2-2. An Early Tatis double in the fourth gave the Cubs a 3-2 lead before Moises Ballesteros put them in front 4-2 with a seventh-inning single. Down to their final at-bat, the Brewers pulled within one as a bases-loaded walk to Deivid Alvis kept the line moving. With the bases still loaded and two down, Luis Castillo came through with a massive single as he gave the Brewers a walk-off 5-4 win.
Suriel, Tatis, Elias Fabian had great days at the plate, collecting two hits in the loss. Suriel also added a pair of RBIs while Pedro Ramirez, Ballesteros, and Andrews Cruz picked up the remaining hits.
DSL DODGERS 5 – DSL CUBS BLUE 2
If it weren't for No. 4 prospect Cristian Hernandez, this team would be tough to watch as they have gotten off to a slow start. Again, starting slow was again the case here as a first-inning wild pitch had the Dodgers up 1-0. Fortunately for the Cubs, Lizardo Ruiz was able to tie the game with a homer in the third, only to see the Dodgers push across two runs in the fourth off a wild pitch and a Jorge Puerta single. The Puerta single was significant as that was, in fact, the game-winning run.
Still, down a pair, the Cubs continued to battle back using a Leonel Espinoza RBI groundout to pull within 3-2. That would be as close as things would get with Victor Sosa bringing home another run on a seventh-inning single before coming around to score on an error. That all led to the Dodgers taking down the Cubs 5-2.
17-year-old Raul Guzman led the offense as he collected two of the team's seven hits. Ezequiel Alvarez, Cristian Hernandez, Ruiz, Daniel Ferreira, and Frank Hernandez capped off the final five hits in the loss.

Tags: Cubs Baseball
,
Ian Miller
,
Abiatal Avelino
,
Caleb Knight
,
Trent Giambrone
,
Alfonso Rivas
,
David Bote
,
Michael Hermosillo
,
Cam Sanders
,
Nelson Maldonado
,
Ryan Kellogg
,
Levi Jordan
,
Darius Hill
,
Christopher Morel
,
Zach Davis
,
Brennen Davis
,
Matteo Bocchi
,
Hunter Bigge
,
Tyler Durna
,
Nelson Velazquez
,
Eury Ramos
,
Didier Vargas