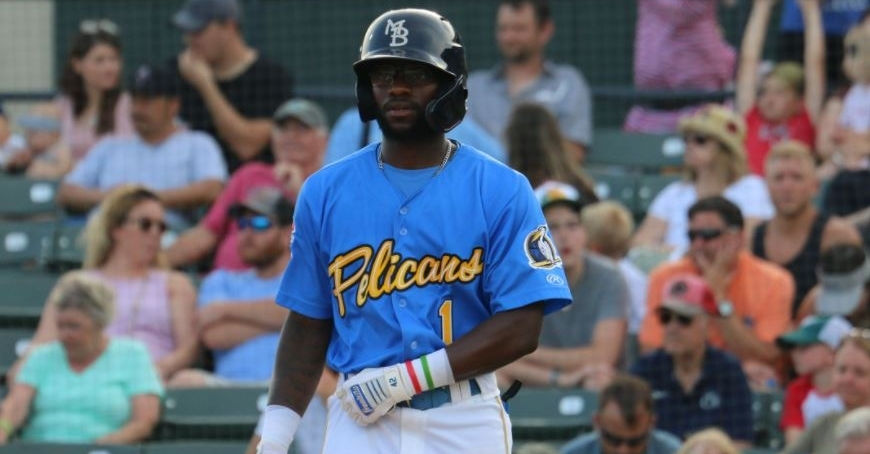 | | |
| --- | --- |
| Cubs Minor League News: Zinn impressive, Payne gets win, Kobos with five Ks, Iowa postpone | |
---
| | | |
| --- | --- | --- |
| Sunday, May 9, 2021, 11:05 AM | | |
Fans have to like what they have seen from the Cubs farm system thus far. Not only are the Cubs competitive, but a lot of their top prospects are showing up in a big way to open the 2021 season. That is impressive when you think about it, considering many of these players haven't played a game in over a year.
Saturday saw three teams on the field where the organization posted a 2-1 record on the evening. There was just enough offense to get the job done, but the pitching told the story in the two wins. For an organization that is patiently waiting for pitching help, that is a good sign that bodes well for the future.
INDIANAPOLIS INDIANS vs. IOWA CUBS (Postponed)
No game tonight means you can catch up on the action so far with the @GreatClips Clip of the Homestand!

The Iowa Cubs wrap up the first series of the 2021 season tomorrow afternoon at Principal Park with a 1:08pm first pitch. pic.twitter.com/Fut7uBpKGx

— Iowa Cubs (@IowaCubs) May 8, 2021
MONTGOMERY BISCUITS 3 – TENNESSEE SMOKIES 4
After posting the worst second-half record in the system last year, who would have thought the Smokies would be 3-1 to open the season. That is precisely the case as they downed Montgomery 4-3 for their third straight win last night.
Javier Assad and Ryan Kellogg combined to throw five strong innings in which they allowed two runs; none of them earned on three hits to go with no walks and eight punchouts. That was the theme of the night as Smokies pitchers combined to strike out 12 hitters as opposed to just two walks. Offensively, things didn't get going until the fifth inning as both teams were held in check through four.
Michael Smith broke the scoreless tie with a sacrifice fly to center fielder Zach Davis before Miles Mastrobuoni continued his great opening series with an RBI double to give Montgomery a 2-0 lead. However, the Smokies offense responded in a big way, using a Montgomery miscue to push across their first run.
Davis hit a slow roller and was able to reach first on a fielder's choice. An error by pitcher Alex Valverde not only got the Smokies on the board, but it opened the door for a bigger inning. Both Andy Weber and Christopher Morel capitalized as their RBI singles put Tennessee in front 3-2.
After Seaver Whalen tied things up in the top of the seventh with an RBI double, the Smokies were at it again in the bottom of the with a runner in scoring position. Tyler Payne then came through with the go-ahead, and eventual game-winning hit to score Miguel Amaya and gave Tennessee the 4-3 lead. A scoreless ninth from Wyatt Short sealed the deal as he picked up his first save of 2021.
Vance Vizacaino with a GAME SAVING catch at the wall! #SmokiesBaseball @ESPNAssignDesk pic.twitter.com/WpLBjpqV1N

— Tennessee Smokies (@smokiesbaseball) May 9, 2021
Amaya continues to do great work at the plate as he went 1-3 with a walk and strikeout, as his season average is now .308. Morel keeps his average at .250 with a 1-4 day but picked up an RBI in his third straight game. Weber, Davis, and Payne continue to see the ball well while Jake Slaughter is still searching for his first hit.
Smokies win the game and the series! Come join us inside Smokies Stadium tomorrow for Mother's Day with first pitch at 2:00pm! #SmokiesBaseball #GoSmokies #SmokiesWin
?? https://t.co/uxtBfonLOm pic.twitter.com/BDdjx3F1JF

— Tennessee Smokies (@smokiesbaseball) May 9, 2021
QUAD CITY RIVER BANDITS 5 – SOUTH BEND CUBS 1
The Cubs opened the season 2-0 but have now dropped three-straight since. Last night was not a good night as South Bend couldn't get anything going falling to the River Bandits 5-1.
2019 first-round pick Ryan Jensen made his High A debut in what was supposed to be a highly anticipated appearance. Instead, Jensen continued to struggle at the pro level lasting only three innings and allowing four earned runs on just three hits. He did strike out five hitters compared to just one walk, so the command was much better than in the past. Offensively, the Cubs bats struggled equally as much as they managed to pick up just one run.
Seuly Matias' first-inning triple would be all the runs the River Bandits would need, but John Rave and Vinnie Pasquantino provided solo shots in the third to give Quad City the 4-0 lead after three. That lead was then extended to 5-0 in the top of the sixth when Eric Cole picked up another RBI single as his excellent series continues.
South Bend was finally able to get on the board in the bottom of the sixth, pushing across their lone run of the night. Not only that, but the Cubs had a great chance to get right back into the game as a pair of walks to Reivaj Garcia and Cole Roederer mixed with a Delvin Zinn single had the bases loaded with no outs.
That set the stage for Cam Balego, who grounded into a double play bringing home the Cubs first and only run and killing a massive rally. Tyler Durna and Jacob Olson earned walks after that double play, so you can see how costly it was in the losing effort.
Zinn continues to be the hottest hitter in the lineup, moving to the leadoff role and picking up two of the team's three hits. Garcia added the other hit, but the Cubs showed patience at the plate, taking six walks. Balego was not only credited with bringing in the lone run, but he took two of those six walks on the day.
FINAL: Cubs 1, River Bandits 5
Cubs look to split the series with a win tomorrow, first pitch at 2:05 pm. pic.twitter.com/jOzTc1wnYW

— South Bend Cubs (@SBCubs) May 8, 2021
MYRTLE BEACH PELICANS 5 – CHARLESTON RIVER DOGS 1
Pitching was the name of the game for Myrtle Beach as they topped Charleston for the second straight win. Top 30 prospect DavidJohn Herz made his pro debut and lasted just two innings in his start. He allowed just one hit and two walks but managed to strike out four before yielding to the pen.
Alex Whitney followed up Herz by tossing three innings of one-run on two-hit ball as he too walked two and struck out four. Scott Kobos picked up the win and was impressive in the process tossing two perfect innings with five strikeouts as the Pelicans recorded 13 strikeouts as a staff.
With FIVE strikeouts against SIX hitters coming out of the bullpen, your Waccamaw Dermatology Player of the Game is @skoboz !

Hey @CoastalBaseball , this kid's good pic.twitter.com/nawMG1Eobk

— Myrtle Beach Pelicans (@Pelicanbaseball) May 9, 2021
Offensively, the Pelicans only scored in two innings, but when they were multi-run innings, that is all they would need. Two of those runs came in the second when a Luis Verdugo double made things 1-0 before coming home on another Darius Hill single. Little did the Pelicans know that Hill's single would be the game-winning run as their pitching took care of everything.
A Heriberto Hernandez homer off Whitney in the fourth was the River Dogs lone run in the contest as they had Charleston within one at 2-1. That was until the top of the fifth when Myrtle Beach put the game away. Yonhendrick Pinango got things started in that inning as his RBI fielder's choice made things 3-1.
Myrtle Beach added to that lead later in the inning as a wild pitch allowed Jordan Nwogu to score, making it 4-1. Verdugo capped off the inning with his second RBI of the night as the Pelicans took a 5-1 lead and finished things off from there.
Hill continues to set the tone for the offense as he picked up two more hits and another RBI from the leadoff spot bringing his average to 333 on the season. Ed Howard picked up one hit to go with his three punchouts while Nwogu reached base twice on two walks. Another Pinango hit and RBI continue to show the Cubs why he has such high upside while Yeison Santana and Ethan Hearn combined to go 0-7 with two walks and five strikeouts.
That's two in a row!

We'll meet Charleston for the sixth and final game tomorrow night to try and even the series. #MBPelicans pic.twitter.com/KkdlwOg9zB

— Myrtle Beach Pelicans (@Pelicanbaseball) May 9, 2021

Tags: Cubs Baseball
,
Javier Assad
,
Ryan Kellogg
,
Zach Davis
,
Andy Weber
,
Christopher Morel
,
Miguel Amaya
,
Wyatt Short
,
Ryan Jensen
,
Cole Roederer
,
Delvin Zinn
,
Cam Balego
,
Tyler Durna
,
Jacob Olson
,
Darius Hill