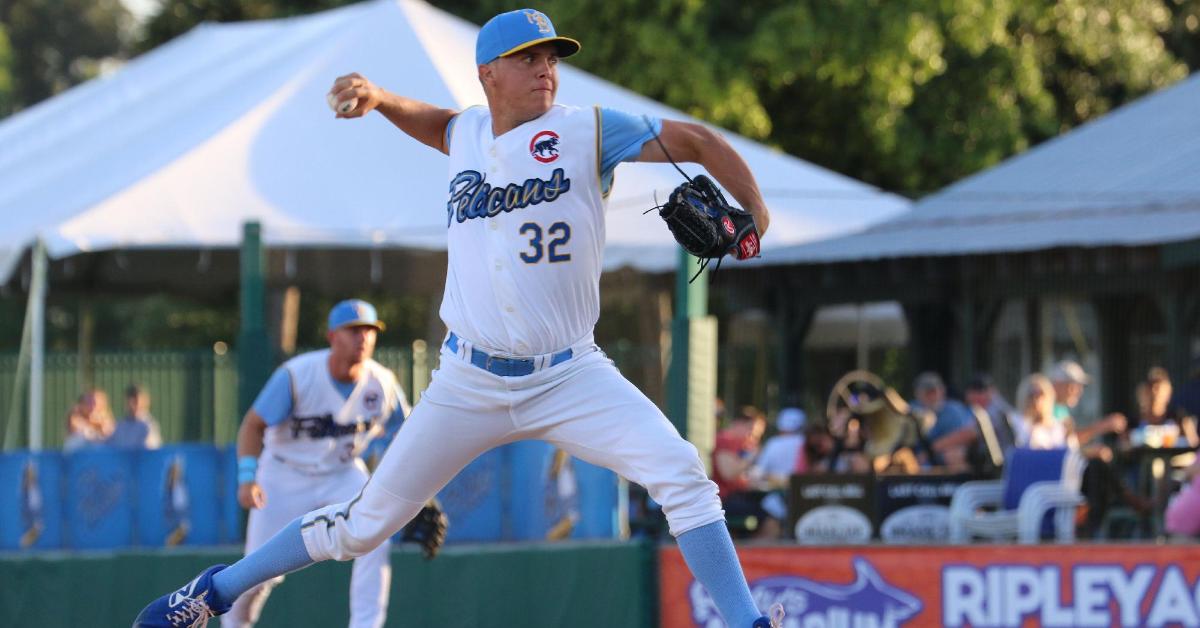 | | |
| --- | --- |
| Cubs Minors: Four underrated pitching prospects | |
---
| | | |
| --- | --- | --- |
| Friday, July 5, 2019, 10:57 AM | | |
During Theo and Jed's time as the Cubs front office, it was clear to how they wanted to build this team into a championship contender. That route was to draft high-power home run guys and sign and trade for big league caliber pitching.
Here we are five years removed from 2014 with all of those hitting prospects now in the bigs and the Cubs struggling to field what once was the top farm system in all of MLB. That hasn't stopped the front office from their view to build for the future in another way as they have stocked the farm system with a plethora of arms, some who are starting to push their way to the bigs.
By now, we all know who the stud pitcher in the crop is Adbert Alzolay made his big-league debut a week ago and has made two starts since. Other pitchers who are ranked highly in the system are Oscar De La Cruz who is now back from a PED suspension, Javier Assad, Alex Lange, fireballer Brailyn Marquez and the ever-rising Tyson Miller who continues to dazzle in AA.
However, those are not the only names to keep an eye on in the coming seasons as several pitchers are starting to come through proving once and for all that pitching help is on the way. One of those players is the remarkable story of Jeffrey Passantino who is now pitching for AAA Iowa.
Passantino, the last pick in the 2017 MLB draft began the year at South Bend pitching in relief, before being sent to Iowa to replace Alzolay on the roster. He was only scheduled to make one spot start for the team, but his first start was good enough that he earned himself a second one. Last night in his second start, Passantino was beyond brilliant, allowing just one ER in five innings of work. At 5-9 225 LBS, Passantino is not going to wow you with velocity as he failed to tough higher than 85 in the game. What he does do, however, is frustrating the heck out of you with impeccable command making him the next Kyle Hendricks should this continue.
Another pitcher that more and more Cubs fans are getting familiar with is Myrtle Beach starter and No. 18 prospect Paul Richan. The 22-year-old Richan, was the Cubs second round compensatory pick last year so to expect any success in high level a ball would be a bonus. After struggling for much of the first two months of the season in terms of overall consistency, Richan has started to put it together as he has now had a run of five great starts in a row.
His last start was I don't know what to call except for unreal as he went seven innings with 9K. Usually, a nine-strikeout performance in seven innings would garner 80-90 pitches with ease, but Richan finished seven frames throwing just 52 pitches. Richan does have strengths and weaknesses like most pitchers do, but his breaking ball command is one of his strengths as a pitcher.
It was so good in his last start, many scouts left with the impression that his breaking stuff is way advanced for his years and better than what anyone throws at that level. When watching his starts, you can instantly see that his slider is by and large the best pitch in his repertoire. It has a sharp sideways break and just darts away from righthanded hitters.
His out pitch against lefties happens to be his curveball, which acts like a 12-6 variation breaking straight down. The thing that makes this pitch so hard to hit is that he can throw it at any point in the count for strikes despite it having an average break at best. That is because he locates everything so well that the ball generally goes where the catcher wants it to be. Richan does need to work on his fastball command at times, but continuously always works the corners of the plate keeping hitters on their toes. I don't expect a rapid movement through the system just yet, but Richan is starting to make some noise on the radar.
Last month's reliever of the month Jack Patterson earned a promotion Monday night as he too is starting to see more attention on the prospect level. Patterson, who has been on a tear at South Bend got the bump to Myrtle Beach as he hopes to stabilize their pen the rest of the way. Patterson is also a lefty, so with Ryan Kellogg now in the rotation, Patterson can fill that void by being a lefty coming out of the pen.
Patterson has seen his fastball gradually increase in velocity as it was hovering between 92-95 in his last appearance. Put that with his low 80's curveball, and a slider that he has now worked in that sits around 88-90 mph, and Patterson has a nice three pitch mix that can get hitters out from both sides of the plate. Patterson is still trying to figure out who he is as a pitcher and has been toying with different pitch mixes as of late. Don't let that fool you, this guy has nasty stuff and is certainly a sleeper to watch down the road.
The pitcher that is starting to make scouts take note is Ben Hecht who recently was promoted from Myrtle Beach to Tennessee. Hecht, was a pleasant surprise this season going back to spring training. Armed with a fastball that sits around 93, his fastball is especially unique as it has one of the highest spin rates in all the minors.
Hecht also changes things up with a two-seam fastball around 90 MPH, but the spin rate on that is much slower and looks like a changeup out of his hand. Just like other young pitchers, Hecht is still trying to figure out who he is as a pitcher as some of his pitches still need to be fully developed. Once he can master all his off-speed stuff, the sky is the limit for this man who seems to be on the fast track forward at this point of the season.
On a side note, 2017 first round pick Brandon Little who missed the first half of the season with a Lat injury made his season debut for South Bend tossing five innings in the process.

Tags: Cubs Baseball
,
Adbert Alzolay
,
Oscar De La Cruz
,
Javier Assad
,
Brailyn Marquez
,
Tyson Miller
,
Jeffrey Passantino
,
Kyle Hendricks
,
Paul Richan
,
Ryan Kellogg
,
Ben Hecht