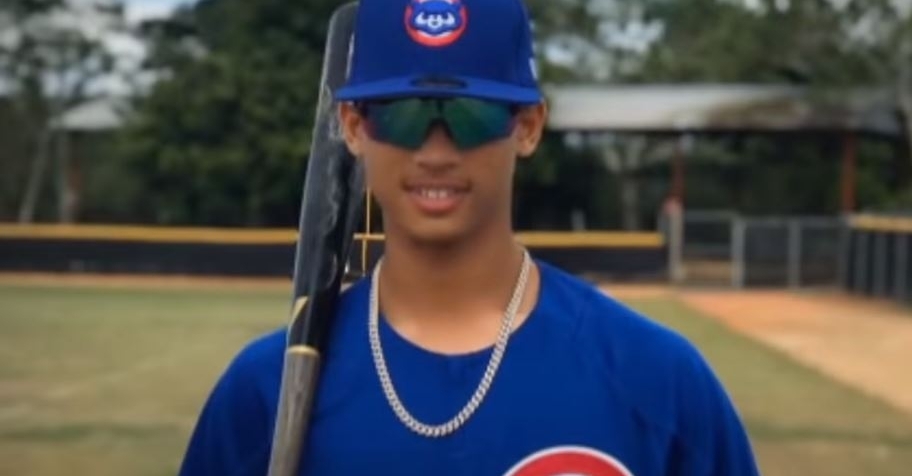 | | |
| --- | --- |
| Cubs News: 2021 Season in Review: Rookie League Teams | |
---
| | | |
| --- | --- | --- |
| Tuesday, October 12, 2021, 8:34 AM | | |
Our final installment of the minor league season in review series circles back to the rookie league. Unlike full-season leagues, Rookie League teams only play half a season, with most of their games beginning in late June or early July. Therefore I will combine all three teams into one column to break them down.
ACL Cubs
Perhaps the most exciting roster to watch in the entire Cubs system took part in Mesa, Arizona, where the ACL Cubs call their home. Not only did the team see some of their pitchers move up into full-season leagues as the season went on, but 2020 fourth-round pick Luke Little finally made his debut this season.
Known for his 105 MPH heater, the imposing left-hander was impressive in 11 innings of work spanning five games as he walked five hitters while striking out 19. His ERA hovered around 5.00, but the pure overpowering stuff for Little was on full display. He is going to be a weapon out of the pen for this organization going forward.
Also making his professional debut this year was the ninth-round pick, Chase Watkins. Like Little, Watkins didn't pitch a ton, seeing action in five games compiling 11 innings of work. However, his numbers were even better, posting a 1.53 ERA with two walks and 20 strikeouts. He will most likely be stretched out as a starter next season, but showed tons of potential during his time with ACL.
What made the Cubs such an exciting team to watch this season was the offense filled with prospect after prospect after prospect. You can start with the Yu Darvish trade, where Yeison Santana, Reggie Preciado, and Ismael Mena spent the entire season.
Santana and Mena had a rough go this season, but Preciado did not. The 18-year-old made his professional debut this season, hitting a .333 with ACL and connecting for three homers and 25 RBIs. He will be a huge piece to this team's future going forward.
Speaking of players with a bright future, you would be foolish not to talk about 2021 second-round pick James Triantos. After joining the team in August, Triantos put on a show earning player of the month honors in September. Across 25 games, Triantos hit .327 and belted six homers, and drove home 19 men. He reminds me a lot of Kris Bryant, which would be huge for the Cubs to have.
Other players added to this roster as the season went on were Kevin Alcantara, who was acquired in the Anthony Rizzo deal. All he did was hit, connecting for a .337 average with four homers and 21 RBIs from the moment he arrived. Alcantara has an Alfonso Soriano type of swing, but a far more advanced approach to the strike zone.
These were just some of the players that highlighted the ACL season this year as they finished with the best winning percentage among the Cubs minor League teams.
DSL CUBS
Unlike the ACL, which has been shrunk to one team, DSL continues to have two teams with a Red and Blue team. While Red had much more success than Blue, they still finished under .500 as wins were hard to come by. When talking about DSL Red, you can't help but look at the season Pedro Ramirez had.
For a team struggling to find true contact hitters, the 17-year-old Ramirez could be the hitter of their dreams if he continues the trend he is on. Making his professional debut this season, Ramirez saw action in 50 games, mainly in the leadoff spot, and did nothing but hit. His 70 hits led the DSL, and his .359 average led the Cubs system. He added one homer and to go with 30 RBIs and ranked in the top three in most offensive categories. He will be a pleasant story to watch to see how he develops as a player.
Catcher Moises Ballesteros, infielders Brayan Altuve and Andrews Cruz, and outfielders Raino Coran and Cristian More had solid showings for DSL Red this season. Enmanuel De La Cruz stood out the most in terms of pitching as he emerged as the team's ace. Across 14 games, 11 of which were starts, De La Cruz posted a 2-1 record while posting a 2.14 ERA. His 11 walks and 43 strikeouts showed not only excellent command, but outstanding command for a 19-year-old who will only get better.
DSL Blue didn't have a ton of success, but they had arguably the most polarizing player in the entire DSL League. That would be the Cubs No. 3 Prospect, Cristian Hernandez. Drawing comparisons to Manny Machado and a young Alex Rodriguez, the 17-year-old not only made his professional debut, but proved he is as good as advertised. After an extremely slow start, Hernandez started to put it together, hitting a .325 across his final five weeks of the season.
He finished with five homers and 22 RBIs while showing a keen eye at the plate, taking 30 walks, and striking out 39 times. Hernandez also added 21 steals to his line. I know this sounds premature, but Hernandez could be a five-tool player. He has the speed, intelligence, and overall body that will make him an elite hitter in the league.
The Cubs didn't have too many stand-out offensive players outside of him, although Frank Hernandez and Wally Soto both had moments. Another pitcher who had tons of success this season was that of 20-year-old Samuel Rodriguez. Regarded as the ace for DSL Blue, Rodriguez appeared in 14 games, starting eight and compiling 48 innings.
While his 1-3 record isn't great, his 2.63 ERA is, and so is his 16 walk to 41 strikeout ratio. He took significant strides as the season went along and could be in line to breakout next season. The Rookie Leagues don't get a ton of recognition given the lack of media coverage and availability, but this league is equally as crucial to the full-season leagues.