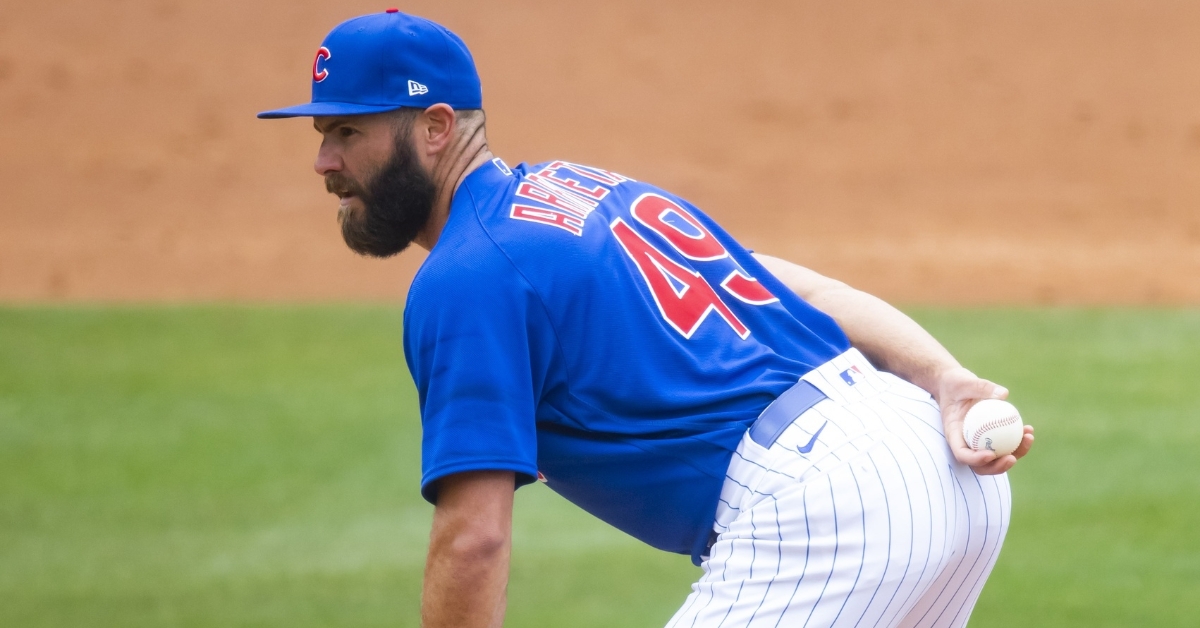 | | |
| --- | --- |
| Cubs News and Notes: Arrieta looking good, Ryno is back, Hendricks gets nod, Baez's future | |
---
| | | |
| --- | --- | --- |
| Wednesday, March 24, 2021, 12:19 PM | | |
Hello, Cubs fans out there! I hope everyone is having a great day.
Check out the latest news, photos, and tidbits from spring training with the Cubbies with our latest edition of Cubs News and Notes.
We will try to have this feature several times a week so everyone gets a summary of what is happening regularly at Cubs camp.
Let's get right to all the Cubs notes!
In case you missed the game yesterday, the Cubs lost to the White Sox despite Jake Arrieta allowing only one run on five hits in 5 2/3 innings.
"I feel like he's gotten better every time he's taken the bump," Ross said to the media. "I think each start we've seen it trending the way we expected. The areas that we've pointed out that are keys for him have continued to kind of fall into place as he's worked on them."
Three takeaways from #Cubs loss to White Sox https://t.co/m5vbghDzeW

— CubsHQ.com (@ChicagoCubsHQ) March 23, 2021
Here is a few photos of the action:
Final: White Sox 3, Cubs 1. pic.twitter.com/IJoRBUFCe5

— Chicago Cubs (@Cubs) March 23, 2021
The Cubs starters have been impressive so far this spring:
Lines for a few Cubs pitchers so far this spring:

Trevor Williams: 13.2 IP, 2 ER, 11 K, 1 BB (1.32 ERA)
Zach Davies: 9.0 IP, 0 ER, 4 K, 5 BB (0.00 ERA)
Jake Arrieta: 15.0 IP, 4 ER, 10 K, 4 BB (2.40 ERA)

— Cubs Insider (@realcubsinsider) March 23, 2021
Cubs outfielder Ian Happ made a great defensive play against the Southsiders:
.@ihapp_1 catching EVERYTHING! pic.twitter.com/eb2St7228N

— Marquee Sports Network (@WatchMarquee) March 23, 2021
Ryne Sandberg is back with the Cubs as a mult-analyst for the Marquee Sports Network. He will contribute to game broadcasts, pre and postgame shows, podcasts, and more:
Ryne Sandberg hired by Marquee Sports Network https://t.co/5wni9SwTIU

— CubsHQ.com (@ChicagoCubsHQ) March 23, 2021
Opening Day is almost here and Kyle 'Professor' Hendricks will be the starter on April 1 against the Pittsburgh Pirates.
"At the end of the day, if you make good pitches, you're going to get good hitters out. That's my philosophy," Hendricks said to the media Tuesday.
Kyle Hendricks has been named our #OpeningDay starter!#CubTogether pic.twitter.com/tPo3w2nw8o

— Chicago Cubs (@Cubs) March 23, 2021
Old school photo of Kyle Hendricks pitching for the Pelicans:
April 1. pic.twitter.com/gQhHBsrcx0

— Myrtle Beach Pelicans (@Pelicanbaseball) March 23, 2021
Veteran outfielder Cameron Maybin has been giving out the hugs this spring:
You can't spell Chicago Cubs without HUGS. ??: @CameronMaybin pic.twitter.com/mcPMCciZsd

— OBVIOUS SHIRTS® (@obvious_shirts) March 24, 2021
Tony Andracki has some Cubs notes in the following video:
Cubs spring notebook: The carryover effect and pitching depth

??: https://t.co/xVCMRbkWBE pic.twitter.com/5hYexKNkne

— Marquee Sports Network (@WatchMarquee) March 23, 2021
MLB is trying to crack down on some of the foreign substances that pitchers are using:
MLB's attempts to crack down on foreign substances are outlined in a memo obtained by ESPN. Among the plans:

- Increased monitoring by compliance officers
- Inspections of baseballs taken out of play that will use a third-party lab to check for substances
- Spin-rate analysis

— Jeff Passan (@JeffPassan) March 24, 2021
Kyle Schwarber is still hitting SCHWAR-BOMBs during Jon Lester starts:
Kyle Schwarber homered in 23 of Jon Lester's starts while they were on the Cubs together, including the postseason

He's now homered in each of Jon Lester's Spring Training starts as Nationals teammates

Today: 424 ft ?? pic.twitter.com/oNhzK0llYy

— Sarah Langs (@SlangsOnSports) March 23, 2021
Javy Baez is worried that Cubs fans will turn on him if he has to test free agency.
"I just don't want Chicago fans to see me differently, I think a lot of players get out of their cities and play with another team and when they come back to that city, they're hated. And I don't want to do that."
Javy Baez hopes he won't be hated by #Cubs fans after free agency https://t.co/ryUR7ZfHhK

— CubsHQ.com (@ChicagoCubsHQ) March 23, 2021
Cubs prospect Miguel Amaya recently hit his first homer of spring:
Miguel Amaya gets a hold of one and sends it out. His 1st this Spring! #Cubs @mamaya_9 pic.twitter.com/BSShTTpSh3

— Cubs Zone ™? (@CubsZone) March 22, 2021
Nice photo of Sloan Park in Mesa, AZ:
What a view. #Cubs #SpringTraining pic.twitter.com/1D35Qooog3

— Scott Changnon (@ScottyChags) March 24, 2021
A great retro pic and quote from Mr. Cub Ernie Banks:
"Work? I never worked a day in my life. I always loved what I was doing, had a passion for it." ~ Chicago #Cubs legend Ernie Banks #MLB #Baseball #WednesdayWisdom pic.twitter.com/pa7A5A10MR

— Baseball by BSmile (@BSmile) March 24, 2021
Check out this rare Cubs photo that I have never seen:
Milt Stock, Roy Johnson, John Ostrowski, and Frank Secory take a nice run around the lake to stretch out during Spring Training. Wait, that is not a lake it is the flooded field. In 1945 the Chicago Cubs trained in French Lick, Ind. because of wartime travel restrictions. pic.twitter.com/TwdNoaf49x

— SABR Pictorial (@SABRPictorial) March 23, 2021
Construction of Wrigley Field back in 1914:
Construction of Wrigley Field which opened in 1914 as Weeghman Park, home park of Chicago Whales of Federal League. The @Cubs played at the time in West Side Grounds & relocated to Weeghman in 1916 when Fed Lg disbanded. Read @sabr history of park https://t.co/p9aHTVHNfo pic.twitter.com/DFLn0Mpevm

— SABR BioProject (@SABRbioproject) March 23, 2021