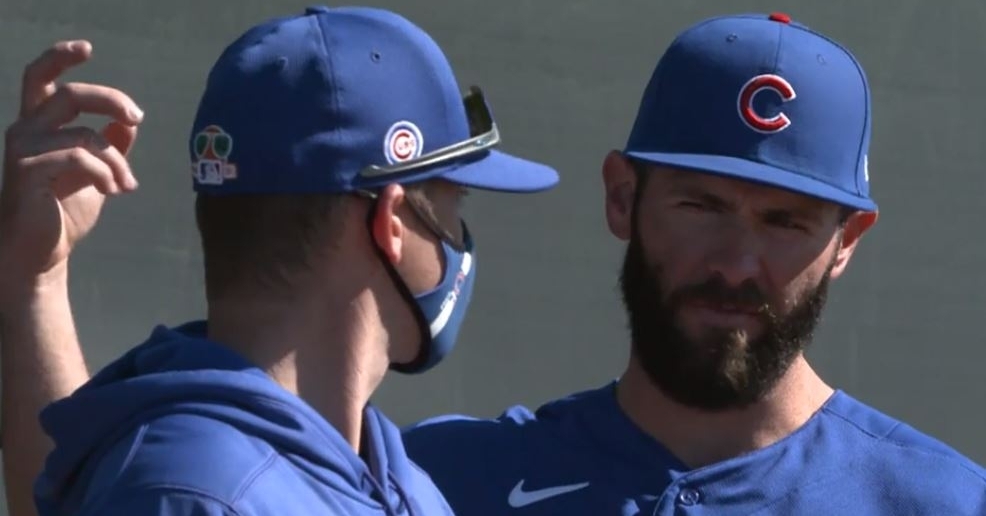 | | |
| --- | --- |
| Cubs News and Notes: Arrieta the teacher, Cubs workout video, Happ gets $4.1 million, more | |
---
| | | |
| --- | --- | --- |
| Saturday, February 20, 2021, 11:30 AM | | |
Cubs baseball is back!
Such a glorious return after a very difficult 2020 year for everybody.
Check out the latest news, photos, and tidbits from spring training with the Cubbies with our latest edition of Cubs News and Notes.
Friday's workout was headlined by Jake Arrieta with veteran closer Craig Kimbrel getting some reps in the workout.
Here is a great pic of veteran pitcher Jake Arrieta giving some guidance to youngster Adbert Alzolay at the latest practice.
Young grasshopper. pic.twitter.com/NavnXic3Uo

— Chicago Cubs (@Cubs) February 19, 2021
Another pic of Arrieta watching some of the different pitchers during their workout:
Professor Arrieta https://t.co/b3yafpJjbR

— CubsHQ.com (@ChicagoCubsHQ) February 19, 2021
Pretty funny tweet how Cubs fans reacted to this offseason with the loss of Jon Lester but the addition of Arrieta:
Basically how it happened. #Cubs #JonLester #JakeArrieta pic.twitter.com/kSDlSAYteI

— Michael Cerami (@Michael_Cerami) February 20, 2021
More pics from Friday's camp session with the Cubs including a first look at veteran closer Craig Kimbrel this year:
Charged ?? pic.twitter.com/ByGhVDXt4d

— Chicago Cubs (@Cubs) February 19, 2021
Kimbrel told the media he feels excited for his work this offseason and excited.
"If I can physically get to where I need to be, everything else will come together. I feel like I'm ready to go. I felt like it was a good offseason."
He thinks he is in a much better place this season.
"A lot of what I got out of last year was understanding that I can make a difference even if I'm not the best I can be on the field. I can still make a difference for the guys around me working through certain things."
Craig Kimbrel in September 2020: 7.1 IP, 13 K, 0.409 WHIP, 0.00 ERA. @MillerLite | https://t.co/t7BxcZez25 pic.twitter.com/Ca43SXAXO8

— Marquee Sports Network (@WatchMarquee) February 19, 2021
Take a look at new Cubs outfielder Joc Pederson taking in batting practice on Friday.
He is slotted in left field to replace the power production of Kyle Schwarber who is now a member of the Washington Nationals.
I spy @yungjoc650. ?? pic.twitter.com/7qBhQRzW9K

— Chicago Cubs (@Cubs) February 20, 2021
Check out Friday's workout video for the Cubs, courtesy of the Marquee Sports Network.
It's HAPPening for young Cubs outfielder Ian Happ as he won his arbitration case against the Cubs and he will be making $4.1 million in 2021. Hey Happ! I need to borrow some money.
Ian Happ wins his arbitration case with #Cubs: https://t.co/uaxNy1jr8a pic.twitter.com/kU07u1xuPU

— chicagosportshq (@chicagosportshq) February 19, 2021
This is only the third time that a Cubs player has won an arbitration case against the team:
History of Players vs. Cubs in arbitration hearings:

2021: Ian Happ (won)
2018: Justin Grimm (lost)
2010: Ryan Theriot (lost)
1993: Mark Grace (lost)
1990: Shawon Dunston (won)
1988: Andre Dawson (lost)
1985: Leon Durham (lost)
1980: Bruce Sutter (won)

— Jordan Bastian (@MLBastian) February 19, 2021
Veteran outfielder Cameron Maybin has re-signed with the Cubs on a minor league deal. He brings versatility as he can play all three outfield positions and a solid clubhouse guy.
Cameron Maybin re-signs with #Cubs: https://t.co/jqE8kI8eLR pic.twitter.com/4CcM5tPzxt

— CubsHQ.com (@ChicagoCubsHQ) February 20, 2021
Kris Bryant appears to be with the Cubs to start Opening Day as the rumors have finally slowed down with the Mets and other teams.
Kris Bryant rumors finally over, maybe extension time?: https://t.co/EQOZXCLdPT pic.twitter.com/Sl0NiHrATx

— CubsHQ.com (@ChicagoCubsHQ) February 20, 2021
An interesting look at Chicago's wintry mix from above, courtesy of Wrigley Aerials:
This morning's wintry approach to Wrigley Field. pic.twitter.com/3zfZosv5Ed

— Wrigley Aerials (@WrigleyAerials) February 20, 2021
Sorta wild tidbit that only Anthony Rizzo and Mike Borzello remain from the 2012 Chicago Cubs team:
Two uniformed members remaining from first year of Cubs rebuild in 2012: Rizzo and Borzello. pic.twitter.com/3NfSbIe6PV

— Paul Sullivan (@PWSullivan) February 20, 2021
Cubs catcher Willson Contreras continues to do good things in the community, this time with this Special Olympics video:
Plunge, plunge, plunge for the home team! Like @WContreras40 said, it's away to make a difference in the lives of #SpecialOlympics athletes in Illinois. Sign up at https://t.co/eSYA221KF7 to help build a world of inclusion. #BeBoldGetCold #choosetoinclude @Cubs @SpecialOlympics pic.twitter.com/q4XmeDFMbx

— Special Olympics Illinois (@SO_Illinois) February 19, 2021