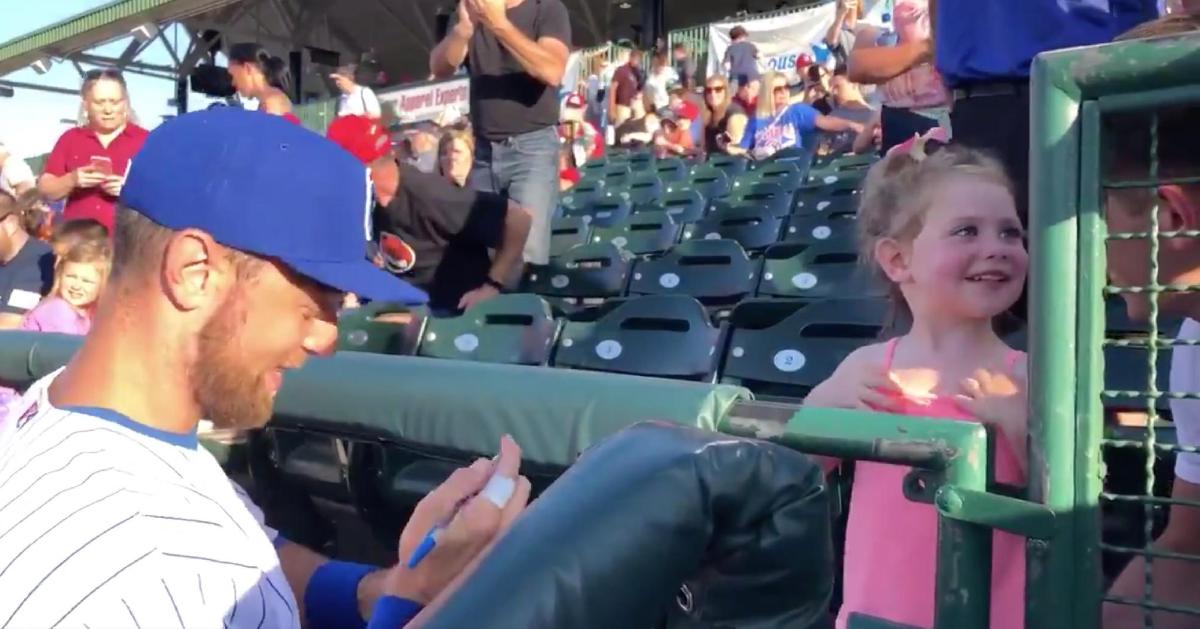 | | |
| --- | --- |
| Cubs News and Notes: Ben Zobrist on the go, Cubs may retire #46, Cubs' 2020 Schedule, more | |
---
Next Game: Today: LHP José Quintana (10-7, 4.23 ERA) vs LHP Jason Vargas (6-6, 4.09 ERA). Game time 6:05 PM CDT; NBC Sports Chicago, MLB Network (out of market only).
Cubs/Phillies series begins tonight:
The Cubs were forced to settle for a 2-2 series tie in Cincinnati, and now they're in Philly for three days. The Cubs absolutely need to win this series for a number of reasons, but the Phillies can't afford to lose it either. While the Cubs have a small cushion between themselves and the second and third place Cards and Brewers, Philly is in fourth place, just two games back out of a wildcard spot. Watch for my series preview later today.
CUBS NEWS AND NOTES
Cubs/Phillies Probable Pitchers: Wednesday: LHP Cole Hamels (6-3, 3.09 ERA) vs RHP Aaron Nola (10-3, 3.67 ERA). Game time 6:05 PM; NBC Sports Chicago, ESPN, ESPN (out of market only). Thursday: RHP Yu Darvish (4-6, 4.43 ERA) vs RHP Drew Smyly (2-6, 6.96 ERA). Game time 6:05 PM CDT; WGN, MLB Network (out of market only).
Zo on the go: Will Ben Zobrist be able to get himself back to his old baseball form? I think we're about to find out. According to several media sources, Ben is absolutely on track to rejoin the team sometime in the next 2½ weeks.
Here's to 2020: With six weeks (and hopefully a long post-season) still left to play, I already find myself mentally preparing for the dreaded wait until it all starts again next spring. Well, at least I now know what is that I'm looking forward to…
What I find interesting, is that the Cubs will play against NL Central teams in 12 of their first 16 games, and by the end of April, they will have already played a total of 16 out of their 76 NL Central matchups.
Well, the Cubs play the AL East in interleague play in 2020, not to mention a trip to London. pic.twitter.com/wENNk3MRIs

— Ken Allison (@KenAllison18) August 12, 2019
Then, there's this guy… I have no explanation for this, but it IS impressive.
162 games can go by fast …#EverybodyIn 2020 schedule: https://t.co/1cYD6cRozC pic.twitter.com/4PZAARn3C2

— Chicago Cubs (@Cubs) August 12, 2019
What are the odds? Let's face it, getting a baseball from a game boils down to about a 1 in 35,000 chance for every ball that enters the stands.
I always thought it was great when people who got a baseball (I never did) would give it to a child. Sometimes though, the kid may have unlimited access to game balls… Kudos on the gesture though…
My wife's colleague recently saw Reds-Cubs at GABP & got a baseball by luck. She wanted to give the ball to a kid after the game on the street & she found a boy wearing a Cubs hat & tried him. "That's ok," the dad said, "You don't have to do that!" The dad was Nick Castellanos.

— David Brown (@AnswerDave) August 12, 2019
Bote's Blast: Hard to believe it's already been a year since some new kid in the Cubs' dugout (named David Bote) made the north side of Chicago explode with one swing of the bat.
One year ago, all of Wrigleyville ?????????????? because of @DavidBote13!

What was your reaction to the ???????????????? grand slam? pic.twitter.com/3XJE7ls6kS

— Cubs Talk (@NBCSCubs) August 12, 2019
Are the Cubs saying nope to Strop? Let's face it, Pedro Strop has not had a good year whatsoever, and that's putting it mildly. It looks to me as though the Cubs aren't going to try to retain him when he becomes a free agent this year, but the thing that has solidified this in my mind wasn't from any rumors or conjecture (on my behalf) about his performances.
Reports say that the Cubs are now preparing to retire #46 (the jersey number) in honor of Lee Smith who was just inducted into the Hall of Fame a couple of weeks back. Obviously, if Smith's jersey is retired, Strop can't wear it, but I don't think the Cubs would take a (current) veteran's jersey number away, as that's considered taboo in the baseball world. It stands to reason that if the Cubs retire Big Lee's number, they're probably planning on retiring Strop's tenure with the Cubs as well.
Discussions are moving forward with the Cubs retiring Lee Smiths number 46 uniform.All the other living hall of famers who were inducted with a Cub cap on their plaque have been given the .same honor ( Williams - Sandberg - Maddux - Jenkins ) Banks also - Santo posthumously.

— Bruce Levine (@MLBBruceLevine) August 4, 2019
While I don't see them getting rid of Pedro before the end of the season, I'd be hard pressed to tell you that the Cubs would put him on the playoff roster at this point, but Pedro does have experience in October, and there's still time for him to get it together. I guess we'll see.
Brach improving? According to the Mets, Brad Brach was tipping his changeup while pitching with the Cubs, which took away the effectiveness of one of his best pitches. The Mets say they believe the problem is now fixed, stating that Brach was throwing "really nice diving changeups yesterday."
I've had no complaints about Tommy Hottovy and the effort he's put into the Cubs pitchers this year, but if the tweak was that simple, why didn't he, Maddon or somebody on the Cubs staff figure this out three months ago?
Is Jake done? As former Cubs pitcher, Jake Arietta continues to battle a bone spur in his elbow, he says he may or may not pitch again this season. Big Jake has struggled over his last seven starts, posting an ERA above 6.00 and has told the media that he plans to speak to the Phillies' team officials later today about his decision.
Cubs' Magic Numbers: With six weeks to play, the Cubs have a lot of work to do, if they're to secure another pennant. One by one they'll start eliminating teams (assuming things go well) and it appears Pittsburgh will now be the first to be knocked out.
August 12th @Cubs magic numbers:

STL: 44
MIL: 42
CIN: 39
PIT: 30#EverybodyIn

— CUBS MAGIC NUMBER (@CubsNumber) August 12, 2019
Baseball Quotes: "If you have a bad day in baseball, and start thinking about it, you will have 10 more." -Sammy Sosa
A man really determines himself by what he does. -Vin Scully pic.twitter.com/Yr55aS4EmX

— Baseball Quotes (@BaseballQuotes1) August 12, 2019
Cubs Birthdays: Celebrating yesterday, were ex-Cubs Matt Clement (45) and Dave Pavlas (57), and posthumously, Ellis Burton (83), Bob Buhl (91), Charlie Gassaway (101), and Don Hurst (114).
And, of course, happy birthday to Ian Happ, who turned 25. Many of you know that I've been hypercritical of Happ for the last 18 months, but he's doing amazingly well since returning to the Cubs, and I said that I'd be the first to admit it when it finally happened. Happy birthday, Kid- keep up the great work.
.@ihapp_1 has a 1.041 OPS since rejoining the #Cubs.

Happy birthday, Ian! #EverybodyIn pic.twitter.com/I6kVWTwIek

— Chicago Cubs (@Cubs) August 12, 2019
THIS WEEK'S NL CENTRAL SCHEDULE:
(Wins in green, losses in red)