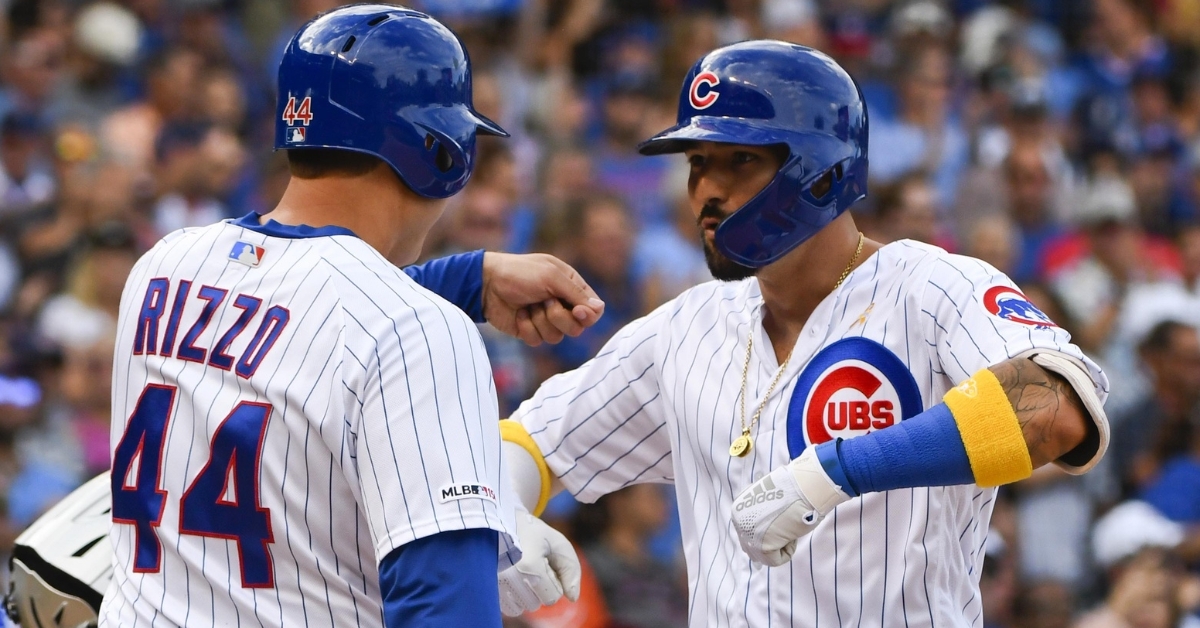 | | |
| --- | --- |
| Cubs News and Notes: Castellanos market, Latest on Kris Bryant, Austin Riley, RIP Kobe | |
---
| | | |
| --- | --- | --- |
| Monday, January 27, 2020, 8:23 AM | | |
CUBS NEWS AND NOTES
Next Game: Next Game: 27 days – Saturday, February 22, 2020: Athletics vs Cubs (Sloan Park)
Opening Day: 61 days – Thursday, March 26, 2020: Cubs vs. Brewers (Miller Park)
Castellanos market: Last week the Rangers were reported to be the frontrunners to land Nicholas Castellanos, but according to MLB insider Jon Morosi, the Reds may now be leading the way.
"The Reds have emerged as the frontrunner to sign free-agent outfielder Nicholas Castellanos, one source said Sunday, and there are indications the sides have made progress over the past several days," Morosi wrote. "While Cincinnati is now the favorite to sign Castellanos, the Giants also have negotiated with the 27-year-old in recent weeks."
Source: #Reds now the clear frontrunner to sign Nicholas Castellanos, and there are signs that talks have progressed in recent days. Story: https://t.co/8AztW9FPEq @MLB @MLBNetwork

— Jon Morosi (@jonmorosi) January 26, 2020
Don't lose all hope yet. If Castellanos hasn't signed, then the Cubs still have a chance – although maybe a small one. With Brandon Kintzler now off the board (Marlins), the Cubs may suddenly have some extra pocket money that may have been initially earmarked for Kintzler. As I reported yesterday, I was told firsthand that Kintzler, his agent, and Theo Epstein kept the dialogue going until the very end.
Kris Bryant Even if the Cubs have that extra money now, this whole thing with Castellanos is still going to depend on Kris Bryant, his grievance and whether or not the Cubs can move him before Castellanos signs elsewhere. Bryant's $18.6M salary aligns with what Castellanos is expected to draw in free agency, and with the Cubs' current payroll obligations, keeping both is unfeasible.
In a subscription-based article written by ESPN's Buster Olney, Buster discusses the possibility that Bryant could go still to the Braves. I absolutely concur and have said since the offseason began that Atlanta was going to be Bryant's new home.
Currently, the Braves are looking for Johan Camargo and rookie Austin Riley to share the duties unless one emerges from Spring Training with sole possession of the job. Both are young, with only four combined years and 394 game appearances between them. The pair show a lot of promise, but neither was an offensive threat at the plate in 2019. Although KB is only entering his sixth MB season (4.171 years of service time), his experience would certainly complement an already stacked Braves' roster. Last month, talk surfaced that "Riley and a pair of pitching prospects" would be good enough to land Bryant, but the Braves backed out, instead refocusing on Josh Donaldson and Nolan Arenado.
Riley's defense is sound, but Atlanta doesn't seem to want to wait on his MLB hitting stats to improve. In 2019, Riley batted only .226 with an OBP of .279, but his slugging percentage of .471 shows that he has power. During four minor league seasons (A, AA, and AAA), Riley amassed a slash line of .286/.354/.519, which is considered good at the major league level.
Riley isn't much of a threat on the bases yet, but he does hit a lot of doubles and has a healthy handful of triples in the minors while averaging about 20 homers per season.
The big question is, can the Cubs wait for his bat to fully mature? I think so.
Looking forward The mission at 1060 W. Addison seems to be more focused these days on stocking the farm while locking down young players with MB readiness into team-friendly deals (see David Bote, and to a lesser extent, Kyle Hendricks).
The Cubs want to win and think they can do so, but it would appear the major league squad is suddenly taking a backseat to the up and comers. Multiple sources have said that Theo's mission for the next two years is to replenish the system that he depleted while building a championship team, and it appears that he's doing just that.
These deals benefit the team, but also provide at least a little stability for the players' futures. Going back to Austin Riley – he will turn 23 as the season starts and is a month younger than another promising prospect named Nico Hoerner. He fits what the Cubs are looking for on a long-term basis, and he'll cost far less than Bryant, Arenado, or others over the next five years.
Tyson Miller: Move over Yu Darvish, Cubs' minor leaguer Tyson Miller is attempting to knock you off your comedic Twitter throne. On a side note, watch the video – this little dud is a future major leaguer.
This 2 year old has better hand separation timing than I do https://t.co/EKTiQAvwGG

— Tyson Miller (@Tyson_Miller07) January 26, 2020
Cubs' Birthdays: Celebrating yesterday, were ex-Cubs Kevin Blankenship (57) and posthumously, Glen "Rip" Russell (105).
Baseball Quotes: "I think about the cosmic snowball theory. A few million years from now, the sun will burn out and lose its gravitational pull. The earth will turn into a giant snowball and be hurled through space. When that happens, it won't matter if I get this guy out." -Bill Lee
1989 Chicago #Cubs (NL East champs) - Mark Grace, Ryne Sandberg (HOF), Shawon Dunston, Andre Dawson (HOF), Greg Maddux (HOF), Rick Sutcliffe, Mitch Williams pic.twitter.com/xNVDHxgWvz

— OldTimeHardball (@OldTimeHardball) January 25, 2020
MLB and the Hot Stove
NL Central News:
Brewers: The Brewers are squeaky clean if you ask Ryan Braun. The Brewers' outfielder says that the Brewers have never participated in the sign-stealing scandal, claiming that they've never even (legally) given signs from second base. This is coming from the guy who served a PED suspension. Not quite sure he's the right guy to deliver the message.
Ryan Braun was asked about sign-stealing. "Everybody's paranoid that we do it. Everybody's convinced that we've done some of those things, but we've never even given signs from second base in my 14 years here." pic.twitter.com/PYr1Qh5xPG

— Adam McCalvy (@AdamMcCalvy) January 26, 2020
Braun went on to say that he is contemplating retirement after the 2020 season.
From the Rest of MLB:
Justin Verlander: Astros' ace Justin Verlander accepted his AL Cy Young Award last night at a ceremonial dinner. During his acceptance speech, Verlander decided to try his hand at humor, as he talked about how technologically advanced the Astros are.
At NY BBWAA dinner, Verlander accepted AL Cy Young Award and noted how the Astros were "technologically and analytically advanced" as a way to praise the organization. But that phrase caused some in the audience to guffaw. Verlander waited until noise subsided before resuming

— Jack Curry (@JackCurryYES) January 26, 2020
Due to the players being granted immunity in exchange for their testimony, Verlander can pretty much say what he wants now about the scandal, but c'mon Verlander, have a little couth.
Justin Turner on the Astros World Series championship: "It's hard to feel like they earned it."

— Molly Knight (@molly_knight) January 25, 2020
Mets: NY has signed RHP Erasmo Ramirez to a minor league deal.
Marlins: Miami has signed free agent outfielder Matt Joyce (details not yet available).
Astros: As Houston continues to search for a manager in the fallout from the scandal, the team has now interviewed A's quality control coach, Mark Kotsay.
Red Sox: With just a few weeks to go until baseball begins again, the Red Sox are still working on moving Mookie Betts. The Padres always seem to be the only team in the spotlight, but while names have been exchanged, talks haven't progressed substantially.
In Memoriam
We at CubsHQ wanted to take just a moment to join the rest of the sports world in remembering Kobe Bryant, who perished along with several others in a helicopter crash yesterday.
During his 20-year run (1996-2016) with the Lakers, Bryant won five championships, garnering several MVP and other awards along the way. Bryant had several ties to the baseball community and other sports. He was 41.
The full list of victims has not been released, but there were approximately nine people on board, including Bryant's teenage daughter. Also dying in the crash were Orange Coast College Baseball Coach, John Altobelli (son of former Giants manager Joe Altobelli), John's wife, and his teenage daughter.
May you all rest in peace.
Sources confirm to FOX Sports that NBA legend Kobe Bryant has died in a helicopter crash in Calabasas, CA.

Rest in Peace, Kobe. pic.twitter.com/Ra6CC9yd61

— FOX Sports (@FOXSports) January 26, 2020