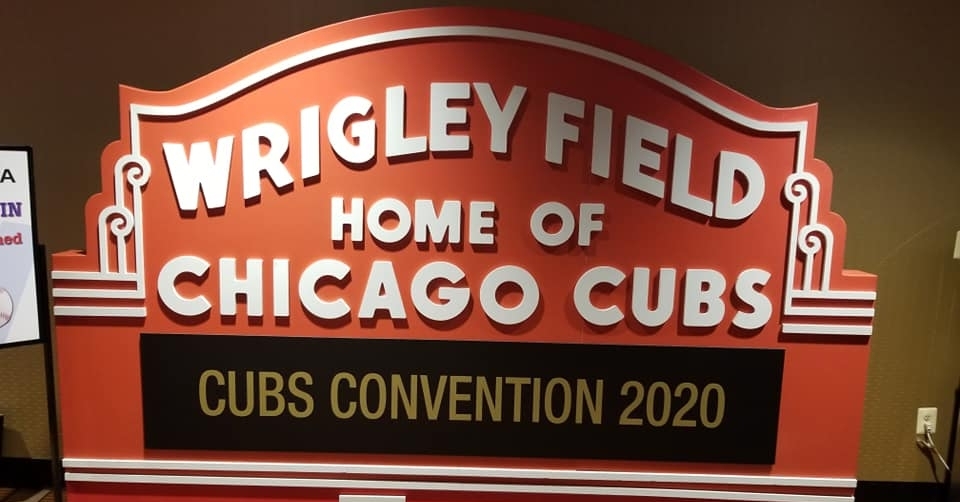 | | |
| --- | --- |
| Cubs News and Notes: Cubs Con highlights, Epstein and Baez talk, Cubs signings, Hot Stove | |
---
CUBS NEWS AND NOTES
Next Game: Next Game: 35 days – Saturday, February 22, 2020: Athletics vs Cubs (Sloan Park)
Opening Day: 68 days – Thursday, March 26, 2020: Cubs vs Brewers (Miller Park)
Jed Hoyer: Well, Chicago, expect changes. Jed Hoyer said today on 670 The Score, that the Cubs were probably past the window to extend most of their core players. Expect the worst, hope for the best, I suppose.
Kris Bryant has the flu. For real. No conspiracy. He'll be at the convention but not doing a lot.

— Jesse Rogers (@ESPNChiCubs) January 17, 2020
Javy on extension: "It's up to them. I really have no comment about it. When the right deal comes, we'll be ready for it."
Baez on Cubs' lack of moves pic.twitter.com/qtbcUYKQZX

— Mark Gonzales (@MDGonzales) January 18, 2020
Theo on offseason: "Maybe we're doing an Ali rope-a-dope on everybody and we'll do some stuff later."
Epstein went on to say, "What's most likely is status quo - it's hard to get long-term extensions done; it's hard to get trades done. We have what we feel is a pretty good club. We're trying to compete this year and we're not in a position where we *have* to do anything.
Theo was asked about the Bryant grievance taking so long: "Its important to respect the process. It's a significant case for the industry. I'm not going to sit here and complain about it."

— Jesse Rogers (@ESPNChiCubs) January 18, 2020
Theo on extension talks w/players: "We've moved the ball forward a little bit. Not sure what the outcome is going to be. Some productive talks." No names mentioned, but it's assumed he was referring to Javy, per Jesse Rogers.
Baez on his future with Cubs pic.twitter.com/C8eUHmii0Y

— Mark Gonzales (@MDGonzales) January 18, 2020
Darvish on Bryant: "All the players are thinking the same way -- we don't want him to go anywhere. But, it's a business, right? But, he's a great person and a great player. I hope he's staying with this team."
Darvish on the scandal: Yu Darvish was asked about the Astros stealing his signs in Game-7 of the 2017 World Series: "That's what I want to know. A couple of Astros players told me I was tipping pitches but now it comes out they were stealing signs. Was I tipping or were they stealing?"
Darvish on pitching in that environment: "We're losing the strike zone. It's getting smaller. They want me to play quicker. And the hitters are stealing signs. It's tough to pitch."
Cubs pitching coach Tommy Hottovy said Brandon Morrow is on target to be on same schedule as rest of pitchers in camp. If he is behind at all, it'll be the Cubs being cautious, not because Morrow is physically behind.

— Jordan Bastian (@MLBastian) January 18, 2020
Schwarber on the Cubs: Kyle Schwarber says he feels as though the Cubs are being overlooked. ""Yes, I do. I feel like a lot of people want to write us off just because the last two years. I'd live and die by this team right now."
Carlos Zambrano: Big Z says he's done playing. He's coaching kids now in Venezuela.
Carlos Zambrano Ends Comeback Attempt https://t.co/X5raTENb7W pic.twitter.com/C4GiQyEOMC

— MLB Trade Rumors (@mlbtraderumors) January 18, 2020
Tyler Olsen: Add another minor league deal to the Cubs' offseason, as the team has agreed to a deal with LHP Tyler Olson ($650k base salary, if he makes the MLB squad). Olsen posted a 4.66 ERA in 58 total innings with the Indians over the last two seasons, but at one point during the 2017 campaign, he allowed zero earned runs over a 20-inning stretch.
Cubs acquire righty: The Cubs and Dodgers did some swapping yesterday, as Chicago acquired RHP Casey Sadler from the Dodgers in exchange for infield prospect Clayton Daniel. Sadler would seem to be one of the more promising signings this winter.
The #Cubs today acquired RHP Casey Sadler from the Dodgers for minor league INF Clayton Daniel. pic.twitter.com/zRmcdvD0lc

— Chicago Cubs (@Cubs) January 17, 2020
According to the Cubs' Press Release, "Sadler, 29, combined to go 4-0 with one save and a 2.14 ERA (11 ER/46.2 IP) in 33 big league appearances, all but one in relief, between the Tampa Bay Rays and Dodgers last year. He held foes to a .236 batting average against (41-for-174), including a .230 mark to righties and .241 mark to lefties, while posting a 1.17 WHIP and .664 OPS against. Sadler posted no record and a 1.86 ERA (4 ER/19.1 IP) in nine outings with the Rays before being designated for assignment on June 29 and traded to the Dodgers on July 2, where he went 4-0 with one save and a 2.33 ERA (7 ER/27.0 IP) in 24 outings (one start) the rest of the way."
Two more arms added to Cubs' spring bullpen competition: Casey Sadler and Tyler Olson https://t.co/A9cCqxKbdq via @MLB

— Jordan Bastian (@MLBastian) January 17, 2020
Cubs eyeing outfielder: MLB's Jon Heyman is reporting that the Cubs are showing interest in former Yankees centerfielder Jacoby Ellsbury. The 36-year-old, injury plagued outfielder was released by the Yankees this winter, after the team refused to pay him for the 2019 season.
As you may recall, Ellsbury sought medical treatment from non-team-approved doctors, which the Yankees say voided their deal. Ellsbury has not played in the past two seasons but does own a lifetime batting average of .284 with 104 homers, 512 RBI and 343 stolen bases. He's also the only player in MLB history to hit 30+ home runs, hit 45+ doubles, steal 35+ bases and be worth a 1+ dWAR in a single season.
Check out Ryan Dempster's show at Cubs Convention 2020:
Tune in to @OffTheMound with Ryan Dempster presented by @budweiserusa. #CubsCon https://t.co/KLT8czswXq

— Chicago Cubs (@Cubs) January 18, 2020
Cubs sign catcher: Theo's apparently on a roll. After signing twopitchers earlier yesterday, the Cubs snatched former Oakland A's catcher Josh Phegley and signed him to a minor league deal. Phegley has four years' worth of MLB experience.
At this point, the Cubs are grasping at straws to augment the current roster, but hey – the more, the merrier.
Theo on sign stealing scandal: "We applaud MLB's efforts to step up in this situation and make sure the games are played with integrity."

— Jesse Rogers (@ESPNChiCubs) January 18, 2020
Tom Ricketts: "There's no magic free agent out there, anyway. You look at what happened last year with the Padres [referring to Manny Machado] or the Phillies [referring to Bryce Harper] and it doesn't always solve your problems."
Theo, on the Cubs' quiet offseason... pic.twitter.com/6PCTTd9m21

— Jordan Bastian (@MLBastian) January 17, 2020
Rizzo's ankle: Who'd have thought that Anthony Rizzo's ankle injury would still be an issue? Well, apparently, it is. Rizzo says that he's 90% now with some limitations. Not good news to start the season, though he says he'll be ready, "Hopefully by February 15th."
From last night, ?@ARizzo44? provides update on ankle pic.twitter.com/GCFLBxUCFm

— Mark Gonzales (@MDGonzales) January 17, 2020
Check out Cubs hype video "Where Stories Play":
An epic summer blockbuster awaits at Wrigley Field. #WhereStoriesPlay pic.twitter.com/fRdvlF4lgc

— Chicago Cubs (@Cubs) January 17, 2020
Baseball Quotes: "A lot of guys like to ice up their arm. Still, other fellas think that heat is the way to go. But I, have discovered the secret, Henry...hot ice! I heat up...the ice cubes! It's the best of both worlds!" -Rookie of the Year
Make sure your worst enemy doesn't live between your ears. Self doubt kills dreams. You are more capable than you think. -Kris Bryant pic.twitter.com/f2FJDjmKnq

— Baseball Quotes (@BaseballQuotes1) January 8, 2020
MLB and the Hot Stove
NL Central News:
Pirates: The Pirates have outrighted IF/OF Pablo Reyes to Triple-A Indianapolis.
From the Rest of MLB:
Everything You Need To Know About The Current State Of Major League Baseball As Told By Mean Girls pic.twitter.com/2HrKoY0yJc

— Julia (@jquadddddd) January 17, 2020
Nationals: Ryan Zimmerman says that he expects to re-sign with Washington soon. Zimmerman has spent all 15 years of his MLB career in Washington.
Blue Jays: Toronto has signed infielder Ruben Tejada to a minor league deal.
Padres: The Padres have signed RHP Craig Stammen to 2-year deal; designate LHP Nick Margevicius for assignment.
Rockies: Colorado reliever Justin Lawrence has been suspended 80 games without pay after testing positive for PEDs.

Upgrade Your Account
Unlock premium boards and exclusive features (e.g. ad-free) by upgrading your account today.
Upgrade Now