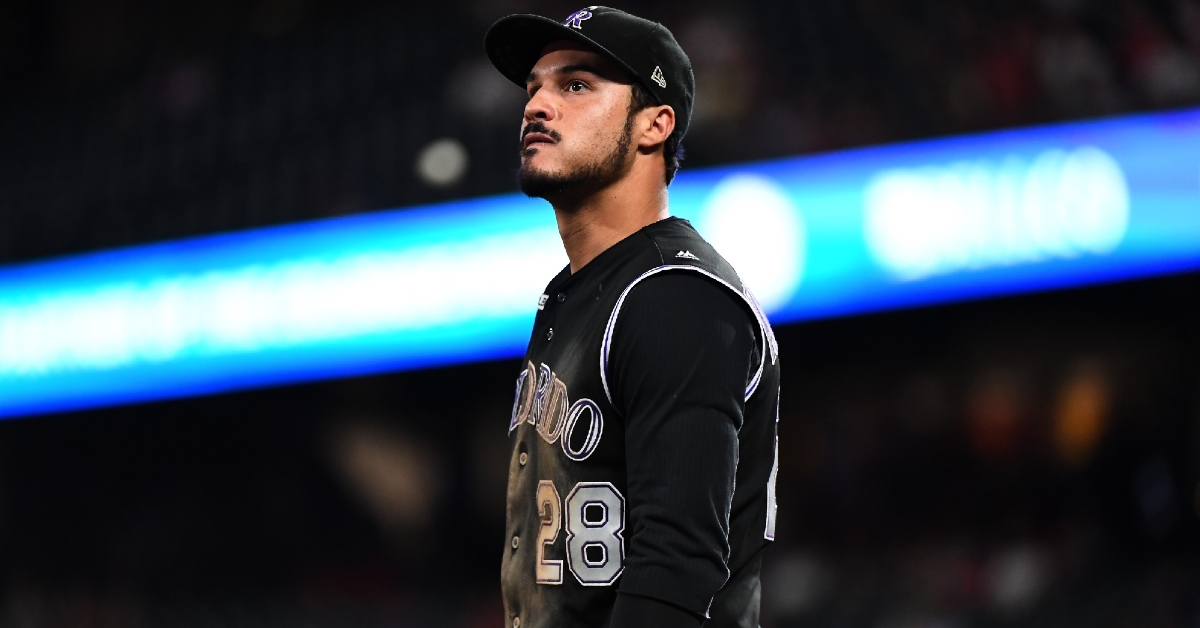 | | |
| --- | --- |
| Cubs News and Notes: Cubs linked to Nolan Arenado, Marquee Network, Hot Stove, more | |
---
CUBS NEWS AND NOTES
Next Game: Next Game: 45 days – Saturday, February 22, 2020: Athletics vs Cubs (Sloan Park)
Opening Day: 78 days – Thursday, March 26, 2020: Cubs vs. Brewers (Miller Park)
Steve Cishek: Steve Cishek with stay in Chicago, but not on the north side. Yesterday, the White Sox and Cishek agreed to terms on a one-year/$6M deal. The contract includes an option that could take the deal to a second year at $12 million total.
With the Steve Cishek deal, the White Sox have now spent $201.5 million in free agent guaranteed money this offseason. Add in the Luis Robert extension and it's north of $250 million.

— Chuck Garfien (@ChuckGarfien) January 7, 2020
Nolan Arenado: According to Jeff Passan, "As the Colorado Rockies search for potential trade partners, two teams, in particular, have intrigued them, according to sources: The Cubs and St. Louis Cardinals.
The Cubs would make sense if they move Bryant. They are not primed for some rebuild as much as a refresh or reboot — an always-difficult needle to thread, particularly if they hope to dip under the luxury-tax threshold. One source characterized the Cubs as doing due diligence, as they've done throughout the winter with multiple trade conversations, but the notion of trading catcher Willson Contreras and a higher-priced, underperforming player in an Arenado deal, then flipping Bryant to revitalize a mediocre farm system, squares in the short and long term."
This comes on the heels of a report by Jon Morosi last week, which tied the Cubs to Arenado, but I still can't see it, especially if it involves dealing Contreras, then "flipping Bryant."
KB's Grievance: According to David Haugh of the Tribune, the Cubs are expecting news on Kris Bryant's grievance "within the next week or so." I predicted January 22 to be the day, but the sooner, the better.
Sad news from Houston: According to an article in the Chicago Tribune, the little girl whom Albert Almora Jr. struck in the head when he hit a foul ball in Houston, has suffered a permanent brain injury.
As per the article, "[Family attorney Richard] Mithoff said doctors have described the effects of the injury to her central nervous system as similar to those of a stroke. The areas of the brain affected include those in which injuries can lead to seizures, loss of sensation, and loss of spatial awareness, he said. Other potential effects include periods of unresponsiveness and staring spells, frequent headaches, and night terrors."
To date, no lawsuit has been filed, though the attorney has talked to the Astros to say that he represents the family of the child. The Astros have declined comment, citing family privacy.
The elusive Marquee Sports Network: True to my word, I've begun the task of trying to figure out where (and how) Marquee will be available to fans, and more importantly, how I'll be able to access the network from my home in southwest Missouri. This isn't going to be easy. In my New Year's resolutions, I pledged to badger them until I got some answers, but thus far, the only person that I'm driving nuts is myself.
100 Google searches have failed to provide a contact number for the network, and anytime I input my zip code, it simply says, "Not available in your area, please contact your provider." Um, ok… I use YouTube TV through a Roku, and getting a contact number for YouTube is about equally as futile – that is, unless I choose to talk to some guy named "John" in Botswana, who's never even heard of the Cubs.
I have been able to learn that Marquee isn't available on a Roku platform (as of yet), and it would appear that despite rumblings of a deal with YouTube TV, nothing has materialized. The Cubs are going to lose an awful lot of viewers if Marquee can't figure this out in the next 46 days.
I did reach out to the Cubs' Media Relations Department via email this morning, but as of now, there's been no reply.
Cubs' Birthdays: In addition to Jon Lester (36), celebrating yesterday, were ex-Cubs Alfonso Soriano (44), Doug Capilla (68), and posthumously, Dick Calmus (76), Al Dark (98), Al Todd (118), William "Kitty" Bransfield (145), and William "Dad" Clarke (155).
Baseball Quotes: "Sparky Anderson taught me this a long time ago: 'There's three ways you can treat a person. You can pat 'em on the butt, you can kick 'em in the butt, or you can leave 'em alone." -Pete Rose
When Boog Powell joined the Dodgers, he served almost exclusively as a pinch hitter.

He would eat nachos in the dugout during the game, then pinch hit in the helmet that they came in ???? pic.twitter.com/ENvEhNtACw

— Baseball Quotes (@BaseballQuotes1) January 3, 2020
MLB and the Hot Stove
Cardinals: The Cards have signed catcher, Oscar Hernandez, to a minor league deal.
Marlins: The Marlins have announced the signing of outfielder Corey Dickerson, and in turn, have designated RHP Austin Brice for assignment.
What led Corey Dickerson to sign with the #Marlins? pic.twitter.com/8L3kJVxRPJ

— MLB Network Radio on SiriusXM (@MLBNetworkRadio) January 7, 2020
Red Sox: You can now add Boston to the growing list of those alleged to have been involved in the sign-stealing scandal. According to Ken Rosenthal, the Red Sox illegally used their video replay room in 2018. So much for the purity of baseball.
This is now the 2017 World Series champions and 2018 World Series champions who have been linked to cheating. While the accusation against the Astros is more serious — the "everyone did it" cries tend to involve replay-room codebreaking — that's a bad look for the sport.

— Jeff Passan (@JeffPassan) January 7, 2020
According to Jeff Passan, MLB is expected to hand down a harsh punishment in the next two weeks, with "long suspensions likely."
"We were recently made aware of allegations suggesting the inappropriate use of our video replay room. We take these allegations seriously and will fully cooperate with MLB as they investigate the matter." -Statement from the Red Sox
Dodgers: Los Angeles has reached a one-year deal with righty, Jimmy Nelson. This is a one-year pact worth $1M and an additional mil available in incentives. The team has also signed RHP Edubray Ramos to a minor league deal.
Phillies: The Phils have signed infielder Ronald Torreyes to a minor league deal.
Nationals: The Nats have signed OF Carlos Tocci to a minor league deal.
Angels: Los Angeles has signed catcher Jason Castro to a one-year deal, in turn, designating LHP Adalberto Mejia for assignment.
Rangers: Take another catcher off the board. The Rangers have signed Robinson Chirinos to a one-year/$5.75M deal, option for 2021.