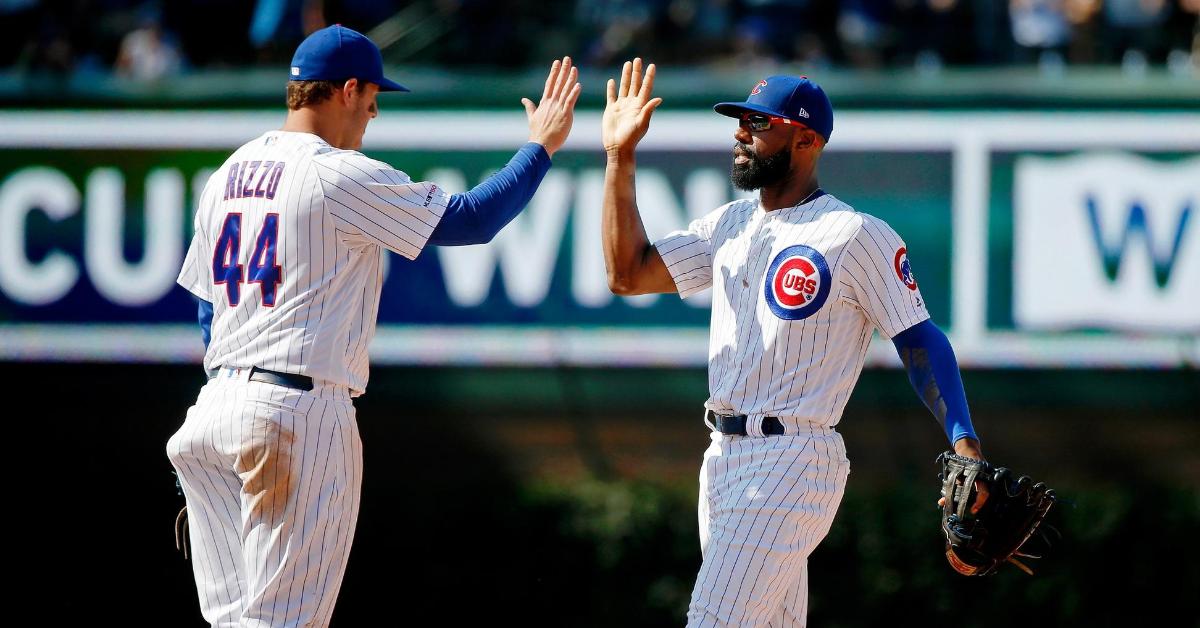 | | |
| --- | --- |
| Cubs News and Notes: Fly the W, Bryant injury update, Zo's highlights, No walk-zone, more | |
---
| | | |
| --- | --- | --- |
| Monday, August 5, 2019, 8:13 AM | | |
Next Game: Today 7:05 PM: Oakland vs Cubs: RHP Kyle Hendricks (8-8, 3.07 ERA) vs RHP Chris Bassitt (7-5, 3.84 ERA). Televised on WGN, SAP WGN, ESPN (out of market only), ESPN.
Sunday's game recap: I hesitated… no… I refused to suggest the Cubs would sweep Milwaukee this weekend, whether playing at home or not. Between Cole Hamels just coming back from an injury, a new injury to Willson Contreras, the general state of Chicago's bullpen and so on, I don't think anybody could blame me. Got a broom?
Let's forget that Christian Yelich took Yu Darvish deep in the first, and instead, focus on the positive.
Leading off, Jason Heyward delivered the first pitch that Hauser offered and deposited it into the left-centerfield basket. Game tied 1-1.
J-Hey's feeling the leadoff spot!#EverybodyIn pic.twitter.com/P0CDH4AOLa

— Chicago Cubs (@Cubs) August 4, 2019
In the second inning, Heyward would do it again, this time with an RBI triple. Hits by Anthony Rizzo, David Bote, and Nick Castellanos would net the Cubs another pair of runs, putting them up 3-1 in the second.
J-Hey's got a homer and an RBI triple in the first two innings!#EverybodyIn pic.twitter.com/oHPQkijptr

— Chicago Cubs (@Cubs) August 4, 2019
Things remained quiet until the bottom of the fifth, and then… Schwarb-Bomb. Cubs lead 4-1. J-Hey would also come through in the fifth, scoring Tony Kemp from third, when he hit into a fielder's choice. Cubs up 5-1.
Schwing! pic.twitter.com/vSRjkiPfLz

— Chicago Cubs (@Cubs) August 4, 2019
That would end the day for Yu Darvish (high pitch count), and what a day it was. Another quality start, which is something the Cubs have come to deserve from every man in the starting rotation.
.@faridyu's line:
5 IP, 4 H, 1 ER, 0 BB, 8 K. ??#EverybodyIn pic.twitter.com/vWzWqMVMkI

— Chicago Cubs (@Cubs) August 4, 2019
You can credit Tony Kemp with an RBI sac-fly to make the score 6-1 (Javy scored from third, Schwarber advanced to third), then add another run for Bote's single to score Schwarbs. Cubs lead 7-1.
Tyler Chatwood would give up a homer to Trent Grisham (Grisham's career first) to make it 7-2 Cubs, and that's how it would stay.
J-Hey homers, drives in 3 as #Cubs sweep Brewers.

Recap: https://t.co/NqVsnBbrF7 #EverybodyIn pic.twitter.com/qNEC3yNpTF

— Chicago Cubs (@Cubs) August 4, 2019
We remember a time when there was no broom emoji. ??????#EverybodyIn pic.twitter.com/ciMM5mJ6bh

— Chicago Cubs (@Cubs) August 4, 2019
Yu Darvish earns his second win at Wrigley, and Chatty gets credited with a three-inning save (his second).
CUBS NEWS AND NOTES
Cubs/Athletics Probable Pitchers: Tuesday, 7:05 PM (NBC Sports Chicago, MLB Network- out of market only): LHP Jon Lester (9-7, 3.86 ERA) vs LHP Brett Anderson (9-7, 4.04 ERA). Wednesday, 1:20 PM: LHP Jose Quintana (9-7, 4.40 ERA) vs RHP Homer Bailey (9-7, 5.20 ERA).
When it rains, it pours: If it wasn't devastating enough to see Willson Contreras go down with a hamstring issue, an injury that is requiring an IL stint, reports early yesterday listed Nick Castellanos as questionable, due to a hamstring issue of his own.
I thought I saw Castellanos take a funny looking step as he rounded first on Saturday, but I dismissed it, as Castellanos stayed in the game. When Joe Maddon replaced Castellanos with Ian Happ in the eighth, I wrote it off as Maddon wanting a better defender in the closing innings of what was- at the time- a tight game; I'm now wondering if that was the reason for the switch. Whatever the case, Castellanos was in the lineup yesterday, though I'm sure he'll be monitored closely for the next several games.
Davis recalled: As predicted, the Cubs recalled catcher, Taylor Davis, from Iowa, in the wake of Contreras's hamstring injury. Davis says that he's ready to help, and seems hungry to do so.
Taylor Davis: "I'm ready to help" pic.twitter.com/I6c7PHgbTz

— Mark Gonzales (@MDGonzales) August 4, 2019
More Davis: pic.twitter.com/wbsXuyOh1m

— Mark Gonzales (@MDGonzales) August 4, 2019
Maddon on Kris Bryant: "He's got just a little bit of a knee thing going on that I'm just [trying to be] aware of. He's fine. Playoff? Yeah, he's playing today. But just watching him and talking to him, I thought it would be the perfect day to give to him today."
No walk zone: With yesterday's start, the Cubs' starters have now gone six consecutive starts without giving up a walk-the longest streak since (at least) 1905, when records began being kept.
Zo's comeback campaign: In Saturday's game with the South Bend Cubs, Ben Zobrist went 2 for 3 with an RBI single. Through his second game, Ben was 2 for 6 with a walk.
While he's only been away for (exactly) three months, it feels like forever. This comeback would be huge for Zo, the Cubs, and the fans, but I worry that age caught up with Ben during his hiatus. I realize that he's just getting back into "the swing of things," but somehow, Zo's swing looks overly weak to me. You decide.
Ben Zobrist's first at-bat Saturday night: pic.twitter.com/aZ7vE2R2C4

— Jimmy Greenfield (@jcgreenx) August 3, 2019
Bases-loaded single to left for Zobrist in his third at-bat. Then he left for a pinch-runner. pic.twitter.com/Ig6UDnSZst

— Jimmy Greenfield (@jcgreenx) August 4, 2019
Life without Javy? It's hard to believe that if things had gone "right" for the Cubs, Javy would be an Astro right now. Wow.
"Two seasons ago.. according to multiple persons with knowledge of the talks, the Cubs offered SS Javier Baez as part of a three-player package [for Michael Fulmer] and the Astros offered 3B Alex Bregman for Fulmer and RP Justin Wilson."

??https://t.co/JOeuqfNB74

— Mike Petriello (@mike_petriello) August 4, 2019
Credit to Gio: As Javier Baez broke for home on a wild pitch Saturday, Gio Gonzalez charged the plate, hoping for a putout. As Javy started his head-first slide, with his arms extended, Gonzalez was closing in with each step, and it looked as though Baez would undoubtedly got spiked in the hand. In the end, Gonzalez took several compensatory steps to avoid injuring Baez, demonstrating true professionalism. Kudos, Gio.
#ElMago, man of action. #EverybodyIn @FellowesBrands pic.twitter.com/WxIn7emroj

— Chicago Cubs (@Cubs) August 4, 2019
Catching conundrum: Except for his first game with the Cubs- a one-hitter pitched by Jack Flaherty (Cards), which saw Castellanos net the only Cubs' hit- Nick Castellano's batting style appears to be catching on in the clubhouse. For the last three games, the Cubs have combined for a total of 35 hits, and in yesterday's game, half of the 14 Cubs' hits went to the opposite field.
Kemp flipping over Chicago: We haven't seen a whole bunch of Tony Kemp (yet), but even after messing up a double play yesterday, I had to give him props for this.
.@tonykemp backflips are a thing now. pic.twitter.com/Y4amPzHM7K

— Chicago Cubs (@Cubs) August 4, 2019
Call to the Bullpen: Kyle Schwarber and Ian Happ are probably not the guys that I'd look to for dating advice, but they are willing to help…
Cubs Birthdays: Celebrating yesterday, were ex-Cubs Mike Freeman (32), Bob Howry (46), Troy O'Leary (50), Rich Nye (75), and posthumously, William "Gabe" Gabler (89), Bill Schüster (107), Tuck Stainback (108), and Henry Clarke (144).
THIS WEEK'S NL CENTRAL SCEHEDULE:
(Wins in green, losses in red)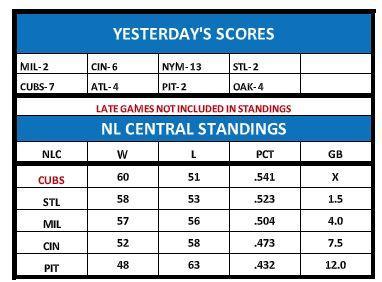 Tags: Cubs Baseball
,
Kyle Hendricks
,
Cole Hamels
,
Willson Contreras
,
Yu Darvish
,
Jason Heyward
,
Anthony Rizzo
,
David Bote
,
Tyler Chatwood
,
,
Brett Anderson
,
Jose Quintana
,
,
Taylor Davis
,
,
Ben Zobrist
,
,
Justin Wilson
,
Kyle Schwarber
,
Joe Maddon