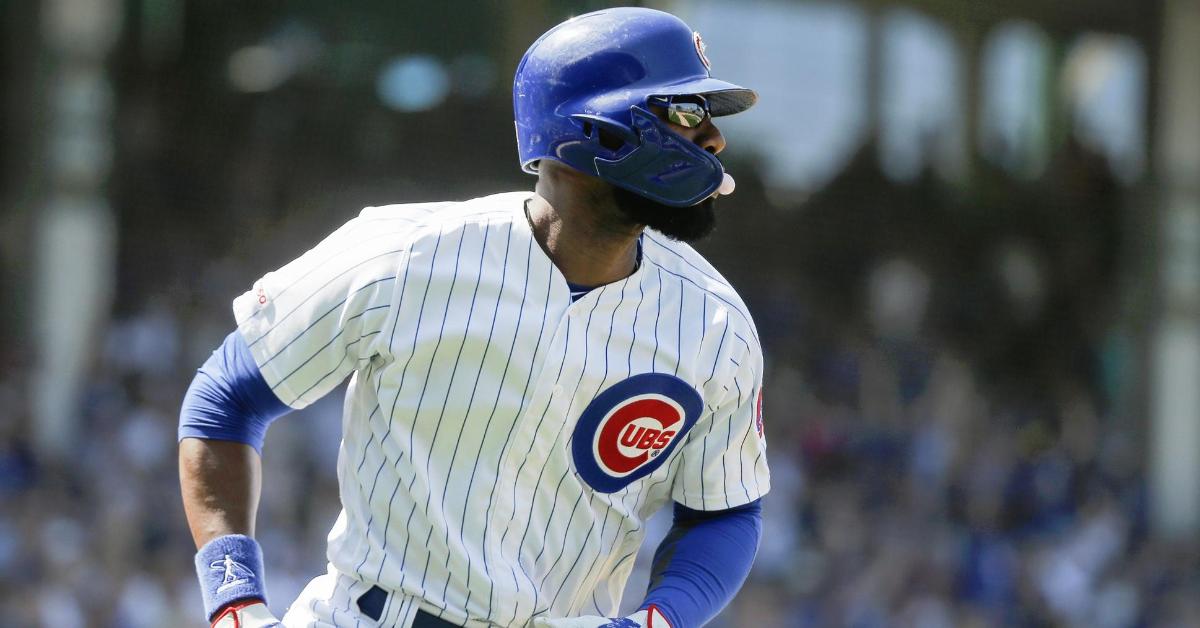 | | |
| --- | --- |
| Cubs News and Notes: Fly the W, Contreras injured, Edwards update, Garcia raking, more | |
---
| | | |
| --- | --- | --- |
| Monday, July 15, 2019, 8:32 AM | | |
Next Game: Today, 7:05 PM CDT: Reds at Cubs. RHP Luis Castillo (8-3, 2.29 ERA) vs. RHP Kyle Hendricks (7-7, 3.49 ERA).
Sunday's Game Recap:
Having already secured their first series win in over a month, the Cubs took the field yesterday in an attempt to secure the sweep. Joe Maddon looked to Jose Quintana to keep the pace, while Clint Hurdle instilled his faith in righty, Trevor Williams.
The Cubs would jump out to a 1-0 lead in the first, but the Bucs would get to Q in the third, putting themselves up 3-1. The Cubs would pull to within one in the fourth, cashing in on Robel Garcia's double. Williams intentionally walked David Bote for a second straight time, to get to Jose Quintana, but Q made him pay, as he smacked a hard single to right, bringing Garcia home.
Hitter, pure and simple.

No designation needed. pic.twitter.com/XdqISmvQQE

— Chicago Cubs (@Cubs) July 14, 2019
The Cubs would tie it in the fifth on Victor Caratini's sac-fly, then take a 5-3 lead on Jason Heyward's 410 foot, a two-run blast.
Jason Heyward puts us in front with his 15th home run of the season! #EverybodyIn pic.twitter.com/mOfL4uhFDx

— Chicago Cubs (@Cubs) July 14, 2019
Moving to the sixth, the Cubs would add another pair, on back-to-back homers (coming on back-to-back pitches), by Albert Almora Jr. (pinch hitting), and then Kyle Schwarber.
Back-to-back homers from @albertalmora and @kschwarb12!#EverybodyIn pic.twitter.com/I7XQCR6Hc4

— Chicago Cubs (@Cubs) July 14, 2019
Tally another one for the Northside-Nine, when Anthony Rizzo's sac-fly scored Javier Baez, bringing the score to 8-3.
Tyler Chatwood (the guy who should have been starting Tuesday) would come on in the ninth to close it out for the Cubs and secure the sweep. Final score 8-3, Cubs.
Next up: Cincinnati Reds @ Wrigley.

CUBS NEWS AND NOTES:
Cubs/Reds Probable Pitchers: Tuesday, 7:05 PM: RHP Anthony DeSclafani (5-4, 4.26 ERA) vs RHP Alec Mills (0-1, 5.48 ERA). Wednesday, 2:20 PM: RHP Sonny Gray (5-5, 3.42 ERA) vs RHP Yu Darvish (2-4, 4.72 ERA).
Shaking up the NL Central: This week, good or bad, should prove to shake things up a little in the NL Central. The Cubs will face the Reds beginning tonight, while the Cards will play Pittsburgh, then Cincinnati. Meanwhile, the Brewers have to deal with the NL East-leading Braves, then fly out west to deal with the Snakes.
Catching decision: The Cubs say that Joe Maddon elected to start Victor Caratini yesterday, as Willson Contreras is dealing with a sore foot. The Cubs say this is a "minor injury," meaning that he should return in a day or two. You never want to see your starting backstop go down, but Caratini seems to be so much improved this year, that it hardly seems to make a difference.
Victor Caratini is 2-for-3 today and has absolutely smoked the ball each time up:
-99.3 mph single
-109.1 mph lineout
-113.6 mph sac fly
-101.1 mph single

— Tim Stebbins (@tim_stebbins) July 14, 2019
The new kid: In case you haven't noticed, Robel Garcia is a pretty damn good ballplayer. After smacking a pair of doubles yesterday, Garcia is now batting .333 and has an OPS of 1.270, with 4 RBI. Not too shabby for a half-dozen games.
Where ya been? I can't say it enough- this Cubs/Pirates series has been a phenomenal showing of offense by Chicago- not just the run totals, but the overall approach. Hitting at the right times, walks when available, aggressive baserunning, sac-flies, and power when necessary.
The starters have been spot-on, and the bullpen (save for Pedro Strop the other day) has come through. This is the team we should have seen all year, but for whatever reason, they've finally started showing it. Pittsburgh had been red-hot before the break, and the Cubs made this weekend look easy.
J-Hey on the 2019 Cubs and pitchers hitting: "We're always in the game, and we need to remember that. We can't get too down; we can't let things get away from us, we can't get sloppy. Don't take a break, because it's right there for us to take. Today was a good example of that."
Commenting on the hitting by Jon Lester, Q and the rest of them, J-Hey says, "Tony's [Anthony Rizzo] the hardest on them. He's yelling at them like, 'Swing now, you don't swing, whatever. You guys stink!' We just have fun with that, but we pull for them obviously because they're out pitching their ass off and they want to keep the game close, and sometimes they need to pick themselves up, too."
The Crew is slipping: Milwaukee had their hands full this weekend with the Giants. They lost Friday, lost yesterday, and needed extra innings to win on Saturday, all adding up to the Cubs taking a 2.5 game lead in the division.
Cubs at Brewers July 26-28 https://t.co/62XbVVL1Yz

— Tim Stebbins (@tim_stebbins) July 14, 2019
Edwards' progress As Carl Edwards Jr. Continues to mend from his oblique strain, he made a third rehab start in Iowa on Saturday, retiring three straight batters.
Stealing first: Yesterday I showed you what the electronic strike zone looked like (and it was pretty ugly in my opinion), now you can see what stealing first looks like. We're all accustomed to a dropped third strike, but with the new Atlantic League rules (coming soon to an MLB stadium near you), guys can take off on any pitch which does not contact their bat. (Not the best audio/video, but the Atlantic League isn't exactly televised on NBC Sports Chicago.)
For the first time in baseball history a player stole first base thanks to the Atlantic League-MLB partnership rule changes! @ESPNAssignDesk pic.twitter.com/yj4FkcZg6O

— SoMD Blue Crabs (@BlueCrabs) July 14, 2019
When the concept was implemented, I couldn't help but wonder; how would you even score that? I would have to think it would go as either a wild-pitch (E-1), or a passed ball (E-2), but who knows?
Trading begins: As we start to near the trade deadline (July 31), the cork has been popped. On Friday, Boston traded for RHP Andrew Cashner, while the A's worked a swap with KC yesterday, for RHP Homer Bailey. Things will start to pick up now, as teams start scrambling to fulfill their needs.
Welcome to the HOF: Former Cubs' closer, Lee Smith, will be inducted into Cooperstown next Sunday- the ultimate honor for a man of such talent. On a sad note, fellow inductee, Bob Gibson, will miss the ceremony, as he's unfortunately battling pancreatic cancer.
Lee Smith will be inducted into the @baseballhall a week from today.

Who do you consider to be the Top 5 #Cubs closers of all-time? pic.twitter.com/GSdzZGQUqr

— Cubs Talk (@NBCSCubs) July 14, 2019
Baseball Quotes: "A ballplayer spends a good piece of his life gripping a baseball, and in the end, it turns out that it was the other way around all the time." -Jim Bouton
Cub Birthdays: Celebrating yesterday, were ex-Cubs Jack Leathersich (29), José Hernández (50), Derrick May (51), Chuck Rainey (65), Steve Stone (71), and posthumously, Julio Bonetti (108), Art Nichols (148), and Walter "Jiggs" Parrott (148).
NL CENTRAL SCHEDULE (June 23 – June 29, 2019)
(Wins are in green, losses in red)

NL CENTRAL SCOREBOARD/STANDINGS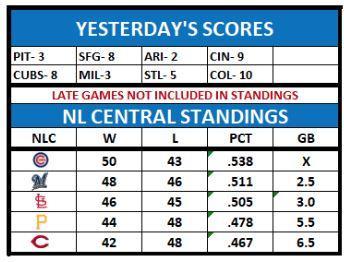 Tags: Cubs Baseball
,
Kyle Hendricks
,
Jose Quintana
,
Robel Garcia
,
David Bote
,
Victor Caratini
,
Jason Heyward
,
Albert Almora Jr
,
Kyle Schwarber
,
Anthony Rizzo
,
,
Tyler Chatwood
,
,
Yu Darvish
,
Willson Contreras
,
Pedro Strop
,
,
Jack Leathersich
,
Joe Maddon