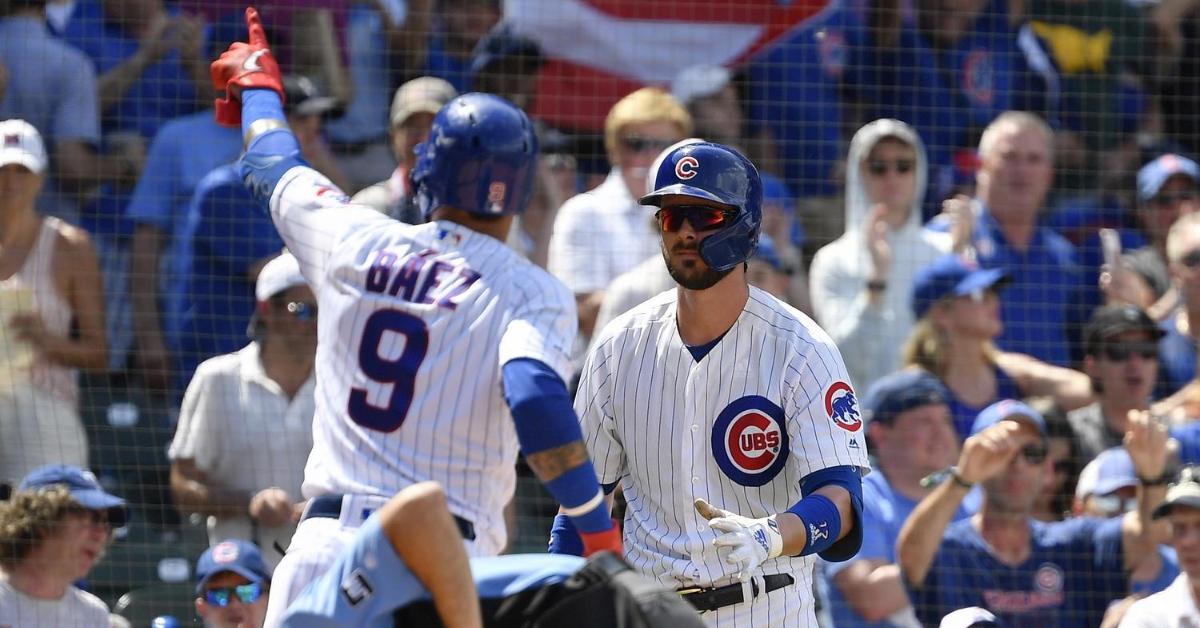 | | |
| --- | --- |
| Cubs News and Notes: Fly the W, Maddon calls out Russell, Hamels and Morrow update, more | |
---
Next Game: Today, 1:20 PM: RHP Cal Quantrill (2-2, 4.21 ERA) vs RHP Kyle Hendricks (7-7, 3.46 ERA).
Saturday's Game Recap:
Friday's game was enough to drive even the most mild-mannered Cubs fan insane, but they did get the W; even if it was a case of trial by "error." In an attempt to secure their third straight series win, Jose Quintana took the mound Saturday to face Lucchesi and the Padres.
After pitching his way out of early trouble, Jose Quintana and the Cubs would grab an early 2-0 lead in the bottom of the first. Partially fueled by Robel Garcia's triple.
Thinking three! #EverybodyIn pic.twitter.com/arbMOAoeGv

— Chicago Cubs (@Cubs) July 20, 2019
The Cubs should have added in the second, but two bad baserunning decisions by Addison Russell would cost the Cubs a rally. First, Russell danced on a would-be wild-pitch and nearly got himself thrown out as he tried to return to second, then on the very next play, he got himself doubled-off of second, on a line drive to center, which ended the inning.
The sun would cause Russell to lose a pop-up in the third, giving the Padres a baserunner, then Manny Machado hit his 200th career homer to make the game 3-2 in favor of the Friars.
The Cubs would jump right back, tying it in the third with a single by Javier Baez, another by Kris Bryant (sending Javy to third), and a rather bizarre, routine ground ball by Rizzo that somehow resulted in everyone being safe. The Friars 2B (Urias) fielded the ball cleanly, then froze, trying to determine if he was throwing to second or first; by the time he decided, everyone was safe, and Baez had streaked across the plate.
Continuing the see-saw battle, the Padres would take the lead in the fourth on a sac-fly making the score 4-3 San Diego, but don't forget- the Cubs got to bat in the fourth as well.
After Russell singled, David Bote would double (moving Russell to third). Two outs later, El Mago got a turn… Abracadabra. Cubs lead 6-4. (Here's a little magician's secret for Lucchesi- don't put a 90 mph sinker over the plate if it isn't going to sink- Javy knows how to make those disappear.)
.@javy23baez is a magician AND a mind reader. pic.twitter.com/GcCLfXw29V

— Chicago Cubs (@Cubs) July 20, 2019
Ever swat at a fly about twenty times without killing it? The Padres seemed to be that fly yesterday. Hunter Renfroe would homer in the fifth, to make the score 6-5 in favor of the Cubs.
With Q done after five innings, Brandon Kintzler locked down the sixth, Steve Cishek the seventh and Pedro Strop the eighth, with the Cubs failing to score in those innings as well.
Start the Guns 'N Roses music, here comes Craig Kimbrel. Dirty Craig struggled a little in the heat, issuing two walks, but thanks to Victor Caratini and a no-look-tag by you know who, the Cubs would finally put a lid on this one. Final score 6-5.
The Cubs have now won three straight series, are 7-1 since the break and will attempt the sweep Sunday.
Only one shortstop in baseball makes plays like this. pic.twitter.com/zw5K06NlZ5

— Chicago Cubs (@Cubs) July 20, 2019
Javy puts on a show as #Cubs win 4th straight.

Recap: https://t.co/xVcnnvrHm3 #EverybodyIn pic.twitter.com/zhZ4ZvyBdm

— Chicago Cubs (@Cubs) July 20, 2019
Cubs News, Notes and Commentary:
Cubs/Giants Probable Pitchers: Monday: RHP Alec Mills vs Giants TBD; Tuesday: RHP Yu Darvish vs Giants TBD; Wednesday: LHP Jon Lester (9-6, 3.87ERA) vs Giants TBD.
Garcia in the outfield? There's nothing wrong with creativity, even if that does mean trying something out of the ordinary, and Joe Maddon is certainly the master of trying new things- even when they make no sense. I was initially a little bewildered by the announcement that Robel Garcia would be in left field yesterday, especially with Kris Bryant starting in right. Garcia did muff the first ball hit his way, as he misjudged it, resulting in a double, but no harm, no foul… besides, the kid hit a triple to make up for it.
Friday's choices for the lineup didn't work out so well, as David Bote, Albert Almora Jr., Addison Russell, and Marin Maldonado combined to go 1 for 15 (.067), yet somehow, they won. Not that the picture, as a whole was great, as the Cubs went 7 for 31 (.226) as a team and were 1 for 6 (.167) with runners in scoring position.
Maddon on Russell: "He's got to straighten some things out. He has to. I'm not going to stand here ... we've talked about his baserunning in the past." Well, that certainly sounds intriguing… and obvious.
More Maddon: "The sun ball, there's nothing you could do about that. The baserunning, there's some things there — we're making too many outs on the bases and we're missing things on the bases that we can't to be an elite team."

— JJ Stankevitz (@JJStankevitz) July 20, 2019
Then Joe went on to say this (Just my opinion, but it sure sounds like a jab at Russell, as much as it is a compliment to Javy…).
"He's a baseball player and you saw a lot of plays today that weren't baseball plays. The game is clamoring for baseball players that know how to play this game. And he is one." "He's got the biggest hard drive, the most RAM. He's got everything going on every day. He's got great vision. What he sees in advance, it's like the best running back. It's the best point guard you've ever seen. It's all of that as a shortstop."
Getting closer: After successfully completing a bullpen session yesterday, Cole Hamels played a little catch on flat-ground, with his son. A good sign, considering he must be relatively pain free, or the Cubs would have shut him down for the day.
Cole Hamels completed his bullpen session and is now throwing on flat ground with his son. pic.twitter.com/VdmeVYeJiA

— Jordan Bastian (@MLBastian) July 20, 2019
There were some other updates in the Cubs' organization as well.
Some updates...

• Cole Hamels scheduled to throw full bullpen session today
• Willson Contreras planning to take BP today
• Brandon Morrow (on IL) threw live BP on Thursday in Arizona
• Xavier Cedeno (on IL) off AAA roster while dealing with some arm soreness

— Jordan Bastian (@MLBastian) July 20, 2019
Just one question: Who's this Brandon Morrow guy they speak of?
Willson Contreras took a full round of BP. The Cubs catcher is now warming up Cole Hamels in the outfield ahead of the pitcher's bullpen session.

— Jordan Bastian (@MLBastian) July 20, 2019
Where's Schwarbs? It's becoming pretty obvious that Kyle Schwarber has been absent from the lineup. Injury? No. Trade bait? Not likely- I guess we'll see, but according to Joe Maddon, it's about ensuring playing time.
Another lefty on mound means another day with Schwarber starting off on the bench. Maddon reiterated this morning that the Cubs need to get the likes of Almora, Bote and Russell back on track vs. LHP.

Wrote on that Friday: https://t.co/q9WiMwZCsJ

Here's Joe's comments today... pic.twitter.com/M0l3YhHZBT

— Jordan Bastian (@MLBastian) July 20, 2019
Maddon on Kimbrel: "His arm strength is getting there. He might just be an outing or two away from being a full force."
Let's hear it for… the wind? The heat index at Wrigley Field was a balmy 107 degrees at game time. If the Cubs fans didn't have enough to cheer about yesterday, Mother Nature got a standing ovation, when a wind-shift caused the "feels like" temperature to drop (according to Len Kasper) "by at least 20 degrees."
Slight breeze rolls through on a hot Chicago summer day? Instant standing ovation ??

(via @Cut4) pic.twitter.com/LCbPDkk1YK

— Bleacher Report MLB (@BR_MLB) July 20, 2019
Credit to Kintzler: Brandon Kintzler is a guy who knows the game. When a shallow pop-up sent Javy, Russell, Rizzo and Albert Almora Jr. all running toward shallow center, Kintlzer saw trouble coming and did the logical thing: He covered second base. Yep, the ball fell, but it wound up being a force-out at second. Nice job, Salt.
Kintzler on covering second base and earning a putout on a pop fly that fell: "The best athletes cover second base. That's what I told Rizzo after the play."

— Jesse Rogers (@ESPNChiCubs) July 20, 2019
Ken Rosenthal: "… judging from his recent public comments, Epstein seems restless – with his players, with manager Joe Maddon, with practically everything Cubs. The question is, who would Epstein and his longtime associate Jed Hoyer trade if they genuinely wanted to shake up the team?"
Enshrined: Today's the day- former Cubs closer, Lee Smith, will be enshrined in the Baseball hall of Fame.
It's Lee Smith's time. #HOFwknd pic.twitter.com/XhvmsdKQLs

— Chicago Cubs (@Cubs) July 20, 2019
Lee Smith's achievements, forever immortalized today. #HOF2019 pic.twitter.com/PSV5KU44Q1

— Chicago Cubs (@Cubs) July 21, 2019
Baseball Quotes: "The game has a cleanness. If you do a good job, the numbers say so. You don't have to ask anyone or play politics. You don't have to wait for the reviews." -Sandy Koufax
Alvin Dark once declared "There'll be a man on the moon before Gaylord Perry hits a home run."

On this date 50 years ago, Neil Armstrong became the first man to walk on the moon.

34 minutes later, Gaylord Perry hit his first career home run pic.twitter.com/0t8eAsB36n

— Baseball Quotes (@BaseballQuotes1) July 20, 2019
Cubs Birthdays: Celebrating yesterday, were Duane Underwood, Jr. (25) and ex-Cubs Matt Szczur (30), Jake Fox (37), and posthumously, Gary Woods (66).
THIS WEEK'S NL CENTRAL SCEHEDULE:
(Wins are in green, losses in red)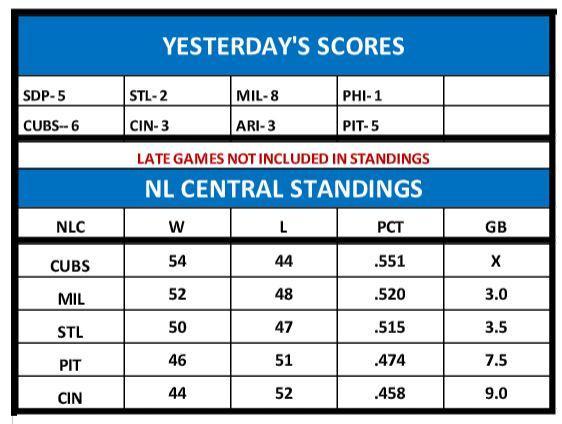 Upgrade Your Account
Unlock premium boards and exclusive features (e.g. ad-free) by upgrading your account today.
Upgrade Now

Tags: Cubs Baseball
,
Kyle Hendricks
,
Jose Quintana
,
Robel Garcia
,
Addison Russell
,
,
,
David Bote
,
Brandon Kintzler
,
Steve Cishek
,
Pedro Strop
,
Victor Caratini
,
,
Yu Darvish
,
,
Albert Almora Jr
,
Cole Hamels
,
Willson Contreras
,
Brandon Morrow
,
Xavier Cedeno
,
Kyle Schwarber
,
Duane Underwood
,
Matt Szczur
,
Joe Maddon