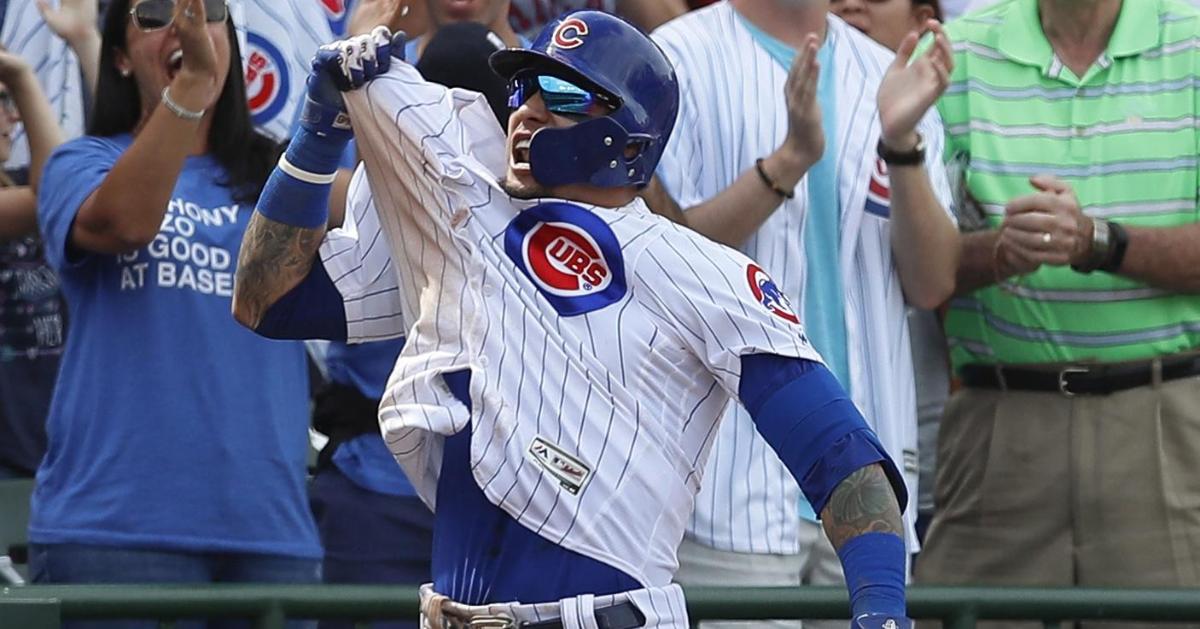 | | |
| --- | --- |
| Cubs News and Notes: Javy Baez's blast, Barnette activated, Happ's extended stay, more | |
---
| | | |
| --- | --- | --- |
| Monday, June 24, 2019, 7:50 AM | | |
Next Game: Today, 1:20 PM CDT: Mets @ Cubs RHP Julio Teheran (5-5, 3.40 ERA) vs LHP Jon Lester (6-5, 4.13 ERA).
CUBS NEWS AND NOTES:
Sunday's Game Recap:
Saturday's loss was unarguably one of the ugliest losses this year for Chicago. Yesterday, Cole Hamels took the mound for the Cubs, while Jacob deGrom got the start for the Mets, as the Cubs battled to salvage a series split.
The Cubs scored early, netting a run in the second with some power in the bottom of the order. Jason Heyward and David Bote singled, followed by Hamels who delivered a two-out, RBI single to right. The lead would be short-lived though, as Pete Alonso homered (his 27th) to start the third, tying the game at one.
The Mets would then grab a 2-1 lead on Nido's solo-shot in the fifth, then add another run on deGrom's RBI single, making it 3-2. The Cubs would pull themselves to within on in their half of the fifth, but the scoring would then come to a halt for both sides until the eighth.
They say that you can't keep a good man down, especially true when that man's name is Javier Baez. Javy has batted just .167 over the last two weeks, but with 10 of his homers this season coming in the seventh inning or later, those two stats were bound to collide. Kyle Schwarber singled to open the eighth, then Anthony Rizzo drew a walk. With two on and one out, Baez smashed a three-run, monstrous homer, putting the Cubs up 5-3. The crowd loved it, the Cubs loved it, and so did Javy, as he walked the first seven or eight steps, admiring it, before beginning his trot. Oh- by the way- that was also Javy's 100th career home run.
Javy, PLEASE.

Javy, THANK YOU. pic.twitter.com/aHA1oAZprI

— Chicago Cubs (@Cubs) June 23, 2019
Final score: Cubs-5; Mets-3. Bring on the Braves. I'll have a series preview for you tomorrow, before the first pitch.

Cubs/Braves Probable Pitchers: Tuesday: LHP Max Fried (8-3, 4.03 ERA) vs Adbert Alzolay (1-0, 2.25 ERA). Wednesday: LHP Dallas Keuchel (0-0, 0.00 ERA) vs Yu Darvish (2-3, 4.65 ERA). Thursday: Braves TBD vs RHP Tyler Chatwood (3-1, 3.69 ERA).
Braves option starter: RHP Mike Foltynewicz (2-5, 5.53 ERA), the Braves #1 starter just last year, was scheduled to start Thursday against the Cubs and Chatwood, but Atlanta has now optioned him to the minors. No replacement has been named. (Kind of a bummer. I was planning on making the 12-hour drive to Chicago this week to see that game and was hoping we'd see the Cubs rough-up Folty. Oh well, hopefully, Chatwood will be good if we go.)
Solid outings: Despite giving up a pair of homers yesterday, Cole Hamels looked good, and demonstrated staying power: 7.0 IP, seven hits, 3 ER, two walks, five strikeouts. Steve Cishek held down the eighth, giving up only a walk, and securing the W for himself, while Pedro Strop closed it out, striking out a pair while notching the save, with one of his best performances this season.
Pedro Strop: In addition to an excellent performance, Strop did a little counseling in the dugout yesterday. (As told by Tony Andracki- NBC Sports Chicago): Strop said Javy was super frustrated in the dugout after the first strikeout because deGrom wasn't throwing him any fastballs, just sliders. "I told him, 'That's good, you know that. Go up there with another plan - do your thing. You're gonna win this ballgame.'" And then he did.
Some "sort of" new faces: RHP Tony Barnette (age 35+) who's been out all year due to shoulder issues was expected to return in July but was activated yesterday, before the game (Rowan Wick was optioned to Iowa). Barnette has started rehab assignments in Iowa and has done well, posting a 0.00 ERA in his first 8.1 innings of work. In that stretch, Barnette has fanned nine, has held the opposition to a .038 batting average and has posted a WHIP of just 0.240.
Over the winter, the Cubs also signed a relatively young (28) righty by the name of Kendall Graveman. Tommy John surgery was to have Graveman out this season, but the Cubs signed him to a one-year deal with a club option for 2020. Graveman has been at Wrigley the past few days playing catch, as he continues to rehab.
Kimbrel's start: The Cubs maintain that they're not rushing to get Craig Kimbrel in the bullpen, despite the apparent need for help in Chicago, but I tend to disagree. On Saturday night, Kimbrel made a start in Iowa, as they expected to be washed out by storms and wanted him pitching. If there was no sense of urgency, then there was no reason that he couldn't have just pitched yesterday instead. He'll be in Chicago this week- I feel it, though the Cubs still say "no."
Kimbrel K ?? pic.twitter.com/MAAUXP8BaR

— Iowa Cubs (@IowaCubs) June 23, 2019
An hour before first pitch at Principal Park today and there's one @IowaCubs player out in the drizzling rain signing autographs.

Craig Kimbrel is a really good dude. pic.twitter.com/M1mm7G7lgq

— Alex Cohen (@voiceofcohen) June 23, 2019
Happ's extended stay: According to Sahadev Sharma (The Athletic), Ian Happ shouldn't expect to be back in Chicago anytime soon, despite a three-month sabbatical in Des Moines. Many (including me) think that Happ has played his last game as a Chicago Cub, and is likely to be traded before the July 31 trade-deadline. The Cubs have passed on three chances to have him back in Chicago, instead choosing Mark Zagunis, Jim Adduci and finally Carlos Gonzalez.
Security guard goes rogue: If there's one thing that will forever boggle my mind, it's the "occasional" (and I'm being polite) security guard who thinks he has to be a hard-nosed, just for the sake of self-importance and self-worth. I didn't see anyone complaining in the video below, nor did I see them doing anything but having a little fun stacking beer cups, while the Cubs were getting blasted by the Mets. Get a life, Barney Fife; this wasn't necessary.
Imagine being mad at this? Cubs are the softest team on the planet. pic.twitter.com/e72kagzsNj

— The 7 Line (@The7Line) June 22, 2019
Flashback: 1984: Cubs come from behind to beat the Phillies. "The Sandberg Game." Hard to believe it's been 35 years.
35 years ago today.

The Sandberg Game. pic.twitter.com/rqrs2MeriP

— Chicago Cubs (@Cubs) June 23, 2019
Baseball Quotes: "I became a good pitcher when I stopped trying to make them miss the ball and started trying to make them hit it." -Sandy Koufax
Cub Birthdays: Celebrating yesterday, were Cubs' color commentator, Jim Deshaies, who turns 59 and posthumously, Jack hardy (142).
Wishing a happy birthday to #Cubs broadcaster @JimDeshaies! pic.twitter.com/n8vE84vwhf

— Chicago Cubs (@Cubs) June 23, 2019
NL CENTRAL SCHEDULE (June 23 – June 29, 2019)
(Wins are in green, losses in red)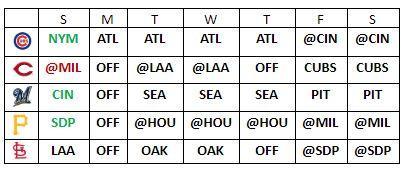 NL CENTRAL SCOREBOARD/STANDINGS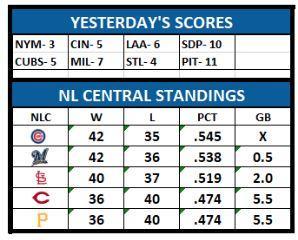 Tags: Cubs Baseball
,
,
,
Cole Hamels
,
Jason Heyward
,
David Bote
,
Kyle Schwarber
,
Anthony Rizzo
,
Adbert Alzolay
,
Yu Darvish
,
Tyler Chatwood
,
Steve Cishek
,
Pedro Strop
,
Tony Barnette
,
Rowan Wick
,
Kendall Graveman
,
,
Mark Zagunis
,
Jim Adduci