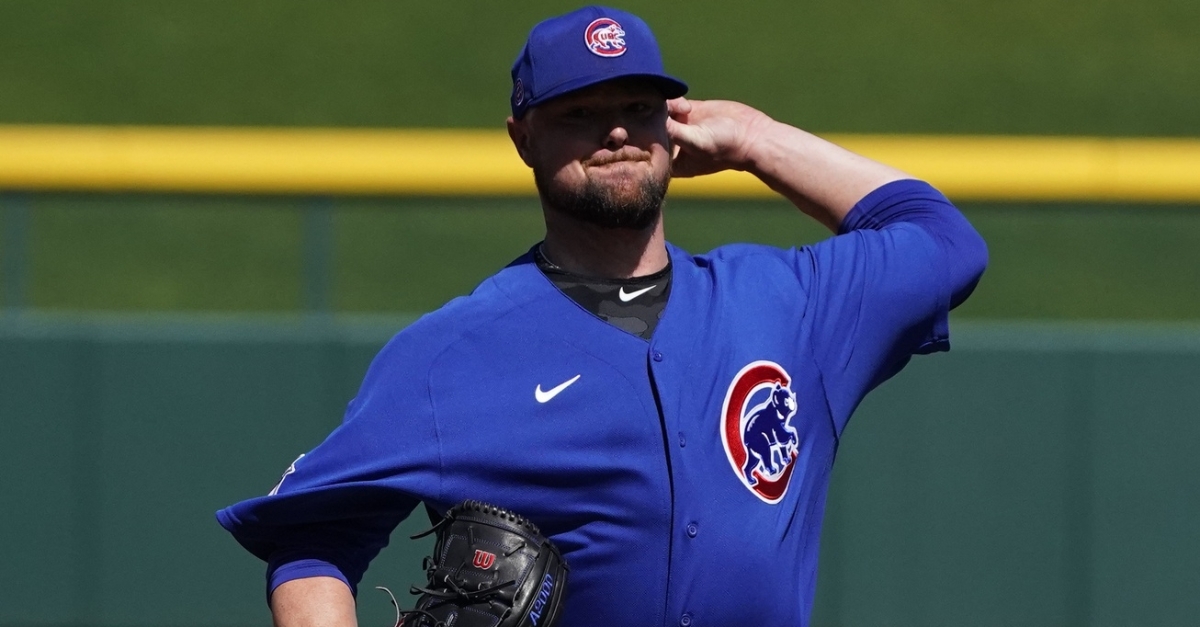 | | |
| --- | --- |
| Cubs News and Notes: Jon Lester's future, 'Long gone summer' with Sammy Sosa, more | |
---
| | | |
| --- | --- | --- |
| Wednesday, May 6, 2020, 9:11 AM | | |
CUBS NEWS AND NOTES
No Baseball: Day 41.
Jon Lester's future: Jon Lester says that he's not opposed to ending his career where it began – there's just one problem – it didn't begin with the Cubs. Lester was recently interviewed by Rob Bradford from radio station WEEI, an ESPN affiliate in Boston.
"We've got a lot of what-if's going on right now ... For me, I don't know what is going to happen next year," he explained. "I know I have the team option, the player option, that sort of thing. We'll figure that out one way or the other. I will either be here or be a free agent. Obviously, everything is open. I'm open-minded to anything. Absolutely it would be cool to go back and finish my career where it all started. But I've got a little time before I really have to sit down and weigh that decision, even if it's something where they want me back. Hopefully, I'm still a good enough caliber pitcher that the want of my services will still be out there for people. We'll see."
Lester's free-agent deal includes a 2021 vesting/mutual option that would be guaranteed at $25MM if he throws 200 innings in 2020. There is also a $10m buyout if the Cubs choose not to pick up their part of the option. As predicted, that 200 inning mark will be prorated based on the number of games actually started by Lester, but in the world of big-business baseball, it would be surprising to see Lester make that mark.
The Cubs, like every other MLB team, have taken quite the hit this year with the pandemic. To this point, they've now lost an estimated $110M in ticket sales, not to mention all of the advertising revenue and whatever figure their new Marquee Network may have generated. For as bad as that sounds, the ticket sales figure pales in comparison to the Dodgers, who've now lost $145.1M during the pandemic.
Lester acknowledged that the shortened season is hurting him. He knows that whether or not they play, his body is still growing a year older, and no matter what, he'll be 37 next year. Furthering hindering Big Jon is not knowing when (or if) play is going to resume.
"If I'm younger, I'm still probably throwing bullpens and doing things to stay kind of locked in. But now I'm... Yeah, I'm playing catch. I'm moving my arm. I'm doing my weights. I'm doing my stuff. But I need to know a date to ramp it up. "I don't want to waste bullets down here in the backyard or at some high school. That's the hard part of this whole deal." – Jon Lester
Lester hasn't mentioned retiring, but at age 36, that time isn't far away. Maybe a season or two, perhaps even three if all goes well, but the truth is, Lester has struggled some for the last couple of seasons. He was just getting back to form this spring when COVID-19 came crashing down, abruptly halting baseball, along with the rest of the world.
No matter whether Jon pitches for the Cubs, the Red Sox, or plays in Japan or retires after this season, he's served this team well. Theo Epstein brought Lester to Chicago as part of the plan to win a World Series, and he delivered. Everybody has to ride off into the sunset at some point, and – like it or not – Jon's time is creeping closer.
ESPN 30 for 30: ESPN has produced a 30 for 30 documentary highlighting the great home run race of 1998, featuring Sammy Sosa and Mark McGwire. Entitled Long Gone Summer," the show is set to be released on June 14th.
Long Gone Summer, an ESPN 30 for 30 about the great home run chase of 1998, will be released on June 14th! pic.twitter.com/QRPunUCm7B

— Baseball Quotes (@BaseballQuotes1) May 6, 2020
I suppose some of you may have been too young to remember it when it happened, but at the time, it was one of the greatest things to ever happen in sports. Years later, it would all come under scrutiny as the steroid scandal unfolded, and for me, unfortunately, the scandal-tainted it forever. Take it for what it's worth, though, as in some ways, it was just what baseball needed to rejuvenate and invigorate the sport.
Sammy never did own up to his steroid use, which is why he's (a) not welcome back at Wrigley Field and (b) not in the Hall of Fame. It's a shame that MLB had to rely on turning a blind eye to steroid use during that era, as guys like Sosa, McGwire, and Bonds could have been the faces of baseball without cheating.
On this date: It was a year ago this week that Taylor Davis brought the Wrigley Field crowd to their feet with his first-ever home run – a grand slam to left, propelling the Cubs to a 6-5 lead over the Cards.
One year ago, Taylor Davis made his first career home run a special one. pic.twitter.com/9lBHoXbu5y

— Cubs Talk (@NBCSCubs) May 4, 2020
Cubs' Birthdays: Celebrating yesterday, were ex-Cubs Dave Gumpert (62) and posthumously, Jim Kirby (97), Lennie Merullo (103), and Tom Vickery (153).
Baseball Quotes: "It's unbelievable how much you don't know about the game you've been playing your whole life." - Mickey Mantle
Nothing like getting up close and personal with the players…
Forgotten moment: that time Yankee great Don Mattingly ate some popcorn from an unsuspecting fan. ????

pic.twitter.com/LtqlmDG4UF

— #TodayInSports (@TodayInSports3) April 3, 2020