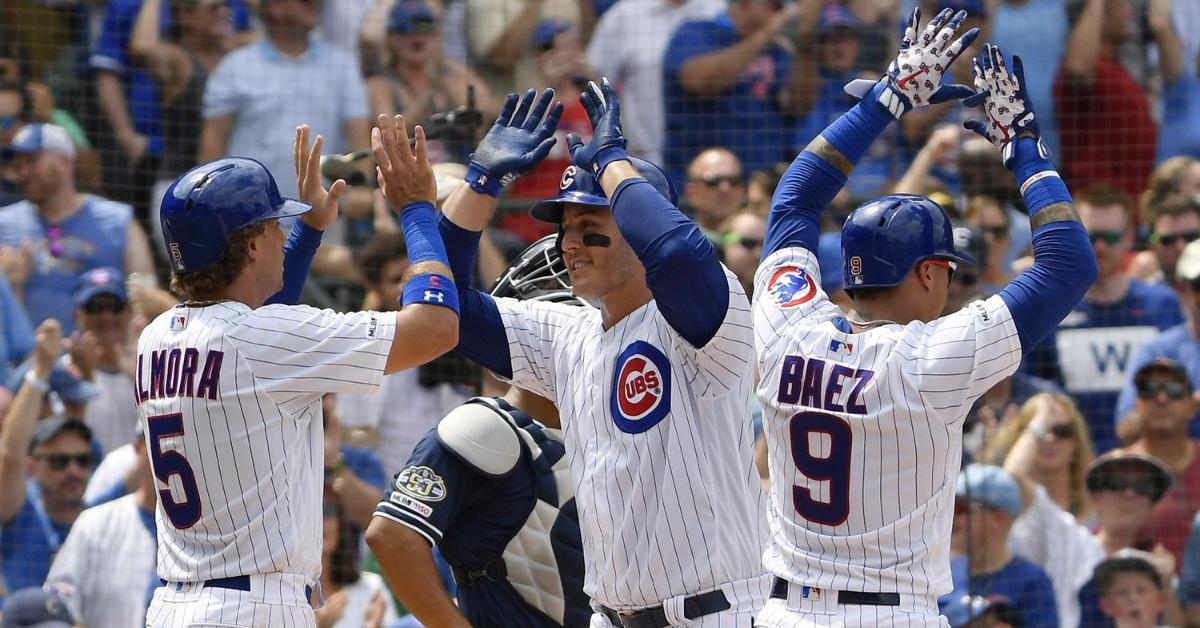 | | |
| --- | --- |
| Cubs News and Notes: MLB's potential return, money issues, Jason Kipnis, more | |
---
| | | |
| --- | --- | --- |
| Wednesday, March 25, 2020, 6:08 PM | | |
CUBS NEWS AND NOTES
Opening Day: Postponed.
Bring me baseball! It's hard to believe that Opening Day was supposed to be tomorrow, but here we are with no baseball. I'm cautiously optimistic here, but according to a report from NBC Sports Chicago, MLB is hoping to start the season in early June.
The article cites Jeff Passan (ESPN), who said that discussions include an even later start and what could happen in what he described as the "doomsday scenario," where the 2020 season is not played at all. Let's hope not.
Baseball reportedly hoping to start in early June as discussions over 2020 season continue https://t.co/8xxr9KAj2e

— Cubs Talk (@NBCSCubs) March 25, 2020
MLB has also discussed the possibility that the regular season could go into October, as the league tries to get as many games in as possible. Playoffs may have to be played in domed stadiums, as the threat for winter weather (and/or rain) in October/November could further upset the dates available to play.
Are you OK with neutral site playoffs for 2020?@SpillyGoat19 is all in on the idea. pic.twitter.com/IXdUlbmQEW

— MLB Network Radio on SiriusXM (@MLBNetworkRadio) March 25, 2020
The league, owners, players and the MLBPA are also apparently dealing with internal issues regarding player pay and lost revenue. The entire situation is a mess. Players deserve to be played, but then again, they get paid for playing. Owners have no revenue from which to pay them during the hiatus, although a week or so ago, MLB announced that Major League players would be earning a salary of $1100/wk. during the delay.
That stipend is certainly better than nothing, but when you put it into perspective, it really isn't much. With his deferments, Jon Lester is earning $27,500,000.00 this year. Baseball players are paid biweekly for a six-month period, but if you look at it as a yearly salary, Lester would be making $528,846.15 a week.
Second spring training: MLB says that an abbreviated second version of spring training would be a likely possibility, as players work to regain what was lost with the shortened spring. The league is also considering allowing team to carry extra pitchers, as the main concern is on player's (pitcher's) wellbeing.
Whatever it takes – just bring me baseball!
If you're on a walk an somebody is around the corner- don't panic. An #Astros player will bang on a trash can so you know they are coming. #socialdistancing #MLB

— Luke Stuckmeyer (@LukeStuckmeyer) March 25, 2020
A friendly face if you need one.#WallpaperWednesday presented by @Benjamin_Moore. pic.twitter.com/LFNvtlYY5D

— Chicago Cubs (@Cubs) March 25, 2020
Relive 2016: In lieu of Opening Day, MLB and its associated networks are playing a bunch of classic games tomorrow. For Cubs fans, it'll mean being able to relive Game-7 of the 2016 World Series. I'm pretty sure you've heard of it (wink).
Tune in to FS1 tomorrow at 3PM Central!
Thursday is #OpeningDayAtHome across MLB.

There will be 30 games aired via multiple platforms. For Cubs fans, Game 7 of the '16 World Series will be on FS1 at 3 pm CT and again on https://t.co/XyV3PiA6xx and MLB's Youtube page at 5 pm CT. https://t.co/8M86MbludY pic.twitter.com/jY101krg5n

— Jordan Bastian (@MLBastian) March 25, 2020
Kipnis is tough: Prior to Game 1 of the 2016 World Series, Jason Kipnis sprained his left ankle. You've seen Javier Baez, Anthony Rizzo and Willson Contreras all play through pain, but this is ridiculous. How could Kipnis have even walk, much less ran? I'll give him credit, he's a pretty tough guy.
ICYMI #Indians @TheJK_Kid grade 2 ankle sprain looks nasty! Said nothing would keep him from playing #WorldSeries #painkillers #adrenaline pic.twitter.com/tQ0LOINych

— Heidi Watney (@HeidiWatney) October 25, 2016
Cubs' Birthdays: Celebrating today, were ex-Cubs Neal James (56), Scott Sanders (51), Jeff Kunkel (58), Jim Ellis (75), and posthumously, Emil "Dutch" Leonard (111), Denver Grigsby (119), Howard "Polly" McLarry (129), Bill Carney (146), and Frank Dwyer (152).
Baseball Quotes: Think?! How are you supposed to think and hit at the same time?" - Yogi Berra
Today in 2001, Randy Johnson retired a pigeon. ????#TodayInSports #MLB

pic.twitter.com/priETcCyoY

— #TodayInSports (@TodayInSports3) March 24, 2020
MLB News and Notes:
Marlins Park: With the Marlins not being able to practice or play at their home ballfield, the state of Florida has now transformed Marlins Park into a drive-thru testing site for coronavirus.
Noah Syndergaard: Even without being able to play, the Mets have suffered a loss. Noah Syndergaard is now out of commission, waiting for Tommy John Surgery. He's not expected to be available until at least April of 2021, and it may be longer than that.
With the disappointing news of Noah Syndergaard's Tommy John surgery, @JA_Todd traces his tumultuous career arc:https://t.co/g4sZe70UyH pic.twitter.com/MGR7m194uA

— MLB Trade Rumors (@mlbtraderumors) March 25, 2020