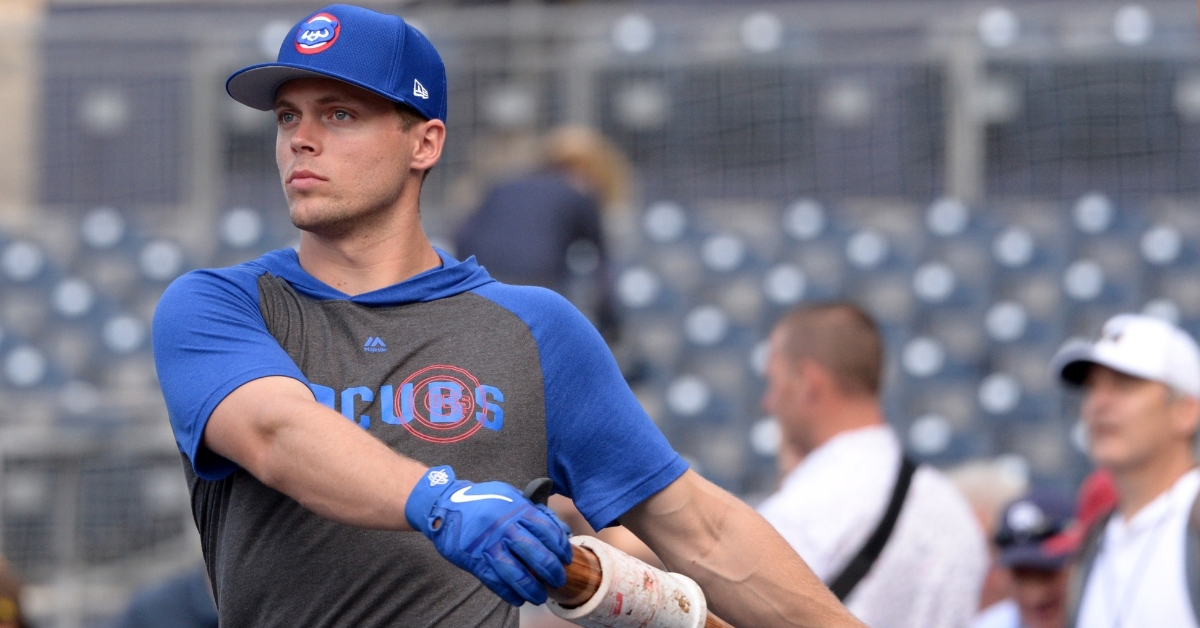 | | |
| --- | --- |
| Cubs News and Notes: Nico Hoerner interview, 3B market, Predictions, Hot Stove, more | |
---
| | | |
| --- | --- | --- |
| Wednesday, January 1, 2020, 6:01 PM | | |
CUBS NEWS AND NOTES
I hope everyone had a good time celebrating last night. Me? I worked on a project all day, then ate dinner, showered, and fell asleep on the couch at 7:00 PM. Boring, but no complaints here, I'm getting too old for celebrating, and the only balls that I want to see drop, will come off of the Cubs' bats during the games. Bring on baseball.
Hopefully, 2020 will bring everything that you hope for, and with a little luck, that'll include on the baseball diamond as well. As per my New Year's resolutions, I'm standing 100% behind David Ross and his team, no matter what that team may look like, and I still have faith that Theo will finagle some helpful trades.
Happy New Year! pic.twitter.com/Q4zv5FvWCK

— Chicago Cubs (@Cubs) January 1, 2020
Next Game: Next Game: 51 days – Saturday, February 22, 2020: Athletics vs Cubs (Sloan Park)
Opening Day: 84 days – Thursday, March 26, 2020: Cubs vs. Brewers (Miller Park)
Nico Hoerner: The Cubs need to stockpile the clubhouse with winning attitudes this season, and Nico Hoerner thinks he can help. Hoerner says that he envisions being with the Cubs on Opening Day and sees himself as "a big contributor."
After making his Wrigley debut in 2019, @nico_hoerner is just getting started.

??????@Cubs | #Cubs pic.twitter.com/iOSPKK85xA

— MLB Network Radio on SiriusXM (@MLBNetworkRadio) December 31, 2019
Hoerner fully understands that the ultimate decision about where he will start the season will fall on David Ross and Theo Epstein. Still, if his spring is anything like his time with Chicago last fall, it would be a travesty for him to be bypassed.
On Sept. 9th, Nico Hoerner got his call to the big leagues and put on a SHOW in his MLB debut.

MORE: https://t.co/1DoMLKSP09 pic.twitter.com/CqcDgmKmaX

— Cubs Talk (@NBCSCubs) December 31, 2019
Bryant to the Nats (after all)? The Athletic's Sahadev Sharma made some predictions before the stroke of midnight last night, the biggest being about Kris Bryant being traded. Not that a KB trade should surprise anyone at this point – hell, I'd be mad if they don't manage to deal him – but Sharma gets pretty specific in his prediction.
"I tend to avoid predictions on signings and/or trades of specific players because I think they're unlikely unless there's a clear indication of movement… Sources indicate that the Nationals may be ready to make a run at trading for Bryant, but those could also be signals to push Donaldson to make a decision sooner than later." -Sahadev Sharma
10 Cubs predictions for 2020: Kris Bryant's future, Yu Darvish's success and more https://t.co/uSRkZ3velM

— Sahadev Sharma (@sahadevsharma) December 31, 2019
If the Nats want Donaldson instead of Bryant, they may want to hurry, as Minnesota's reportedly made Donaldson a four-year offer.
Twins Have Made 4-Year Offer To Josh Donaldson https://t.co/bbFjuR6k5Z pic.twitter.com/n96Pfjt4TW

— MLB Trade Rumors (@mlbtraderumors) December 31, 2019
Several of Sharma's predictions revolve around KB being traded, including Bryant will contend for MVP in 2020 (if he stays healthy). On the downside, Sharma says that the Cubs' third base situation will be "an ongoing issue all season," though I strongly disagree with him on that one.
"Theo Epstein will have at least one major move in him before Cubs Convention." -Sahadev Sharma
Sharma does predict that Jason Heyward will have his best offensive season ever as a Cub – something that I foresee as well, but we part ways again in our thought processes when Sharma predicts a "brilliant first half for Craig Kimbrel," followed by Dirty Craig getting traded at the deadline. I think Kimbrel will have a bounce-back season, but I can't see the Cubs letting him go unless Brandon Morrow has surgery to implant a bionic arm.
Kapman Poll: David Kaplan asked which Chicago sports team was the biggest letdown during the first score (20 years) of the century. The good news is that no matter how frustrated fans get with the Cubs, they appear to be the least disappointing, garnering only 4% of the vote. Who was the biggest letdown? Da Bears.
With 20 years in the books since the turn of the century which Chicago sports franchise is the most disappointing over that 20 year period? The Blackhawks clearly are the best so they are not listed. Happy New Year!

— David Kaplan (@thekapman) December 31, 2019
Ian Happ: Get your tickets to see Ian Happ and other swatting golf balls to support the First tee of Greater Chicago – a charity which "provides youth with educational programs that promote character development and life-enhancing values through the game of golf."
Get your tickets today Fore The Kids benefitting the @FirstTeeChicago downtown at @fiveirongolf's new location https://t.co/6RI0DFuSjF pic.twitter.com/gjJZfnhatt

— Ian Happ (@ihapp_1) December 31, 2019
Cubs' Birthdays: Celebrating yesterday, were ex-Cubs Rick Aguilera (58), Steve Engel (58), Jim Tracy (64), and posthumously, Dick Manville (94), Loyd Christopher (100), Fred Beebe (140), and Michael "King" Kelly (162).
Baseball Quotes: "I'm playing baseball and I'm doing what I love. How can I feel pressure doing what I love to do?"-Miguel Cabrera
Vin Scully interviews Sandy Koufax after Koufax threw a complete game shutout in Game 7 of the 1965 World Series, giving Los Angeles the championship.

pic.twitter.com/flb03PWCva

— Baseball Quotes (@BaseballQuotes1) December 30, 2019
MLB and the Hot Stove
Reds: The Reds are on a rampage. After reportedly signing Shogo Akiyama the other day, the team has now landed a deal with righty, Tyler Thornburg.
Twins: There was no early celebrating for Minnesota yesterday, as they managed to hammer out deals with starters Rich Hill and Homer Bailey.
The Twins are guaranteeing $10 million to get innings from Homer Bailey and top-end performance from Rich Hill upon his return from modified Tommy John. It's a low-risk pair of signings — and leaves them room to go big for a Josh Donaldson. Twins are a very well-thought-of org.

— Jeff Passan (@JeffPassan) December 31, 2019
Red Sox: New reports out of Boston say that the Sox aren't "actively" shopping Mookie Betts.