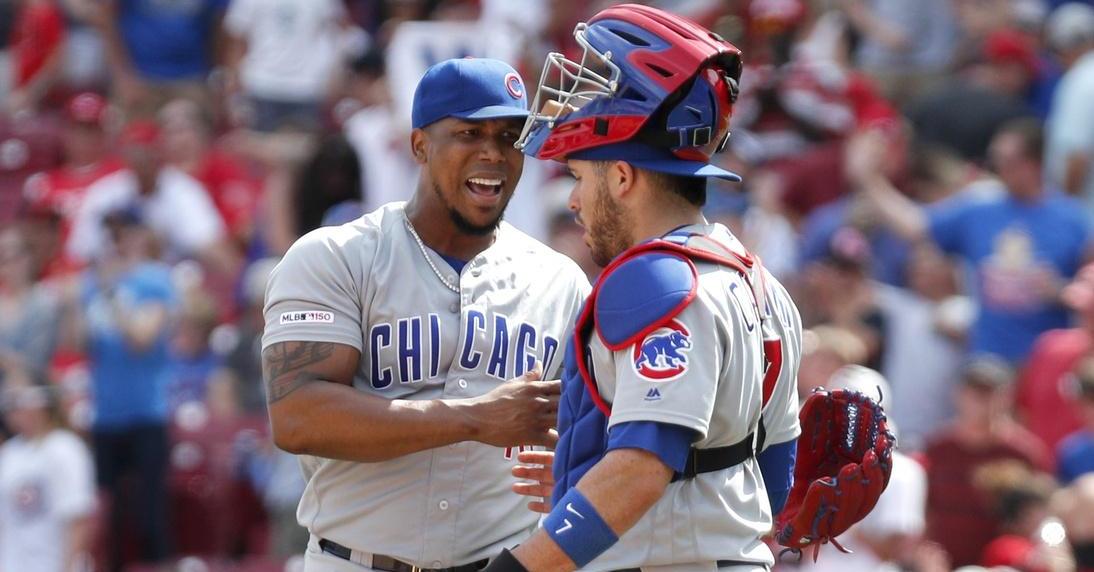 | | |
| --- | --- |
| Cubs News and Notes: Pedro Strop hopeful, Epstein quotes, Kimbrel talk, Hot Stove, more | |
---
| | | |
| --- | --- | --- |
| Friday, October 4, 2019, 6:17 PM | | |
MLB Postseason
The two National League Division Series began Thursday afternoon, with Braves hosting the Cards. Atlanta would take a 1-0 lead in the bottom of the first, and it would take St. Louis until the fifth to tie it. The Braves would grab another pair in the sixth, but The Birds would answer back with two of their own in the eighth, to make it 3-3. The Cardinals would explode for a four-run ninth, and although Atlanta rallied, they could only produce three of their own in the bottom of the frame.
Final score: Cards-7; Braves-6.
Over on the west coast, the Dodgers grabbed a 1-0 in the first, and they just kept building. By the time it was over with, Los Angeles had tallied six runs in the shutout, with Walker Buehler holding the Nationals to just one hit over six innings of work. The Nats would tag Kelly for a hit, but two hits were all they could manage. Final: Dodgers-6; Nats-0.
All eight playoff teams are in action again today, with the American League Series beginning their pair of divisional series.
CUBS NEWS AND NOTES
There wasn't a whole bunch going on in the way of Cubs' news today, so I figured I'd address some leftovers from this last week.
Pedro Strop: After losing to the Cardinals last week, ending the Cubs season, Pedro Strop said, "It was really emotional. It was sad. Hopefully, I'm back, though. There's still a chance."
"I still need to meet with my agent and go through stuff, go through numbers. But if I'm starting negotiations with the Cubs, it doesn't have to be that difficult, because they already know what I'm capable of when I'm right. And they know this is my house here." -Pedro Strop
Pedro Strop on his free agent plans pic.twitter.com/HPXiPARD94

— Mark Gonzales (@MDGonzales) September 30, 2019
For all of the prognosticating that's going on (including my own), I've seen only one article that suspects Strop will return. Somehow, it would seem that Pedro never fully recovered from that hamstring injury in Washington last year, as his mechanics and control have been off ever since. It's sad to realize that such a dominant pitcher could change so much in a season, but that's what happened. If the Cub's don't re-sign Strop, he'll likely land somewhere, but after a devastating 2019, he's likely to be extremely devalued in the free-agent market.
Thank you for your service, Pedro. But it's time for younger, fresher arms in the bullpen. https://t.co/fvIqkVVjJi

— Dave Wischnowsky (@wischlist) October 4, 2019
Kimbrel on pitching data: "There are things that I've learned that has integrated itself into the game over the last three, four, five years. I think I'm going to dig into it a little bit more, look at the numbers a little bit more, pay attention to that a little bit more, just better verse myself in this game and try to get better."
Probably just the immediacy of a disappointing season, but it seems like too many people think the Cubs need massive changes to be competitive. While they do need to improve, think of how much better they'd have been with a "normal" Craig Kimbrel.

— Evan Altman (@DEvanAltman) October 4, 2019
Theo Epstein: "Looking back at this group that we won with. I had this belief that this group of players that won the World Series at 22, 23 years old were going to grow into an unstoppable set of players, and we could continue to supplement them and show faith in them."
Theo went on to say, "As we have in previous off-seasons, I think we're very likely to engage certain players in discussions about long-term contracts and see if there's a way to extend players' windows as Cubs that way. And, if that's not possible, that might make you, as I said, open-minded about trades. "There's more than one way to sort of take full advantage of a player's value. We're just going to balance those concerns going forward."
Trades it is: Tomorrow, check out Part 6 of my series, Maybe Next Year as I cover the Cubs' salary commitments for 2021. You'll be surprised just how much money that Theo (doesn't) have, despite it looking like he could part ways with several players. You can't buy free agents without cash, and you can only trade if what you're trading in return, has worth.
Kris Bryant has a 3.6 WAR, but who else on the trading block has worth? Albert Almora: -1.0 WAR; Ian Happ: 1.2 WAR; Victor Caratini: 0.8 WAR; Kyle Schwarber 2.3 WAR. Let's not dig any deeper into the names; it'll only serve to depress you. For the record, Jason Heyward's WAR is currently 2.0, but while J-Hey has a modified no-trade clause this winter, the Cubs are unlikely to find someone gullible enough to pick up his contract.
Kyle Boddy: Yesterday, pitching guru, Kyle Boddy, officially turned down the Cubs' offer to join the team's player development sector. Boddy says that for all the offers he received, nothing stood out as much for him as the Reds did. Boddy announced joining Cincinnati earlier today.
Go Dave! Dave Wischnowky of the Tribune hit the nail on the head with this one. And to think they got pissed at KB for saying that St. Louis was boring…
I like a lot of Cards fans. I have friends who are Cards fans. My sister-in-law is a Cards fan. But, I tell ya, of all the fan bases that I interact with on Twitter, an inordinate % of the thinnest-skinned, blindest-supporting, most hypocritical ones seem to wear StL caps.

— Dave Wischnowsky (@wischlist) October 4, 2019
Cubs' Birthdays: Celebrating yesterday, were ex-Cubs Bobby Scales (42), Billy Hatcher (59), Lary Sorensen (64), Tony La Russa (75), Bob Kelly (92), and posthumously, Bob Rhoads (140), Jim Gardner (146), Ossie France (161), and George "Orator" Shafer (168).
Baseball Quotes: "Baseball, to me, is still the national pastime because it is a summer game. I feel that almost all Americans are summer people, that summer is what they think of when they think of their childhood. I think it stirs up an incredible emotion within people." -Steve Busby
A baseball game is simply a nervous breakdown divided into nine innings. -Earl Wilson pic.twitter.com/QnpsX3wbkZ

— Baseball Quotes (@BaseballQuotes1) October 3, 2019
MLB and the HOT STOVE
Gerrit Cole: Cole's name has been tied to the Cubs, but that's no big deal, as he's been linked to about 26 other teams as well. The Astros have said they may make a concerted effort to keep Cole, but they also admit that aren't sure yet; it all comes down to money.
Mets: The Mets are saying that people can stop getting their hopes up: Noah Syndergaard and Edwin Diaz are staying put. Zack Wheeler? Now, that may be another story. The Mets also say that former reliever, John Franco has tossed his hat in the ring for the open manager's spot.
White Sox: The Chi-Sox have outrighted outfielder, Charlie Tilson, who has now chosen free agency. Tilson appeared in 54 games with the Chi-Sox in 2019, hitting .229/.293/.285 with a homer and five doubles in 157 plate appearances.
Phillies: Rumors are swirling that the Phils will now be parting ways with their pitching coach (Chris Young). It is unclear if he will remain with Philly in any other capacity.