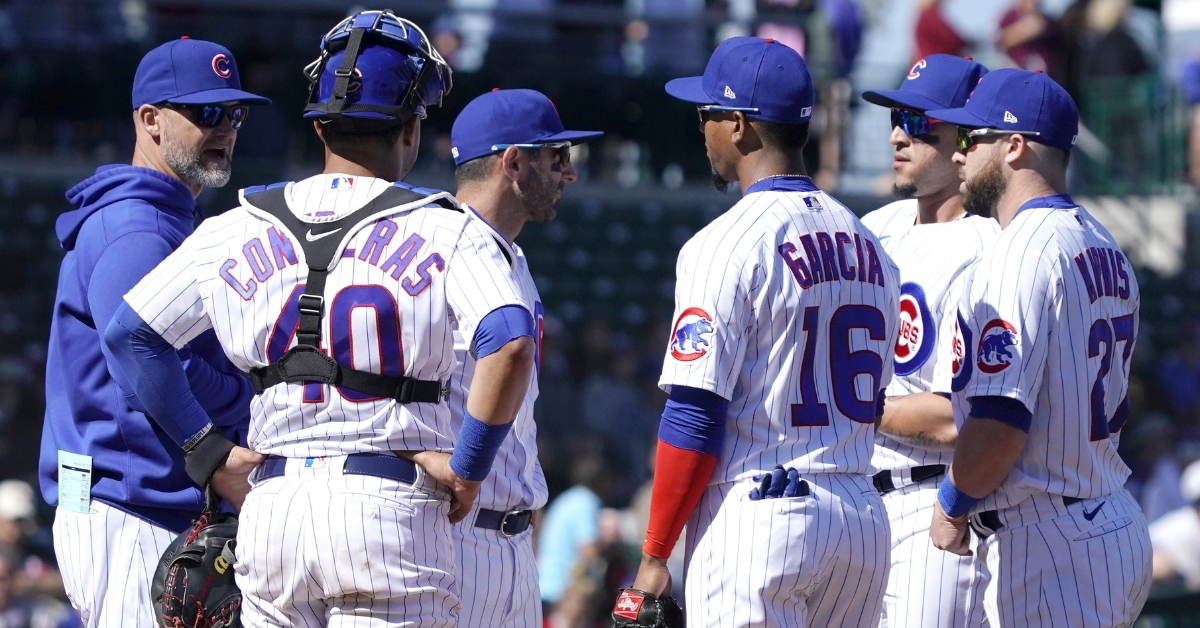 | | |
| --- | --- |
| Cubs News and Notes: Roster options, bullpen talk, Cubs poll, Coronavirus and MLB, more | |
---
Next Game: Today: 3:05 PM: Cubs at Giants, from Scottsdale Stadium.
Opening Day: 15 days- Thursday, March 26, 2020: Cubs vs. Brewers (Miller Park).
Minor League options: As David Ross works his way toward this summer's 26-man roster, he must bear in mind that a few of his pitchers are out of minor league options. Casey Sadler (who I think will make the team), Duane Underwood Jr. (whom I think the Cubs will outright) and Alec Mills, who won't get a starter's slot, but will serve as a swingman in the Cubs' bullpen this summer.
Bullpen chatter: Ross has his work cut out for him, as few bullpen arms have stood out this spring. With the new rules, teams can only carry a total of 13 pitchers, five of which are tied up in the starting rotation. Craig Kimbrel and Jeremy Jeffress will make the 26-man roster, no questions asked. I think Sadler and Mills join them, as will Brad Wieck, Kyle Ryan, and presumably, Rowan Wick. That eighth spot is where the million-dollar question arises.
Adbert Alzolay isn't ready, nor is James Norwood. The Cubs have already optioned Justin Steele, Oscar De La Cruz, CD Pelham, Jason Adam (wise choice), and others. Rex Brothers should be on the next cut-sheet, as will several others.
Ryan Tepera seems to have the best shot of the three major league experienced pitchers the Cubs signed this winter (Jharel Cotton, Dan Winkler), but even he hasn't been overly impressive. Thus far, Tepera has posted the best numbers this spring (4.0 IP, 4.50 ERA, 2-ER, 1-BB, 4-K, 1.250 WHIP).
Ross is also trying to figure out his second base and center field issues. While nobody has overly stood out (defensively) at second, the center field slot seems to be offering Rossy a lot of choices.
MLB TR Poll: A Major League Trade Rumors poll asked how the Cubs would fare this season. Most (36.24%) feel the Cubs will finish with 80-85 wins, with the second-largest majority (34.46%) stated that Chicago would win 86-89 games. Amazingly 18.25% thought they'd win more than 90 games, with 2.% of those wagering on more than 95 games (I admire their optimism). Almost 10% felt they be back in the cellar, winning less than 80 games.
Will the #Cubs rebound this year? https://t.co/4Yv4GGSeRC pic.twitter.com/xjLrFvYoSB

— MLB Trade Rumors (@mlbtraderumors) March 10, 2020
Cubs farm system: Theo Epstein's mission for the duration of his contract (as reported earlier this winter) is to restock a Cubs' minor league system that was stripped as the Cubs built for their 2016 World Series win. Thus far, he's not making much progress.
An MLB article by Jim Callis and others ranked all 30 MLB teams' farm systems. The Cubs rank 23rd on their list, which cited, "The Cubs continue to have more success developing hitters than pitchers, with Marquez a notable exception."
The Rays ranked first, while the Brewers were ranked 30th. Other NL Central rankings included:
Pirates (ranked 15th): "The trio at the top are elite-level guys, but this system has more depth than it does impact talent right now."
Cards (ranked 18th): "Carlson is one of many Cardinals prospects poised to contribute in 2020, though the real gems of the system are still several years away from making an impact."
Reds (ranked 24th): "Some top guys graduated off this list and some prospects left via the trade that netted the Reds Trevor Bauer, though getting Greene back on the mound will help boost this system."
Coronavirus' impact on baseball: Thus far, MLB has no plans to delay the start of the season, but that's not the case in Japan or Korea, where the season openers have both been delayed.
MLB released a statement to the Baseball Writers' Association of America on Monday:
"We are undertaking many precautions currently. For example, we are asking anyone — including media — who has visited a high-risk area, as defined by the CDC, within the last 14 days not to visit our facilities.
"We are also discussing additional measures internally and with other leagues. At this time, we have not made changes to our media-access procedures, and we will advise if we determine to take such steps."
Anywhere from 4-15 media cover each team.. They're now restricted in access.
Before every game, dozens of people are given field passes, in as close as proximity as media. Not restricted.
And, of course, many thousands of people gather in proximity for every game. Not restricted.

— Buster Olney (@Buster_ESPN) March 10, 2020
Cubs' Birthdays: Celebrating yesterday was, catcher, Miguel Amaya (21) and ex-Cubs Clay Rapada (39), Koyie Hill (41), Benito Santiago (55), Terry Mulholland (57); and posthumously, Dale Alderson (102).
Baseball Quotes: "When I was up there at the plate, my purpose was to get on base any way I could, whether by hitting or getting hit." - Shoeless Joe Jackson
I consciously memorized the speed at which every pitcher in the league threw his fastball, curve, and slider.

Then, I'd pick up the speed of the ball in the first thirty feet of its flight and knew how it would move once it had crossed the plate. -Stan Musial pic.twitter.com/NrZFa6gVgZ

— Baseball Quotes (@BaseballQuotes1) March 8, 2020

Tags: Cubs Baseball
,
David Ross
,
Casey Sadler
,
Duane Underwood
,
Alec Mills
,
Craig Kimbrel
,
Jeremy Jeffress
,
Brad Wieck
,
Kyle Ryan
,
Rowan Wick
,
Adbert Alzolay
,
James Norwood
,
Justin Steele
,
Oscar De La Cruz
,
Jason Adam
,
Rex Brothers
,
Jharel Cotton
,
Miguel Amaya
,
Theo Epstein