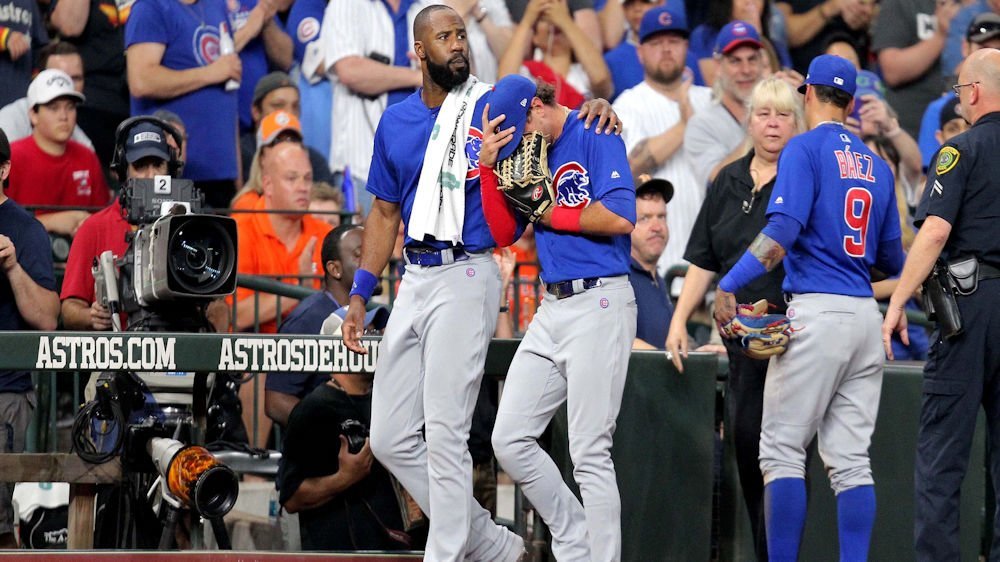 | | |
| --- | --- |
| Cubs News and Notes: Child avoids serious injury, Zo may be done, Homers-a-flyin' | |
---
Next Game: Friday, 7:15 PM CDT: Cubs @ Cardinals. RHP Yu Darvish (2-3, 5.40 ERA) vs. RHP Mile Mikolas (4-5, 4.76 ERA).
CUBS NEWS AND NOTES:
Tuesday's Game Recap: First and foremost, I'd like to extend my thoughts and prayers to the little girl who was injured in the fourth inning last night. For those who may not know, Albert Almora Jr. hit a hard, line drive, foul ball into the stands which hit a four-year-old girl. Play stopped, players were in shock, and Almora was inconsolable for a brief period. ESPN and NBC Sports Chicago reported that the child was taken to an ER as a precaution, but she was reportedly going to be OK.
"The young fan was struck by a foul ball during tonight's game and was taken to the hospital," written in an Astros' press release. "We are not able to disclose any further details at this time. The Astros send our thoughts and prayers to the entire family."
Now, for happier news: Cubs win on a brilliant performance by the Professor, avoiding a sweep. Kyle Hendricks lasted eight, strong innings, allowing only four hits and a walk while striking out a total of seven.
For the Cubs, the offense was somewhat limited, but that didn't stop the home run parade from proceeding; last night it was Kyle Schwarber (on the third pitch of the game) and then Kris Bryant in the third inning. Feels good to fly the W again. Final score: Cubs-2; Astros-1.

After an off-day tomorrow, the Cubs will resume play in St. Louis on Friday, and as always, I'll have a series preview for you before the first pitch.
Cubs/Cards Probable Pitchers: Saturday, 7:15 PM: LHP Jose Quintana (4-3, 3.73 ERA) vs RHP Jack Flaherty (4-3, 3.77 ERA). Sunday, 1:15 PM: LHP Cole Hamels (4-1, 4.02 ERA) vs RHP Adam Wainwright (4-4, 4.82 ERA).
Time for a break: Last night ended the Cubs' 26 games in 27 days and completed a 16-day run without an off-day. Before last night's game, the Cubs were 14-11 in that span and had lost three consecutive series for the first time since opening week when they lost their first three. Over their last 15 series (dating back to April 8th) the Cubs have gone 10-3-2.
Jon Lester on Tuesday's outing: He was calm and relaxed, but Jon Lester didn't look collected as he discussed Tuesday's outing that saw him charged with seven runs. "I feel like my stuff was there, but results are results…"
Joe Maddon: People in baseball are starting to believe that something is different about the balls being used this year, as home runs are way up and they're flying a lot further. Joe Maddon said, "There's definitely something going on. I'm not a conspiracy theorist – I am not. You can really gauge it on the balls up toward the ceiling, too. That one Bote caught literally almost hit the roof. Whoever wants to admit to something or not; I don't know if it's a combination of the ball -- or maybe the technology of the bat has gotten better. Maybe it's just purely about velocity. Or maybe there's helium in this ballpark. But it's friggin' jumping, man."
While the Cubs and most other teams have been clobbering the ball, the Twins have gone absolutely berserk. As of Tuesday, they've now hit a total of 56 dingers in May.
Certainly no power loss: Going into last night's game, the Cubs had hit 49 homers in May, which surpasses the franchise records of both August 2017 (48 homers) an August 2014 (also 48). With 90 homers this year, the Cubs rank second in the NL (Milwaukee has 95) and fifth in MLB.
Words of confidence: No one could ever replace the great Roberto Clemente, but I couldn't help thinking of Anthony Rizzo when I saw this.
Pitch me outside, I will hit .400. Pitch me inside, you won't find the ball. -Roberto Clemente pic.twitter.com/HGZHbdYcGS

— Baseball Quotes (@BaseballQuotes1) May 28, 2019
Pitching woes getting worse: When I saw this stat yesterday, I couldn't believe it, but I checked the recent score, and it's unfortunately true. Going into last night, the Cubs pitching staff had given up a total of 46 runs in their previous six games.
Don't mess with Texas: Going into last night, the Cubs have played in Texas five times this year (three vs. Rangers, two vs. Astros) and things have not gone as planned. In those games, the Cubs are 1-4 with a 7.84 ERA; outside of the Lone Star State, the Cubs are now 29-19 with a 3.61 ERA.
Wishing Ben the best Sometimes it's not much fun to be right. When asked if Zobrist might not come back in 2019, Maddon admitted, "I have to think that way, absolutely," and added that the Cubs must "mentally be prepared" that his season is over. Maddon said that even if Zo does return, that "it's going to take him a while to get back up to speed."
Better watch those Reds: I predicted when the season began that the Reds would be a third place team this year, and for a while, I thought I'd be eating those words. Eighty percent of NLC has been struggling a bit lately- some more than others, but not Cincinnati. Over the last ten games, the Cubs, Brewers, Cards, and Pirates have a combined record of 14-26 (.350), while Cincy has gone 6-4 (.600). As the Cubs continue to cling to first place by just a half game over Milwaukee, the Reds have surged to within one game of being tied for third place.
Cub Birthdays: Celebrating yesterday, were ex-Cubs Jerry Hairston Jr. (43) and posthumously, Marty Honan (150).
NL CENTRAL SCHEDULE (May 26 – June 1, 2019)
(Wins are in green, losses in red)

NL CENTRAL SCOREBOARD/STANDINGS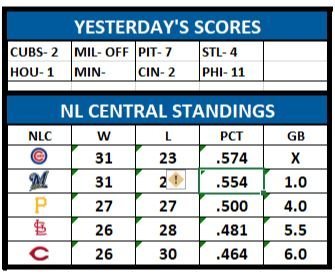 Tags: Cubs Baseball
,
Yu Darvish
,
Albert Almora Jr
,
Kyle Hendricks
,
Kyle Schwarber
,
,
Jose Quintana
,
Cole Hamels
,
,
Anthony Rizzo
,
Joe Maddon