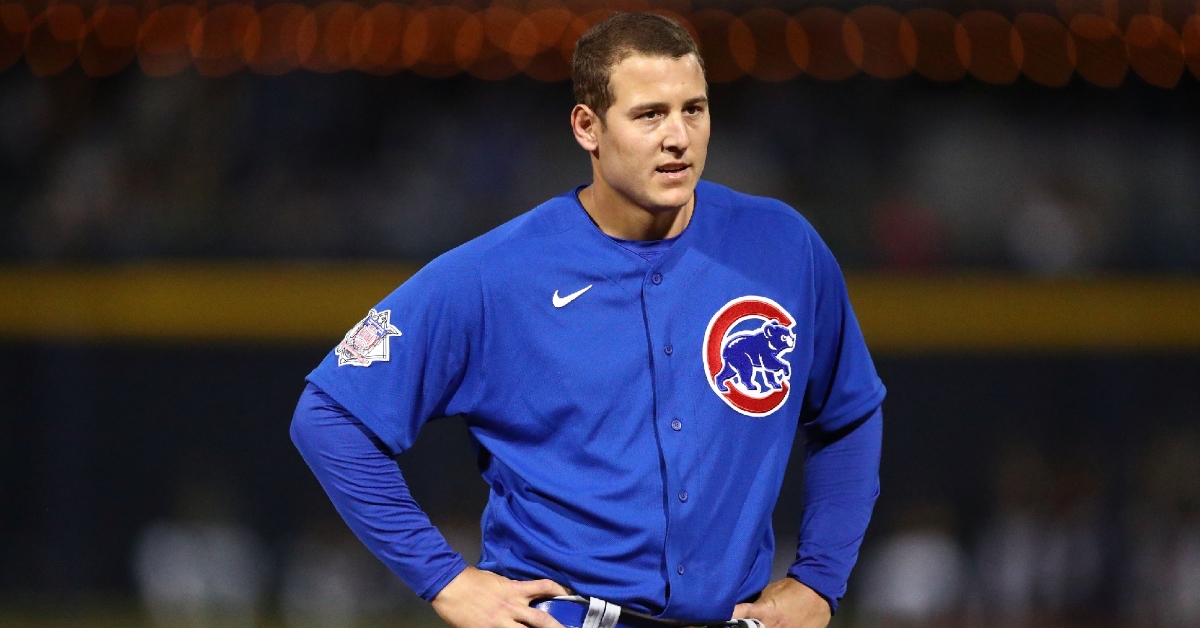 | | |
| --- | --- |
| Cubs News and Notes: Cubs implode late, No YouTube TV for Marquee | |
---
CUBS NEWS AND NOTES
Next Game: Today: 2:05 PM: Brewers @ Cubs from Sloan Park. Yu Darvish will make his debut.
Opening Day: 26 Days- Thursday, March 26, 2020: Cubs vs. Brewers (Miller Park).
The Cubs (3-3) got their first opportunity to play under the lights on Friday night, traveling to Peoria to battle the Padres (4-1). Away night games seemed to be the Cubs' Achilles heel last year.
Still recoiling from the 13-1 beatdown that they suffered on Thursday at the hands of the Rangers, David Ross attempted to regroup, mostly relying on his regulars and a couple of vets.
Cubs Starting Lineup: Kris Bryant (3B), Anthony Rizzo (1B), Javier Baez (SS), Jason Heyward (RF), Willson Contreras (C), Jason Kipnis (2B), Albert Almora Jr. (CF), Daniel Descalso (DH), Ian Miller (LF), Tyler Chatwood (P).
I was a more than a little perplexed by the decision to have Descalso DH. In fairness to Descalso, he hasn't gotten many hits yet this spring, but he has been making really good contact.
This was a really good game. If it weren't for all the subs, you wouldn't have known it was a spring training game. Almost half of the Cubs' starters (batting order positions 6-8) playing six-and-a-half innings. Low scoring, base stealing, sac bunts by position players, and a lot of pickoff attempts.
T-1 (Zach Davies) Productive start for the Cubs: KB single, Rizzo RBI Double, Javy walks, but J-Hey pops out to the SS, then Contreras hits into a double play. Cubs up 1-0.
1-2 punch. pic.twitter.com/JqdhLgxnMM

— Marquee Sports Network (@WatchMarquee) February 29, 2020
B-1 Chatty came out firing, grabbing a strikeout to start the game, but Grisham tagged him for a homer. Machado drew a 4-pitch walk. They'd get Machado on a force play, and then Chatty would fan Naylor to end it. Game tied 1-1.
T-2 Cubs fail to score, but a couple of positives in the inning. After Kipnis fanned, Almora got another knock, making him 6 for 8 (.750; 2.030 OPS) for the spring. Descalso lined out to center but made good contact. Miller fanned to end the frame.
B-2 Chatwood issued a leadoff walk, but then made an excellent defensive play on a bunt to get the man at first. Next, a ground out to Kipnis would move the runner, but Heyward came up with a sliding grab to save Chatwood a run. Game tied 1-1.
Chatwood on his 2-inning outing pic.twitter.com/HT3vfawQc6

— Mark Gonzales (@MDGonzales) February 29, 2020
T-3 (Craig Stammen) Nothing again for the Cubs: KB GO-6, Rizzo single, Baez hits into a 6-4-3.
B-3 RHP Jeremy Jeffress looked impressive, despite giving up a single. (GO-5, 1B, FO-7, FP-7). The game still tied at 1-1.
Jeffress after scoreless spring debut pic.twitter.com/PJ6luuXAwz

— Gordon Wittenmyer (@GDubCub) February 29, 2020
T-4 (Drew Pomeranz) Cubs get nothing again: J-Hey FO-9, Contreras walked, Kipnis fanned, Almora walks, Descalso fans.
B-4 RHP Ryan Tepera should have had a 1-2-3 inning, but after the first groundout, KB muffed a groundball (E-5). A couple of pitches later, Tepera would end up stepping off the rubber and firing to second to catch the would-be base stealer. On the next play, Javy got charged with and throwing error on an easy grounder, as his throw pulled Rizzo off the bag (close play). The inning would end with a fly ball to Almora. Still knotted 1-1.
T-5 (Michel Baez) Another goose egg for the Cubs: Miller fans, Bryant pop out to 2B (shallow right field), Rizzo fans.
B-5 (PJ Higgins replaces Bryant) RHP Rex Brothers also looked good, despite a couple of baserunners: Leadoff walk, K, bunt single (Brothers made a nice attempt; fielded well, accurate throw), Machado fans, Hosmer FO-7. Still tied 1-1.
T-6 (Michel Baez) Javy starts the inning with an infield single to third (Hernan Perez pinch runs), J-Hey hits into a 4-6-3 double play, Contreras FO-8.
CUBS SUBS: Higgins (3B), Perez (SS), Robel Garcia (LF), Miguel Amaya (C), Noel Cuevas (RF), Corban Joseph (1B)
B-6 RHP Jason Adam: Leadoff walk, K, Adam added a baserunner when he failed to have his foot anywhere near first base on an attempted 3-1 putout. Adam would walk the next guy, then give up a deep fly to the right, allowing the runner at third to tag. FO-9 ends the frame, but the Friars are up 2-1.
T-7 (Dauris Valdez) Cubs go in order: Kipnis (FO-7), Almora (GO-3). Descalso (K).
CUBS SUBS: Connor Myers (CF), Carlos Asuaje (2B).
B-7 RHP James Norwood: FO-3, then gives up a double. Norwood gets a groundball to the mound for out #2, but the runner advances. Norwood would walk the next one, and then he'd steal second. Next an infield single would make it 3-1. The next single made it 4-1 and ended Norwood's night.
Righty Scott Effross was summoned to get the final out. PJ Higgins with an excellent play on a groundball for a 5-3 putout to end it.
T-8 (Steven Wilson) Garcia gave the ball a ride, but just a loud FO-8 when the dust settled. Higgins fans, so does Joseph. Cubs trail 4-1.
B-8 RHP Brock Stewart: GO-4, walk, Force play 6-4, Double, FO-9. Cubs trail 5-1.
T-9 (David Bednar) Last chance, but nothing doin': Perez Go-6, Cuevas Go-6, Amaya Go-6. Credit to Ivan Castillo for a nice defensive play to retire Cuevas
Final score: Cubs- 1; Padres-5
Cubs' Offense: 5 for 29 (.172), 0 for 3 (.000) with RISP
Don't forget – Yu Darvish and Cubs vs. Brewers on Saturday afternoon.
YouTube TV: Just recently, the news was reported that the Marquee Network was 'actively working' on a deal with YouTube TV. A day later, that idea was smashed, as YouTube TV pulled Fox Regional sports stations off their channel list because of broken-down negotiations with Sinclair (owns Marquee). A deal with YouTube TV for Marquee Sports Network is now unlikely anytime soon.
Not exactly great news for viewers who were depending on a streaming service outside of the Chicago area (ahem, yours truly included).
Oh well, MLB TV will be my choice again this season, unless they miraculously start streaming MSN on Roku in the next three weeks. I'll get the games, so it's no big deal, but I refuse to believe this whole network and the launch were set up so haphazardly.
Cubs' Birthdays: Celebrating yesterday were ex-Cubs Aroldis Chapman (32) and posthumously, Jim Kremmel (71), Dolan Nichols (90), and Tom Walsh (135).
Baseball Quotes: "I think I was the best baseball player I ever saw." - Willie Mays

Tags: Cubs Baseball
,
Yu Darvish
,
David Ross
,
Kris Bryant
,
Anthony Rizzo
,
Jason Heyward
,
Willson Contreras
,
Albert Almora
,
Daniel Descalso
,
Ian Miller
,
Tyler Chatwood
,
Jeremy Jeffress
,
Rex Brothers
,
Hernan Perez
,
Robel Garcia
,
Miguel Amaya
,
Noel Cuevas
,
Corban Joseph
,
Jason Adam
,
Connor Myers
,
Carlos Asuaje
,
James Norwood
,
Scott Effross
,
Brock Stewart
,
Aroldis Chapman