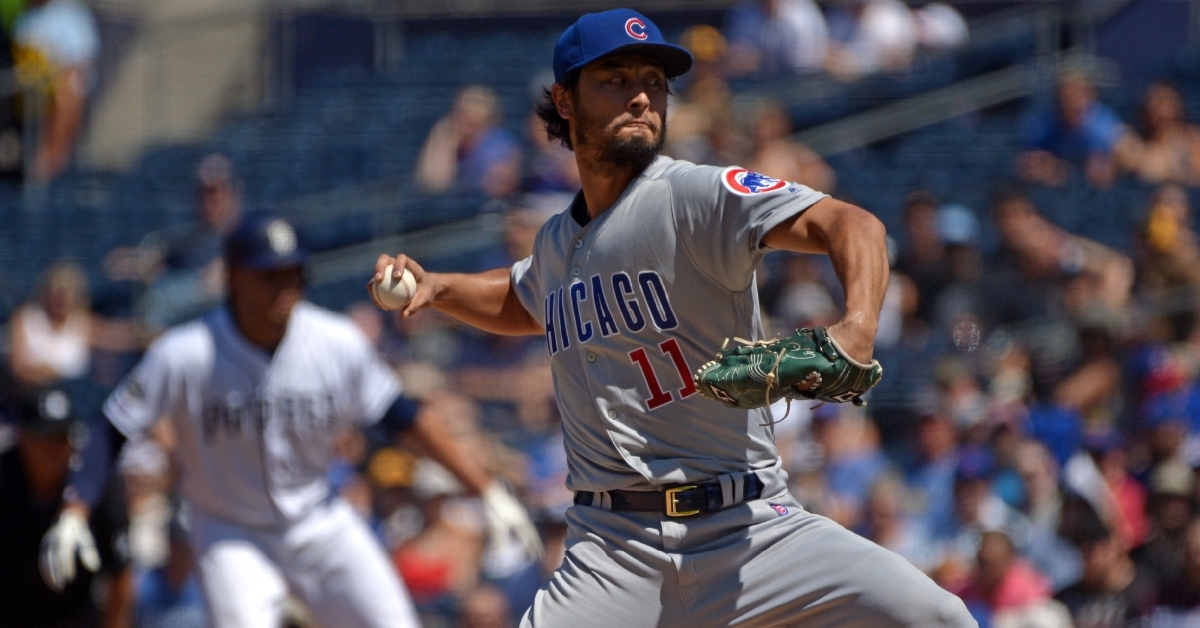 | | |
| --- | --- |
| Cubs News and Notes: Yu Cruisin', Wild Card standings, Playoff odds, Epstein reacts, more | |
---
Next Game: Thursday: Friday: LHP Jon Lester (12-10, 4.51 ERA) vs LHP Steven Brault (4-4, 4.13 ERA). Game information: 3:05 PM CDT; Televised on NBC Sports Chicago and MLB Network (out of market only).
Thursday's Game Recap:
The Cubs entered play yesterday hoping (praying) to be able to salvage a split in the fourth and final game of their series in San Diego. Chicago woke up yesterday morning tied for second with Milwaukee, who'd won six-straight, going into yesterday's finale with the Marlins.
Yu Darvish has been a savior in the second half, and without his outstanding performances, there's no telling where the Cubs would be in the standings at this point. The Cubs' offense would face righty, Dinelson Lamet.
The Cubs would threaten early, beginning with Anthony Rizzo's leadoff walk. A long (one out) single by Kyle Schwarber would move Rizz to third, and Kris Bryant's sac-fly to the left would bring Rizzo home. Cubs lead 1-0 in the first.
Chicago would tack on another pair in the fourth, beginning with Schwarber's walk and KB's single. Bam-Bam and KB would pull off a double steal, setting things up for Ian Happ, who'd deliver a single to right-center, scoring both baserunners. Cubs up 3-0.
Darvish would be done after six, but he was brilliant. Allowing only two hits and an uncharacteristic two walks, Darvish raked a total of 14 strikeouts.
Darvish 1st Cubs RH pitcher to strike out at least 14 since Mark Prior 9/30/04 (16 vs. Reds).

— Mark Gonzales (@MDGonzales) September 12, 2019
The Cubs would grab one more in the seventh when Jason Heyward doubled, then advanced to third on Happ's bunt-single and scored on Ben Zobrist's ground ball. Cubs lead 4-0.
The Cubs had a golden opportunity in the ninth with the bases jammed and two out, but Rizzo would pop out to shallow right-center to end the threat.
Down 4-0 in the bottom of the ninth, Wil Myers would get ejected in the middle of his at-bat for arguing a strike call with home plate umpire, Ramon De Jesus; Jankowski would inherit Myers' 1-2 count and strikeout.
The Friars would begin to get to Wick, loading the bases with two away. Wick would nail Machado in the shoulder, forcing in a run. Wick would fan Urias to end it. Cubs win 4-1.
Cue the music, Fly the W, it wasn't pretty at the end, but the Cubs win it 4-1. Time to go home to Wrigley.
- 38th career double-digit strikeout game
- 5th career 14-K game.
- Recorded final eight outs via strikeout

Yu ain't messing around. #EverybodyIn pic.twitter.com/KGX2p2zQmj

— Chicago Cubs (@Cubs) September 12, 2019
By the way, Yu fanned 14 of the 22 batters he faced, making his strikeout rate 63.6% for the day. #Slacker
CUBS NEWS AND NOTES
Cubs/Pirates Probable Pitchers: Saturday: RHP Kyle Hendricks (10-9, 3.33 ERA) vs RHP James Marvel (0-1, 3.60 ERA). Game information: 1:20 PM CDT; Televised on NBC Sports Chicago and MLB Network (out of market only). Sunday: LHP Jose Quintana (13-8, 4.00 ERA) vs RHP Trevor Williams (7-6, 5.21 ERA). Game information: 1:20 PM CDT; Televised on WGN and SAP WGN.
Cubs/Reds Probable Pitchers: Monday: LHP Cole Hamels (7-7, ERA) vs RHP Sonny Gray (10-7, ERA). Game information: 7:05 PM CDT; Televised on NBC Sports Chicago. Tuesday: RHP Yu Darvish (6-6, 3.97 ERA) vs RHP Tyler Mahle (2-11, ERA). Game information: 7:05 PM CDT; Televised on ABC-7 and ESPN.
Wednesday: LHP Jon Lester (12-10, ERA) vs. RHP Luis Castillo (14-6, ERA). Game information: 7:05 PM CDT; Televised on WGN and SAP WGN.
Wild Card race: As the wild card race continues, Milwaukee has come out of nowhere to catch the Cubs. The Cubs and Milwaukee are set for another Game 163; however, with 17 games to play, anything can happen. Should the Cubs and Brewers play the extra game, as of now, Milwaukee would have home-field advantage this year.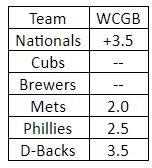 In the American League Wild Card race, the Rays hold a 0.5 game lead over the A's, and the Indians trail Tampa by a full game.
Joe on Rizzo leading off: With Ben Zobrist still out (available as a pinch-hitter), Maddon turned to "the greatest leadoff man ever," for yesterday's batting order.
Maddon on Rizzo batting leadoff pic.twitter.com/Mzx165PmtD

— Mark Gonzales (@MDGonzales) September 12, 2019
Yu is cruising: Since the start of July, Darvish has 99 K's, 6 BB and a strikeout to walk ratio of 16½ to 1. Darvish is now at 204 strikeouts this year, his first 200+ year since fanning 209 in 2017. Only four Cubs have reached 200 K's in a season during this decade: Jake Arrieta (236 in 2015), Jon Lester (207 in 2015), Jeff Samardzija (214 in 2013), Ryan Dempster (208 in 2010).
Maddon on Milwaukee: "They're definitely playing well and we're not…"
Maddon on Brewers catching Cubs for 2nd NL wild-card spot: pic.twitter.com/hZcisC5MG4

— Mark Gonzales (@MDGonzales) September 12, 2019
Maddon on the state of the Cubs: "I don't see how the benefit of a [team] meeting would come in right now." Sounds encouraging…
Jason McLeod: The Cubs' newly appointed Vice President of Player Personnel says, "I'll be on the ground floor now in terms of roster-construction conversations. I've always been involved, but I also had these two other departments I was managing. Now it's helping spearhead those conversations about players we're trying to go get for this club, and some initiatives we're trying to put together here to help us be better and get back to the World Series."
Fangraphs: According to Fangraphs, despite the way things have been going for the Cubs, they still have the best odds to win the second wild-card spot. The latest numbers show the Nationals at 97%, Cubs (49.9%), Brewers (33.4%), Mets (19.9%), D-Backs (5.3%) and Phillies (3.6%). In the AL: Athletics (75.5%), Rays (71.7%), Cleveland (53.6%).
Theo gets it: Theo Epstein appeared on 670 The Score yesterday, offering his views on the season to date. "We have our challenges. Every team has their challenges. Essentially, we've been a .500 team for months now, even when we were healthy."
Theo went on to say, "I'm embarrassed at the on-base numbers out of our leadoff spot. That's not the way to build an offense."
I've been saying all year that this team has played like a second or third-place team, no matter what the standings reflected. I wrote an article before the start of the season, I predicted that the Cubs would either win it all or wind up in third. Here we are, September 13, and Milwaukee is on the fringe, looking to knock the Cubs down a couple of more notches.
My friend Tony Andracki (NBC Sports Chicago), wrote a great article, which covered all of Theo's quotes from yesterday.
Rizzo on the final stretch: "I don't really care how we win or lose right now," Rizzo said. "We can make 15 errors, and we win the game, it's a win. These next two-plus weeks, we just need to win. I don't care how it's done; I don't care if it's pretty or ugly. We just have to win.
Lester nominated: MLB announced its nominees for this year's Roberto Clemente Award, and Jon Lester was chosen. Each year MLB picks one player for each team as a nominee for the award which recognizes the MLB player who "best exemplifies the game of baseball, sportsmanship, community involvement and the individual's contribution to the team." Way to go, Jon.
I thought about the four criteria to this, and while Lester is an excellent choice, I could have also seen MLB selecting Cole Hamels or Anthony Rizzo as well.
Joe Maddon: "Everyone likes anger at these moments or being upset. It's just not the right way to do things. For me, it's continuing of the same process. A different method is not going to extrapolate what you're looking for."
OK, I'll say it… Continuing with the same process is what has the Cubs trying to cling to second place. As my dad used to tell me when I refused to change how I did things, "Ken, the best thing about beating your head against a brick wall, is that it feels really damn good when you stop."
Rosario claimed: The KC Royals have claimed former Cubs' LHP, Randy Rosario, off waivers, after the Cubs DFA'd him to make room for Nico Hoerner.
Baseball Quotes: "People ask me what I do in winter when there's no baseball. I'll tell you what I do. I stare out the window and wait for spring." -Rogers Hornsby
Cubs Birthdays: Celebrating yesterday, were ex-Cubs Clayton Richard (36), Carmen Pignatiello (37), and posthumously, George Freese (93), Emory "Bubba" Church (95), Ralph Hamner (103), Fred Luderus (134), and John Dolan (152).
THIS WEEK'S NL CENTRAL SCHEDULE:
(Wins in green, losses in red)


Tags: Cubs Baseball
,
Yu Darvish
,
,
Anthony Rizzo
,
Kyle Schwarber
,
,
,
Jason Heyward
,
Ben Zobrist
,
Kyle Hendricks
,
Jose Quintana
,
Cole Hamels
,
Jake Arrieta
,
Randy Rosario
,
Clayton Richard
,
Joe Maddon
,
Theo Epstein