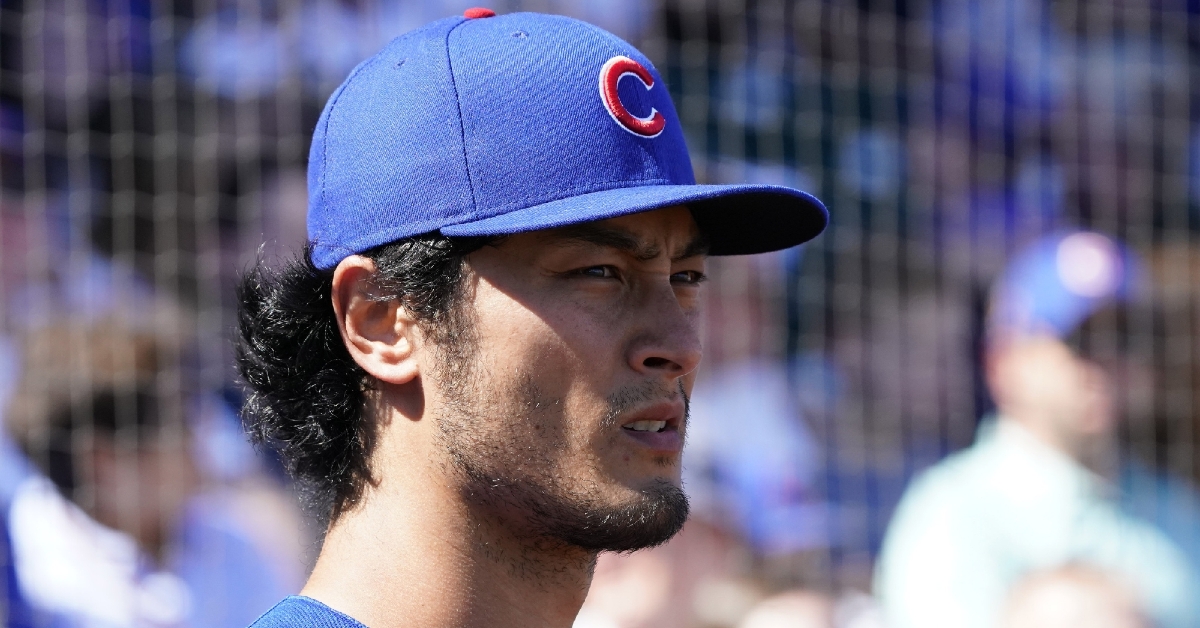 | | |
| --- | --- |
| Cubs News and Notes: Yu Darvish pitches well in loss, Morrow's sorrow, Cubs rotation talk | |
---
CUBS NEWS AND NOTES
Next Game: Today: 2:05 PM: Mariners @ Cubs from Sloan Park.
Opening Day: 28 Days- Thursday, March 26, 2020: Cubs vs. Brewers (Miller Park).
Saturday's Recap: The Cubs hosted the Brewers yesterday, with Yu Darvish getting his first start of the year. Darvish would give up a homer on the first pitch of the game, but then snapped back and worked a couple of excellent innings. He was clocked twice at 98 MPH.
The Cubs would be down 4-0 in the bottom of the fourth, managing only one hit at that point. Adbert Alzolay pitched the second and third, giving up three of the four runs.
Three strikeouts on the day for @faridyu. pic.twitter.com/Oe75QDhZF1

— Marquee Sports Network (@WatchMarquee) February 29, 2020
In the top of the fourth, David Bote had a little fancy glovework, helping Alzolay to get one clean inning out of the two he pitched.
Exceptional catch in shallow right by Bote to rob Nottingham of hit to end the 4th.

— Mark Gonzales (@MDGonzales) February 29, 2020
The Cubs made a comeback in the sixth, Courtesy of Happ's RBI bloop to the left, then Schwarber's two-RBI shot to center, making it 4-3.
Laser to the gap. pic.twitter.com/EFNj4O2n0M

— Marquee Sports Network (@WatchMarquee) February 29, 2020
The pitching held the Brewers at bay, but Chicago couldn't get it done. Final score 4-3.
Speedy recovery: After undergoing a minor cardiac surgical procedure a week ago, Brad Wieck thinks he may be able to start throwing again as early as today. Wieck says he's feeling better and just needs to wait for the vain to heal.
Brad Wieck believes he's could resume throwing Monday pic.twitter.com/XbDcBv0PoL

— Mark Gonzales (@MDGonzales) February 29, 2020
Ross' decisions: David Ross says that Jose Quintana make his debut tomorrow. Craig Kimbrel tentatively scheduled for his first appearance sometime in the middle of this week. Rossy also says that he prefers keeping Heyward in right for the remainder of spring, as there's a ton of competition for the CF slot.
Ross tapping the brakes on Bryant playing more in the outfield pic.twitter.com/xzeSJN5KoS

— Mark Gonzales (@MDGonzales) February 29, 2020
In addition to those announcements, Ross says Lester will start today, Kyle Hendricks on Monday (vs. Angels), then Alec Mills (vs. Athletics) on Monday night.
Morrow's new injury: Morrow threw Thursday, telling Sahadev Sharma of The Athletic that he felt pretty good after being diagnosed with a "mild right chest strain last week." Then after his outing, Morrow decided to take a run and wound up tearing his calf. An MRI revealed a Grade-1 tear, meaning that he's down for yet another 10-14 days.
Brandon Morrow sidelined with new injury: https://t.co/FLrcZlABA8 pic.twitter.com/KE8Yvgj7k4

— CubsHQ.com (@ChicagoCubsHQ) February 29, 2020
When rumors of the Cubs' interest in him started in November, I said it was a bad move. I don't care if it's supposed to be a "low-risk, high-reward" deal, the guy can't stay healthy. Morrow's dedication is admirable, but when is he going to realize that maybe it's time to stop? These injuries are all going to come back to haunt Brandon when he gets to be in his 50s and 60s, and sadly, he keeps putting himself through injury and heartbreak.
Marquee: According to 670 the Score (Mully and Haugh), the Cubs stand to lose $100M per year (based on $5/month subscriptions) due to Marquee not reaching a deal with Comcast.
Jesse Rogers: "Lester won't be the Opening Day starter. It'll either be Yu Darvish or Kyle Hendricks. … Hendricks has it together, Darvish is putting it together." Says that if Darvish puts it all together, he'll absolutely be the Cubs' best pitcher.
Rogers also thinks that Ian Miller may be the guy who can crack the 26-man roster. I wrote the other day that Miller was not only quick but that he knows how to run the bases. The Cubs need aggression on the bases, especially if hitting with men on base becomes an issue again this year.
Rizzo's folks: Apparently, Anthony Rizzo's parents are fond of Joe Maddon. So much so, that they spent part of yesterday visiting Joe in the Angels' camp.
Cubs' Birthdays: Celebrating yesterday, were ex-Cubs Gerardo Concepcion (28) and Bill Long (60).
Baseball Quotes: "If you're going to play at all, you're out to win. Baseball, board games, Jeopardy, I hate to lose." - Derek Jeter
Someone left an asterisk sign at the Astros Spring Training center ????

(Via @EvanRobertsWFAN) pic.twitter.com/qlTHvIvODZ

— Baseball Quotes (@BaseballQuotes1) February 29, 2020

Tags: Cubs Baseball
,
Yu Darvish
,
Adbert Alzolay
,
David Bote
,
Brad Wieck
,
David Ross
,
Jose Quintana
,
Craig Kimbrel
,
Kyle Hendricks
,
Alec Mills
,
Brandon Morrow
,
Ian Miller
,
Anthony Rizzo
,
Gerardo Concepcion
,
Joe Maddon