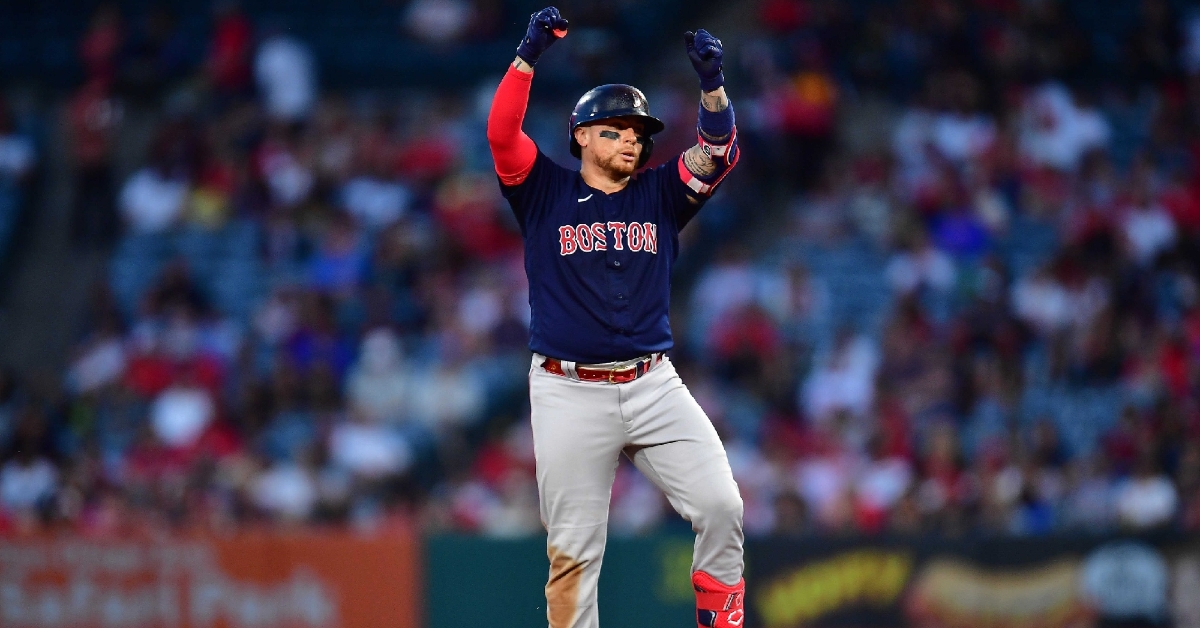 | | |
| --- | --- |
| Cubs News: Christian Vazquez makes sense as a Contreras replacement | |
---
| | | |
| --- | --- | --- |
| Monday, November 7, 2022, 9:00 AM | | |
Now that the World Series has officially come to a close, and congrats to Dusty Baker for finally winning a title, the MLB offseason has officially begun as teams begin to prep for 2023. For the Cubs, their offseason has been going on for roughly a month, but they have yet to be able to make any moves to focus on 2023.
With the season officially over, they can start making some of those moves, and one of those moves will have to be at the catcher position. As much as it hurts Cubs fans to say this, Willson Contreras is officially a free agent, and I don't think there is a scenario where he returns to the Cubs next season.
That means heading into the 2023 season, Yan Gomes is set to be the everyday catcher, with PJ Higgins as the current backup on the roster. That would work if this team wasn't looking to contend, but after a much better season than most expected, the Cubs need to go out and address the catcher position.
In theory, Chicago hoped Miguel Amaya would be ready to take over the reins this season. However, a series of injuries over the last three years has set him back, and it is starting to become a question as to whether or not he will be a part of the future much longer. Should the Cubs feel he isn't worth the chance anymore, guys like Pablo Aliendo, Ethan Hearn, and Moises Ballesteros are waiting in the wings, even if they are all multiple years away.
Looking ahead to 2023, Gomes remains the biggest question regarding the catcher position. No one is saying he isn't worth hanging on to, especially when you look at how he works with young pitchers. The problem becomes his availability, as he is not an everyday catcher at this point in his career.
Gomes does a great job behind the plate when given a chance to play while the offensive numbers are up and down. His average will never wow you, but he has a knack for coming up with clutch hits while also showing some above-average power at times. If the Cubs want to look at an upgrade or, at the very worst, an excellent platoon catcher to pair with Gomes, there are some options, including Christian Vazquez.
With Contreras on the way out, the Cubs have made it clear that they want more of a game-calling catcher behind the dish instead of an offensive threat. Bringing in a catcher that can provide both would be a huge plus, but it is outside the top of the list. That said, look for Vazquez to be at the top of the Cubs list if they intend to improve the catcher position.
For those unfamiliar with Vazquez, I can't blame you, as he spent his entire career with the Red Sox before being traded to Houston last season. During his career, he has primarily been a backup catcher, but has been given the opportunity to be a more regular guy sometimes. That is something to pay attention to, as Vazquez has made it clear that the next team he signs with would have to allow him to be more of a regular everyday catcher.
Vazquez was playing behind Martin Maldonado after being traded this season and didn't see as much time as he expected. However, he was the go-to guy in Boston for years, and at 32 years old next season, he still has a few solid years left. Compare that to Gomes, who is 36, and Vazquez would give the Cubs a nice short-term fix until some of their younger prospects are ready to go.
Looking at his offensive stats, Vazquez has the potential to be a reliable starting catcher, even if the numbers are not Contreras-worthy. He is coming off a season where he hit .274 compared to just .244 for Contreras while hitting nine homers and driving in 52. Vazquez is a .261 hitter for his career and has connected for 55 homers and 276 RBIs.
He may not be as offensively gifted as Contreras power-wise, but he tends to drive in just as many runs while hitting a lot better average-wise. That is something the Cubs have made a point of improving upon, as they want more average guys than power guys. Vazquez fits that mold and would fill another roster hole.
Defensively, no one will argue that Contreras has one of the best, if not the best, throwing arms behind the dish, but there is more to catching than that. He has always struggled at framing pitches, while his pitch calling has also been suspect. Despite Vazquez struggling to throw runners out at times, he is a much better pitch framer and has gotten better at calling games.
Pair him with Gomes behind the dish, and you have two of the better pitch framers in the game, but also two guys who know how to call games and work well with young pitchers. That is something the Cubs will have a ton of next season, and they need guys who can interact with those types of pitchers.