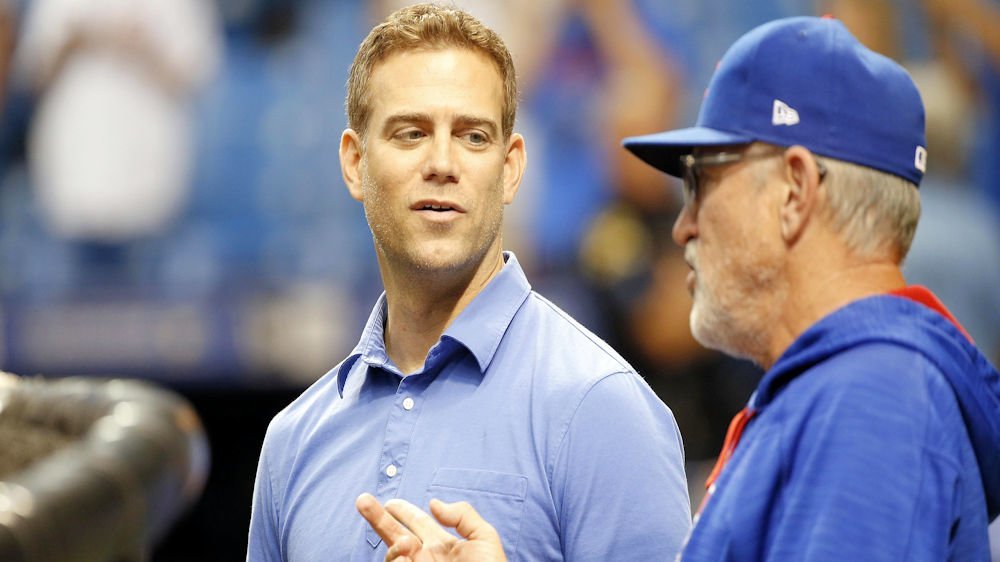 | | |
| --- | --- |
| Cubs News: Latest news and rumors: Ditka, Heyward, Maddon and more | |
---
2019 Cubs' Opening Day: 124 days.
Mike Ditka: Former Bears' coach Mike Ditka was hospitalized following a heart attack he suffered on Wednesday. This makes the third cardiac event for Ditka, the first coming in 1988. Ditka is reportedly doing well, though he remains hospitalized. As part of the coach's treatment, doctors inserted a pacemaker. Best wishes, Coach, it's much too soon to lose a legend.
Contract Swap candidates: MLBTR put together a list of those contracts that teams might consider trading for salary cutting measures, and a total of four Cubs made the list: Jason Heyward, Yu Darvish, Tyler Chatwood and Brandon Kintzler. Darvish has a full no-trade clause for 2019, so I'm not sure how or why he made the list. Collectively, the four are owed a total of $237.5M over the course of their contracts. Also making the list was former Cub, Dexter Fowler, who is owed $43.5M through 2021 by the Cards.
Help Wanted: The Cubs continue their search for a new pitching coach, and according to 670 The Score, John Farrell and Bryan Price are expected to get interviews. The Cubs have an in-house candidate in Tommy Hottovy, and my money is still riding on him to be named. Farrell is the father of Cubs' pitcher, Luke Farrell.
Joe Maddon: The question of where Bryce Harper will sign is nagging, but the lack of contract-extension talks with Maddon probably bothers me more. Fans are decidedly split in their opinions of Big Joe, despite what he has accomplished in four seasons with the Cubs, and it appears as though ownership may feel the same. I want Joe to stick around, but something in my gut tells me that if the Cubs don't have a successful post-season in 2019, Maddon may be gone. To clarify, "successful" in my opinion means a minimum of reaching the NLCS. The Cubs have a new hitting coach, and a new pitching coach should be named soon, but I think ultimately the success or failure of the Cubs in 2019 is now resting on Maddon's shoulders.
Eddie Butler: Former Cubs' RHP Eddie Butler, became a free agent yesterday, and per his agent, Steve Canter, "Eddie pitched much of 2018 with a core injury that was successfully repaired by Dr. William Meyers in early October. His rehab will be completed shortly, and he will be ready for spring training."
Jhonny Pereda: The Cubs' #20 prospect (catcher) is being predicted by MLB.com to be scooped up in the Rule 5 Draft, which will occur during the winter meetings on December 13, 2018. Although emerging both offensively and defensively, the Cubs are undoubtedly relying on their #1 prospect, Miguel Amaya, to be their next choice for a call-up backstop.
Japan takes the cake for innovation: Talk about the ultimate in gated-communities! Japan has taken ingenuity, innovation and resourcefulness to the next level, by converting this retired baseball stadium into a neighborhood.
A retired baseball field turned into a neighborhood in Japan ???? pic.twitter.com/MiAekX8Crq

— Baseball Central™ (@BaseballCentraI) November 24, 2018
South Bend Cubs: The SB Cubs are hosting their third annual Polar Plunge to benefit Special Olympics Indiana. The event will be held on February 23, 2019 at Four Winds Field. The team is asking non-plungers to consider donations to the South Bend Front Office team. Donations of $15 or more are automatically entered into a drawing for tickets.
That's it for the Hot Corner today. As usual, I'll be watching out for the latest in news and rumors for a Sunday edition, but if not, we'll see you Monday night at 6:00 PM eastern.