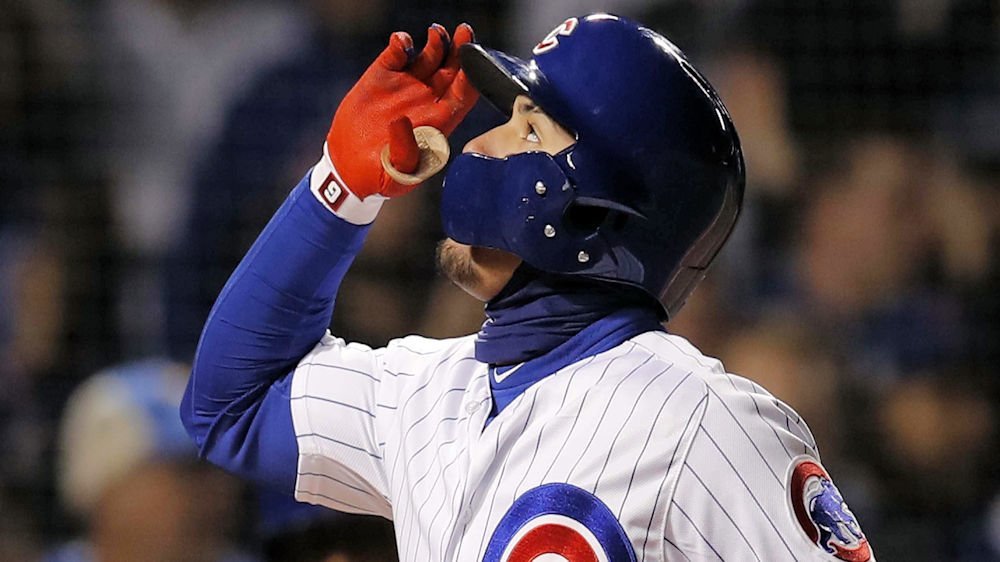 | | |
| --- | --- |
| Cubs News: Latest news and rumors from the Hot Corner | |
---
| | | |
| --- | --- | --- |
| Thursday, November 15, 2018, 6:47 PM | | |
Exceptionally slow news day today…
Cubs' Opening Day 2019: 132 days and counting down.
MVP Awards: Javier Baez gave it a good run, but this year's National League Honors went to Christian Yelich (MIL). Mookie Betts took home the American League honors. Baez took second place with 19 votes and Nolan Arenado (COL) finished third for the NL. In the American League, second place honors went to Mike Trout (LAA), with third place going to Jose Ramirez (CLE).
Anthony Bass: Very much unplanned, I had the opportunity to chat privately with Anthony for about an hour last night. While the vast majority of our conversation was off the record, he did allow me to pass on to you that he will not be returning to the Cubs in 2019. He is currently weighing his options between playing in the United States or playing overseas. He's a fascinating guy and I wish him nothing but the best, no matter where he plays. By the way, he says, hang in there, Cubs will be solid in 2019 with some minor additions.
MLB vs Japan: Japan once again topped our MLB stars, by a final of 4-1 early this morning. The MLB team looked to be rallying in the bottom of the eighth but failed to capitalize with the bases loaded and only one out. Japan takes the series 5-1.
MLB Network Radio Predictions: The boys at MLB Network Radio decided to sit down and cast their votes for where they think the top ten free-agents would be landing. With 12 members voting, the results were as follows: Brantley to the Braves, Corbin to the Yankees, Eovaldi to the Red Sox, Grandal to the Astros, JA Happ to the Yankees, Keuchel to the Nationals, Kimbrel to the Braves, Machado to the Phillies, Pollock to the Mets, and perhaps the biggest shocker of them all… they predict Bryce Harper stays in DC. I'm not so sure about that one…Cubs News: Latest news and rumors from the Hot Corner
"The Ben Zobrist Rule": The league amended its shoe policy today with cooperation between MLB and the MLB Player's Association. Players are no longer required to wear shoes that are primarily the same color as the club's color. Break out those black cleats Ben; you won.
Manny Machado: It was highly unlikely that Machado's comments about not hustling would go unnoticed as he entered free-agency, and they now appear to be haunting him. The Yankees are serious about Machado, but owner Hal Steinbrenner has reservations. "If it's a $300M guy or a $10M guy, clearly those comments are troubling," Steinbrenner said. The Yanks plan to have GM Brian Cashman sit down with Machado and ask him to justify his remarks.
Rob Manfred: MLB Commissioner Rob Manfred received a five-year extension earlier today. For the those of you who are tired over this whole "pace of play" thing, hang in there, as the games will continue to be policed for time cutting measures now for the next half-decade. By 2024, you should be able to watch all nine innings in the time it takes to make toast.
I wanted to thank everyone for supporting this new endeavor of mine. I enjoy writing these columns and based on the number of views they receive, at least some of you enjoy reading them. There's gonna be days like today when not much happens, but I'll continue to search around for stories to help you (and me) get that baseball fix that we all crave.