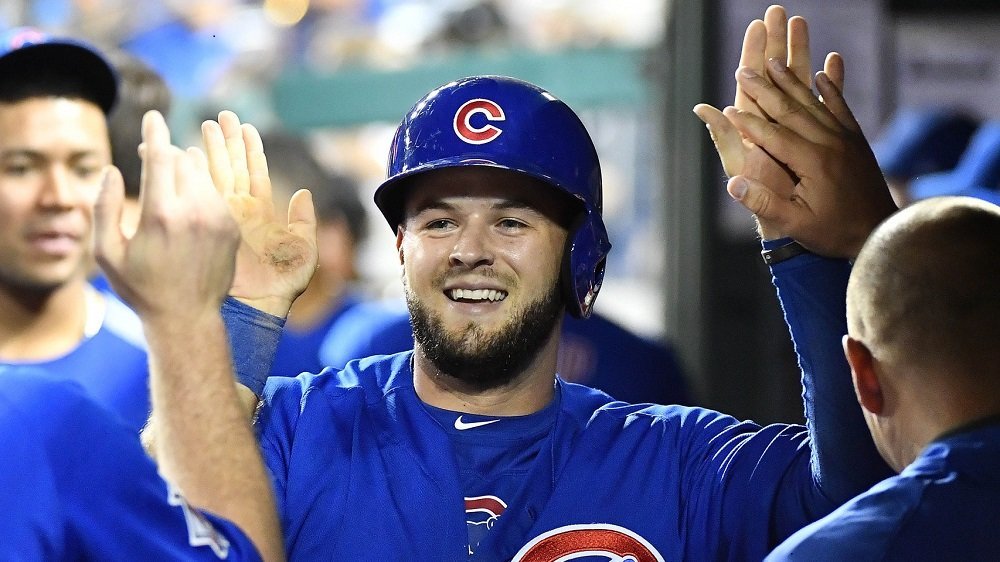 | | |
| --- | --- |
| Cubs News: Rebuilding for 2019 Part 3: Player retention | |
---
| | | |
| --- | --- | --- |
| Saturday, October 6, 2018, 9:20 AM | | |
With what I believe to be a fair assessment of the players who will be leaving Chicago now in the books, it's time to turn our focus to player retention, and what it might cost the Cubs to do so.
With the excess baggage and dead weight stripped away, I think the Cubs will retain most of the following players. Because of the amount of material in this segment, I broke this section into two installments; the first covering free-agent retention, arbitration, expired contracts and players under team control, with the latter (to be posted tomorrow) covering contractual obligations and team options for the 2019 season.
Assuming the Cubs part ways with the free-agents that I mentioned in Part-1, they would only have three remaining free agents to worry about, and I think the Cubs would be wise to keep them both.
Jesse Chavez: No one can argue what a difference Jesse Chavez has made for the bullpen, sporting an insanely good 1.15 ERA over 39.0 innings of work as a Cub. While youth is good, experience is better, and Chavez has what it takes to handle the pressure while remaining methodical about his work. While salary may become somewhat of an issue, Chavez has already stated that his two choices are to remain a Cub or to retire. At age 35, Chavez remains in good shape and undoubtedly has two to three good years left in him. The Cubs would be foolish to let a man of his talent and dedication retire before he was ready.
Jorge De La Rosa: While nearly every fan in the world had doubts about De La Rosa, his 1.29 ERA as a Cub has changed a lot of minds. While De La Rosa will have hit age 38 prior to the start of the 2019 season, I'd dare say the Cubs would be wise to offer him a one year contract. De La Rosa played for $2.25M this year (one year deal), and while his age is increasing, the odds of his contract doing the same are nil. While I don't think the Cubs would offer more than a one year deal, I think they'd be foolish to pass up the opportunity to retain him, especially if they can get him for reasonably cheap.
Anthony Bass: Despite being sidelined with injuries during part of the 2018 season, Bass brings something to the table. Despite multiple years in the league, Bass is still playing at the league minimum of $545k, making him a potentially attractive free agent retention. If he's going to be ready to go for the 2019 season, I think the Cubs try to keep him. If not, Jaime Garcia suddenly becomes more attractive.
Arbitration is a funny animal; it's binding, and there's no telling which side will get the better end of the deal. Teams (and players alike) will generally try to avoid arbitration by reaching a contract agreement before the arbitration hearing; if both sides can agree on a number, everyone winds up happy.
While there is no way to pinpoint what a new contract or arbitration hearing may cost the Cubs, the following players are eligible for arbitration next year. The number next to the player's name is what their 2018 salary was.
Javier Baez- $657k
Kris Bryant- $10.85M
Tommy La Stella- $950k
Kyle Hendricks- $4.175M
Mike Montgomery- $611.25k
Allan Webster- 545k
While Allan Webster may be a toss-up as far as retention is concerned, there's no doubt that the Cubs will retain the balance of the list above. Undoubtedly, the Cubs will be shelling out extra money, and lots of it, next season for Baez, Hendricks, Montgomery, and Bryant, but it's unquestionably an investment that will be made.
Turning to players who are no longer under contract, the Cubs have some choices to make; offer them a contract or release them. Again, the players 2018 salary will be listed next to their name, and should the player remain under team control it will be indicated by a "TC" in parenthesis.
Terrance Gore- (TC) $545k
Albert Almora, Jr.- (TC) $584.5k
Willson Contreras- (TC) $604.5k
Victor Caratini- (TC) $547.5k
Taylor Davis- (TC) $545k
Alec Mills- (TC) $545k
Randy Rosario- (TC) $545k
Dillon Maples- (TC) $545k
Carl Edwards, Jr.- (TC) $594k
David Bote- $545k
Mike Freeman- $545k
Justin Hancock- $545k
James Norwood- $545k
While the Cubs can keep a core of solid players (those under team control) for less than $5M, they'll inevitably take a hit when negotiating contracts for five of the six players entitled to arbitration, and the three who are now without contracts. The question isn't "if" they'll pay to keep these guys, but rather how much.
Although the Cubs can afford to wait on negotiating contracts for Norwood and Hancock, they needed to be talking to David Bote and his agent like yesterday. With Happ's likely departure from the Cubs' roster, David Bote will become Ben Zobrist's successor, putting him in an excellent position for negotiating.
Part 2: The Demolition Phase Continues

Upgrade Your Account
Unlock premium boards and exclusive features (e.g. ad-free) by upgrading your account today.
Upgrade Now