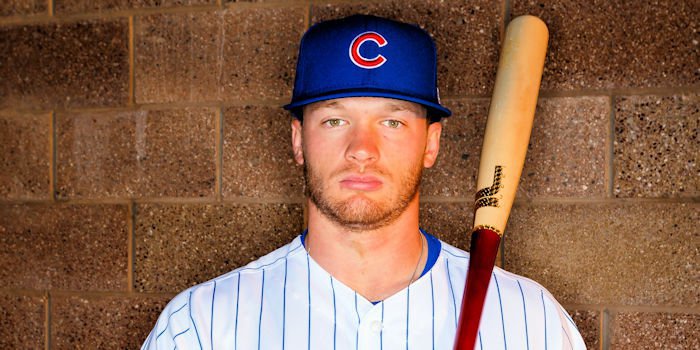 | | |
| --- | --- |
| Cubs News: The Rise of Ian Happ | |
---
| | | |
| --- | --- | --- |
| Tuesday, May 16, 2017, 12:43 PM | | |
CHICAGO -- In the wake of several injuries on the Cubs' roster, Ian Happ was called up from Triple-A Iowa to make his major league debut on Saturday. Kris Bryant is out with the flu bug, Jason Heyward is out with a jammed finger and Addison Russell has been in and out with a shoulder injury. During the 5-3 loss to the Cardinals, Happ had a walk and a home run on Carlos Martinez that traveled an impressive 409 feet to the crowd at Busch Stadium.
This game left a lot of the people very satisfied with his major league debut, only to lead up to his performance on Mother's day where he hit a double in his first at-bat, then got on base with an infield single. He is right now batting .429 with three hits with seven total at-bats.
Happ has only played two games in his major league career, but people are starting to notice what Happ means for the future of the Chicago Cubs.
"We know how good he is," Maddon told the Chicago Sun-Times. "We know what he means to our future. Go play, and let us figure out the rest."
Joe Maddon said this following Happ's weekend performance, showing his confidence in the 9th overall pick in the 2015 MLB draft. Fans as well should be hyped up about Happ and what he means for the future of the Cubs, as Maddon said himself.
If Happ can keep up his performance, that calls into question, will he get sent back down to Triple-A Iowa?
"The team, roster-wise, is in a state of flux now based on different guys being banged up," Maddon told the Chicago Sun-Times. "All Ian has to worry about is to continue to do what he did in camp and what he did in AAA, and let us make that decision."
Happ, the infielder-outfielder hybrid, has already drawn comparisons to Albert Almora Jr., who was called up last summer and ended up on the Chicago Cubs' World Series roster.
Only time will tell on how Ian Happ's performance will translate to the Chicago Cubs roster. Will he stay on the roster, or will he be sent back down once several guys become healthy again?
The Cubs had an off day on Monday before they start their ten game homestand, everybody on the north side of Chicago hopes that this will right the ship for the 2017 season. Even though the season has not started how all Cubs fans would have expected, there have been several silver linings, and Ian Happ might just end up being the biggest and brightest one.