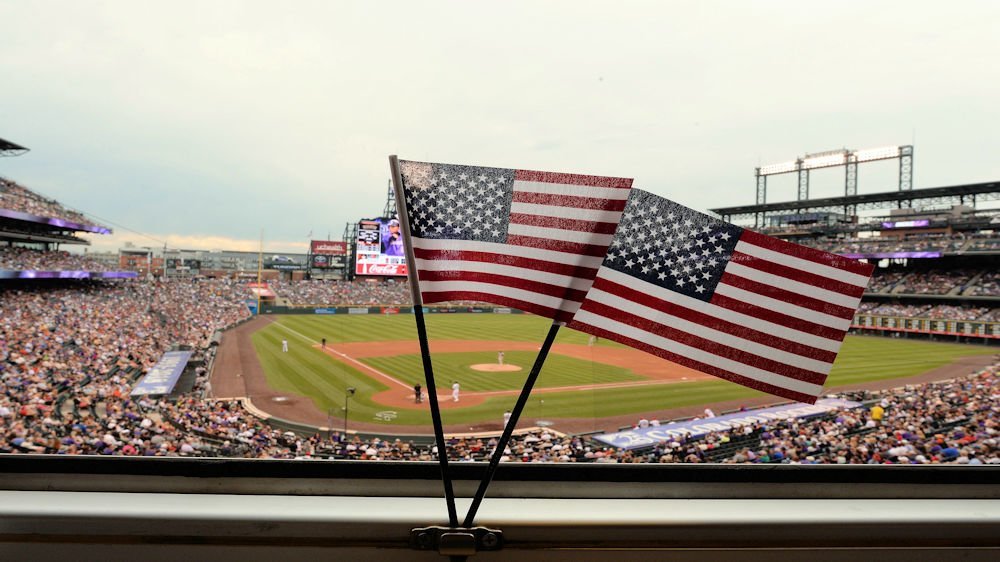 | | |
| --- | --- |
| Cubs News: The unity between Fourth of July and Baseball | |
---
| | | |
| --- | --- | --- |
| Wednesday, July 4, 2018, 8:12 AM | | |
''Whoever wants to know the heart and mind of America had better learn baseball,'' Jacques Barzun, the social commentator, wrote more than a half a century ago.
The 4th of July celebrations and baseball are two uniquely American things. The first celebrates our independence from tyranny and taxes by England; the second celebrates a game embraced by all of us as our national pastime for over 100 years.
While some self-imposed versions have replaced tyranny and taxes from England, many would argue baseball is still a significant part of the fabric of our lives here. Some might say football or basketball have taken its place on the mantle as the number one sport, but if you dig into the belly of what our country does daily, you will see that baseball is still an essential part of our identity.
When I was growing up this time of year was the best time. School has just let out for summer, little league season was coming to a close, and picnics and fireworks were on the agenda. It was a time when you could be a kid. You gathered up all your neighborhood friends and rode your bikes like crazy people to the park to the beautiful baseball field and hoped that the neighboring group of kids had done the same so that you could play baseball against them for about the next nine hours.
If you were lucky you each had at least eight guys, so you could play all fields (the batting team would supply the catcher), and if not then you played one field out depending on how the batter hit, righty or lefty.
The baseball was nearly always still in good shape since it was just purchased at the start of summer. Your entire team would each kick in a quarter, and you would go to the local sporting goods store downtown and get a brand new Spaulding. By July 4th, if you hadn't lost it, you still had a pretty decent ball. Later as summer wore on it would get ripped, soft, and muddy and became something resembling a sock stuffed with pebbles.
In between innings talk always turned to where you were going to go to watch the fireworks and were any of your friends going to go to the carnival that was going to open the next day. Some mentioned that their family was going to go to a mystical cabin for two weeks of swimming and fishing. It always sounded exciting, but the kid was going was usually underwhelmed, and that gave you pause.
It also meant that dad was going to fire up the grill and you could already smell the summer odor of charcoal burning with meat drippings while you dreamed about maybe this year trying for the elusive double of hot dog and a burger in the same meal.
Suddenly the afternoon was drawing to an end, and you had just beaten your opponents for the second straight game to take the day 2-1 and it was time to get home for dinner. After burning off so much energy all day you were hoping that Mom was cooking up something tasty because you were starving.
Saying goodbye to opponents and teammates alike, you agreed to meet again after the 4th for another game and furiously sped home to beat the call for dinner and to tell your Dad that you went 12 for 16 with five doubles, a triple, and scored eight times.
This time of year also meant that the days were longer and after dinner, you went out front with your mitt and a ball and tossed it up in the air trying to make yourself not be able to catch it because you threw it so high. A couple of the neighbor kids would see you and come out with their mitts, and suddenly you had a three-way game of catch going.
Of course, since it was your ball, you got to be the guy that caught it twice and threw it twice while the other two stood next to each other and had to share tosses and catches. Without having to say anything one of your friends would toss his glove aside and assume the position of runner and a spirited game of running bases would break out.
Taking turns as the runner, this would continue until one of the moms would stick her head out the front door and let everyone know the street lights had come on and that meant it was time to call it a night. You waved goodbye and went in as another day was coming to a close. You went to bed tired but excited about what was coming tomorrow as the 4th of July would be here, and that was the best day of the summer.
Now, none of this explains baseball you're saying, but actually, you're wrong. For many Americans, baseball is life. Many of us cannot imagine growing up without baseball. It was a part of our everyday world and made us who we are today.
The mechanics of the game, the subtleties of playing it, or watching it, and the fanatical support for your favorite team are not what Jacques Barzun was referring to when he suggested that to know the heart and mind of America you should learn the game. He was writing about how the game defined us as people and brought us together as a nation.
Those youngsters playing baseball all day was what this country was all about. Hope, friendship, sportsmanship, learning, and teamwork are the things that made America the world power it became and the thing that each of us could stand behind proudly.
With all that is going on in America today maybe we should consider once again the importance of our national pastime.