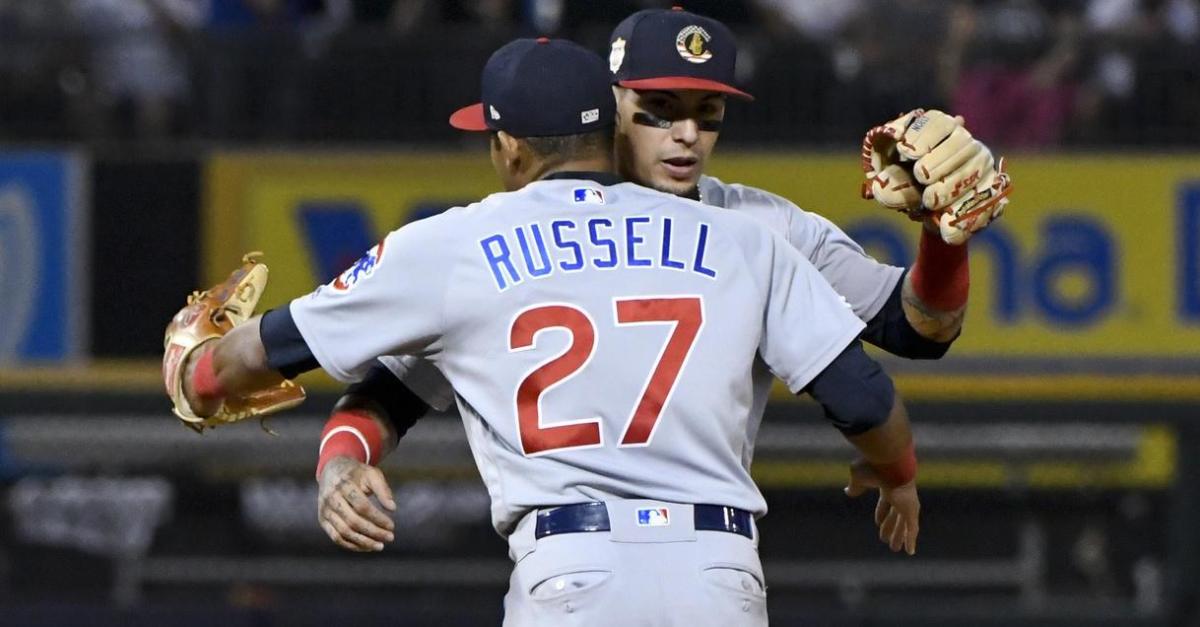 | | |
| --- | --- |
| Cubs News: What is next for Addison Russell? | |
---
Following the end of last season, almost the entire baseball world knew the Cubs would indeed part ways with Addison Russell. That was indeed the case after five years with the team. After looking like a potential all-star type player early in his career, injuries and personal issues set Russell back and put him a three-year tailspin that he was never able to recover from. Not only did he lose the starting job at SS, but he found himself losing more and more reps at 2B before the Cubs waived him this past fall.
With most teams finishing up what they want to do for Free agency, Russell is still on the market, which kind of surprises me at this point. Yes, domestic abuse will always hang over his head, but it isn't like he is a terrible player. Elite no, great no, but an above-average SS who plays excellent defense is something anytime would like to have. So why hasn't he been signed to this point?
Not only does spring training start this week, but we haven't had the slightest of rumors about any team interested in his services. Not even rebuilding clubs like the Orioles, Tigers, Royals, Mariners, Marlins, and Pirates have inquired about him in hopes he has a bounce-back year where they could flip him for talent at the deadline. Has this domestic abuse case hurt Russell's stock that much, or is there more to it than that?
What he did will never be forgotten, and the Cubs felt it was best for that type of drama to be long removed from the clubhouse. I have been a supporter of this going back to last season and even said a change of scenery would be suitable for both sides. I expected at least a few teams, especially the Tigers, to at least take a flyer on him to see what he could do with a clear mindset and a change of scenery with hopes he could deliver like in the past.
Do I expect him to mash 21 homers and drive in 95 RBIs again? No, I don't, but at this point in his career, teams know what to expect from Russell. Offensively, you are getting a guy who is going hit around a .260, 13-15 homers, and around 60 RBIs when right. Those may not be bad numbers, but certainly not the numbers people expected from him given what he did his first two seasons in the league.
Defensively, Russell has all the tools to be one of the best defensive shortstops in the game but still has too many mental gaffs in the field. His weird throwing motion makes it difficult for him to get the ball to first at times, causing way too many unforced errors. Also, his lack of elite speed on the bases makes him less desirable than most SS his age as he hasn't developed into the all-around player most thought he would.
Given that Russell has five-plus years of MLB service under his belt, teams know what to expect from Russell when healthy and what they get when he isn't. When healthy, you get a reliable shortstop that at times could but up top-five numbers for his position. When he isn't right, you have a liability at the plate and someone who tries to do too hard in the field. I get contending teams not wanting him, but why wouldn't a rebuilding team even take a flyer out on him to see what he can do and what he could bring back should he be dealt.
I honestly believe the way Russell handled everything regarding his situation has left a bad taste in a lot of franchise's mouths. Right or wrong for how he handled things, Domestic abuse is frowned upon no matter what sport you play, and teams don't want that type of drama in their clubhouse. No matter who would sign him, the first questions Russell would be asked would revolve around that situation, which is not how you want to start fresh with a new organization.
That leads me to my final question as to what comes next for Russell. Given how free agency has gone and considering how no team has shown interest in him, I honestly believe he truly has one option if he wants to extend his baseball career. That option would be to go overseas and sign with someone in Japan or Korea for a couple of seasons.
Not only would that give Russell the fresh start he is looking for, but he would be on a completely different continent where his past issues wouldn't be as magnified by the press. Over their teams like guys that are cheaper, and they tend to produce better numbers than previously at the MLB level.
Let's say someone signs him for even two years, and he looks somewhere close to what he did in 2016. I then think someone would take a chance on him for a cheap MLB contract at that point, and he may be able to save his career. His head would be cleared, the dark cloud hanging over him would be gone, and Russell would finally be able to do what he loves to do in the country he was born to play in.

Upgrade Your Account
Unlock premium boards and exclusive features (e.g. ad-free) by upgrading your account today.
Upgrade Now