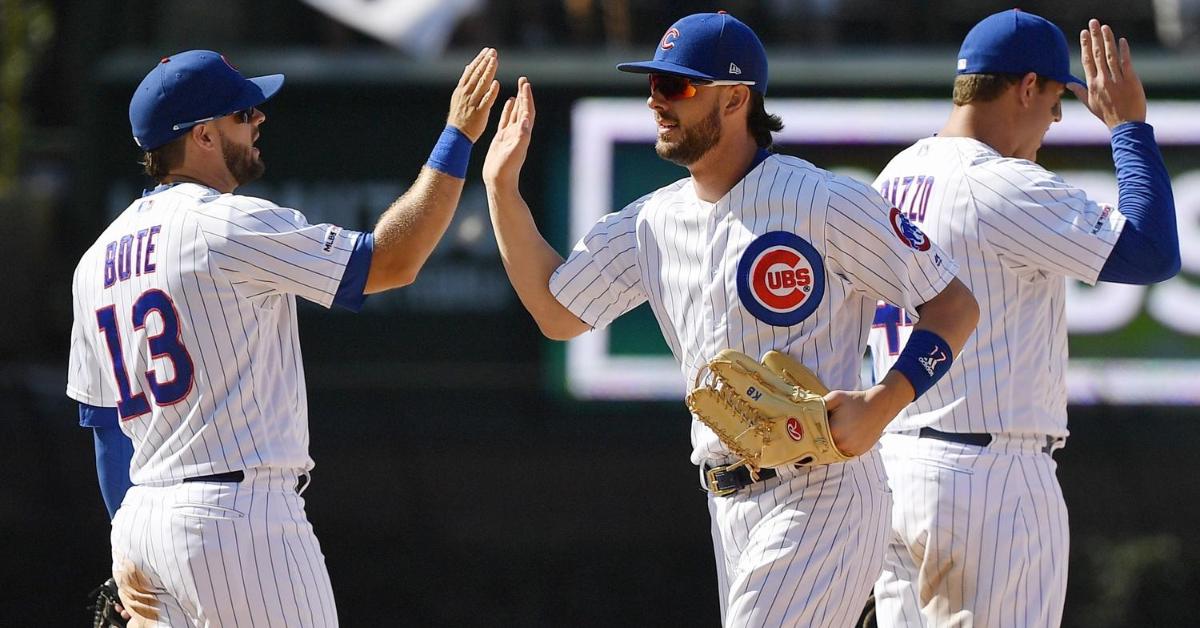 | | |
| --- | --- |
| Cubs News: 2021 Season Report Cards: Kris Bryant, Matt Duffy, Patrick Wisdom | |
---
Much like the shortstop position, which we discussed the other day, the Cubs have some big decisions to make this offseason regarding third base. After having Kris Bryant as their primary third baseman since the early portion of 2015, Bryant turned into more of a versatility player across the final years of Cubs tenure. He spent more time in the outfield than at the hot corner.
Still, Chicago could always lean on him when they needed him the most, especially when it came to placing him at the hot corner for extended periods of time. Following his departure to the San Francisco Giants via the trade deadline, the Cubs found a new hero to cheer for as Patrick Wisdom put on a show to remember.
Once his honeymoon ended, it was time for Matt Duffy to see time at the hot corner as he continued to play well when called upon. With the 2021 offseason officially upon the Cubs, it is time for them to focus on changes for the future and what to do at third base.
Here are the season report cards for the hot corner:
Kris Bryant
When the Cubs drafted Bryant No. 1 in 2013, it was met with very high expectations. Not only was he coming off a golden Spikes award during his final season at San Diego University, but he followed that up with a Minor League MVP award in 2014 before finally getting his crack with the Cubs. Success was his middle name at least early on, securing the 2015 NL Rookie of the year award and following that up with the 2016 MVP and World Series title.
The amount of high Bryant was on from 2013-16 was a run that no one has ever accomplished and, quite frankly, probably will never accomplish again. However, the more success you have, the higher the expectations will be, and Bryant never reached those levels as a player again. Injuries did play a significant role in some of his seasons, but going back to 2017, his production has continued to decline, especially from an RBI side of things.
He got closer to being himself with the Cubs this season, hitting .267 with 18 homers and 51 RBIs, but even that was a far cry from what he typically delivered during the early stages of his career. It will be interesting to see what free agency has in store for him this offseason.
Grade B+: Bryant may not have had the average the Cubs were used to early in his career, but he was getting close to producing at the level he did across his first few seasons. The numbers he put up with the Cubs was through 93 games, and if you put that into perspective, he was on base for 31 homers and 97 RBIs across a 162-game season. Those are numbers the Cubs could live with.
While Bryant has expressed the willingness to return to the Cubs this offseason, I find it very unlikely there will be a reunion. Scott Boras is his agent who will be seeking max money for his client. Given the state of the Cubs, they may not be willing to spend max dollars quite yet.
Matt Duffy
One of the pleasant surprises on the Cubs this season was the emergence of Matt Duffy. Signed to a Minor League deal in January, Duffy played exceptionally well during spring training and ultimately made the opening day roster. Not only that, but Duffy found himself with an everyday role by the end of April and was just what this offense needed.
The 2015 NL Rookie of the Year runner-up to Bryant, Duffy has always been a great hitter at the plate, but injuries have always gotten in the way. That was once again the case this season as a back injury kept him out for more than two months before he returned in late July. Despite a slow start after returning from the IL, Duffy put together a great season, including an impressive September.
Not only did Duffy hit .287, but he connected for five homers, four of which came in September to go with 30 RBIs across 97 games. While the third base was his primary position, he spent time at second base and even saw starts at first and left field. He was as close to a Ben Zobrist type of player as the Cubs have had in a long time, and it would be wise to bring him back.
Grade A-: I don't care what the numbers look like; Duffy had a great season and was precisely the type of hitter this lineup needed. He is a contact first hitter who gives a manager professional at-bats, which is why he finished with the second-highest average on the team. When he was inserted into the lineup, the Cubs started to play extremely well and build a three-game lead in the division with a 38-27 record.
It shouldn't shock anyone to see this team crumble when he hit the IL, and by the time he came back, it was too late. Duffy may not be a starter at any point in his career, but he will have a spot somewhere next season, and it should be with the Cubs.
Patrick Wisdom
Of all the great stories that Cubs fans witnessed this season, the story of Patrick Wisdom continues to be one for the ages. A minor league journeyman known for a high strikeout rate to go with tons of homers, Wisdom logged 45 career games from 2018-20 connecting for four homers and 11 RBIs in the process.
After a 31-homer season with Nashville in 2019 and off to a blazing start with Iowa, where he had three homers and 11 RBIs across eight games with Iowa in 2021, Wisdom was called up to the Major League roster and immediately made his presence felt. Not only did he find an everyday role for the first time in his career, but he showed why the power numbers were what they were in the Minor Leagues.
Across 106 games, Wisdom not only led the Cubs with 28 homers, but he set a new team record for homers by a rookie, surpassing Bryant, and his 26-homer mark from 2015. Wisdom also led all National League rookies in homers and was on pace for 35 homers until a September slump did him in. Wisdom produced hitting 28 homers to go with 61 RBIs for the season, but his .231 average is a concern going forward.
A big reason for the low average is a strikeout rate near 50%, which is worse than what Baez showed during his time. Across 338 at-bats, Wisdom logged 153 strikeouts to go with 32 walks and was on pace for close to 300 strikeouts if he had a 500 at-bat season. That is one thing he needs to improve going forward.
Grade B: From a number side of things, Wisdom, without question, would earn an A for his efforts. However, the strikeout rate takes a lot away from his progress as a player, especially when you look at how many pitches he missed in the zone. For whatever reason, Wisdom misses as many pitches in the zone as he hits, leading to high strikeout rates. Should he figure that out, the numbers he put up this season would be an annual thing, and that is something the Cubs would love to see.