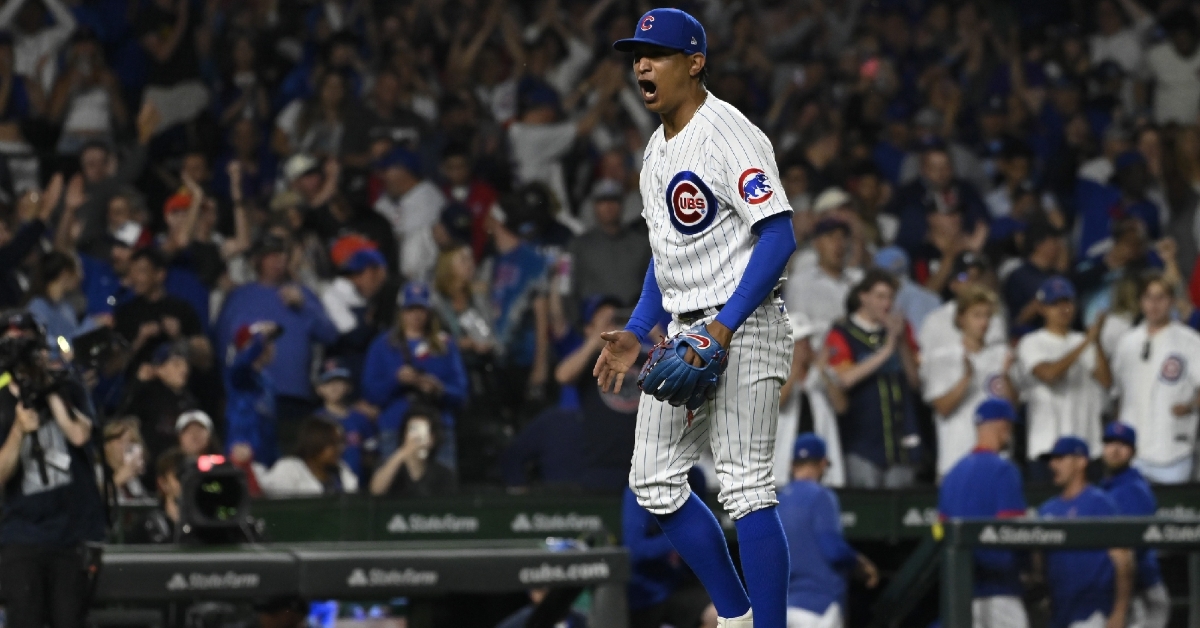 | | |
| --- | --- |
| Cubs News: Closing Time: Is Adbert Alzolay the answer? | |
---
It's been no secret that the Cubs have struggled in the bullpen this season. It has felt like every day that the Cubs have a lead erased or a deficit grown because of the lack of effectiveness from the bullpen.
Over the last half-decade or so, the Cubs have excelled at piecing together an effective bullpen using a combination of young arms and proven veterans acquired via trade or free agency. The Cubs have had a lot of success and many different arms that have proven effective in high-leverage situations.
Over the last two seasons that have included sell-offs, a great example of the value the Cubs are able to create in their bullpen is the fact that at the last two trade deadlines, seven relief pitchers have been dealt: Ryan Tepera, Andrew Chafin, Craig Kimbrel, Chris Martin, Scott Effross, Mychal Givens and David Robertson. And year after year, the Cubs have still been able to plug and play bullpen arms and create a circle of trust for manager Joe Maddon or now David Ross.
Come 2023, when the Cubs made a conscious and proven effort to both spend and improve the product on the field — expecting the bullpen to come into place was expected as well. On Opening Day, the Cubs used Keegan Thompson in the 7th, Brad Boxberger in the 8th, and Michael Fulmer in the 9th to complete a shutout win over the Brewers.
Many fans expected that trio to become a Tepera-Chafin-Kimbrel combo of yesteryear — but it has been all downhill from there.
Keegan Thompson was expected to handle a large chunk of high-leverage innings for the Cubs and has instead seen his struggles get so alarming that the organization sent him down to the minor leagues to figure things out in Iowa.
Brad Boxberger looked like the perfect set-up man for Ross' bullpen. But after a first few good outings to start the year and an ERA below 2, Boxberger allowed base runners in six of his next nine outings, including an ERA blossoming to above 5. Boxberger has now been on the 15-day injury list since May 13.
Michael Fulmer had some brief closing experience in the past and was not officially named the Cubs closer, but he was given the save chances to start the season. To open the season, Fulmer had a stretch of solid outings, but it got ugly fast.
He has taken four losses and separately blown two other saves. Ross has wisely moved Fulmer out of the 9th inning, but the 7th and 8th have still been deadly: Fulmer has given up 15 runs in his last 13 innings of working — launching his ERA up to 7.48.
So, Thompson, Boxberger, and Fulmer are all not available or expected to close games.
Codi Heuer is still rehabbing his injury in the minor leagues — and the Cubs have one of the league's worst bullpen ERA's and fewer saves than 28 other teams in baseball (the only team with fewer saves than the Cubs is the 11-win A's).
So what's the answer in the late innings?
Mark Leiter Jr. has been solid for the Cubs this season out of the pen and has been one name David Ross has called on often.
However, Leiter Jr. has nine holds and has been very effective in the 7th and 8th, and that might be one player Ross does not want to mess with.
The next person on the list, who has electric, back-end of the bullpen-type stuff, is Adbert Alzolay, who closed down the Cubs' 2-1 win over the Rays on Tuesday.
Alzolay was once the Cubs' top starting pitching prospect but has since rehabbed multiple injuries and settled into his role as a reliever. This season he has appeared in 21 games and has an ERA of 2.42. He has seven outings of more than an inning pitched and has also been on the mound to finish seven games this season.
He has undoubtedly pitched his way into David Ross' circle of trust in high-leverage situations, on display when Ross went to Alzolay to close Tuesday's game with a fully rested bullpen.
"He's unbelievable, man," Kyle Hendricks said of Alzolay. "He's locked in right now. You could tell -- he just had that look in his eye."
We'll see moving forward if Alzolay is the answer to close out games moving forward.

Tags: Cubs Baseball
,
Ryan Tepera
,
Andrew Chafin
,
Craig Kimbrel
,
Chris Martin
,
Scott Effross
,
Mychal Givens
,
David Robertson
,
David Ross
,
Keegan Thompson
,
Codi Heuer
,
Mark Leiter
,
Adbert Alzolay
,
Kyle Hendricks
,
Joe Maddon