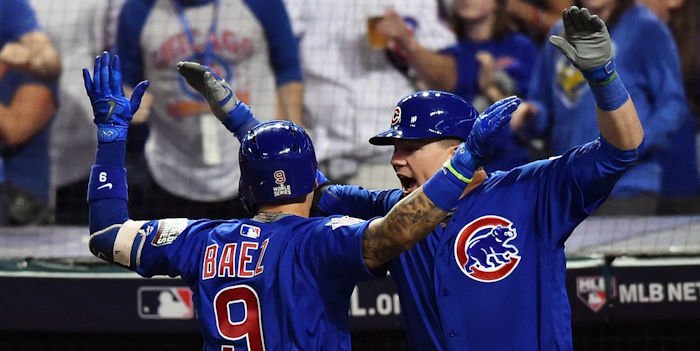 | | |
| --- | --- |
| Cubs News: NL Central Predictions for 2018 | |
---
CHICAGO -- The National League Central has been a hotly contested division for many years. The dynamic rivalries that exist within this division between the Cubs and Cardinals have added a new combatant: the Milwaukee Brewers. The Brewers took a giant leap in their rebuilding project and will be a nemesis to both Chicago and St. Louis. The Cubs revamped an aging rotation replacing John Lackey and Jake Arrieta, with Yu Darvish and Tyler Chatwood, and fortified their bullpen, despite letting their all-star closer Wade Davis leave for big dollars in Colorado. The Cardinals added Marcel Ozuna to play left field, courtesy of another Marlins fire sale. The Brewers also benefited from Miami's roster purge by acquiring young superstar OF Christian Yelich and bringing back CF Lorenzo Cain to his original team on a five-year $80 million deal.
The Pirates, on the other hand, traded all-star right-hander Gerrit Cole to the World Champion Houston Astros, and all-star CF Andrew McCutchen to the San Francisco Giants signaling another rebuild in the steel city. The Reds added virtually no one significant and must hope their young pitching staff shows vast improvement.
Here are my 2018 predictions:
First Place: Chicago Cubs (98-64)
After a full offseason to refresh following three straight deep playoff runs this team has looked locked and loaded this spring. The Cubs struck late for Yu Darvish, waiting out the market in giving him a six-year contract. Joe Maddon overhauled his entire staff, despite their recent postseason success. He now has an all-star coaching staff with the additions of pitching coach Jim Hickey, hitting coach Chili Davis, and third base coach Brian Butterfield. Hickey will have the task of getting the pitchers walk numbers down, while Davis will be focused on cutting down the high strikeout totals and improving the awful situational hitting that plagued this team in 2017, as they hovered around .230 for much of last season.
This team has plenty of lineup options. Other than Anthony Rizzo, Kris Bryant, and Wilson Contreras Joe Maddon's three everyday anchors, the rest of the roster is interchangeable. Baez, Happ, and Zobrist give Maddon the flexibility he craves. The Cubs are encouraged by the second half performance in 2017 of Kyle Schwarber and hope he can continue to improve. He has played less than 200 games in his brief career, so he is still learning on the job. Albert Almora, Jr. has matured every year, and his critical hit in Game 3 of the NLDS against the Nationals is hopefully a sign of things to come.
The starting rotation has a chance to be among the best in baseball and is anchored by stalwarts Jon Lester and Yu Darvish, to go along with Jose Quintana, Kyle Hendricks and ground ball machine Tyler Chatwood.
The Cubs bullpen leading to the ninth inning must improve. Brandon Morrow signed a two-year deal worth $10 million for the chance to close. The 33-year old comes over from the Dodgers, along with former Marlins and Mariners closer Steve Cishek. The Cubs let all-star closer Wade Davis leave for the Rockies during free agency, leaving some question marks in the bullpen. Holdover Carl Edwards, Jr. and Pedro Strop return with Justin Wilson and Brian Duensing being the left-handed options. Wilson struggled with his control after arriving in a trade with Detroit and was not on the postseason roster. However, hopefully, he will have a bounce-back year this season.
Prediction: The core of this lineup should continue to score as they scored over 800 runs in 2017, without a real leadoff hitter. The players will be recharged, and Chili Davis' impact will be felt, as the numbers with RISP will improve. The early April schedule with games vs. Miami, Cincinnati, Pittsburgh and Atlanta will get this team off on the right foot. Playing eight of the first ten games in dome stadiums should warm up their bats. Even with the frequent injuries in a 162 game season, this team has enough depth to sustain itself over the season and will be ready to avenge the NLDS series loss to a Dodger team that might still have the Game 7 hangover lingering. Barring any significant rotation setbacks, I fully expect this team to return to the World Series in October.
Second Place: St. Louis Cardinals (88-74)
The Cardinals haven't been to the playoffs since 2015, and that is a drought for an organization that rarely misses the postseason. They were middle of the pack offensively last year, despite paying $80 million for former Cubs fan favorite Dexter Fowler. The bullpen struggled as closer Trevor Rosenthal was lost to season ending Tommy John surgery in the summer.
The Cardinals dealt outfielder Randall Grichuk to Toronto and Steven Piscotty to Oakland in an outfield overhaul. They traded for former Marlin all-star Marcell Ozuna and are counting on another massive year from outfielder Tommy Pham. Shortstop Paul DeJong bust onto the scene in 2017 with 25 home runs, and is flanked by Jedd Gyorko at the hot corner, Kolten Wong, who they will keep at second base full time, and the steady Matt Carpenter. If third base becomes a liability look for the Cardinals to be on the phone with Toronto in hopes of maybe landing the free agent to be Josh Donaldson.
The rotation returns righty Michael Wacha, the ageless Adam Wainwright, Luke Weaver, Carlos Martinez and hopefully the return of young righty Alex Reyes from Tommy John surgery. The loss of Lance Lynn will leave an innings void, as he consistently ate up 200 innings a year. The bullpen has a lot of question marks, as a closer still has not been decided.
Prediction: They will score runs, but a shaky bullpen will ultimately be the deciding factor as they fall ten games short of the division.
Third Place: Milwaukee Brewers (84-78)
The Brewers shocked the baseball world and almost made the playoffs in 2017. The rebuild is ahead of schedule as the everyday lineup like the Cubs is interchangeable, as manager Craig Counsell has a plethora of options. They added free agent righty starter Jhoulys Chacin on a two-year deal, and were rumored to be in on Alex Cobb and Jake Arrieta, but didn't bite on the long-term deals.
The Brew Crew added to an already solid offensive club with the addition of Christian Yelich and brought back centerfielder Lorenzo Cain. Domingo Santana had a breakout year in the power department with 30 home runs and 85 runs batted in.
The rotation led by 17 game winner Zach Davies, and hard-throwing Chase Anderson, will be missing the services of right-hander Jimmy Nelson, as he returns from a gruesome shoulder injury incurred while on the base paths last year at Wrigley Field. The bullpen will again be a strength as Counsell has plenty of hard-throwing options in LHP Josh Hader and closer Corey Knebel.
Prediction: Some of the hitters, who took the league by storm, will regress to the mean and while they will still score runs, the lack of rotation depth will hurt them. They have a deep farm system, but they gave up lots of pieces to acquire Yelich, including prized outfielder Lewis Brinson. They will be close come September, but it all depends on how much they might want to give up in a trade if they feel the playoffs are a possibility come September or do they continue the rebuilding process?
Fourth Place: Cincinnati Reds (74-88)
The Reds did virtually nothing to add any significant pieces, but the everyday lineup can mash the baseball. You have to feel for star first baseman Joey Votto, one of the best hitters of our generation who is wasting away with the Reds. Imagine if this guy ever made to the postseason and what a difference he could make in October.
The Reds lineup with Votto, Eugenio Suarez, a resurgent Scooter Gennett, Scott Schebler, and all-star Adam Duvall will put up fantasy numbers. They ranked 10th in baseball in WAR, ahead of playoff teams Arizona and Boston.
The forever in flux starting staff which is handicapped by the $100 million deal to oft-injured Homer Bailey, got contributions from young flamethrowers righties Sal Romano and Luis Castillo in the second half of 2017. They need a bounce back from former top prospect LHP Brandon Finnegan, who was acquired from the Royals in 2015 in the Jonny Cueto deal. The back of the bullpen is in reliable hands with hard-throwing Raisel Iglesias.
Prediction: The pitching is still not good enough to compete, but they will have days when the lineup scores a ton of runs. They will finish in the bottom half of the division once again.
Fifth Place: Pittsburgh Pirates (66-96)
The unfortunate fans of Pittsburgh were finally out of their rebuild making the playoffs from 2013-2015. Now they are back to rebuilding mode after trading all-star Of Andrew McCutchen to the Giants and dealing ace Gerrit Cole to Houston. The lineup led by Gregory Polanco, Starling Marte, and Josh Bell will struggle to score.
The starting rotation of Chad Kuhl and Tyler Glasnow and Ivan Nova has a chance to keep them in some close games. Closer Felipe Rivero who had 1.67 ERA and 21 saves can get the job done. How long before a team is calling the Pirates to acquire this powerful arm for the stretch run?
Prediction: A long season is on the way, Pittsburgh fans will be sitting in their beautiful ballpark counting down the days until the Steelers play football again.

Tags: Cubs Baseball
,
John Lackey
,
Jake Arrieta
,
Wade Davis
,
Anthony Rizzo
,
,
Kyle Schwarber
,
,
Kyle Hendricks
,
Pedro Strop
,
Brian Duensing
,
Dexter Fowler
,
Joe Maddon