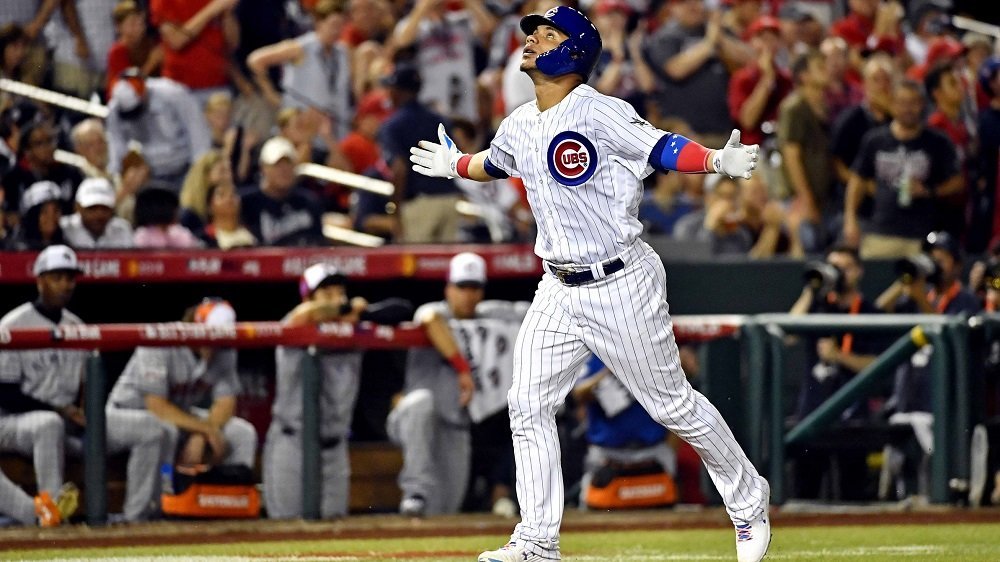 | | |
| --- | --- |
| Cubs Odds & Ends: Contreras' stock rises, Cubs pursuing Merrifield, Whining Brewers' fans | |
---
| | | |
| --- | --- | --- |
| Monday, November 25, 2019, 7:58 AM | | |
Contreras' stock rises again
Earlier this week, the White Sox snatched up Yasmani Grandal off the free-agent market, and now the Braves have grabbed former Rays' catcher, Travis d'Arnaud.
The free-agent catching market was relatively thin this winter, so every time one of these guys gets signed, it causes Willson Contreras to become more valuable as a trade chip.
The Rays need a new starting catcher. They have a top farm system, and Willson Contreras could be available: https://t.co/Ba8H94MSjG https://t.co/zXuxgMDeEF

— Tim Stebbins (@tim_stebbins) November 24, 2019
There may be one obstacle left to clear before a Willson Contreras trade becomes imminent – the Mariners are now said to be willing to shop backstop, Omar Narvaez. As Jeff Passan relays in the following tweet, a Narvaez deal "could be completed soon," though Jeff doesn't name the potential trade target.
Amid the early and heavy movement in the catching market, one name in trades keeps coming up: Omar Narváez. The Seattle Mariners have shown a desire to move him, sources tell ESPN, and a deal could be completed soon. Narváez really can hit. His glove remains a major question.

— Jeff Passan (@JeffPassan) November 25, 2019
When comparing Narvaez to Willy from an offensive standpoint, their slash lines are similar, except for Contreras' slugging percentage being substantially higher.
So, what about a Kris Bryant trade?
With Anthony Rendon, Mike Moustakas, Josh Donaldson and Todd Frazier still lurking in the open market, it may take a while for Kris Bryant's trade value to go up enough to overcome the things which are weighing it down; namely, his grievance and a less than stellar consistently good offensive campaign in 2019.
Several teams, including the Twins, are looking at free-agent third baseman, but until some of those guys listed above get signed, Kris Bryant's availability may get placed on hold. With KB's controllability in question, teams may hit the pause button, not knowing whether or not 2020 will serve as Bryant's walk-year (although that's doubtful).
Cubs pursuing Merrifield (again)
I should just learn to copy and paste to make my life easier, but here we go again: The Cubs have been tied to Royals' 2B/OF Whit Merrifield. According to an MLB Trade Rumors article from Sunday, Jon Morosi is quoted as saying that the Cubs are showing "continued interest" in Merrifield.
Good fit? Oh yeah, primarily due to the team-friendly, three-year/$15.25M deal he just signed with KC last January. The article states that swaying KC to deal Merrifield (to anyone) won't be easy, as Whit has (since 2016) taken 2,404 plate appearances of above-average hitting (.296/.344/.445, 109 wRC+) while chipping in elite baserunning and passable defense at multiple positions.
While I would think that Nico Hoerner or David Bote could fulfill the Cubs' need for a solid second baseman – let's also not forget Robel Garcia is patiently waiting in Iowa. Merrifield would bring an established bat to the infield, with an excellent option for center field as well, allowing Jason Heyward to shift back to his right field position, should the Cubs not be able to retain Castellanos.
Ian Happ seemed to validate himself last summer, and now the Cubs are said to be looking at Albert Almora Jr. as being "too valuable to trade." Somewhere, they'll have to make roster room, leaving Addison Russell as a potential non-tender candidate, unless Theo can quickly bundle him into a trade (the deadline for tendering contracts is December second.
I don't suppose KC may have any guilt over the Martin Maldonado trade (boy, did that go bust in a hurry), but with a little luck, Theo can work a little – OK, a lot – of magic. Royals' GM Dayton Moore says he wouldn't let Merrifield move for anything less than a "crazy" offer, but Theo's done some crazy stuff before. If the Cubs aren't going to retain Nicholas Castellanos, they need to be able to insert a guy like Merrifield to take a little of the sting away.
Oh, those whining Brewers fans
Can you hear the whining all the way in Milwaukee? I stumbled upon a Brewers' site on Twitter (not team-related) and found fans whining about the battle between Yu Darvish and Christian Yelich. Long story short: Darvish "suggested" Yelich was acting shady in the batter's box, perhaps looking to the Brewers' pen for help with Darvish's pitches.
The brewers were accused by a cubs pitcher that is mad Yelich owned him. Let's not spread garbage rumors here..

— BIF (@CG2point0) November 19, 2019
Was Yeli cheating? Maybe, maybe not, but if you look at his offensive stats between his games at Wrigley and his games at Miller Park, you'll sure see quite the difference.
In the meantime, to the whining Brewers' fans: Go have a beer, it's 5:00 PM (happy hour) somewhere.
In other (real) Brewers news, former catcher, Yasmani Grandal had this to say about the Astros' cheating scandal:
"They're doing whatever they can to win. If you're not cheating, you're not trying, I guess. It got them a ring. ... The past is the past. It happened. People found out. Now, let's do something to fix it and keep on going." (Sort of lends credibility to Darvish's suggestion about Yelich, doesn't it?)
Cheating is going to occur, but when you do it so blatantly obvious (banging trash cans or looking eagerly toward your team's bullpen in left-center field) that you get caught, is when it becomes an issue. Look at the steroid scandal – not until Jose Canseco brought it to light, did it actually become an issue.