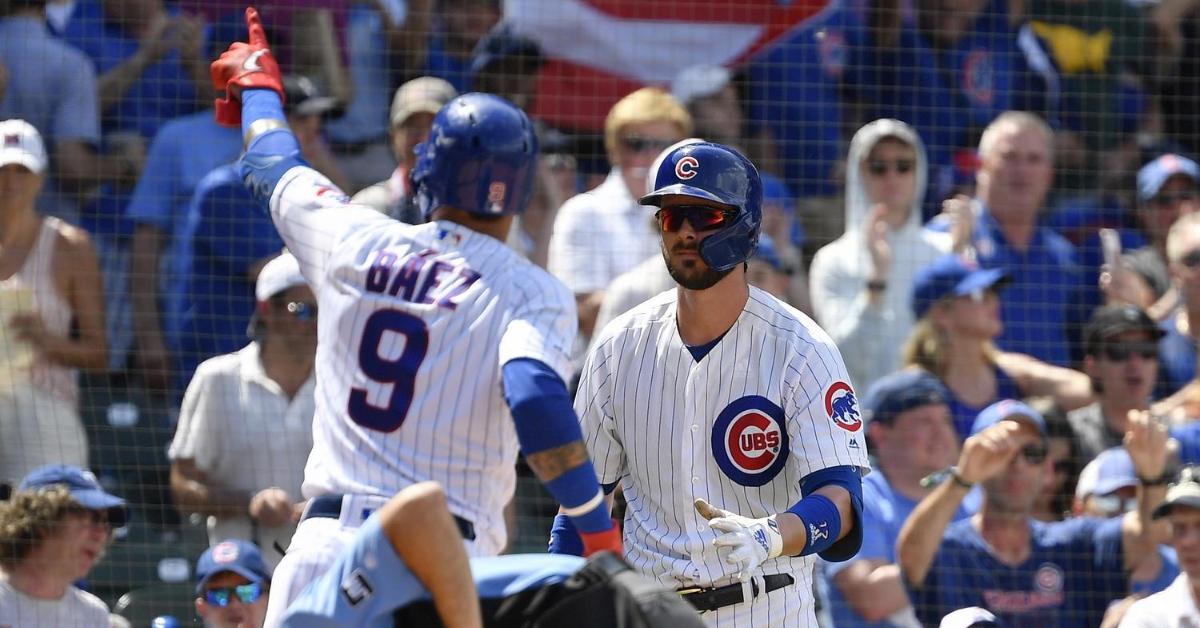 | | |
| --- | --- |
| Cubs Odds and Ends: Cubs and KB, El Mago, Castellano and Happ's future, more | |
---
Ask and ye shall receive:
Originally thought to take "several months," MLB Trade Rumors is suggesting that a final decision on Kris Bryant's grievance could come by the time the Winter Meetings start on December 9, 2019.
This timing of when the decision is rendered could have severe implications on whether or not KB gets dealt this year, as clubs would know whether or not they were buying a straight rental, as opposed to a guy with two remaining years of club control.
"Theo and I are talking all the time, and certainly, when he and ownership want to discuss anything along [the lines of an extension], our ears are open, no doubt." -Scott Boras on KB
Boras is posturing, but it would appear as though his (empty) rhetoric will do little good for the Cubs or Kris Bryant going forward. KB is a talented player, but Tom Ricketts is never going to shell out the $350M that Bryant and Boras think he'll receive.
El Mago could be getting paid shortly
I said this would happen, and (thankfully) it finally is; the Cubs are working on a deal to extend Javier Baez long-term.
With Kris Bryant due to become a free agent after 2021 (assuming that he doesn't miraculously win his grievance), locking Javy down to a long-term deal with Chicago provides a lot of flexibility for Theo Epstein. I do not doubt that the Cubs will attempt to move KB this winter, but with Baez in place, the team could feasibly afford to hang onto Bryant for another six months to one year, before dishing him off, should an acceptable trade offer not be reached.
The timing of Bras' announcement about KB's willingness to stay in Chicago is interesting when you consider the timing of the news about Javy being extended. Did the Cubs start working on a deal with Baez because they felt that Boras was toying with them about KB ever remaining with Chicago, or was the plan to extend Javy born of the notion that Bryant would stay, making Javy their next logical target?
I'm not changing my position on this: Javy gets extended because the Cubs will part ways with Bryant. With Javy due to reach free agency in 2022, the Cubs would certainly look to extend KB first, as they'd have an additional year to come to terms with Baez. Let's not forget that next year is the last year the Cubs have a club option on Anthony Rizzo, which would make re-signing KB next to impossible if the team extends Baez this year.
With or without KB, the Cubs will need to start rebuilding a future with younger players, centering around Javier Baez (and presumably, Nico Hoerner). Once nearly depleted, the Cubs' farm system has top prospects in the catching department (Miguel Amaya), the pitching department (Brailyn Marquez), the outfield sector (Brennen Davis) and middle-infield – should you wish to consider Hoerner a prospect.
I don't think Amaya is ready, which is why I'd hate to see either Willson Contreras or Victor Caratini get dealt. If the Cubs don't keep – or instead, are unable to keep – Rizzo after the 2021 season, Caratini could very well emerge as the next first baseman, leaving Contreras with Amaya to serve as backstops. However, it is very unlikely that the Cubs and Rizzo can't reach another agreement to keep him as a life-long Cub.
The future of the Cubs lays within youthful, talented, and controllable players, and Javier Baez will serve as the next cornerstone at 1060 W. Addison. This is good news.
Castellanos and the Cubs' outfield:
Sahadev Sharma of The Athletic is usually a guy that I view as being spot-on, but I think he may be all wrong on how the Cubs will approach the situation with Nicholas Castellanos and the Cubs outfield this year.
Sharma wrote in his piece from Thursday, that the Cubs might only keep Castellanos is they could deal Kyle Schwarber; that Albert Almora Jr. will not be dealt due to his trade value and that the Cubs basically view Castellanos and Schwarber as comparable plyers – that is to say that they provide solid offense while being defensively unappealing: No, no and no.
I'd agree that Castellanos and Schwarber are both offensively solid, corner infielders, but the difference stops there. Defensively speaking, Schwarbs has improved exponentially over the last couple of seasons. While Nicholas Castellanos has had his trials and tribulations with a baseball glove, the lion's share of his errors has occurred while playing third base.
Sharma had also written that even if the Cubs could keep Castellanos, they may bypass him, as center field would be their focus, but again, I disagree, which is where Albert Almora Jr. comes into play – or not. The Cubs still have Jason Heyward locked up for the next few years at an outrageous average annual value. While Heyward shines in right field, there is undoubtedly nothing wring with his defensive prowess in center, which is where Joe Maddon used him at nearly every game once Castellanos came aboard last season.
While the Cubs seem to prefer Kyle Schwarber and Jason Heyward in the corner outfield positions, there's just one issue – no matter where he plays, his bat has to become a prominent feature in the Cubs' offense, or he's not worth playing daily.
Even if the Cubs couldn't find a trade partner for Almora, it's not like the Cubs have him tied down to a long-term deal, as Almora's contract expired with the season's end in 2019. He could feasibly become a non-tender
Contrary to what the Sharma has theorized about the Cubs' outfield, a new name has come into play over the last 24 hours: Shogo Akiyama – the Nippon Professional Baseball center fielder/leadoff man. Although Cubs' Twitter has gone into hyper-overdrive over this name, I have some questions.
First, relating back to Sharma's article, what in the world are the Cubs going to do with Almora if they sign Akiyama? Non-tender would again come into focus, but as I said earlier, why let Almora walk away? He has phenomenal defense, and although his bat is off more than it's on, he can provide offense.
Partially hindered by being platooned, Almora should only need regular playing time to get his slash line up, at least a little.
Next, Akiyama will be turning 32 and is dealing with a recent foot injury. There seems to be some ambiguity surrounding how the injury will affect his ability to play going forward. While some feel that signing him would be a low-risk investment with the potential for a high return, I'm not sure I'd take that chance if I were Theo Epstein.
Next question: Where does Ian Happ fit into the grand scheme of things?
Of all of Happ's defensive positions, he appears to be the weakest at third base, so the Cubs may pursue other options if Bryant is dealt (more on that later). Second base could be an option for Ian, but Nico Hoerner has a strong chance to emerge, further displacing Happ. I know, I know, Theo said Hoerner would open the year in Iowa, but then again, he said Hoerner would never see Chicago last year and look how that turned out.
I have advocated for a trade involving Happ for almost two years, but after his time in Iowa, Happ's bat came to life, making a deal foolish at this point. Granted, no one knows whether Happer enters spring training as a hero or zero this year, but I'd much rather take a chance on him in center than to risk wasting money on Akiyama.

Tags: Cubs Baseball
,
,
,
Anthony Rizzo
,
Miguel Amaya
,
Brailyn Marquez
,
Willson Contreras
,
Victor Caratini
,
Kyle Schwarber
,
Albert Almora Jr
,
Jason Heyward
,
,
Joe Maddon
,
Theo Epstein