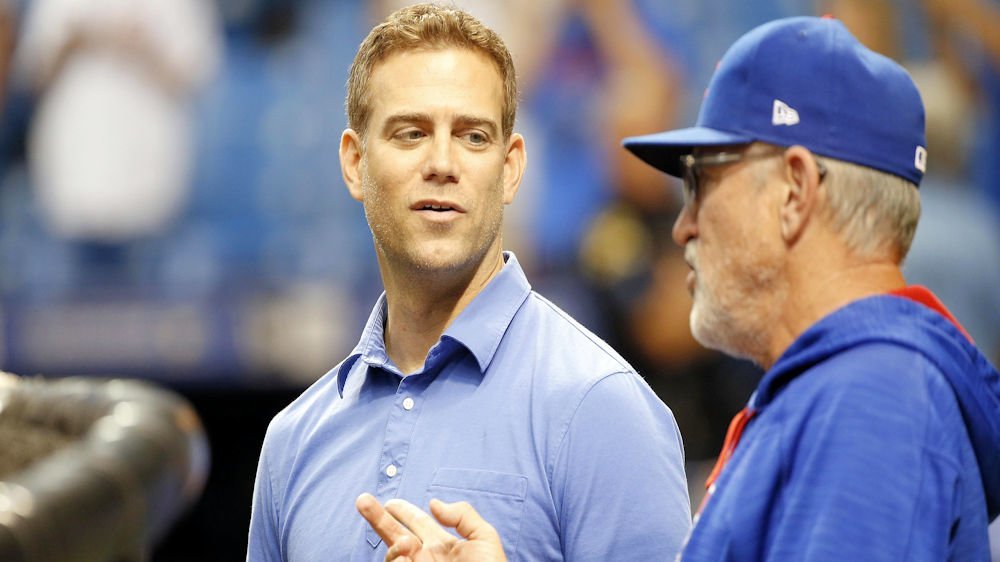 | | |
| --- | --- |
| Cubs Odds and Ends: Theo's not leaving, Kris Bryant's future, Balls have replaced steroids | |
---
Theo's staying put
Alex Spier of the Boston Globe did some interesting prognosticating on Tuesday, in an article which lays out his case for Theo's return to Boston. Theo's had better years as the Cubs commander in chief, but as far as I can tell, the idea of Theo going back to Boston is nothing more than a pipe dream for Spier and (presumably) some other Bostonians.
If the Cubs' media circle can sniff out Mark Loretta's name as a frontrunner to be Joe Maddon's successor (when all along it's been either Joe Girardi or David Ross), then they'd undoubtedly have reported Theo's possible departure.
Joe Maddon has been rightfully credited with the Cubs' 2016 World Series win, but Theo Epstein put the team together that won it. Epstein has a monstrous, record-setting contract with Chicago, which can exceed $50M with incentives, and it's highly unlikely that Tom Ricketts is going to fire Epstein and watch tens of millions of dollars go through a shredder. Theo could quit, but that would likely constitute a breach of contract (depending on how his contract is structured), which would open the door for Ricketts to be able to sue him. Trust me, Theo's not leaving, and his continued employment is not out of fear of being sued.
Boston let Theo go in the first place, and while it's not uncommon for people in baseball to rejoin a team they were released from, I don't think that's what Sox owner, John Henry has in mind. Henry's been through a few guys (Ben Cherington, Mike Hazen, Dave Dombrowski) since Epstein departed in 2011 to join the Cubs, and the Sox are only two years removed from the World Series team that Dombrowski headed.
Right now, the Red Sox search for Dombrowski's replacement remains in its earliest stages, with no identified candidates. Amidst an information void, what to make of speculation surrounding Theo Epstein? https://t.co/o5SKQN0DLC

— Alex Speier (@alexspeier) September 24, 2019
Kris Bryant: The Cubs' future, or trade bait?
I had a reader ask a question of me yesterday: "What does Harpers "flop" this season mean for players like Bryant under Boras? It will be an exciting offseason, but if the Cubs "cash" in on Bryant's value it wouldn't be the same since that would be a trade - and Harper was a free agent? Right? There will be some hard changes this offseason. I do hate the idea of that being Bryant's last game as a Cub."
I don't think Harper's flop is going to hurt Bryant, as you're comparing a right fielder to a third baseman (who can also play right field). Look at Jason Heyward, a right-fielder who was paid $184M just a few years back, then kind of flopped, but that didn't stop Harper from getting $330M. If anything, that deal hurt Boras and his leverage more than anything, but I doubt it.
I like Kris Bryant, but I said in July that the Cubs should have traded him, as they need a hell of a lot more help than what Bryant can provide. KB is an insanely good third baseman, but that does little good when you need help in so many other areas, such as pitching, pitching, pitching, and oh, let's not forget pitching.
After hearing the (now confirmed) rumors that the Cubs would entertain offers on Bryant, I figured that there was a small chance that he'd be traded this year, but after dropping two to the Reds, then four to the Cards (all at Wrigley Field), I think the odds of Bryant being traded have likely increased, so long as the Cubs can get what they want. They won't let him go for an average player or two; whoever gets him better be ready to be bled dry, but Bryant's talent and controllability for another two years is worthy of the high price that Theo Epstein is going to demand.
The Nationals got nothing out of Bryce Harper, as he walked away as a free agent, with the ultimate slap in the face being that he signed with another team in the NL East. I don't think the Cubs are going to pay KB the hundreds of millions that he and Scott Boras will demand, so in my opinion (and that of a few others), I think you deal him this winter, as the more time a team has to control him, the more the Cubs will fetch in return.
I think the one thing that will hurt Bryant's value- whether the Cubs trade him or allow him to walk away as a free agent is his track record for injuries. He's only (almost) 28, yet he's had a shoulder issue, a knee issue, has already suffered a concussion and has an ankle injury, which should heal 100% but may remain weakened as the years go by.
Has the juiced ball replaced the juiced player?
As MLB continues to lose viewers, and Baseball Commissioner, Rob Manfred's, the main objective seems to be shortening games to increase the number of viewers, while trying to include a younger generation that can't seem to pay attention for more than five minutes.
Someone asked me the other day what I thought MLB might do to increase viewers, and I quipped: (1) Offer a free dose of Adderall for every paid admission; (2) Cut the games to a total three innings; (3) With only one out per inning; (4) Give them all a complimentary joystick, so that they think they're controlling the action on the field.
Manfred has already cut the number of mound visits allowed and will most likely be instituting a three-batter minimum for pitchers, along with a pitch clock, but in the meantime, he seems to want to add excitement via the use of the home run.
Manfred continues to deny that he's ordered anyone to tamper with baseballs, to make them fly further, but there are about 400 pitchers in the majors who'd likely disagree. Without boring you with a ton of stats, the five NL Central teams have combined for a total of 1,073 home runs this year, as opposed to 913 last season, while other divisions show an even greater difference.
MLB looked the other way on the use of steroids back in the late '90s, until they were put in a position by Jose Canseco to do so- in front of congress. In an effort for the washed-up slugger to resuscitate his own name, Canseco wrote a book (entitled "Juiced") about the wild and rampant use of steroids in the majors, naming hundreds of players, which ultimately led to congressional hearings (the Mitchell Report) and a black cloud over baseball. Sammy Sosa and Mark McGwire's home run race in 1998 will always be viewed as a sham by many (myself included), but oh, the excitement it provided when it all seemed real.
MLB can hardly go down that path again, turning a blind eye to steroid use, especially in this day and age, when personal health and fitness has become such a hot topic. How else could MLB inject power into the game without allowing a player to inject that power into his own body? Simple- juice the baseballs.
I'm not suggesting that Kyle Schwarber or Anthony Rizzo can't crank homers without the help of a juiced ball, but when Tommy La Stella (God love him) hits 16 dingers in 78 games, something's up. La Stella was on pace to hit 33 home runs this season before a broken leg sidelined him when he's only hit a total of 10 in his previous five seasons, with his previous career-high being five homers in 2017.
I like seeing homers crushed as much as the next guy, but good Lord, this is taking its toll on a pitcher's ERA, while batters continue to circle the bases.

Upgrade Your Account
Unlock premium boards and exclusive features (e.g. ad-free) by upgrading your account today.
Upgrade Now