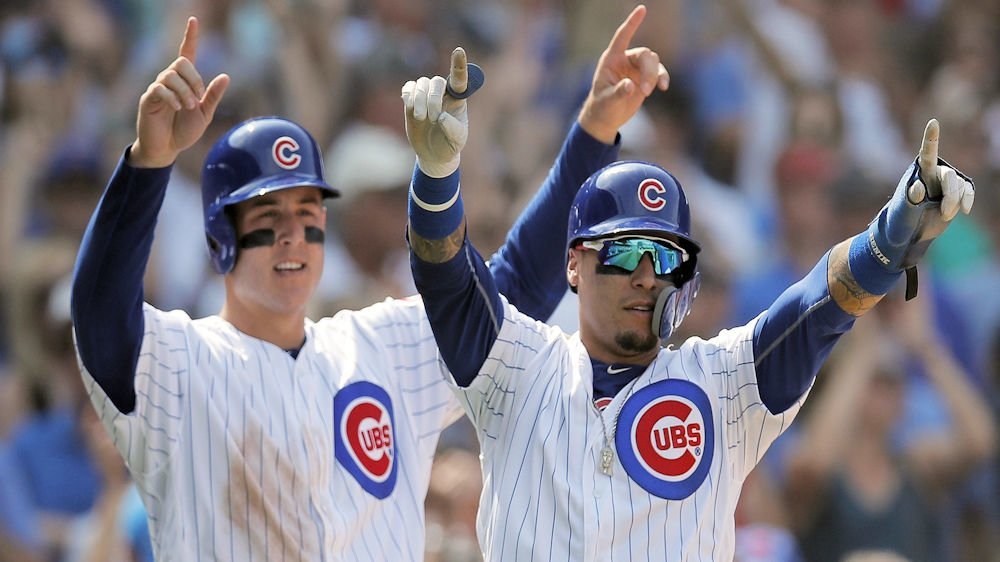 | | |
| --- | --- |
| Cubs offense: Broken or Bad luck? | |
---
| | | |
| --- | --- | --- |
| Saturday, February 23, 2019, 8:36 AM | | |
When you look at the roster constructed by Theo Epstein and Jed Hoyer, one can only marvel with jealousy with the amount of young talent the Cubs have acquired since they took over in 2011. While most teams were in the process of spending big dollars in free agency hoping to find a new core, the Cubs were drafting and trading away bad contracts to build up what was at the time the top farm system in all of MLB.
Since then that farm system has been depleted as those draft picks have reached the majors which allowed the team to spend money in free agency achieving their coveted first world series championship in 108 years in 2016. Since then, the Cubs have been doing their best to continue that success without destroying the core that they have put together over the past seven-plus seasons.
However, good things always come to an end, and after the way things ended last season change is on the horizon for this group of players that has given Cubs fans more than they could have imagined the past four seasons. Following their Wild Card loss to the Rockies last season, Epstein went on to say that "somewhere along the lines, our offense broke the second half." It doesn't take a rocket scientist to see he was right as Chicago watched their lead in the division dwindle like the batting averages with it.
The real question that remains was the offense broken, or was it a case of bad luck? Entering the 2019 Chicago still boasts potentially a top-five offense capable of tearing the cover off a baseball at any time. However, unlike most teams, when a key player in their offense struggles it seems like the whole team goes with it. Potential aside, that cannot happen anymore if this group of players wants to continue the success they have put together thus far. It is time to produce or cut ties after the 2019 season.
Let's look back at the stats from players on the roster that were on the World Series team compared to what they have done the past two seasons and see what stands out in everyone's mind.
Before we fully dive into everything, I will break this down into three separate categories. They include, consistency, continued improvement, and needs to figure it out.
CONSISTENCY:
ANTHONY RIZZO: What more needs to be said about Rizzo and what he means to the Cubs. Not only is he a clubhouse leader and standup guy, but he has been the heart of the Cubs since making his debut in 2012. He has also been the most consistent hitter in the lineup posting near MVP like numbers for the past three seasons.
Rizzo has averaged at least 153 games in each of the past three seasons hitting 25 plus homers and 100 plus RBI's. Not only that his plate discipline has improved in each season making him a monster at the dish. In 2016 Rizzo hit a career-best .292 with 32 homers and 109 RBI's. He added 74 BB's and 108 K's to that. 2017 saw his average drop to .273 but managed to match his previous season with 32 homers and 109 RBI's with 91 BB's and 90 K's. After a slow start to the season last year Rizzo hit a team-best .333 after May 1 to finish the season at 283. Although the home runs (25), RBI's (101) and walks (70) were down, so were the strikeouts as struck out a career-low 80 times.
CONTINUED IMPROVEMENT
JAVY BAEZ: What else can be said about the journey this man has been on since 2014. Following a AAA season where he torched the baseball putting together a (.275, 36, 113) slash line, Baez had trouble putting things together his first two seasons in the bigs. Not only was his defense a question at first, but his all or nothing approach drove fans crazy as it was home run or bust early on.
Now with a permanent role on the team fans have come to realize you get what you get with Baez. He will provide you with highlight-reel defensive plays daily, but will still drive fans crazy with his I will swing at everything approach at the dish. However, fans are starting to be less hung up on that especially if he continues to produce like he did last year.
Following two rough seasons in 2014 and 2015, Baez finally started to see the field more in 16 before becoming a regular come post season time. In 142 games he slashed (.273, 14, 59), but the 15 BB's and 108 K's still showed lack of patience. One year later, the average stayed the same at .273, but everything else went up in the tune of 23 homers, and 75 RBI's to go along with 30 BB's and 144 K's.
Then came his breakthrough season last year which he was the front runner for the MVP until Christian Yelich surpassed that with an incredible August. Baez played in a team-high 160 games hitting a career-best .290 while leading the team in homers and RBI's with 34 and 111. His 29/167 BB/K ratio is still mind-blowing, but his continued improvement and production show that no pitch is a bad pitch in his mind.
Was last season what we should expect from him every year? I don't believe so, but I do think a mix between years 2017 and 20818 will be all the Cubs ask of him moving forward.
JASON HEYWARD: You see this name in the improvement section and immediately think am I missing something. Truth be told it depends on what Heyward you expect to see. Chicago dished out huge money for J-Hey hoping to get a mixture of the ATL and STL version of him. Instead, he has been a train wreck offensively but continues to win games with his glove on the field. Despite that and multiple changes with his swing from one season to the next, Heyward continues to work hard as his offensive numbers have gotten better each season.
Following his dismal 2016 season which saw him hit career lows in everything (.230, 7, 49) Heyward was poised to improve that in 2017. At times, it appeared as if he was with more power coming from the bat early on. Then, a pair of wrist injuries ended any chance at a rebound season finishing with (.259, 11, 59) with a 41/67 BB/K ratio.
Then came 2018 which he knew was a big year from him. This time, however, it appeared another change in his swing was a good thing as he was the Cubs best hitter with runners in scoring position through the all-star break. Not only that but Heyward also hard a top five-line drive rate in all of MLB showing that he indeed was squaring up the baseball. Once again, the second half proved to be a struggle for him as those line drives quickly turned into popups and grounders leaving him with another subpar season for what they Cubs have hoped (.270, 8, 57) but once again showed patience with a 42/60 BB/K ratio.
Tomorrow we will discuss some Cubs hitters that certainly need to improve their performance drastically this upcoming season.